The new Freeview prediction system - includes Freeview HD

Brian Butterworth published on UK Free TV
The new Freeview prediction system - beta - is here. Finally!

If you visit Freeview reception - UK Free prediction you now get a much more detailed page to help you with any reception issues.

As before you can see this page with a postcode, the system will shortly also allow the input of national grid references, or latitude/longitude references.

Firstly, you can get a prediction for any number of dates by selecting the appropriate tab at the top.


Five different views
There are five different views
By direction: this will show the various directions your aerial might point and the services you can receive from the transmitters in that direction.
Received signal strength: this shows the information ordered by signal strength, to help you find the strongest signals.
By frequency: this lists broadcast frequencies from C21 to C68, showing the services on each. This view can be used to find potential interference or to help with digital region overlap areas.
Service names: this lists the services that you can receive, each ordered by the strongest signal.
Transmitter names: and finally an alphabetical list of the transmitters with the services listed by broadcast frequency.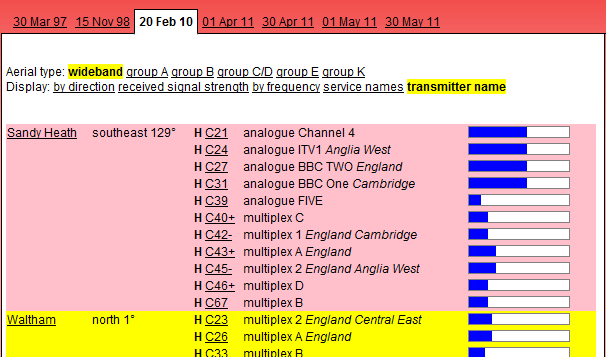 Aerial group choice
When you first visit the page you will see the services received by a "
wideband
" aerial, now you can also select the other aerial groups to see how that will effect reception.
Issues
For the moment it is not possible to resolve postcodes in Northern
Ireland
(BT) or the Isle of Man.
Apologies
for that.
Try it now
Try the new UK Free TV Freeview reception - prediction system now
.
Comments
Friday, 6 May 2011
S
Sarah Kerr
10:56 PM
Barnstaple

We are not receiving any BBC digital programmes on a regular basis. We just get a message saying no signal. On the rare occasions that it comes back it is very fractured. This happened over Easter, last weekend and several days this week. Then it works again! We have missed many programmes that we really wanted to see, and have been able to watch some on i-player later -but that is not really the point. This only affects BBC tv and digital radio.

Sarah Kerr's 1 post
Sarah's:
map
S's Freeview map
terrain
S's terrain plot
waves
S's frequency data
S's Freeview Detailed Coverage
Saturday, 7 May 2011

Sarah Kerr: If your aerial is set on Huntshaw Cross (rods horizontal) MuxBBCA is on C62-. Check that your receiver is tuning to this frequency rather than weaker alternatives earlier in the scan. Make sure that you do not have a Sky box or games console with the RF output set around C61/C63. Also check that all cables and connectors are in good order.

KMJ,Derby's 1,811 posts
Monday, 9 May 2011
D
Danni Luo
7:31 PM
Southampton

i living in southampton SO14 3GU, my freeview tv cannot find ITV1/2/3 and channel 4. what other channels work fine. I tried several times already.

Danni Luo's 1 post
Danni's:
map
D's Freeview map
terrain
D's terrain plot
waves
D's frequency data
D's Freeview Detailed Coverage
J
John Lees
7:40 PM
Cheltenham

I'm on Ridge Hill transmitter, line if sight on a clear day. I can now only get ITV West on Channel 3 by reloading all the programmes every time, or by leaving the Philips DTR 210/05 box constantly on. If I switch it off,Channel 3 has disappeared!
One of my two new Dion boxes from Tesco kept ITV West for a while but today it's back to ITV Midlands on Channel 3 ! The other new one gives only Midlands ITV on Channel 3, not ITV West at all. What on earth is going on? It is extremely frustrating - as is the fact that we here in Cheltenham are denied BBC's Points West and have to suffer the Midlands news !
I am really despairing at these changes!!

John Lees's 4 posts
John's:
map
J's Freeview map
terrain
J's terrain plot
waves
J's frequency data
J's Freeview Detailed Coverage
Wednesday, 11 May 2011

Danni Luo: You should have no problems with reception at that address, please can you see the Single frequency interference | ukfree.tv - independent free digital TV advice page?

Briantist's 38,899 posts

John Lees: The Ridge Hill transmitter provides two version of Multiplex D3+4, one for the ITV West region on C29 and one for Central on C25.

The BBC do not provide two services.

Your box will put one version of ITV1 on the 3 position and the other on 803, or something in the 800-899 range.

Different boxes will do different things, some will put the stronger signal on 3 and the weaker on 803, and other will put the one on the lowest frequency on 3 and the higher one on 803.

If you want to choose your BBC region, you will need to point your aerial at another transmitter, or use Freesat where you can watch all BBC region services - see Which BBC regions are on satellite? | ukfree.tv - independent free digital TV advice .

Briantist's 38,899 posts
Saturday, 14 May 2011
A
A Rowe
10:40 PM
Welshpool

I live on the Shropshire/Powys border, between Welshpool and Newtown, and up till a few days ago, was able to receive most channels with a Freeview box. However, for several days now, I've no longer been able to get ITV, ITV 2, Channel 5, ITV2, Channel 4, Channel 4+1 etc. In fact, all I can get is BBC channels. Please could you advise?

A Rowe's 2 posts
A's:
map
A's Freeview map
terrain
A's terrain plot
waves
A's frequency data
A's Freeview Detailed Coverage
Sunday, 15 May 2011

Sorry, ignore the above - just realised, I needed to re-tune once more: all's well now. (The power of sleep!)

A Rowe's 2 posts
A's:
map
A's Freeview map
terrain
A's terrain plot
waves
A's frequency data
A's Freeview Detailed Coverage
Monday, 16 May 2011
J
john milne
3:06 PM
Fraserburgh

I live in postcode area AB43 6SS
Ive retuned my reciever many times and Im getting less channels every time.today there are only 18 channels.

john milne's 1 post
john's:
map
J's Freeview map
terrain
J's terrain plot
waves
J's frequency data
J's Freeview Detailed Coverage

john milne: You are only expected to get the Freeview Light channels from Durris. Even after the "power up" on 15th June 2011, you are not expected to receive the other channels with any degree of reliability.

Briantist's 38,899 posts
Select more comments
Your comment please