The new Freeview prediction system - includes Freeview HD

Brian Butterworth published on UK Free TV
The new Freeview prediction system - beta - is here. Finally!

If you visit Freeview reception - UK Free prediction you now get a much more detailed page to help you with any reception issues.

As before you can see this page with a postcode, the system will shortly also allow the input of national grid references, or latitude/longitude references.

Firstly, you can get a prediction for any number of dates by selecting the appropriate tab at the top.


Five different views
There are five different views
By direction: this will show the various directions your aerial might point and the services you can receive from the transmitters in that direction.
Received signal strength: this shows the information ordered by signal strength, to help you find the strongest signals.
By frequency: this lists broadcast frequencies from C21 to C68, showing the services on each. This view can be used to find potential interference or to help with digital region overlap areas.
Service names: this lists the services that you can receive, each ordered by the strongest signal.
Transmitter names: and finally an alphabetical list of the transmitters with the services listed by broadcast frequency.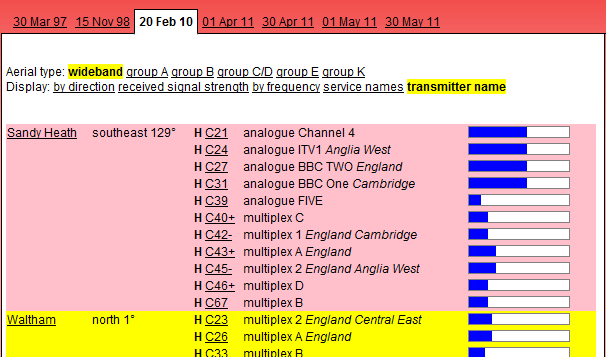 Aerial group choice
When you first visit the page you will see the services received by a "
wideband
" aerial, now you can also select the other aerial groups to see how that will effect reception.
Issues
For the moment it is not possible to resolve postcodes in Northern
Ireland
(BT) or the Isle of Man.
Apologies
for that.
Try it now
Try the new UK Free TV Freeview reception - prediction system now
.
Comments
Sunday, 29 May 2011
J
Jan Smith
6:29 PM
Dursley

why did i lose dozens of channels overnight on May 27-28th Postcode GL11

Jan Smith's 1 post
Jan's:
map
J's Freeview map
terrain
J's terrain plot
waves
J's frequency data
J's Freeview Detailed Coverage
Monday, 30 May 2011

Jan Smith: Please see Freeview reception has changed? | ukfree.tv - independent free digital TV advice for some suggestions.

Briantist's 38,908 posts
Tuesday, 31 May 2011
J
Julia Burnham
4:04 PM
Deal

my freeview equipment, 2yrs old, suddenly stopped working this week, postcode CT148EA. I retuned several times but it would not stay on station, and has now stopped altogether. Any ideas why please?

Julia Burnham's 1 post
Julia's:
map
J's Freeview map
terrain
J's terrain plot
waves
J's frequency data
J's Freeview Detailed Coverage
Wednesday, 1 June 2011
J
John Taylor
7:35 PM
Upminster

I have just updated my digital TV with the latest required on-line updates. In doing so I determined that I have a poor signal strength. I have installed new aerial and booster some 3 years ago to get ahead of the switchover. I now see that my signal strength is planned to be only 50% of the current analogue and remain as poor. Is this a common issue or am I unlucky and will have to suufer after switchover with a 50% less capability(degradation) for the same licence fee
John Taylor

John Taylor's 1 post
John's:
map
J's Freeview map
terrain
J's terrain plot
waves
J's frequency data
J's Freeview Detailed Coverage
Thursday, 2 June 2011

John Taylor: You will receive 100% of the Freeview and Freeview HD services today. I suspect you don't have the required rooftop aerial.

Briantist's 38,908 posts
Friday, 3 June 2011

I live at YO42 1NN, east of York. For about 10 days my reception on a lot of channels has been very poor - as bad as no sound 95% of the time. This happened quite suddenly. I just did a new channel search and now my channel list misses out all the ITV and C4 stations - to about 1/4 of what I could see. My wife will definitely hassle me for this. My Aerial points at Emley Moor, after all I do live in Yorkshire. Can anyone please tell me what is going on? I have heard nothing. My TV is a good one, a recent Panasonic, so I don't think it's to do with that. I am very annoyed about this. City dwellers get sorted out as fast as a click of the finger, but stray from a city and you might as well not exist.

J Duke's 2 posts
J's:
map
J's Freeview map
terrain
J's terrain plot
waves
J's frequency data
J's Freeview Detailed Coverage
Saturday, 4 June 2011

IN Oakham,
Over last few days worse and wosre reception - no w no racing,no tennis - just keeps breaking up - recanned ( using factory installation) and hey, now have only got BBC channels!
So have lost coverage AND can't even watch BBC...is like the olden days tele's - why don't we all go back to rabbit ears if TV is going to9 become so appaulingly unreliable

Cath's 1 post
Cath's:
map
C's Freeview map
terrain
C's terrain plot
waves
C's frequency data
C's Freeview Detailed Coverage
Sunday, 5 June 2011
Select more comments
Your comment please