The new Freeview prediction system - includes Freeview HD

Brian Butterworth published on UK Free TV
The new Freeview prediction system - beta - is here. Finally!

If you visit Freeview reception - UK Free prediction you now get a much more detailed page to help you with any reception issues.

As before you can see this page with a postcode, the system will shortly also allow the input of national grid references, or latitude/longitude references.

Firstly, you can get a prediction for any number of dates by selecting the appropriate tab at the top.


Five different views
There are five different views
By direction: this will show the various directions your aerial might point and the services you can receive from the transmitters in that direction.
Received signal strength: this shows the information ordered by signal strength, to help you find the strongest signals.
By frequency: this lists broadcast frequencies from C21 to C68, showing the services on each. This view can be used to find potential interference or to help with digital region overlap areas.
Service names: this lists the services that you can receive, each ordered by the strongest signal.
Transmitter names: and finally an alphabetical list of the transmitters with the services listed by broadcast frequency.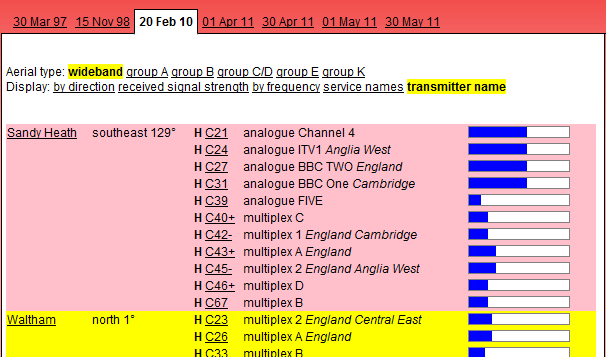 Aerial group choice
When you first visit the page you will see the services received by a "
wideband
" aerial, now you can also select the other aerial groups to see how that will effect reception.
Issues
For the moment it is not possible to resolve postcodes in Northern
Ireland
(BT) or the Isle of Man.
Apologies
for that.
Try it now
Try the new UK Free TV Freeview reception - prediction system now
.
Comments
Saturday, 12 March 2011
T
Tom Smith
1:58 PM
Isle Of Arran

I have a home in Brodick, isle of Arran. You give the post cde a "beta"...Is this about middling reception? I ask because , until about a few months ago we could only get analogue TV at our house and only because we were able to tap into a big aerial on the church steeple. Freeview was not possible. But i was told by a local TV company that , shortly, the signal from the darvel transmitter would be upgraded such that arran would get a much stronger signal and freeview would be possible ( negating the current need to pay a lot of money to getv a satellite dish and freesat) ; plus freesat does not have some of the freeview channels etc.

Can you help please?

Regardsa

Tom Smith's 1 post
Tom's:
map
T's Freeview map
terrain
T's terrain plot
waves
T's frequency data
T's Freeview Detailed Coverage
T
Tom Smith
2:00 PM
Isle Of Arran

see my earlier email--sorry but email address was incorrect--correct shown below...

Tom Smith's 4 posts
Tom's:
map
T's Freeview map
terrain
T's terrain plot
waves
T's frequency data
T's Freeview Detailed Coverage
J
James Paterson
5:38 PM
Edinburgh

Very good site.
But the terrain view seems to assume that the receiver aerial is at 1m above sealevel which in my case is not true and doesn't show all the hills nearby and hence it shows as possibles both Black Hill (transmitter aerial visible from level of receiver aerial in loft) and Craigkelly which I suspect is "hidden" by the fact that I'm on the southside of Corstorphine Hill.

Also I seem to have been getting interference on BBC1 analogue from Black Hill recently. Is there any reason for this? Is it something to do with switchover?

James Paterson's 3 posts
James's:
map
J's Freeview map
terrain
J's terrain plot
waves
J's frequency data
J's Freeview Detailed Coverage

James Paterson - As I was born at home in Broomfield not quite at the bottom of Corstorphine Hill. I am aware that it's most likely a better option to have an outside aerial than an indoor and for that to be taking transmissions from BlackHill. Digital transmissions require an external aerial as of switchover.

Les Nicol's 991 posts

James Paterson - "Freesat" supported bu the BBC an ITV may be another option to consider around the same cost as a new aerial. HD receiver and installation of a relatively small dish from Argos,John Lewis,around the same outlay.

Les Nicol's 991 posts
Sunday, 13 March 2011

Tom Smith: 'beta' refers to the state of the software, not the expected performance of your reception.

Digital UK's predictor reckons it should be possible for you to get reliable digital reception from Darvel already. Did you actually try it before using the communal system?

It may be that the communal system is not set up to handle Freeview at the moment. Someone will need to ensure that it is reconfigured properly at switchover in May, as the public service channels - all BBC channels, the main STV and C4 and C5 channels plus some of their associated channels, and the HD services - will be using current *digital* frequencies. The current *analogue* frequencies will be used for the commercial multiplexes. It may need to be upgraded to handle six frequencies rather than four, or replaced if the amplifier adds too much distortion.

If you connect to this communal aerial via a cable, see Property Managers - Home . If the aerial at the church rebroadcasts the signal (either on the same channels or on other channels) and you pick it up with your own aerial, you will need to ensure that the relay is still licenced and will still be licenced after switchover: see Ofcom | Self-help TV Relays and Digital Switchover
(RG47SH)

Mike Dimmick's 2,486 posts
M
M Campbell
11:30 AM
Isle Of Lewis

I have been experiencing problematic receiption for the last two days it keeps blocking/freezing.I live on the Isle of Lewis.

M Campbell's 1 post
M's:
map
M's Freeview map
terrain
M's terrain plot
waves
M's frequency data
M's Freeview Detailed Coverage
Tuesday, 15 March 2011
T
Tom Smith
3:06 PM
Isle Of Arran

Mike Dimmick--thanks for your input. I omitted to say that teh church aerial has been taken down and neighbours have installed freesat. My understanding is that a TV signal is not possible if placed on each house roof; whence thay have all bought the more expensive freesat. I have it too but have a TV I would like to use there which can only work with an aerial. I could try it out but that means putting the cart before the horse and getting an arial installed then trying out. Attempting to get a "trial" done by a local TV man in Arran is not easy...!! But if I thought that the signal may be even better after the May switchover then I would make the attempt.

Many thanks

Tom Smith's 4 posts
Tom's:
map
T's Freeview map
terrain
T's terrain plot
waves
T's frequency data
T's Freeview Detailed Coverage
Wednesday, 16 March 2011
J
James Paterson
5:33 PM
Edinburgh

Les Nicol - I normally have perfectly good reception from Black Hill with a loft aerial of all 5 analogue channels and as far as I can tell all Freeview digital channels.
My problem of interference seemed to have arisen only recently and is manifest by brief brightenings of the picture which could be in time with eg another channel, though I've not checked that. Our TV is old so I thought it might be that but as the other channels are not affected I assume it's not.
I think you will find that no change of aerial is required for digital TV in most cases (as per this site's advice).

James Paterson's 3 posts
James's:
map
J's Freeview map
terrain
J's terrain plot
waves
J's frequency data
J's Freeview Detailed Coverage

James Paterson - No change of aerial is required if you already have an existing external aerial - Boosters that were fitted to external aerials for analogue reception either may require these remmved or attenuated - Internal loft aerials are not suitable for satisfactory Digital TV reception. If Briantist who runs the site can offer up more clarity on this that might help you further I am sure if he reads this post he will do so.
Brian may also offer up further advice on any current transmitter issues for you with regards to Blackhill.

Les Nicol's 991 posts
Select more comments
Your comment please