To join, leave or change ukfree.tv updates by email, enter your email address here:
BBC One to go HD

Brian Butterworth published on UK Free TV
Earlier in the year there was some disappointment when Ofcom announced that FIVE HD was not going to be broadcasting on the new Freeview HD service.

Since the BBC are the owners of the PSB3 multiplex that is used for Freeview HD, this meant that the bandwidth allocation (or "slot") for the fourth Freeview HD channel reverts to the BBC.

Today the BBC Trust announced that the slot will be used, from the autumn, for a BBC One HD service. This means the BBC will have two HD services, BBC One HD and BBC 2-3-4 HD.

Both HD channels will be on Freeview HD, Freesat HD, Sky HD and Virgin Media HD.

In addition, the existing BBC HD channel will increase from a nine to 12 hour service.

The majority of programmes in the BBC One network evening schedule will be available in HD at launch, and by 2012 it is expected that the vast majority of all BBC One titles across all hours will be in HD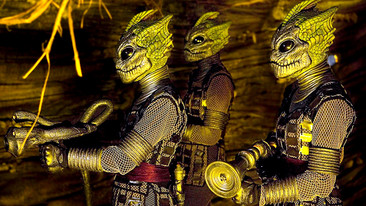 Doctor Who will be on BBC One HD

Jana Bennett, Director BBC Vision, says: "BBC HD has established itself as the most popular HD service, and these changes are important next steps in improving that service still further, providing an opportunity to showcase the wide variety of BBC programmes in the highest possible quality. We recognise that audiences have already been enjoying many of their favourite programmes in HD, and I'm delighted that we can now broaden their choice."

Danielle Nagler, Head of BBC HD, says: "HD is the future of television: people who have HD have clearly told us that they want more of their licence fee-funded content in HD. I'm delighted that the HD simulcast of BBC One will become available on satellite, on cable, and now also on Freeview's new HD service. This is a key moment for us on the journey to HD becoming the norm for all our programmes and channels.

"Audiences have already been enjoying many BBC One programmes in HD on our existing HD channel and the arrival of BBC One simulcast in HD will make it easier for them to find the programmes they love in high definition. BBC HD - the most popular HD channel in the UK - will continue to show programmes from across all BBC channels."

Jay Hunt, Controller, BBC One, says: "HD is the gold standard for broadcasting, and it's right that we bring all the excitement of HD to BBC One - the most watched channel in the UK.

"BBC One HD will bring families together for shared viewing of their favourite programmes from EastEnders and Strictly Come Dancing to The One Show, in incredible and vivid detail."
Comments
Saturday, 15 October 2011

hi do you know when the next box update will be on the freeview hd mux i have the humax hd freeview foxhd 500g pvr cheers

spencer's 7 posts
spencer's:
Freeview map
terrain plot
frequency data
R&TI Service
digitaluk trade
DAB coverage
Sunday, 16 October 2011

spencer : Please see Freeview and Freesat set-top box updates | ukfree.tv - independent free digital TV advice

Briantist's 38,784 posts
Owner

spencer: The last update for the Humax HDR-FOX T2 was in June 2011, version FHTCP 1.02.20. If you missed the over-the-air update, you can download it to a USB memory stick, then plug that in to the box to update it.

If you already have that version, you'd have to ask Humax whether they have any updates in development.

Mike Dimmick's 2,486 posts
Platinum
Your comment please