Meridian TV area - switchover dates announced

Brian Butterworth published on UK Free TV
Digital UK have today provided the final dates for analogue TV along the Southern part of England.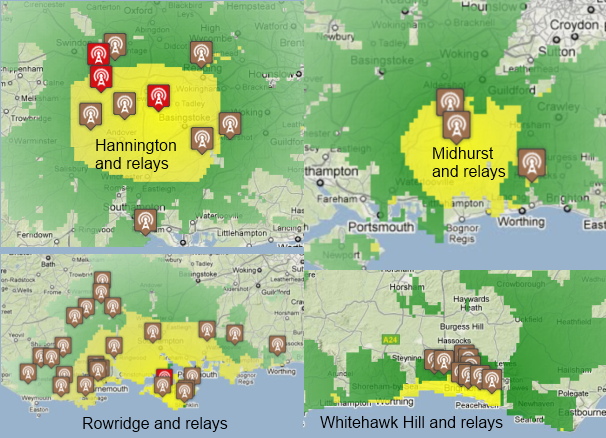 Comments
Tuesday, 15 February 2011

ITV 4 and FILM 4 seem not to be available to me on Freeview despite retuning I receive signal from Meridian area believed Midhurst aerial. Is this a general problem

Roy's 1 post

Roy: Please see Single frequency interference | ukfree.tv - independent free digital TV advice for help with that.

Briantist's 38,899 posts

Have you got stomach pain Brian?- you've labelled Midhurst and Midhurts on your piccies above

Amy Beesley's 13 posts

Amy Beesley: Sorry, fixed.

Briantist's 38,899 posts
Wednesday, 16 February 2011

Regularly we are told , if you can receive analogue you'll get digital OK when switchover takes place, even if you cannot at present. Nobody ever mentions that there may be many problems for those receiving digital at present through an amplified system (because the current signal is very weak) - I anticipate many issues when the signal goes up tenfold and the amplifiers overload!

Colin's 19 posts

Colin: Yes, that has already been a problem for people in regions that have switched. Many people have had to disconnect amplifiers or fit attenuators where they have over-provided.

Thankfully for most people disconnecting an amplifier is free, and attenuators cost less than £5.

Briantist's 38,899 posts

As usual on Meridian Tonight, they said that you don't need a new aerial.
That is only true if you have a perfect picture.
I still see portable TV for sale with a small aerial attached to the TV. This is OK for a snowy picture on analogue but not always for digital.

Mark A.'s 373 posts
Mark's:
map
M's Freeview map
terrain
M's terrain plot
waves
M's frequency data
M's Freeview Detailed Coverage

Mark A.: They should really say "you don't need a new rooftop aerial", I suppose.

Indoor aerials will never be suitable for digital reception in the UK.

Briantist's 38,899 posts
Thursday, 24 February 2011

"Indoor aerials will never be suitable for digital reception in the UK."

Are there any countries where indoor aerials ARE suitbale for digital reception and if so where? And also, would it be a justifiable reason to move to and live in that country just because I could use indoor aerials for digital reception there?

Josh's 97 posts

Josh: Yes, in the Netherlands, due to their rather simple terrain, they have provided DTT at high power which is more suited for indoor reception.

Briantist's 38,899 posts
Select more comments
Your comment please