Compare the free TV channels on the different systems.

Brian Butterworth published on UK Free TV
If you visit Compare Freeview and Freesat TV there are three pages that show the channel logos and names for each channel that is exclusive to the first and then the second system, plus those television channels common to both.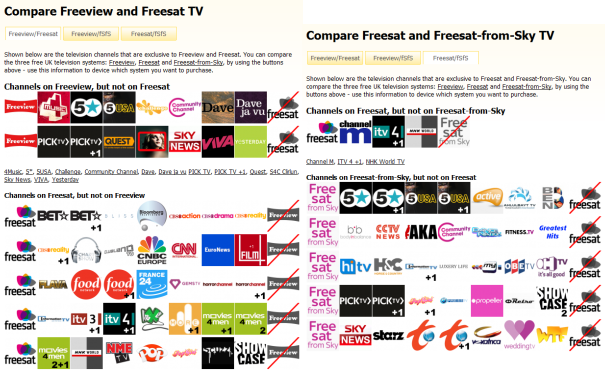 Comments
Wednesday, 8 June 2011

Edwina Waters: You have enabled "audio description". Go into the set-up menu, and select Audio and turn it back to "English" (rather than "Audio Described").

Depending on the remote, there could be a button you can press there.

Briantist's 38,908 posts

Edwina Waters: Hi Briantist. I sat up into the early hours last night and eventually managed to disable the Audio Description. I have no idea how it became enabled in the first place, except to say my husband has rather large feet and may have "pressed" something on the remote when putting his feet up on the sofa. I am going to ban him from having access to the remotes from now on! Many thanks for your assistance.
Edwina.

Edwina Waters's 10 posts

Edwina Waters: Glad you have your normal sound back.

Briantist's 38,908 posts
Monday, 27 June 2011

Hi, I would appreciate advice on this. I move house on Friday and have cancelled Sky at old home (fed up with the monthly costs). As I have an HD telly I would like freeview HD or freesat HD but not sure what to get. The new house has a Sky dish installed that could be used and I have my old Sky+ box and card (non HD). What should I do!?

Ian McKie's 3 posts

Ian McKie: Without even knowing your location, but if you are the type that wants as near to 100% reliability of signal that's possible, then I would have no hesitation in saying go for a Freesat HD box, possibly along the Humax HDR line.

This will work perfectly with the Sky dish at the new location, although "if" its only got a single LNB fitted its best to change it to a quad version, as although the Freesat box will work on one you wont be able to take advantage of its twin tuners.

jb38's 7,179 posts

Ian McKie: Just to add to my previous recommendation regarding a Freesat box.

Should the LNB on the dish only have a single output and you changed it to a quad version, that would enable you to use two of the outputs for the Freesat recorder and one for the old Sky box, this possibly installed in another room.

And of course "if" your TV is Freesat capable, that would use up the remaining LNB output.

jb38's 7,179 posts

Ian McKie - I presume you know that the box you have will get you SD Freesat from Sky for free?

Steve's 1,173 posts
Wednesday, 29 June 2011

jb38: Thanks for the advice. I'm poing to have to look into the LNB thing as I'm not sure what I can do, but the prospect of effectively having Freesat 'Multiroom' sounds great!

Steve: Thanks, yeah I realised that but splached out on a Philips 42" HD TV a few years back and find it pointless not being able to watch HD on it!

Ian McKie's 3 posts
Ian's:
map
I's Freeview map
terrain
I's terrain plot
waves
I's frequency data
I's Freeview Detailed Coverage

Ian McKie: Yes, changing the block over to a quad version is simplicity itself, (if at all practical!) and they usually come with an adaptor so that the LNB block can fit onto any arm, that is either round or oblong.

Quad blocks are seen advertised very cheaply on places like e-bay etc, with the average price of around only £8.00 or so, then all you require is to buy a length of co-ax and plugs to suit, a neater job being made if you use the version called "shotgun" cable, which in effect is a twin cable with a figure 8 appearance, if viewed end on that is!

jb38's 7,179 posts

jb38: Sorry to be a layman but what will I look for in the sky dish to see if I have single or quad LNB? Also is quad only required if I want to go for the multi-room option ie with single Quad and a new Freesat HD box I can watch HD and use the dual tuner? Again sorry if I sound stupid!

Ian McKie's 3 posts
Ian's:
map
I's Freeview map
terrain
I's terrain plot
waves
I's frequency data
I's Freeview Detailed Coverage
Select more comments
Your comment please