DAB updates

Brian Butterworth published on UK Free TV
Another two updates to UK Free TV to show DAB radio stations.

First on the "all channels" page, the "analogue" column has been changed to "other" and now includes "DAB" for radio stations carried on the national D1 and BBC multiplexes.




For the moment, channels that are carried on the regional and local DAB multiplexes are not included. I will provide a fix for this when I have the full information. In particular Heart and Capital FM are now networks of local stations.

I have also changed the Radio Comparson page to provide for DAB: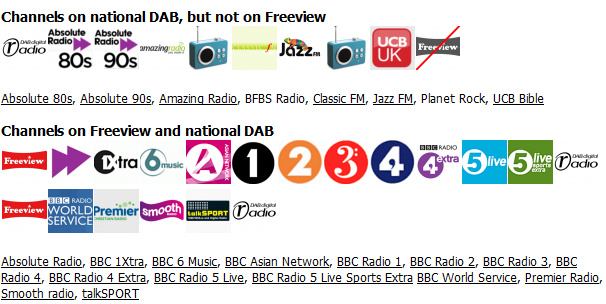 Comments
Monday, 6 June 2011

Great work on the revamp.

What is the obstacle getting data for local stations? Isn't there something fancy you can do using the postcode checker at www.getdigitalradio.com to feed your database.

Ash's 6 posts

Ash: The official source is a CSV from Ofcom | Tech Parameters .

I'm working on it.

Briantist's 38,908 posts
Tuesday, 7 June 2011

Brian, this is going to be very useful. Thanks for all your input!

michael's 869 posts

NORTH DEVON DAB - Ofcom has launched a public consultation on Now Digitals application to extend from Exeter/Torbay to North Devon. In principle, good news. However the Ofcom coverage maps indicate clearly that many areas in the undulating terrain of North Devon will get unreliable or no DAB reception, except perhaps from Wales. This is particulary evident along the Bristol Channel coast (where CCI problems with Carmel continue to affect DTT reception for many). BBC local/regional radio must be carried by a commercial multiplex, so when AM/FM are terminated, many areas will no longer receive BBC local/regional radio, which is high priority for many listeners. Any interested should respond by 29.6.11 online to the Ofcom questionnaire and lobby for BBC local /regional radio to continue on AM and FM until DAB coverage is identical : Ofcom | Responding to the consultation .

michael's 869 posts

Don't worry michael the FM stations will not close down in the foreseeble future. DAB uses higher frequencies than FM so to get even near identical coverage would require a large number of fill in transmitters.

Trevor Harris's 367 posts

Trevor Harris
I thought that DAB was on FM (VHF) using the same wave bands as FM radio.
It's digital radio on Freeview that is using the TV's UHF frequencies.
See UK-DAB.info - What can I receive?

MCMLXII's 4 posts

MCMLXII: 11B, 11C and 11D are part of the old VHF TV channel 11, and 12A, 12B, 12C and 12D the old VHF TV channel 12.

11B is 218.64MHz, 11C is 220.352MHz ... 12D is 229.072MHz.

Analogue radio is 89-108MHz.

UHF analogue and digital TV starts at 474.0MHz for C21.

Briantist's 38,908 posts
Wednesday, 8 June 2011

DAB - This is, of course, all known and correct. At my elevation, I will probably get DAB from Huntshaw anyway via a rooftop aerial (and maybe relay BBC Radio Devon via a micro FM-tx to legacy domestic FM radios!). As Ofcom ignored the local Carmel CCI issue, there is lingering concern over DAB implementation. Ofcom invites submissions, so why not keep them on their toes? It does indeed appear that FM/AM will remain available for much longer than 2015. Given the sluggish take-up of DAB and investment issues, I hope we will end up with an intelligent compromise, such as: DAB for major centres and motorways, FM/AM for less densly populated areas; operators choose either or both; regional BBC radio guaranteed for all.

michael's 869 posts

Please,When will Oxford local radio(FM) go DAB. Thankyou

John Horrabin's 1 post

John Horrabin: When there is a local commercial multiplex for it to go on. When that actually will be is a good question.

Briantist's 38,908 posts
Select more comments
Your comment please