DAB transmitters, multiplexes and radio stations

Brian Butterworth published on UK Free TV
The information is taken from Ofcom, and is displayed in what I hope you will find a useful way.

There are six types of page shown:


Map of all DAB transmitters
On this map you can click a
transmitter
symbol to get more information about the selected transmitter.
Maps of each DAB transmitter with indoor coverage for each map shown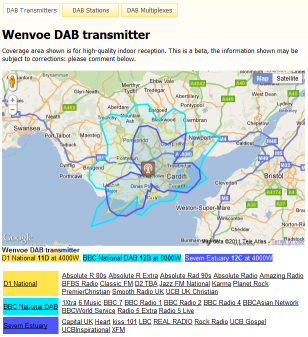 These pages show the indoor coverage area for each
multiplex
on the transmitter, listing of the
power
for each multiplex, and the stations provided.
List of all the DAB multiplexes
You can click on any multiplex name to see its details.
Lists of the stations on each DAB multiplex and the transmitters carrying the multiplex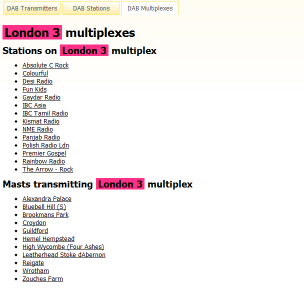 Click on a
station
name to find details of the station.
A list of all the DAB radio stations
For each
DAB
radio station, a list is shown of the multiplexes that carry the station and the transmitters for each.
Comments
Monday, 25 July 2011

Mark A: Have you seen the map I have linked to further up on this page ( http://www.localdigitalradio.co.uk/SussexTX.jpg )? That is a bit of a contrast to the one on this page.

Ash's 27 posts
Tuesday, 26 July 2011

Ash: I've moved the thick line to -58 dB(uV/m) and the shaded area to -65dB(uV/m) and I think the Details of 11B/Sussex Coast DAB multiplex | ukfree.tv - independent free digital TV advice map matches the reference much better:


Briantist's 38,899 posts

Briantst: Yes, but the other way around. 65dB is indoor, 58dB is outdoor coverage.

Ash's 27 posts

Ash: Yes, indeed.

Briantist's 38,899 posts

Ash: I've correct the text on the page, how very silly of me. There's a new post about it here - DAB coverage map improvements | ukfree.tv - independent free digital TV advice .

Briantist's 38,899 posts

Great work Brian.

Ash's 27 posts
Thursday, 8 September 2011

please can you tell me why my T.V will not work in the kitchen but all others are fine,

mary's 1 post

mary: That's not very much to go on.

Briantist's 38,899 posts
Monday, 27 March 2017

I am the MD of an Asian radio station currently broadcasting on Sky satelite channel 0205. I am interested in finding out how I may broadcast from a DAB Multiplex and what sort of costs this may entail.

Jeet Chand's 1 post

Jeet Chand: You need to contact the operator of the multiplex you want to broadcast on. Most city/county multiplexes are operated by either Arqiva (https://www.arqiva.com/overviews/radio/now-digital-local-dab-multiplexes/) Bauer (http://www.bauermedia.co.uk) The Wireless Group (http://www.wirelessgroup.co.uk/about/radio-gb/) or MuxCo (http://www.muxco.com) or you could try talking to a small scale DAB muliplex operator if there is one broadcasting in the area you want to cover.

StevensOnln1's 3,553 posts
Select more comments
Your comment please