Clarification of engineering information

Brian Butterworth published on UK Free TV
Following suggestions (thank you), I have applied a filter to the engineering information from Digital UK to filter for transmitters that do not carry services.

Before the transmitter would show services as "working normally" when the service has either closed or not yet started.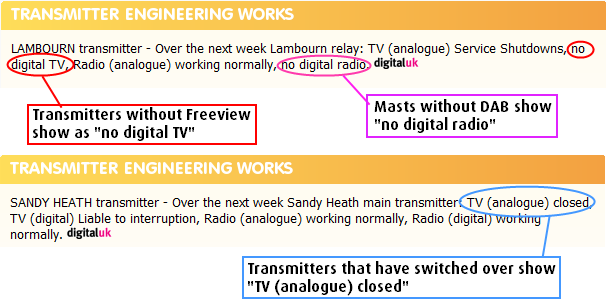 As shown in the two examples above, transmitters with no digital TV, no analogue TV or no DAB radio now show this, rather than "working normally."
Comments
Thursday, 4 August 2011

Hi Brian
I think I understand the changes in presentation of engineering following your filtering, but the info currently displayed for Sandy Heath doesn't look consistent with that to me. Am I missing something?
While writing, may I say thanks so much for the all the info, which I have been following with great interest in the run up to the promised land of digital TV on Freeview!

Phil Brown's 3 posts

Phil Brown: Sorry, I changed the message to "no analogue TV" and pasted in "digital" in error. I have correct this and it shows the correct information now.

Thanks for pointing that out and your kind comments.

Briantist's 38,844 posts
Sunday, 7 August 2011

Why do I have no TV programmes at all today, Sunday 7.08.11 in Cirencester GL7? Have tried setup, no joy each time! No signal anywhere, nothing to do with freeview, which I can never access anyway!

Mary's 2 posts

Mary: The Cirencester transmitter was off air from 09:47 today to 13:09 today.

Briantist's 38,844 posts
Monday, 8 August 2011

Why is there only a limited digital service in Salcombe (south Devon)? There is no BBC service at all and no explanation available. When will the service be resumed ?

andrew morgan's 1 post

andrew morgan: There is a fault reported on the Salcombe digital TV transmitter | ukfree.tv - independent free digital TV advice page, I would expect someone is trying to fix it right now.

Briantist's 38,844 posts
Thursday, 3 November 2011

Q. How do I find out in advance when engineering work will affect my reception.
The information all seems to be historical!

David Grice's 2 posts
Your comment please