Another beta - FM, LW and MW radio transmitters section

Brian Butterworth published on UK Free TV
If you visit FM, MW and LW radio broadcasting you will find that there is now a new section dedicated to analogue radio transmitters.

There are currently four types of page.

First there is an "all transmitters map". Secondly there is a listing of "all analogue radio stations":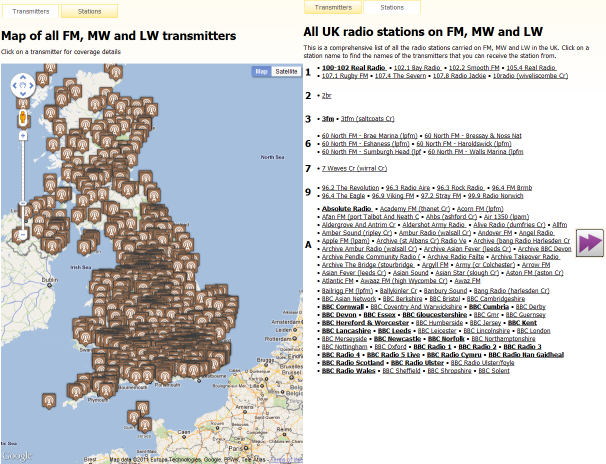 Thirdly there is a page for each radio station, and finally there is another for each transmitter.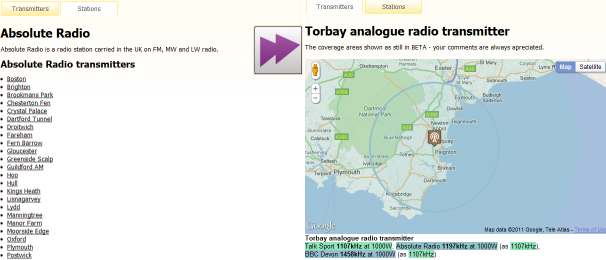 This is still under development, and I would appreciate any feedback you have.


Also...
Now there are TV,
DAB
and analogue radio
mast
pages, there is now a system that provides a link on these pages to see the "other" types of
transmitter
, like this:
Comments
Friday, 5 August 2011

Like a good wine, your produce improves with age, Brian. Yet another very useful tool!
Quite a shock to see at a glance how many transmitters there are which will eventually be led to the guillotine by the DAB Revolutionary Council :-)

michael's 863 posts

michael: Thanks.

I suspect that I need to do a "full list of all masts" page now.

Not all mast will come out of service. The community radio services will stay on FM and many DAB transmitter masts are FM or Freeview sites.

Briantist's 38,899 posts

Brian,i see your measured powers have quoted for the single element,not the mixed polarization values in Kilo watts.Any reason for this?
All other publications quote mixed polarization values,though the Ofcom site,breaks down the power values between Vertical and Horizontal polarization as well,on FM Transmitters.

Aerilman's 140 posts

Aerilman: The way it works at the moment is that for FM it takes the larger value from the H and V ones provided. If both values would be of interest I can import and display them both.

Briantist's 38,899 posts

I know it takes more work,but i think it looks more accurate.For example many of the low power community Radio station FM transmitters, broadcast in the Vertical element only.
I just think you can't get enough Transmitter Coverage maps,so great work.

Aerialman's 140 posts

As a supplementry to the above,the mixed powers of any given FM Transmiter,are not always the same or even.

Aerialman's 140 posts

Aerialman: I can log both values and display them, I was really just trying not to overcomplicate matters whilst I worked out what to do next.

Any suggestions at this point would be appreciated.

Briantist's 38,899 posts

Yes,make sure your coverage maps are accurate in the first place!with respect,a lot are not.
For example Winter Hill FM.
Radio's 1,2,3,4,is narrow beam to Blackpool coast and West Lancashire,not omni-directionally as suggested in your map(as proved by BBC FM coverage map1989(3)9211.While Real and Smooth Radio surrounds all of the North-west.
I appreciate the hard work put into this,but accuracy is everything.

Aerialman's 140 posts

Aerialman: The data is from Ofcom, if there is no information in the source data about radiation patterns, I can't include it.

The BBC don't HAVE to provide this information to Ofcom, whereas all other broadcasters do.

Briantist's 38,899 posts

Thanks for wonderful maps and data. As an SWL (Short wave listener), these are very useful for trying at DXing and testing out propagation.

Matt's 101 posts
Matt's:
map
M's Freeview map
terrain
M's terrain plot
waves
M's frequency data
M's Freeview Detailed Coverage
Select more comments
Your comment please