How might a 10,000 pound a week local TV channel work?

Brian Butterworth published on UK Free TV
Schedule
A
local TV
channel
running on a budget would not be able to provide a rolling news channel type service as this would be too costly.
A more typical would be for the channel to produce three half-hour programming blocks per day: one at "breakfast", one at "lunchtime" and a final "evening" block. This block could either be produced as a live programme, or almost-live to
save
production costs.
Each half-hour block would then be electronically repeated over the following hours, providing a full-time service.

A typical schedule for the half-hour block might be:
30 seconds identify and titles
2.5 minutes local news headlines
7 minutes local news content
1 minute local weather and traffic information
4 minutes adverts
1 minute headline summary
9 minutes local features
1 minute local weather and traffic information
4 minutes adverts
Costs control
The use of
standard
broadband and internet facilities, rather than the traditional broadcaster-friendly synchronous data
services
will probably be necessary.
A nationally co-ordinated technical order for the necessary hardware to support the local TV
channels
would considerably reduce
capital
and maintenance costs.
The co-location of a newsroom in an existing local newspaper office would also reduce costs (but not increase plurality). Some technical facilities as well as marketing and advertising sales may require cross-locality sharing for the smaller stations.
Technical challenges
There are several technical challenges to getting the channels on air, much of which will be covered by the £25m-a-year from the BBC to cover the
engineering
costs of the local television stations.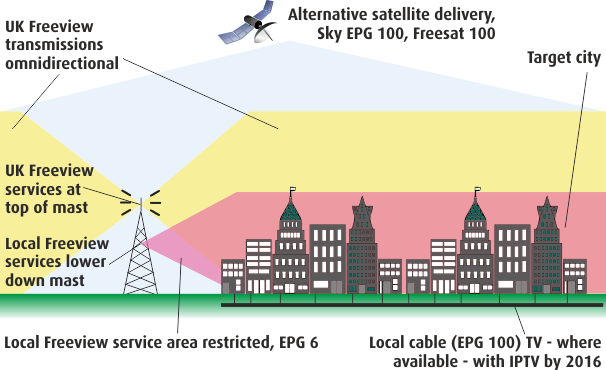 Freeview
For
Freeview
, a single-directional broadcast panel located half-way down a TV
transmitter
will broadcast a
multiplex
in QPSK
mode
, which will provide for a single local channel plus one guest channel. The maths (204 x 1 x 1/4 x 2/3 x 32/33) provides a multiplex capacity of around 8Mbps, about one-third of a "normal
64QAM
" multiplex.
The local channel will appear in the electronic programme guide at position 6. As the local TV multiplexes use restricted frequencies it will not be possible for
reception
of more than one local TV service.
Cable
If the locality has a
cable
TV system, the local TV service can be delivered to the cable company (Virgin Media) where the channel can appear as 106.
Satellite
In addition,
satellite
capacity will need to be found. It might be expected that lower bitrates will be used for local TV services cover smaller populations (as not happens with the BBC and ITV Channel Islands services, for example).
Sky
might require specific ministerial instructions to place the appropriate (based on the registered postcode) local TV at position 106 in the programme guide.
EPG slots 6 and 106
If Sky (or indeed Virgin or
Freesat
) are unwilling to relinquish control of the 106 slot, then channel 100 is unused on all systems at the moment. However, the law does seem to give the Minister the right to demand the slot -
Communications Act 2003
.
Comments
Sunday, 14 August 2011

Surely the transmission will be mpeg4 to future proof the channel ??

What about coverage of local events like the Brighton Festival etc, if the channel is so hard up this will never happen

I think a 1hr news slot early evening would give alternative viewing but then so few care I think

Dave's 126 posts

Dave: If the broadcast was MPEG4, the 99% of viewers that do not have Freeview HD receivers would not be able to watch it.

Coverage of local events would be in the "feature content" part of the schedule detailed above.

I'm not sure if a local channel could sustain a whole hour of local news...

Briantist's 38,899 posts

Hi there,
I run a citizen journalism project called NoozDesk and do a lot of work around community broadcasting in th UK and now breaking into the Australian market. I am giving a talk at the CBAA conferance in November and to community organisations all on the subject of citizen journalism.
I would really welcome the opportunity to talk to you on a range of matters connected with community broadcasting at some poiint.

Gari Sullivan's 1 post

What does "around" mean in that context?

Steve P's 1,173 posts

Who's going to staff these productions 7 days a week? Assuming shared resources with a local newspaper, what kind of production values are going to be achieved using 3 person teams?

Don't we have enough unwatchable TV channels available?

Alan J's 1 post

Alan J: The idea would be that the people working would be multiskilled, as it normal for TV reporters. They would write, film and edit the content.

To say that the content would be "unwatchable" is a bit presumptuous - most TV news reports are created in this way, but yes, there is a trade off in terms of costs to provide for the required localism.

People always say they want "local" (rather than "regional") news when asked. As there is no money to throw at these projects then they will have to work within a tight budget.

The above schedule was working on an assumption that people will "dip in" to the local channel for no more than 30 minutes at a time, just a few times a day.

The local channels are not required to compete with the existing channels, they will be providing something new - local news, reportage and information.

Briantist's 38,899 posts

Gari Sullivan: That's http://noozdesk.com/ ?

I would be interested to hear what you have to say about the Local TV initiative.

Briantist's 38,899 posts

I have been reflecting on local TV since this thread started.

I think I probably - or at least posssibly - WOULD drop into a local TV station, even though I don't listen to local radio; preferring R4.

Regional TV is not much use if you live in North Wales, as it is mostly about South Wales - literally at the other side of the mountains.

Or I can watch NW region - but that covers a huge area.

Though on Freeview I can only get Central. I have no interest whatsoever in the midlands. Never been there except in transit.

BUT these proposals will give us Liverpool. Which is worse still.

Steve P's 1,173 posts
Monday, 15 August 2011

Steve P: If you are not in the Liverpool reception area, you get Liverpool TV, unless I guess you are between a mast and that city.

Briantist's 38,899 posts

Brian - Is your last missing a "not" somewhere?

For DTB we are the extreme NW of Central, but the Local maps have us extreme S of Liverpool - which includes much of NE Wales.

News of scousers scallying is not for us.

Will they report of Wrexham FC?

Steve P's 1,173 posts
Select more comments
Your comment please