How might a 10,000 pound a week local TV channel work?

Brian Butterworth published on UK Free TV
Schedule
A
local TV
channel
running on a budget would not be able to provide a rolling news channel type service as this would be too costly.
A more typical would be for the channel to produce three half-hour programming blocks per day: one at "breakfast", one at "lunchtime" and a final "evening" block. This block could either be produced as a live programme, or almost-live to
save
production costs.
Each half-hour block would then be electronically repeated over the following hours, providing a full-time service.

A typical schedule for the half-hour block might be:
30 seconds identify and titles
2.5 minutes local news headlines
7 minutes local news content
1 minute local weather and traffic information
4 minutes adverts
1 minute headline summary
9 minutes local features
1 minute local weather and traffic information
4 minutes adverts
Costs control
The use of
standard
broadband and internet facilities, rather than the traditional broadcaster-friendly synchronous data
services
will probably be necessary.
A nationally co-ordinated technical order for the necessary hardware to support the local TV
channels
would considerably reduce
capital
and maintenance costs.
The co-location of a newsroom in an existing local newspaper office would also reduce costs (but not increase plurality). Some technical facilities as well as marketing and advertising sales may require cross-locality sharing for the smaller stations.
Technical challenges
There are several technical challenges to getting the channels on air, much of which will be covered by the £25m-a-year from the BBC to cover the
engineering
costs of the local television stations.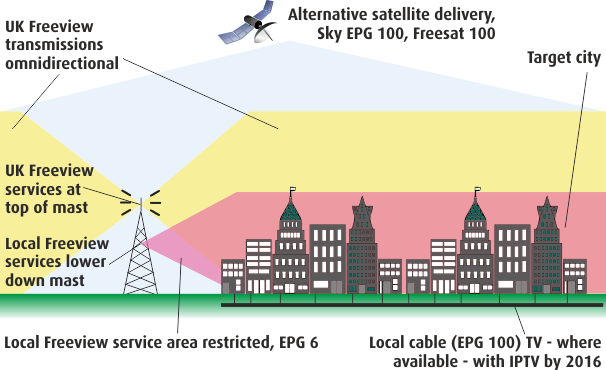 Freeview
For
Freeview
, a single-directional broadcast panel located half-way down a TV
transmitter
will broadcast a
multiplex
in QPSK
mode
, which will provide for a single local channel plus one guest channel. The maths (204 x 1 x 1/4 x 2/3 x 32/33) provides a multiplex capacity of around 8Mbps, about one-third of a "normal
64QAM
" multiplex.
The local channel will appear in the electronic programme guide at position 6. As the local TV multiplexes use restricted frequencies it will not be possible for
reception
of more than one local TV service.
Cable
If the locality has a
cable
TV system, the local TV service can be delivered to the cable company (Virgin Media) where the channel can appear as 106.
Satellite
In addition,
satellite
capacity will need to be found. It might be expected that lower bitrates will be used for local TV services cover smaller populations (as not happens with the BBC and ITV Channel Islands services, for example).
Sky
might require specific ministerial instructions to place the appropriate (based on the registered postcode) local TV at position 106 in the programme guide.
EPG slots 6 and 106
If Sky (or indeed Virgin or
Freesat
) are unwilling to relinquish control of the 106 slot, then channel 100 is unused on all systems at the moment. However, the law does seem to give the Minister the right to demand the slot -
Communications Act 2003
.
Comments
Friday, 12 August 2011

Ian: Surely it is spending almost no money at all.

For example - from http://downloads.bbc.co.u….pdf :

BBC One

Content £1,131m p/a
Distribution £50.8m p/a
Infrastructure £221.2m p/a

compare

"Channel 6" station
Content £0.5 p/a
Distribution £0.4m-£2m p/a (£25m/65 or £25m/12)

"Channel 6" network of 65 stations
Content £32m p/a
Distribution £25m

Briantist's 38,899 posts

Another comparison

BBC Local Radio - £110.2m content + £9.9m distribution + £21.4m infrastructure.

Briantist's 38,899 posts

Mark A.: Looking at the "local TV" coverage areas, 99.9% of them will have the SDN multiplex after switchover, as there are only three relays - Beecroft Hill (21,000 homes), Tay Bridge (27,000 homes) and Barnstaple (16,000 homes) in the list Local TV on Freeview - new Ofcom maps | ukfree.tv - independent free digital TV advice .

Briantist's 38,899 posts

Mike Dimmick: You make very good points.

It might be possible to use even lower bitrates for these local TV channels as the content they will be providing will largely be unchallenging to MPEG2 encoding (no sports or stroking). The "usual trick" of having low horizontal resolution, 540x576 can be employed. A comparison of TV, HDTV and computer monitors | ukfree.tv - independent free digital TV advice

You could, as you say, get 16 streams statmuxed at 2.1Mbps each, it could also be possible to use this bitrate for the high-coverage station (over one million potential viewers: London, Birmingham, Leeds, Manchester, Newcastle, Liverpool, Glasgow, Edinburgh, Cardiff, Falkirk, Southampton), a little less for 400,000 to a million and much less for under 400,000.

If the new services are DVB-T on terrestrial then they must be DVB-S on satellite, as there are about 12,437,000 non-HD Sky boxes out in the wild (UK+Ireland) - there are 3,822,000 Sky HD boxes. http://corporate.sky.com/…1011 .

I don't think transponders will be an issue now there is a lot of extra capacity - New Astra 1N satellite to offer more UK-focused capacity - and soon | ukfree.tv - independent free digital TV advice .

The PRS of 16.5k out of an annual budget of 500k is only 3.3% of the budget.

PPL says that "Usage in advertisements, signature tunes and station identity signals is excluded" - see PPL : Television broadcasting.


Briantist's 38,899 posts

Well I certainly will never tune 106. 8 minutes of adverts for 30 minutes of program all at a lower picture quality than SD is at the moment.

It would be much better to have a VOD service for local news. So people can watch the local news at any time and not in half hour slots. It also means a provider can add breaking news as it happens.

Trevor Harris's 367 posts
Saturday, 13 August 2011

Trevor Harris: 16 minutes an hour of adverts is the normal rate for a UK commercial channel.

The Freeview picture quality will be at normal bitrates, possibly higher because it probably isn't work doing a statmux on two channels. Cable will be good, the proposals for a limited quality service is just an exploration of the options for putting them on satellite.

I would have thought that the local programming created would be a VOD service, but the proposals on the table are for a set of local television services based around the "it works on your existing television".

It is highly notable that local VOD services are notable by their not existence, or indeed their closure (ITV Local).

The point is, surely, that you have to make trade off between "national" multi-billion pound services that cover the UK and "local" services designed to let you know what's going on where you live.

For example, here is Brighton and Hove, there are 360,000 people who don't really give a toss about what happens today in Southampton or Portsmouth or Dover. You might watch the "regional news" on the BBC or ITV to hear about something dramatic or important, but you have to sit for half-an-hour to perhaps find a few minutes.

The local service will provide information that is about the locality.

Which is why I think the best way to kick the service off it to ignore the "super-served" areas that already have a regional news hub, and start with Liverpool, Edinburgh, Falkirk, Preston, Middlesbrough, Grimsby, Maidstone, Sheffield, Aye, Brighton and Hove, Stoke on Trent, Gloucester, Burnley, Reigate, Swansea, Hemel Hempstead, Plymouth, Keighley, Malvern, Inverness, Bedford, Limavady, Dover, Carmarthen, Greenock, Shrewsbury, Hereford, Scarborough and Salisbury - all places with a population between 100,000 and 2,000,000.

Directing the money at London, Birmingham, Leeds, Manchester and so forth in the first instance is not really going to add much for these places: they already have a "regional news hub" from two other broadcasters.

Briantist's 38,899 posts

A little more maths:

ITV serves: England and Wales.
Population: 53m (about 50m+3m).

ITV annual ad revenue: £1,500m

ITV annual ad revenue per person: £28.30




Channel 6 Liverpool, population: 2.1m
Assumed annual costs: £0.5m
Ad revenue per person: £0.24 per year
ITV:Channel 6 Liverpool required ad income ratio: 0.84%

Getting less than 1% of the ad revenue per population in target area of ITV - C6 Liverpool would do that easily.

Channel 6, Brighton, population: 0.36m
Assumed annual costs: £0.5m
Ad revenue per person: £1.39 per year
ITV:C6 B&H required ad ratio: 4.9%

Getting just less than 5% of the ad revenue per resident area of ITV - C6 B&H would be able to do that.

Channel 6, Bangor, population: 0.053m
Assumed annual costs: £0.5m
Ad revenue per person: £9.43 per year
ITV:C6 Bangor ratio: 33%

Getting one third of ITV's ad revenue per population - a much harder task.

Briantist's 38,899 posts

Actually Brian your figures are based on the population where as advertizing rates are determined by viewers and demograph. Has any research been done into how many people would watch these programs?

There was a local station on the Isle of Wight called Solent tv but it failed. The Isle of Wight was considered an ideal place for local TV as people there are very community minded.

Trevor Harris's 367 posts

Trevor Harris: Yes, I know that the demographics are required, but I was just making the point that £10,000 a week of ad revenue for a population of 2.1 million is not "pie in the sky".

Every time Ofcom does research, people say that they would very much want to watch a local TV news service.

I think the problem for a lot of the failed local TV services is that they lack prominence - which is why the "6" slot is important - and they perhaps tried to overstretch themselves.

Having the £25m of BBC money supporting the infrastructure of local television could mean - although it may not - that it could work.

To be honest, looking at the history, Solent TV overstretched itself. It is all very well having "ambitious" programmes, but the were throwing money away.

Big stations will probably be able to expand beyond the basic-type service I outlined above, but not ones with 140,000 target viewers.

Briantist's 38,899 posts

There are some interesting documents here - Ofcom | Local and Regional Media in the UK .

Briantist's 38,899 posts
Select more comments
Your comment please