Tacolneston (East Anglia) transmitter Freeview retune

Brian Butterworth published on UK Free TV
If you live in East Anglia and use Freeview from the Tacolneston transmitter, you will need to perform a retune on Wednesday 17th August 2011.

At around midnight, multiplex B (BBC Four, CBeebies, BBC Parliament, 303, BBC Radio 1, BBC 1Xtra, BBC Radio 2, BBC Radio 3, BBC Radio 4, BBC Radio 5 Live, BBC Radio 5 Live Sports Extra, BBC 6 Music, BBC Radio 4 Extra, BBC Asian Network, and BBC World Service) moves from C58 moves to C66, and Multiplex C (PICK TV, Dave, Really, E4+1, Big Deal, Create and Craft, Price Drop TV, Gems TV 1, PICK TV +1, Daystar TV, Food Network and Sky News) from C61 to C68.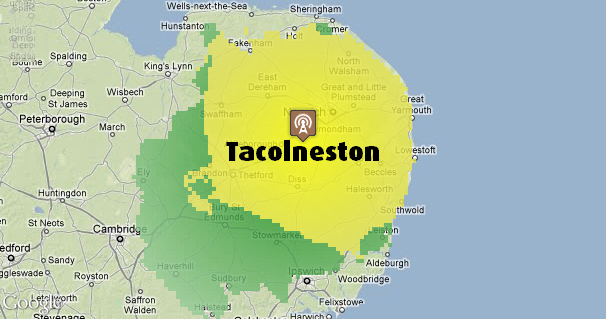 From 6am Wednesday 17 August 2011, you must to a perform a "first time installation" retune (sometimes "Factory Reset" or "Shipping Condition") on your Freeview box or television set

This is NOT the digital switchover for Tacolneston - that starts on Wednesday 9th November 2011 and completes on Wednesday 23rd November 2011.

These changes are required to protect the BBC multiplexes on the Waltham transmitter.
Comments
Friday, 9 September 2011
E
Eric Lacey
2:57 PM
Newmarket

I have 3 tv sets all properly connected and have been receiving freeview scince it first started. At that time and because we are in a poor reception area CB88SU just outside Newmarket we had a high gain aerial with a mast amplifier. The aerial looks as though its directed to the Tacholsten transmitter and we have been getting all the available channels. Over the last month or two we keep getting notices to retune which we do and the channel pick up is getting less and less. No sky news no film 4 challenge no yesterday no ITV-4 and a few others that are not so important. Are we still pointing in the right direction or do we have to re-direct our aerial.


Eric Lacey's 2 posts
Saturday, 10 September 2011

Eric Lacey: Please see Single frequency interference | ukfree.tv - independent free digital TV advice .

Briantist's 38,844 posts
Saturday, 22 October 2011

I receive Freeview from Tacolneston, and record programmes both on a PVR and
using Windows Media Centre on a PC. I shall be on holiday when the first
retune is required (Nov 9th); is it only BBC TWO that is affected by this?
In other words, will recordings set for other channels continue to work after
November 9th until November 23rd?

Thank you

Mike

Mike Challis's 4 posts
Monday, 24 October 2011

Mike Challis: No, only BBC TWO ANALOGUE is effected.

If you record from Freeview, you will miss anything recorded on 1 BBC One East, 2 BBC Two England, 7 BBC Three, 70 CBBC Channel, 80 BBC News, and 301.

Briantist's 38,844 posts
Friday, 28 October 2011

Briantist, many thanks for this information. I guess I'm going to miss Frozen Planet and Formula 1 then, as I can only record from Freeview. Do you know whether BBC Radio 4 Extra (708) will be affected on November 9th?

Thanks

Mike

Mike Challis's 4 posts

Mike Challis: No, the radio channels do not move until the later date.

Have you considered using Remote Desktop to retune your box whilst you are away?

You can use Jump Desktop | Remote Desktop (RDP and VNC) for iPad, iPhone, iPod and Android for example if you have an Android/iOS device.

Briantist's 38,844 posts
Saturday, 29 October 2011

Briantist, thanks for confirmation re Radio 4 Extra. I've set up remote access to my desktop PC and if circumstances allow I'll try a remote retune from SE Asia.

Thanks - Mike

Mike Challis's 4 posts

Mike Challis: Please let me know how you get on. Using remote desktop to retune from the other side of the world because of a switchover must be a first...

Briantist's 38,844 posts
Saturday, 26 November 2011

Freeview channels, 15 and 12 are permanently pixilated, or not there, despite lots of retuning. all other channels have returned, no problems with 15 and 12 before.

Mr.A.Sherreard's 1 post
M
Mr.A.Sherreard
1:42 PM
Colchester

Correction email address.

Mr.A.Sherreard's 1 post
Select more comments
Your comment please