Freeview to get fifth HD channel, possibly by Christmas 2011

Brian Butterworth published on UK Free TV
The BBC have undergone extensive subjective user testing with "a variety of HD content" and have concluded that the new version of the MPEG-4 (H.264) encoding software used for the Freeview HD multiplex can now handle five channels, up from the current four.

The material tested included:


A loop of critical Saturday night programming, including very difficult to code sequences from BBC programmes;
A combination of different sequences from the other Relevant PSBs;
Live content;
HD content from the last Olympics;
Very hard to code sequences on four and then all five channels.
Ofcom
is now satisfied that five HD
services
can be run on the "BBCB" DVB-T2 multiplex by spring 2012, and possibly before Christmas 2011. This is in line with Ofcom's original plan for Freeview HD.
The possible channels that are currently broadcasting could be one from ITV: ITV2 HD,
ITV3
HD,
ITV4
HD; one from
Channel 4
:
E4
HD,
Film4
HD; one from Channel 5:
Channel 5 HD
.
The other possible applicants are S4C, which is unlikely given the broadcasters funding crisis, STV and
UTV
have no broadcasting HD channels.
Most of the above HD channels are under "exclusive" contracts with
Sky
, with the exception of Film4 HD which is "exclusive" to Virgin Media. Five HD was
assessed by the regulators as unsuitable for Freeview HD
last year.
Comments
Tuesday, 6 September 2011

Peter: Yes, good points. I have worked in the industry for many years and most people regard such work done by the BBC as the benchmark.

Briantist's 38,899 posts

David: True, but irrelevant. Both Freeview and Freesat are basically marketing organizations, they don't actually control much, if anything.

On terrestrial ('Freeview' branding), allocation of logical channel numbers and other Service Information data is done by Digital Multiplex Operators Limited, DMOL | Home Page . This is another joint venture between the BBC, Digital 3 & 4 Limited (ITV Network Ltd [ITV plc, STV plc, UTV and Channel TV] and Channel 4), SDN Ltd (subsidiary of ITV plc) and Arqiva Services Ltd. It exists to ensure the SI data is consistent across all six multiplexes.

Otherwise, the multiplexes are operated independently by each licensed operator. The BBC operates Mux 1/PSB1/BBC A and Mux B/PSB3/BBC B. D3&4 operates Mux 2/PSB2/D3&4. SDN operates Mux A/COM4/SDN. Arqiva operates Mux C/COM5/ArqA and Mux D/COM6/ArqB.

A channel wishing to transmit must organize a Logical Channel Number from DMOL, a Digital Television Programme Service licence from Ofcom, and lease carriage on a multiplex. The BBC are only permitted to carry their own channels on Mux 1/BBC A (granted under Royal Charter, not licensed by Ofcom) and are required to carry the commercial PSBs HD channels on the post-DSO BBC B, as designated by Ofcom.

D3&4 must carry the SD regional versions of ITV, Channel 4, Channel 5, and S4C in Wales. They can also carry any other channel from an ITV licensee, or from Channel 4. Channels from other providers require permission from Ofcom.

The three commercial multiplexes can carry channels from any provider as long as they're licensed by Ofcom. Given their ownership they are required to be non-discriminatory and hold open auctions when a slot becomes available.

Whoever carries your channel, you have to get your content to that operator for them to multiplex it with everyone else's. This is usually statistical multiplexing so you need to get it there in basically uncompressed form, the operator's statmux equipment feeds back the available bitrate for your channel to its encoder.


Unlike Freeview, Freesat Ltd operates the Freesat EPG, but it still does not carry the channels. Channels must rent a spot on a transponder that operates free-to-air, on a satellite in the 28.2°E cluster. If they want to appear in Sky's EPG they must contract separately with Sky (and pay the fees). The channels have to ensure their transponder carries the Freesat and Sky EPG data as appropriate. If on a Sky transponder you may have to wait a long time for Sky's change control process to get around to adding the updated Freesat data.

For an HD channel from one of the commercial PSBs to get onto Freesat, either the Europe-wide fees would have to be paid or it would have to get onto a transponder on Astra 2D or 1N, both of which have UK-only footprints. (Astra 1N only launched recently and is not yet ready to carry channels.)

The BBC and ITV are leasing many transponders directly from SES Astra so have full control of the data on it. If you are operating the whole transponder, you have to arrange a 'teleport' to transmit the signal to the satellite, for it to amplify and re-transmit back down to the receiving dishes. Arqiva are a major supplier of teleports. If you are leasing a slot on someone else's transponder, again you need to get your channel content to the transponder operator for them to multiplex with the other content.

Mike Dimmick's 2,486 posts

i have a hdr fox t2 pvr if i reset the box using factory default reset will i lose programs already recorded ?

richard's 1 post
G
George King
8:21 PM
Birmingham

What time of the day on the 7th Sept do we need to retune?

George King's 1 post
George's:
map
G's Freeview map
terrain
G's terrain plot
waves
G's frequency data
G's Freeview Detailed Coverage
Wednesday, 7 September 2011

If it's ITV3, ITV4 or Film4
that would be good news as it would become a national channel available from all transmitters.
Film4 would be my best out of the three, but is not a 24 hour channel.

Mark A.'s 373 posts
Mark's:
map
M's Freeview map
terrain
M's terrain plot
waves
M's frequency data
M's Freeview Detailed Coverage

Mark A.: I think Film4 was considered last time, and just missed out.

Channel 5 didn't get on because it was not profitmaking then, but is now.

ITV3 has an awful lot of non-HD content, being a "gold" channel.

Briantist's 38,899 posts

David: Here is a diagram I did a while ago to explain Freeview's workings: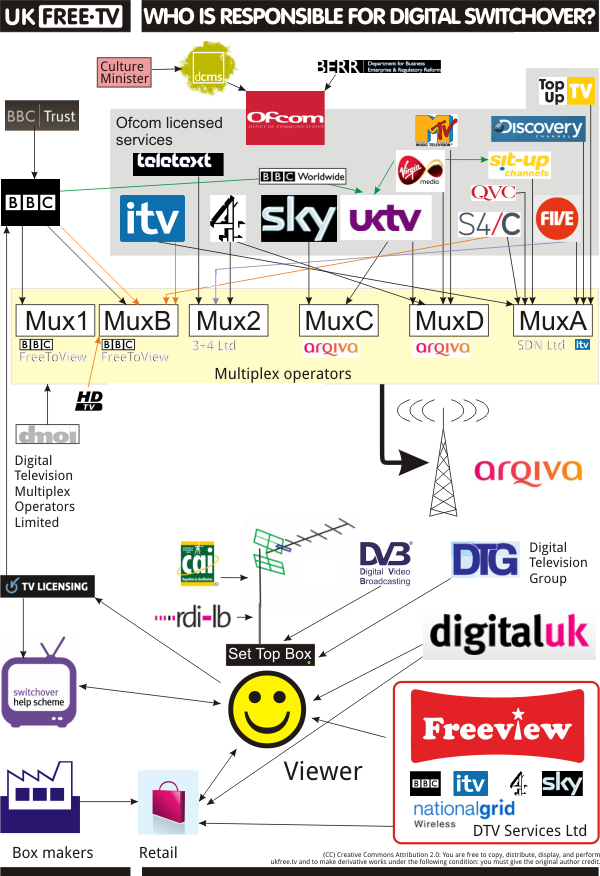 Briantist's 38,899 posts

Thank you Brian.
Too many cooks....
comes to mind
LOL

David's 306 posts

Five HD has to get the slot surely being one of the main 5 channels ??

Will all freeview light relays get this channel also ?

Dave's 126 posts
Select more comments
Your comment please