Improvements to aerial position information and mixed-polarity transmitters

Brian Butterworth published on UK Free TV
Following the Updates from "licences version 7", mixed polarity transmitters, corrections updates yesterday, I have made changes to the pages that display information about the multiplexes provided by each and every transmitter in the UK.

The changes are summarised in this diagram: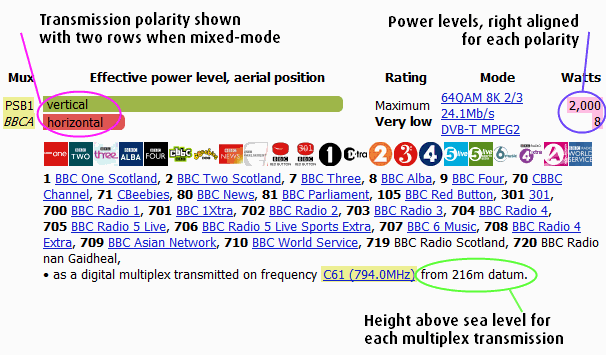 Firstly, the height above sea level ("datum") for each multiplex is shown. Some masts such as Emley Moor have multiplexes broadcasting from different heights, due to space restrictions on the construction. You can now see this.

Secondly, the polarity for reception is now shown in the "power bar" for each transmitter, making it easier to spot.

Thirdly, for the small transmitters that operate in both horizontal and vertical modes, such as Rosneath, this information is now clearly displayed.
Comments
Monday, 30 January 2012
A
alan adams
9:26 AM
Aberdeen

good morning . i bought a new 43" tv 28 th jan . we do receive freeview buy only a small amount of the available channels . can you give me sone advice please . alan adams 01224 618834 . aberdeen post-code is ab24 4nr.

alan adams's 1 post
M
Matt
10:16 AM
Newcastle Upon Tyne

Briantist, This site has always been fantastic and you efforts to constantly improve it are extremely impressive. I believe that your are likely to have assisted almost half the county through Digital switch-over and we are all very grateful!

Matt's 21 posts

alan adams: The reason is probably because your aerial is only sensitive enough to pick up the Balgownie relay transmitter which only carries the Public Service Broadcaster (PSB) channels.

To get the commercial (COM) channels, you will need to receive from the main station, Durris.

You appear to be in a slightly poor signal area for Durris (which might explain the reason for Balgownie).

A look at your road on Google Streetview shows most aerials to be on Balgownie. Those that are on Durris as larger, higher gain ones. If that's what's needed at roof level, then you won't have a chance with a much less sensitive indoor aerial lower down and indoors.

Dave Lindsay's 5,724 posts

alan adams: Sorry, I was confused and thought that you were using an indoor aerial. There's no editing of posts either!

In order to get the COMs, you will need to receive from Durris. Whether you can do and what sort of aerial you will need in order to do so is another matter.

As I say, I spotted a few high gain aerials on Durris in your road, so you might be able to do this.

Durris is at 17 degrees and the aerial should be horizontal. Balgownie is at 219 degrees with the aerial vertical.

Be aware that if there's a tree in the direction of Durris, then your chances of success may be reduced.

Dave Lindsay's 5,724 posts

alan adams: For an explanation of why we have this two-tier terrestrial television transmitter network where around 90% of the population can get all the channels and 8% only get the PSBs, see here:

Will there ever be more services on the Freeview Light transmitters? | ukfree.tv - independent free digital TV advice

Dave Lindsay's 5,724 posts

Matt: You are very kind to say so! I do appreciate such a positive sentiment, it makes it worthwhile continuing to do so.

Briantist's 38,844 posts

Why can I suddenly not get channel 11 pic tv from the Mendip transmitter. I have retuned several times but it omits channel 11

Mike's 1 post
Tuesday, 31 January 2012

Mike: Further to Briantist's suggestion, it is perhaps worth pointing out that the signals for Pick TV and other programme channels are on low power from Mendip and that this will remain the case until 28th March.


Arqiva A (Pick TV etc) is currently on Ch67 at 26kW and will move to Ch56 at 100kW on 28th March.

Arqiva B (Yesterday etc) is currently on Ch52 at 25.7kW and will stay on Ch52 but will be increased to a power of 100kW.

The other four multiplexes are currently at their full final power of 100kW.

Dave Lindsay's 5,724 posts
Wednesday, 1 February 2012
V
valerie patchett
2:35 PM
Whitby

my post code is yo213ej and up to 4 days ago i was getting channel 5 can you explain why i cant get it anymorew i am on a satelite dish with a fortec star digi satelite system

valerie patchett's 2 posts
Select more comments
Your comment please