To join, leave or change ukfree.tv updates by email, enter your email address here:
Ofcom channel bingo II - introducing the bands

Brian Butterworth published on UK Free TV
Following on from Freeview 2020 vs 4G mobile - play Ofcom channel bingo, that discussed the recent history of allocations in the UHF "television band", we now look to the future.

Ofcom, for the purposes of discussion, has named three sets of channels as


As shown on this "bingo
card
":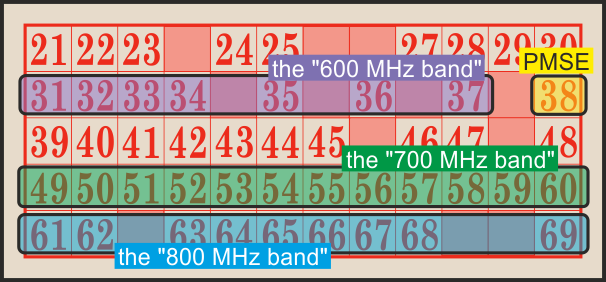 800MHz band
Verizon Wireless:The 800MHz band of channels has already been allocated by Ofcom for mobile broadband using the "LTE" (
Long Term Evolution
) telecommunication
standard
. This means, of course, that there will be no more
Freeview
services
being provided on these frequencies, and also means, for some homes will have to
install
free "filters" to stop the 4G transmitters blocking out Freeview - see
Ofcom moves to protect Freeview interference from 4G mobile devices - ukfree.tv
.
However, whilst Ofcom has allocated the frequencies, the actual auction to sell them to telephone companies has been stopped pending legal arguments, so the start date for these services in 2013 may continue to optimisitic.
700MHz band
The channels in the 700MHz band are allocated currently to Freeview services, but the use of these frequencies in the largest 4G market, the USA (for Verizon Wireless and AT&T Mobility) has prompted Ofcom to discuss if these channels could also be used in the UK in the future for 4G.
Ofcom has asked Arqiva (see
700 MHz Clearance Planning Options Based on Existing Usage - Study by Arqiva
) to see if Freeview could continue to be provided with the removal of the 700MHz band.
At
digital
switchover
, for simplicity to the consumer, transmitters kept the three PSB multiplexes in the "correct"
aerial
group. This provided for a straightforward switchover, but has required allocation of
frequency
resources that was not optimal.
The Arqiva planning document looked at three possibilities.
The first is to use the "600MHz band" range for just the three COM Freeview multiplexes using the "extended services" plan (two MFN, one SFN), and to replan all the transmitters so that the 12 channels in the "700MHz band" be deallocated.
The second was to use the initial plan, but to add to it the reuse of some of the gaps in the PSB
multiplex
plan to extend the COM coverage.
The third plan has the three COM multiplexes recreated on
C22
,
C25
and
C28
as SFN (single frequency networks), with the "600MHz band" added to the existing frequencies, minus the "700MHz band" to recreate the PSB three multiplex coverage.
The first plan would keep the PSB coverage, but reduce the COM coverage by 9.6%, 11.6% and 2.5%. The second plan has the same PSB coverage, but 2.5%, 2.5% and 4.2% loss of COMs, and the final one COM loss is 0.9%, 0.6% and 1.3%.
600MHz band
The plans for this band are discussed on the
More Freeview capacity - COM7, COM8 and COM9 - in the 600MHz band
page.
Tomorrow - part three looks at how technological improvements to digital television systems - may provide more with less, see
Ofcom Bingo III - compatibility or improvements? - ukfree.tv - independent free digital TV advice
.
Comments
Sunday, 13 May 2012

It does seem silly that we could be heading down the road of incompatibility re 700Mhz/4G. We went thru all this rubbish about standard interfaces with RS232; don't people ever learn?
If US have got there first and settled the broadcast frequencies, then surely , while changing everything around ourselves, does it not make sense to adopt same specification?? I read somewhere that Apple have run into trouble selling iPad with 4G in Australia because it does not work with Australian system;need I say more??

David Jackson's 7 posts
Monday, 14 May 2012

With this sort of cutting up of the band I would suspect that the long term aim is to eliminate terrestrial TV altogether. Even with "lite only" repeater stations it will become more difficult to allocate Muxes, and with "HD" likely to become the norm, then there won't be room.
Receiver desensing is going to more of a problem in fringe areas, with 4G signals swamping amplifiers. It's a recipe for a long term decline of a universal service.

Andy's 32 posts
Bronze

Andy: Is HD likely to become the norm? What about standard definition, DVB-T2? This allows for the greatest number of channels to be fitted into each mux, which is what the mux owners are interested in. HD is likely to be a subscription based service for those who particularly want it. The German TV channels seem to be going down that road too. A few years ago it was thought that stereo radio was the future. It is now not unusual to see radio stations opting for mono transmission on DAB in order to fit in more stations, and reduce transmission costs.

KMJ,Derby's 1,811 posts
Gold
Friday, 23 November 2012
C
Coco the clown
10:05 PM
Gainsborough

Where is common sense? Why could they not take it into GHz?
I'm not a expert in aerials, but I thought higher frequencey the smaller aerial needed? Plus higher frequencys travel better in air? Am I right:/

Coco the clown's 1 post
Coco's:
Freeview map
terrain plot
frequency data
R&TI Service
digitaluk trade
DAB coverage
Wednesday, 10 April 2013
D
David Robbins
3:47 AM
Chester Le Street

Why do they have to sell off part of the UHF spectrum to mobile phone operators?

Couldn't they have used the unused VHF band for mobile phones?(VHF is unused isn't it?)

Wasn't one of the reasons why they wanted to switch off the analogue transmissions to stop interference?

Am receiving Pontop Pike. With the two new muxes coming soon which are C33 and C34 that means for a lot of people here a change of aerial. A lot of people here still have a C/D band aerial, upgrading to a wideband aerial wasn't needed as all channels were in between C48 and C68. This is an unneeded expense that a lot of people can't afford. Who's got £100 spare up here these days?

David Robbins's 20 posts
David's:
Freeview map
terrain plot
frequency data
R&TI Service
digitaluk trade
DAB coverage
Saturday, 8 June 2013

David Robbins, FM and DAB use the VHF spectrum i don't know who/what uses the HF band in-between MW and FM though.

Jade's 11 posts
Jade's:
Freeview map
terrain plot
frequency data
R&TI Service
digitaluk trade
DAB coverage
Sunday, 7 July 2013

I live in the old town with a high gain broadband arial on the HASTINGS transmitter (NOT OLD TOWN TX)- recently I have lost all chanels between ch29 to ch69 including 5USA - tried retuning on a sunny day and cold rainy day but no difference - why have I lost so many channels ?? - down to 38 channels in total !! - any ideas please would be helpful - thanks

Cliff's 1 post
Cliff's:
Freeview map
terrain plot
frequency data
R&TI Service
digitaluk trade
DAB coverage
Your comment please