Brighton and Grimsby local TV services licensed by Ofcom

Brian Butterworth published on UK Free TV
Two local TV service have been given a licence to broadcast to the Brighton and Hove area (Latest TV from Latest TV Limited) - Brighton Lights - The Latest and Lincolnshire Living (from Channel 7 Television Community Interest Company) Seven - Virgin Media Digital Channel 879.

The channels will broadcast on special local multiplexes from the Whitehawk Hill and Belmont ("north petal") transmitters. The channels will appear on Freeview channel 8.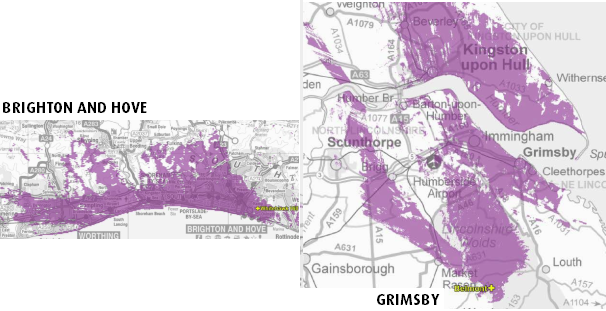 For more, see Ofcom awards first local TV licences
Comments
Wednesday, 12 September 2012

Bit academic at this stage as Ofcom have not awarded the Local Multiplex Licence for the services to run on.

Arqiva's timetable for getting the stations into service is August 2014 for Grimsby and September 2014 for Brighton. Information from http://www.arqiva.com/cor….pdf Schedule 11 (page 100 of the PDF).

Mike Dimmick's 2,486 posts
D
Dave Robson
7:20 PM
Lancaster

Mike Dimmick: Don't be so hasty. Avanti do not plan to use Whitehawk Hill or Belmont if they win the Muxco licence. They will provide increased and better targeted audiences tailored to the coverage requirements of the two new licence holders.

Dave Robson's 2 posts
Dave's:
map
D's Freeview map
terrain
D's terrain plot
waves
D's frequency data
D's Freeview Detailed Coverage
Tuesday, 18 September 2012

More dross on the Freeview Platform..

Jay's 92 posts
Jay's:
map
J's Freeview map
terrain
J's terrain plot
waves
J's frequency data
J's Freeview Detailed Coverage
Tuesday, 9 October 2012
leslie rain er
9:36 PM
Skegness

be nice to get some thing different on tv in stead of the usaul channels i got freesat and not a sign of any new channels on there any 1 can u help me

leslie rain er's 43 posts
leslie's:
map
L's Freeview map
terrain
L's terrain plot
waves
L's frequency data
L's Freeview Detailed Coverage
Your comment please