Four regional DAB multiplexes to close in 2013 to allow for better local DAB

Brian Butterworth published on UK Free TV
The government's radio switchover strategy incorporates a plan to match the DAB coverage of local radio stations (both BBC and commercial - see Ofcom - Annex B. Local DAB build-out plans) with that currently provided on FM (see Ofcom - Maps).

To do this, the regional multiplexes will be closed and their frequencies used to do a large-scale replanning, incorporating a new one called 5A.




MXR will close the following multiplexes:


When complete, the new plan looks like: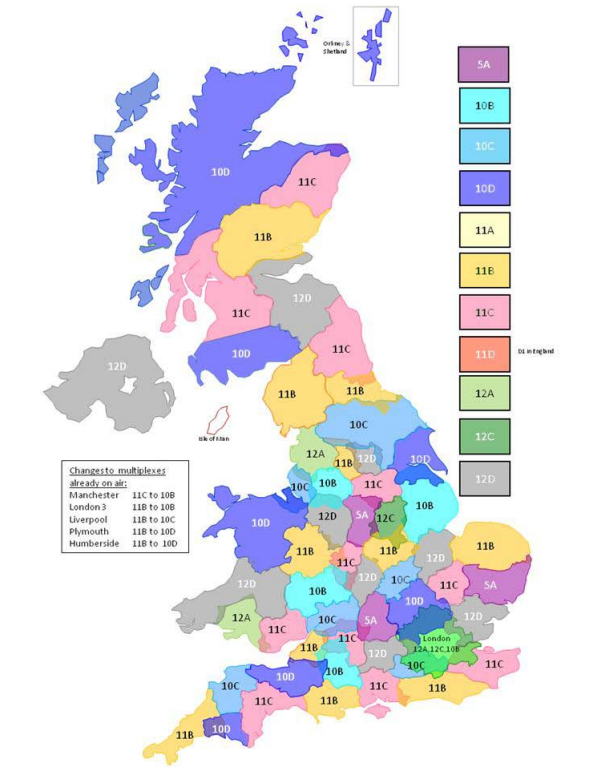 Diagram from
Ofcom - An approach to DAB coverage planning
.
Originally published on 26th September 2012 at 16:24
Comments
Wednesday, 26 September 2012

still cant see the point of DAB,

Ian's 497 posts
S
ste
8:57 PM
Middlesbrough

Ian, the point of DAB is greater choice.
I like stations that play rock and indie. Not Pop. There's no station on FM that can offer this in the north east.

ste's 1 post
ste's:
map
S's Freeview map
terrain
S's terrain plot
waves
S's frequency data
S's Freeview Detailed Coverage
Stuart Owens
9:32 PM
Wrexham

I look forward to the change as at the moment, on FM I can receive stations in both Liverpool and Shrewsbury but on DAB I can only receive stations from Liverpool as both regions have multiplexes transmitting on the 11B multiplex.
And hopefully more stations currently not on DAB will be on DAB by this time next year.

There is room on most of the multiplexes, Stoke especially right now so it would be nice to see them at near-full or full capacity also by next year.

Stuart Owens's 156 posts
Stuart's:
map
S's Freeview map
terrain
S's terrain plot
waves
S's frequency data
S's Freeview Detailed Coverage

Some commercial operators are not renewing their DAB licences. That has to be a concern, not least where BBC local/regional radio can only be carried on a commercial multiplex. Commercial programme content appeals especially to listeners with an FM-only car-radio, less so to the few DAB static or mobile listeners. So FM may survive where DAB may struggle. DAB listeners appreciate the greater choice, but are frustrated by the low audio quality of low bit-rates. Webradio is catching up fast, especially with AAC, with an exponentially greater programme choice than DAB+FM for static listeners. It ain't going to plan...

michael's 869 posts
Thursday, 27 September 2012

Ste as Michael says,more choice at the cost of quality is not an improvement in my book. DAB sounds terrible compared to FM. And unless you have a good signal you cant listen to it at all.

Ian's 497 posts

Upgrade???

That's how Global Radio (the soulless Death Star of commercial radio) cynically spin this disastrous blow to choice in UK radio.

The normally cautious RadioToday newsletter exposed the truth:
'...The mother of all close downs. Listener choice will be drastically reduced.
For example, a listener in Central Lancashire can currently hear additional stations Capital FM, Choice FM, Gold, Heart, LBC, Real Radio XS, Transworld, UCB Inspirational and UCB Gospel on a DAB set via MXR.
This time next year, all of those stations will have effectively closed down in the regions.

Global Radio say they've done a £15m deal to move some services to other multiplexes.
We suspect only the services to be re-housed on local DAB are those which legally have to be on DAB to protect automatic FM licence renewals. This means NONE of the services above will be available in 12 months time in Preston.
So much for extending listener choice.

And what will happen to MXR-only stations such as Mountain FM in South Wales, Panjab Radio in the North East and Radio XL in the West Midlands? '

woodface's 39 posts
C
Charles Stuart
12:24 PM
Bristol

I really don't know what to make of this. One thought I've had is that there should be a second attempt to get the second national multiplex on air. I don't know how complicated it is to change a transmitter's frequency but perhaps, if it's an easy job, the disused regional transmitters could be used as an opening backbone of the service to get it up and running quickly, even if transmitters subsequently have to be relocated.

DAB isn't inherently worse than FM for the quality of sound. It's worse because multiplex operators have chosen to cram in too many stations at the cost of quality. If I ran a multiplex, I'd only have as many stations as it could support at FM quality or better.

Charles Stuart's 159 posts
Charles's:
map
C's Freeview map
terrain
C's terrain plot
waves
C's frequency data
C's Freeview Detailed Coverage

@Charles Stuart

You are correct that if DAB was run at 256kbs as originally intended it could reach FM quality. But there are other inherent weaknesses in DAB. The error correction is very weak and so many listeners experience the famous warbling effect. It also uses a higher frequency than FM which makes indoor reception difficult without an external aerial. DAB does not support a trafic service like FM so FM remains the system of choice for in car listening. Another problem with DAB is that we have just about reached the limit of transmitter density which make it more and more difficult to fill in the areas with poor reception.

The biggest problem with DAB is that most people don't want it. As has been pointed out many comercial stations only continue with DAB to preserve thier FM licences.

The BBC is now stuck with this white elephant. They can't turn it off as as there are too many listeners on DAB. At the same time there are not enough listeners to switch FM off for the national stations.

trevorjharris's 367 posts

@ trevorjharris

DAB cannot use 256 kbps because about 90% of radios sold in the UK will only decode bit rates up to 192 kbps (either MP2 or AAC).

The BBC has already signed a contract with Arqiva for another 174 transmitters for their national multiplex (to be built by 2015). This will take indoor coverage up to 97.4% (according to Ofcom robust FM coverage is 94.9%).

The transmitters are all fully compatible with DAB+ (which uses AAC/AAC+ and the much stronger Reed-Solomon error correction system). The BBC will probably switch to DAB+ within the next few years. Pure's latest UK models will receive DAB+ without the need for an upgrade.

Sweden is the latest country to announce a rollout of DAB+ to 95% of the population and then review FM switch-off (by around 2016).

DAB does support a traffic system and this is currently being tested on multiplexes in SE England.

Mark's 181 posts

I am still suprised why Freeview box makers don't have DAB built in .. the b/w used on Mux for TV, could be used for TV rather than radio!

Jay's 92 posts
Select more comments
Your comment please