Four regional DAB multiplexes to close in 2013 to allow for better local DAB

Brian Butterworth published on UK Free TV
The government's radio switchover strategy incorporates a plan to match the DAB coverage of local radio stations (both BBC and commercial - see Ofcom - Annex B. Local DAB build-out plans) with that currently provided on FM (see Ofcom - Maps).

To do this, the regional multiplexes will be closed and their frequencies used to do a large-scale replanning, incorporating a new one called 5A.




MXR will close the following multiplexes:


When complete, the new plan looks like: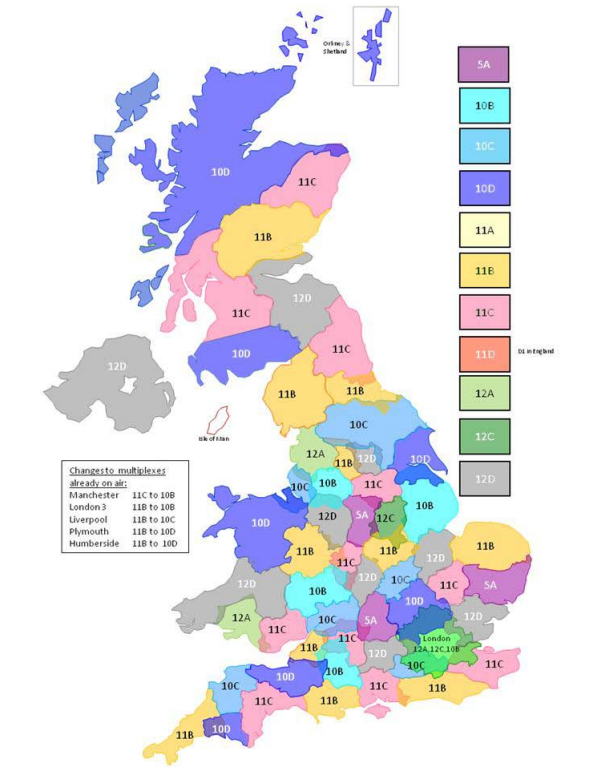 Diagram from
Ofcom - An approach to DAB coverage planning
.
Originally published on 26th September 2012 at 16:24
Comments
Sunday, 17 November 2013

Thank you for the kind welcome Michael and hello to everyone. I think that I should point out that I am well aware of the capabilities that the DAB system has. However, as is usually the case technology has improved greatly since it came on the air back in the late 1990's. I am also well aware that DAB is here to stay unfortunately. It is in real need of updating or limits must be placed on the multiplex operators to maintain high broadcast quality standards. For years analogue radio has been delivering the highest possible quality that the technology can deliver. DAB multiplex operators are not. However I guess we will have to wait and see what develops but I do not like the situation at all. It is obvious that we will be left with a substandard digital radio system for years to come, much like the US had to put up with substandard NTSC 525 line TV for many years. The fact is that most current DAB broadcasts sound hard on the ears whatever we receive them on and it is a massive step backwards. Standards are seriously dropping. If I were a professional broadcaster I would be appalled at the output of DAB.

Trev's 5 posts

If one compares the best DAB quality at 192Kbp/s which can be found on Radio 3, it still does NOT compare well to FM. When the sound source/music becomes complex, the MP2 codec/decoder crumbles under the strain of stereo high-frequency content.

Transmission in stereo at 128Kbp/s are frankly nauseating especially when played through a HiFi system or headphones where greater scrutiny is offered.

MP2 codec technology is just about 'acceptable' at 80Kbp/s for mono broadcasts.

DAB - is a great concept, no doubt, but due to the low transmission bitrates the MP2 codec, not to mention the stuffing-in as many stations on one multiplex as possible has gravitated this technology as almost worthless.

JamesE's 2 posts
R
Russ Dring
2:02 PM
Spalding

JamesE: Here here, at last someone who appreciates that VHF FM broadcasts far surpass DAB in terms of audio quality.

When Radio 3, broadcast terrestrially on FM is curtailed, it will be a very sad thing. Depriving music lovers who cannot easily attend live concerts of "almost there" quality, must not be allowed to happen.

Listening to "The Proms" on R3 DAB is like looking through a window adorned by a net curtain. Draw back the curtain, that's what FM sounds like.

Russ Dring's 48 posts
Russ's:
map
R's Freeview map
terrain
R's terrain plot
waves
R's frequency data
R's Freeview Detailed Coverage

Further DAB comment -

Most if not all current DAB (MP2 version)
radio decoders will only decode to a maximum
bit rate of 192Kbp/s. Some SONY, PURE DAB
tuners (and others?) go further to the maximum
by the standard of 256Kbp/s.

I doubt very much if any one is going to Tx at 256Kbp/s
as this will squeeze out other channels on the multiplex.
Not to mention cost to the Txer.

For choral, simple piano, simple orchestral,
folk music etc which has a simple uncluttered
harmonic content, 192Kbp/s would be fine ... just.

Most music is however far more complex than
this, and even more complicated by stereo
imagery, not forgetting reverberations, which
can confuse even AAC codecs at low bit rates.

The whole thing seems to be driven by the BBC and (other?)
face-saving careerists, who have NO scientific and
engineering understanding.

Progress? NO.

JamesE's 2 posts

JamesE:

FM isn't the highest quality service available for BBC Radio 3.

A 320kbps AAC version is available online.

Mark's 181 posts
Monday, 18 November 2013

Trev: Russ Dring and JamesE absolutely agree gentlemen. We all know that with any broadcasting system compromises have to be made, we accept that of course we do. However DAB is just not working. I started listening to DAB in about 2001/2. Pure then known as Videologic brought out a cheaper tuner than the ARCAM one. I think the ARCAM was around £800. I was not going to spend that on a tuner for a system that I had no experience of. Back then bit rates were higher in particular the BBC. But since then as we all know the bit rates are so low that DAB is just not working. I have absolutely nothing against digital I use it everyday like most of us. But it is not being done right. Even back then I noticed that DAB was nowhere near as natural as FM. I got so annoyed with listening to substandard audio I recently went back to FM. Digital broadcasting has the potential to blow analogue away but not the current DAB system we use in the UK. I did not like the idea of going through a multiplex either. What's wrong with broadcasters using their own individual transmitters just like DRM?

Trev's 5 posts
Tuesday, 17 December 2013

I am concerned about the push to switch to DAB 20% of radio listening is currently done while people are driving, as I drive for my work I listen to hear traffic anouncements, as I live in Scotland I find that FM coverage is very space in more areas than you think, for example from the central belt to the Border and along the A9 between Perth and Inverness where the weather reports are crutial.
Are they planning to kill radio reception in these large areas which have a poor FM coverage as it is? Stikes me as Madness.
I would like to point out that even in my home in the North of Edinburgh where I can see the roof tops of the city centre and the main local transmitter across the forth I can get a good solid DABS signal!
From my point of view DABS is only good for the government, more radio stations means more Licence Money from the radio companies, and the dash for digital is not good for the listener.

Dave Oliver's 1 post

Dave Oliver: Why are you concerned?

Its clearly been stated that nobody has any intention of switching off FM until at least 2018, and almost certainly it will be beyond that. In the meantime, DAB coverage will greatly improve, and there will be advances in chip technology.

There will almost certainly be increased use of streaming via the internet (BMW has just introduced a streaming system in their cars), which is another way to listen to the radio.

As usual, lots of people seem to be worrying about something which has not happened, isn't happening yet, and when it does happen, will only happened when coverage is far better, by what ever method we chose to listen.

BTW - considering the amount of time DAB has been around, it can hardly be seen as a 'dash'!

MikeB's 2,579 posts

Dave Oliver et al:
It has been clear;ly stated today (17th December 2013) that FM and AM will *not* be switched off in the foreseeable future as there are far too few users of DAB systems and far too may users of AM/FM. It has been estimated that there are more than 100m AM and/or FM receivers in use and that the vast majority of cars being used do not have access to DAB equipment. Some estimates state that a car can be converted to DAB for around £100 but when I enquired the radio unit itself would cost at least that plus there is a need for at least 3 separate aerials to be fitted somewhere on the car (easy if fitted during manufacture but hard and very expensive as an 'after-market' fitment).

MikeP's 3,056 posts
Wednesday, 18 December 2013

MikeP:

The head of Arqiva (the transmission company) said today that the BBC's FM transmitters will need major upgrades in the early 2020s as they will be att the end of their useful life.

At that point the BBC will have to decide if it's worth spending the money on FM transmitters. On that basis I expect switchover to be between 2020 and 2022. Other EU countries are likely to switch over around the same time.

Mark's 181 posts
Select more comments
Your comment please