Four regional DAB multiplexes to close in 2013 to allow for better local DAB

Brian Butterworth published on UK Free TV
The government's radio switchover strategy incorporates a plan to match the DAB coverage of local radio stations (both BBC and commercial - see Ofcom - Annex B. Local DAB build-out plans) with that currently provided on FM (see Ofcom - Maps).

To do this, the regional multiplexes will be closed and their frequencies used to do a large-scale replanning, incorporating a new one called 5A.




MXR will close the following multiplexes:


When complete, the new plan looks like: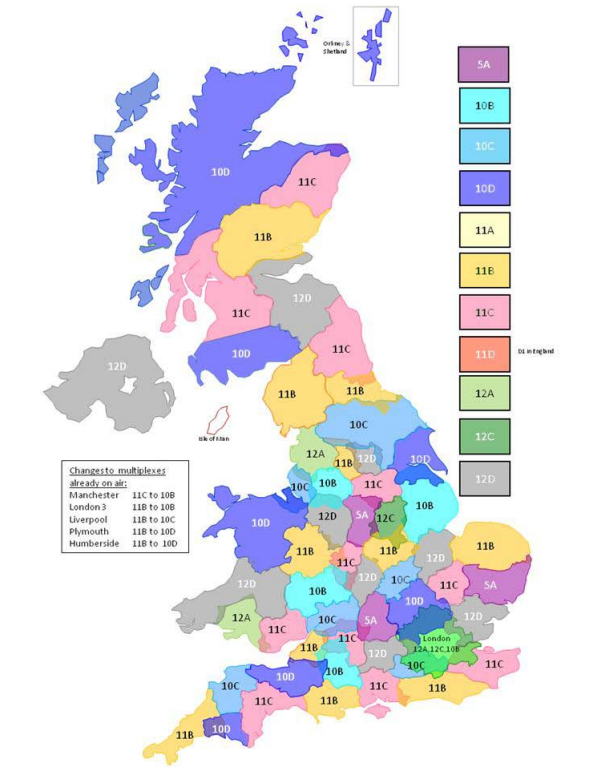 Diagram from
Ofcom - An approach to DAB coverage planning
.
Originally published on 26th September 2012 at 16:24
Comments
Monday, 29 July 2013

IF I could receive all the AM and FM stations I am used to in equal, if not better, reliability anywhere in the house on a portable DAB receiver with telescopic aerial and battery longevity, I would be a happy bunny. I understand this was implemented by Klingons millenia ago...

michael's 869 posts
Tuesday, 30 July 2013

Are these stations going to move to other multiplexes or are they just going to disappear?

Jade's 14 posts

Jade: Some of the stations will move to the new more local DAB multiplexes.

Briantist's 38,908 posts
Wednesday, 31 July 2013
D
Des Collier
5:04 PM
Brigg

Will this mean a retune Brian?

Des Collier's 2 posts
Des's:
map
D's Freeview map
terrain
D's terrain plot
waves
D's frequency data
D's Freeview Detailed Coverage
Sunday, 4 August 2013

@Mark

The latest RAJAR figures are out.
Rajar figures have to be read very carefully for 3 reasions. Firstly it is difficult to compare with previous figures because they keep changing thier interview techniques. R ajar do warn people of this. The second reason is that they do not give any statistical error probabilities. With such small changes error are significant. The third reason is that the raw data is not available to the public.

So given those caveats it does seem that FM listening has decreased. But it does not mean all those have switched to DAB. The DAB listening has slightly increased over the last year. What is suprising to even me is that the increase was so small for the following reason. The BBC has spent an awfull lot of tax payers money extending its DAB coverage to what they consider to be the same as FM. The BBC has also spent alot of money ramming down our throats at every opertunity that we should buy a DAB radio. Considering this I expected a much higher increase. It just goes to show that it is not coverage that is limiting DAB takeup. People just don't want it.

You talk about a switch off in 2018-2020. The plan infact was for 2015 and so it has already failed.

Internet radio is relativly small at the moment but I believe it will become the medium of choice. I have a digital radio but I always use the internet and the DAB tuner remains unused because of the poor sound quality.

That national block you refer to is for commercial use. Channel 4 bought it but had to give it back to ofcom because they couldn't find any stations that wanted it.

The expansion issue I refered to was that the DAB system has a limit on the spacial density of transmitters. As I understand it this limit has been reached in many areas.

trevorjharris's 367 posts

@Mark

The Swedish issue

Firstly according to this report France has abandoned DAB+ and is now considering the cheaper DRM+ system.

Digital Radio Europe 2013: French Riviera DRM+ To Be Presented

You might like to read about the presses reaction to the Swedish announcement.

Digital Radio Europe 2013: DAB Proposal Facing Negative Press Opinion

The main point is that DAB+ is rubish and the people do not like being forced into buying DAB radios by threatening to switch off FM.

Actually the EBU recomend DAB+ or DRM+ and so the BBC is out on it's own with the obsolete DAB system.

DRM+ has lots of advantages over DAB+ but I am not so sure we need a dedicated radio system with the 3G and 4G netwoks now becoming available.

trevorjharris's 367 posts

trevorjharris: Perish the thought that we would have to rely on mobile phone networks in order to receive radio stations! I must agree though, that DRM+ would have been a better choice in hilly areas, where medium wave reception currently is more consistant than FM. As you say, the public resent being told to buy new radios for an FM switch off - this is really why the BBC are stuck with DAB rather than biting the bullet and telling everyone to buy a radio capable of receiving DAB+ transmissions.

KMJ,Derby's 1,811 posts

@KMJ Derby

Yes you are right 3G is very patchy in some areas but that is fixable. In any case there is FM to fall back on. Of course most people would use their wifi system.

Mind you DRM on long/medium wave and DRM+ in Band 2 would be fairly attractive as they are much cheaper than DAB.

What ever happens it should be driven by consumer demand and not by the BBC or Government telling us how we should listen.

trevorjharris's 367 posts
Monday, 5 August 2013

4G radio is attractive for posers, footballers, bankers etc. For the rest of us, the monthly cost is prohibitive. Internet radio is ok-ish, but one is tied to a computer or mains-powered receiver and portability is limited by the wifi signal. (A rechargeable battery-powered receiver is an obvious compromise, but the NiCd or NiMH battery pack ain't cheap and needs frequent recharging and ere long replacing.) And some of us have unreliable skinny-band which drops out frequently and needs a reset to get going again within a few minutes or so. We are stuck with low bit-rate DAB now - too much has been invested for yet another change in the near future. DRM and DRM+ may be seen as more attractive in years to come. They should have been adoped years ago. By now we would have low-drain battery-powered receivers with most of the advantages of quality and portability. If a mischievous sunbeam strikes Mother Earth, all this will be, well, academic...

michael's 869 posts

@ trevorjharris

Ofcom have today announced a low-cost version of DAB for small-scale stations:

Ofcom | Report on a possible low-cost DAB platform for small stations

The reality is that DRM+ isn't going to happen in most EU countries. Today's Ofcom report is a game changer, as it allows community and RSL stations to use DAB at low cost.

The Germans, Dutch, Swedes, Swiss & Italians have all rejected DRM+ in favour of DAB+ and today's research paper from Ofcom on low-cost small-scale DAB must make sobering reading for the DRM project team.

The link you have posted on Swedish "public reaction" is from the blog of a well-known Swedish DRM+ supporter.

Mark's 181 posts
Select more comments
Your comment please