Four regional DAB multiplexes to close in 2013 to allow for better local DAB

Brian Butterworth published on UK Free TV
The government's radio switchover strategy incorporates a plan to match the DAB coverage of local radio stations (both BBC and commercial - see Ofcom - Annex B. Local DAB build-out plans) with that currently provided on FM (see Ofcom - Maps).

To do this, the regional multiplexes will be closed and their frequencies used to do a large-scale replanning, incorporating a new one called 5A.




MXR will close the following multiplexes:


When complete, the new plan looks like: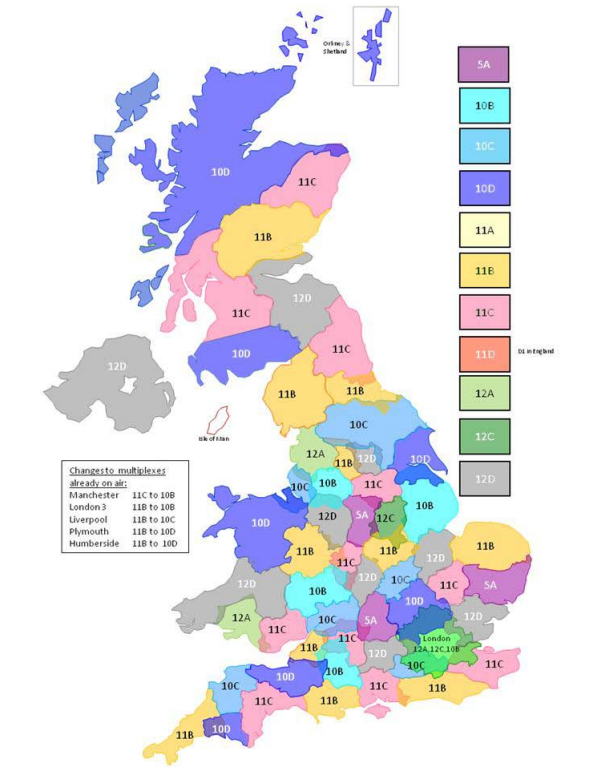 Diagram from
Ofcom - An approach to DAB coverage planning
.
Originally published on 26th September 2012 at 16:24
Comments
Friday, 27 September 2013

Block 12A has now been allocated to Hereford & Worcester transmitters run by MUXCO at Malvern, Ridge Hill and Bromsgrove. They will turn on early October?

Sid's 33 posts

Block 10C is allocated to Gloucestershire again due to start early October?

Sid's 33 posts

I just bought a new car. No DAB, only MW and FM. DAB not even available as an option. The proprietry dashboard design would make it difficult to retrofit any other radio. A Pure Highway solution is unattractive : aerial and hanging wire problems.

Hmmm....

michael's 869 posts
Thursday, 10 October 2013

Hello
My question is: will I ever be able to hear LBC on radio, DAB or otherwise, again? I live in Coventry.
LBC is all I ever listened to and I really miss it.

Thank you

Felicia's 1 post

Felicia:

You can receive LBC on an internet radio anywhere in the UK. They are reasonably priced these days and you just need Wi-Fi in your home.

The station is also on Freesat & Sky.

Mark's 181 posts
Saturday, 19 October 2013

Anyone got an info on the launch date for the Derbyshire multiplex?

Andrew's 1 post
Friday, 15 November 2013

DAB has only two advantages, a) more resistant to general interference and b) better stereo channel separation with lower noise that is if one can find a stereo broadcast. The signal strength however is far too patchy with the usual muddy problems. Bit rates are far too low leading to poor audio bandwidth and artifacts, don't waste good money on a hi-fi tuner with DAB. There is also that damned telescopic whip which can break easily. Although also a problem at FM at least at long and medium wave the antenna is built inside. DRM I think would have been a better bet. I have given up on DAB and returned to FM simply because of the lousy quality which seems to be getting worse. FM is far more natural and in spite of narrow bandwidth so does AM. If DAB is the future then it's goodbye to portable listening at least for me.

Trev's 5 posts

Trev : Welcome to the thread! You make valid points. DAB is here to stay. Too much has been invested to change it or replace it by DAB+ or DRM. Not to mention face-saving... As you say, FM offers better audio quality because too many sound-alike music stations at low bit rates clog up the limited DAB spectrum. To win over FM aficionados, DAB would need to be on significantly higher bit-rates and in stereo and with many more relays to make incar and in-house reception audibly significantly better than FM now. Technically this could be implemented, but....

michael's 869 posts
Saturday, 16 November 2013

michael: DAB+ could be used today on the UK's current transmitters if there were enough compatible radios. It could be used to improve audio quality and broadcast all stations in stereo.

It's similar to Freeview HD - when enough people have the right equipment the broadcasters can transmit it, without any further technical adjustments to the transmitter network.

Mark's 181 posts

Mark, you reiterate what has been discussed at length in this thread. DAB+ would indeed be better, but will not be feasible for many years to come. Listeners who have bought relatively expensive DAB radios would not be amused to have to dump them and buy replacement DAB+ radios. If that were "enforced", many would give up on DAB/+ and revert to FM. The government has delayed the original 2015 FM-to-DAB transition due to sluggish take-up and broadcasters' lack of commercial conviction. Most listen to radio on an indoor portable or incar and are more interested in stable reception of a signal of reasonable quality than in true hifi and stereo. Those who want hifi will have a static woofer-tweeter stereo system and will choose FM or FreeSat or high bit-rate satellite broadcasts; they might be interested in DAB+. But they are a minority with very limited commerecial momentum. Government and commerce have manouevered themselves into a corner with limited options. The best would be a compromise with broadcasts split between FM and DAB, avoiding costly duplication where possible. AM would need to be retained for areas too costly to cover with FM or DAB.

As TV is essentially static and picture quality is highly valued, gradual transition to HD will probably evolve. 3D has all but failed. 4K has the appeal of "super HD", but many might well be satisfied with HD, so 4K take-up might not establish itself until the present generation of flatscreen sets needs replacing.

The most serious problem remains the mushrooming plethora of choice which has funding implications for the affordability of high-quality programmes...






michael's 869 posts
Select more comments
Your comment please