Northern Ireland RTE1, RTE2, TG4 special mini-multiplex from 24 October

Brian Butterworth published on UK Free TV
Following on from the 1st February 2012, article Northern Ireland "mini multiplex" (NIMM), here is a summary of the services that will be available to most Freeview homes in Northern Ireland.

It is VERY IMPORTANT to note, however, that you MUST have Freeview HD (DVB-T2) equipment to receive RTE1, RTE2 and TG4 - even though the services are NOT provided in high definition from the Northern Ireland transmitters.

Many homes in the province will be able to get a special "Northern Ireland" mini-multiplex from one of three transmitters - Brougher Mountain (Enniskillen AND Omagh) , Black Mountain and Carnmoney Hill (both Belfast). This very special service is broadcast using the latest standards, which are called DVB-T2 and MPEG4. In the UK, these are used to provide high definition, but only in Northern Ireland are they used to provide three standard definition services from RoI.

The NIMM coverage from these transmitters is shown here:




If you get the NIMM, you will find channel 51 is TG4, 52 is RTE ONE, and 53 is RTE TWO.

This is shown on the transmitter pages like this (Carnmoney Hill) example:





If you can't get the NIMM, you will probably be able to get the extra channels directly from transmitters in the RoI. The following map shows the transmitters: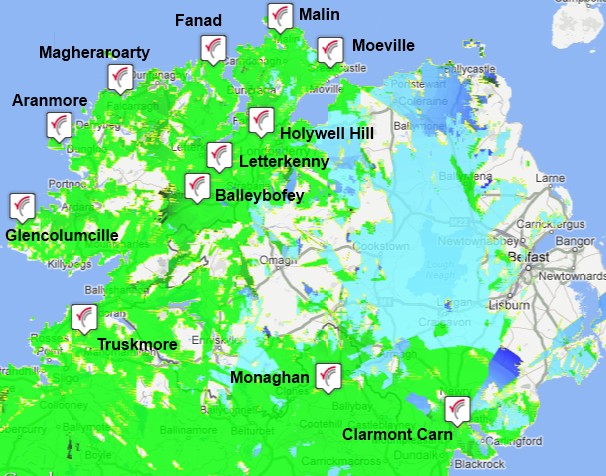 Your existing aerial may not be the right "group", or be pointing in the correct direction.

The RoI service is called Saorview (which is Irish for "Freeview") - see Saorview interactive map.

However, even though Saorview broadcasts in DVB-T mode, it uses the MPEG4 "compression" system - most UK non-HD boxes use MPEG2 (apart from BT Vision boxes, which support MPEG4). So, again, you will need a Freeview HD box.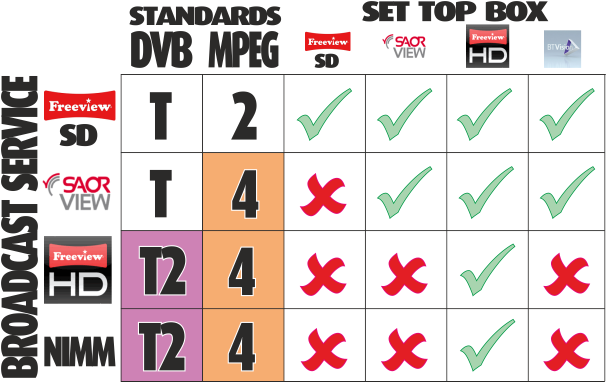 The services broadcast on Saorview at the time of writing are:

1 RTE One, 2 RTE Two HD, 3 TV3, 4 TG4, 5 RTE News Now/Euronews, 6 3e, 7 RTE jr, 8 RTE One +1, 200 RTE Radio 1, 201 RTE Radio 1 Extra, 202 RTE 2FM, 203 RTE Lyric FM, 204 RTE Raidio na Gaeltachta, 205 RTE Pulse, 206 RTE 2XM, 207 RTE Choice, 208 RTE Gold, 209 RTE Chill, 209 RTE Junior,

It is possible that the Freeview HD box will not place the channels on these numbers, but in the 800-899 range.

The Saorview trasmitter pages show the information like this:





Multiplex Broadcasting Services N I Ltd is the not-for-profit joint venture formed by RTE and TG4 to operate a new additional multiplex from a small number of transmission sites in Northern Ireland. The UK and Republic of Ireland Governments Memorandum of Understanding of February 2010 confirmed their intention to make TG4 available on digital terrestrial TV to much of Northern Ireland and to also facilitate the provision of RTE One and RTE Two through NImux or overspill from Saorview (the Republic of Ireland digital TV service).

Ofcom predicts that NIMM services will reach 76% of the population in Northern Ireland and that Saorview overspill will reach 56% of Northern Ireland viewers. Ofcom also predicts that the combined NIMM and Saorview coverage will reach 93.3% of Northern Ireland viewers.
Comments
Friday, 12 October 2012

Briantist: Top man! I suspect the indoor coverage of the NIMM is going to be rather good on the 24th , with the special T2 mode, having a much lower C/N than HDTV T2 or T1. We will see very soon.

mrdtv's 321 posts
Saturday, 13 October 2012

mrdtv: Always happy to correct things!

I also suspect that the coverage will be very robust indeed.

Briantist's 38,905 posts

It should be better than the 2kw would suggest Brian, at least according to Digital UK's postcode checker.

Even the 16W from Carnmoney Hill seems to get out well.

The 24th should be interesting.

Peter Henderson's 240 posts

Brian: Re. the LCNs for the NI mux. The EPG numbers will apparently be 51:TG4, 52:RTE1, 53:RTE2 and 729:RnaG, as far as I'm aware (at least according to Boards.ie a few days ago).

The reason why TG4 is at 51 rather than 53 is because the agreement resulting in the NI mux was tp promote the Irish language in the province as a result of the Good Friday agreement and MOU, hence RnaG rather than RTE Radio One for example. The fact we have RTE One and RTE Two on the mux is really a bonus.

Still, Roll on next Wednesday !

Peter Henderson's 240 posts

Peter Henderson:
The NIMM T2 minimux from Black Mountain will behave like a 50kW DVB-T1 mux because it has a much lower C/N decode threshold. It is NOT the same as the standard T2 mode used for UK HDTV which has a C/N ~ 20dB, same as post-DSO DVB-T1 mode used in the UK. This is why the coverage is going to be so superior and indoor antenna reception in the Greater Belfast area will be excellent. IIRC the C/N for this T2 mode is around 9dB.

mrdtv's 321 posts

Correction: that should be 3dB C/N for the NIMM mode

See : http://tech.ebu.ch/docs/t….pdf

mrdtv's 321 posts
Sunday, 14 October 2012

Peter Henderson: The numbers I am using for LCN were provided to me directly from DMOL.

Briantist's 38,905 posts
Monday, 15 October 2012

There appears to be a lack of intrest south of the border in preparing for the DSO.Of the estimated1.6M homes in the republic,250,000 are content to receive Irish tv only.With a few days left 100,000 are not reasdy for DSO.Numerous ads in newspapers,leaflet drops offering immediate installation of combi receivers for Saorview and Freesat plus equipment.There appeassrs to be more interest in Northern Ireland.Since the South enjoys the benefit of uk tv reception across different platforms,Irish tv should be delivered across all of the province.Regional tv in the North gives the weather forecast for the South daily.UTV made a submission to Comreg objecting to the planned closing down of MMDS tv service to rural areas as 60,00 homes would lose reception of UTV in the South.I long ago noticed all the tv aerials in loyalist areas of the North receiving Irish tv.

Richard's 98 posts
Tuesday, 16 October 2012

Richard: In the RoI, the "switchover" is actually just a "switch off" as it is the old VHF transmitters that are being put out of use, and there was sufficient UHF spectrum before switchover for the one active digital multiplex to reach almost all the population of the RoI already.

In NI, however, there were places that cannot receive digital terrestrial TV before, because the four/five UK-wide services took up all the UHF channels, and the VHF services were discontinued back in the 1980s.

Briantist's 38,905 posts
Saturday, 20 October 2012
P
P. Kieran Ward
12:14 AM
Belfast

Brian! On the 10th of this month after I had contacted DigitalUK regarding the NIMM the reply I received from them indicates that the NIMM will be on Channel 39 and the EPG numbers 61(TG4NI), 62(RTE1NI), 63 (RTE2NI)and 720 for RT RnaG Radio. A few differences to Peter's understanding! If anyone wishes to see the email I received from DigitalUK - email me directly kieranward@hotmail.com

P. Kieran Ward's 89 posts
P.'s:
map
P's Freeview map
terrain
P's terrain plot
waves
P's frequency data
P's Freeview Detailed Coverage
Select more comments
Your comment please