New satellite footprints page

Brian Butterworth published on UK Free TV
You can find the new page here - Satellite footprint maps

The page lists the various satellite beams, with the map on the left and the television channels shown on the right.

Clicking on the map links to the full-resolution satellite details on the satellite owner's web page.

Both Freesat (fs) and Freesat-from-Sky (fSfS) channel numbers are shown, with radio stations and adult channels listed to the left.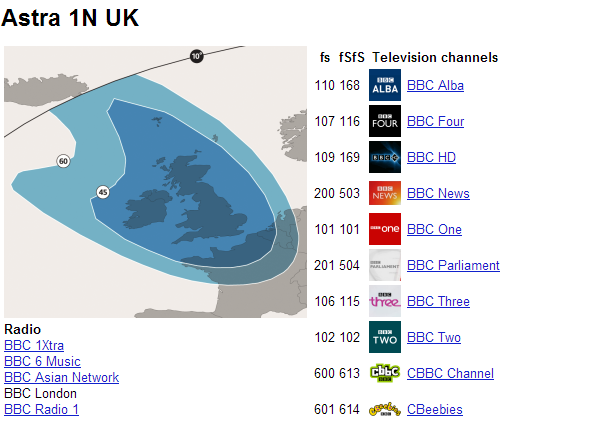 Comments
Saturday, 5 January 2013

Where can I find a list of the non English satellites receivable in UK and the frequencies used for their stations?

Nick's 386 posts

Nick: With regards to what you are seeking the web site on the link is a good starting point, as searching through same will tell you practically everything you want to know.

The bottom link being from the same site but further in.

LyngSat

LyngSat freetv/United-Kingdom.html

jb38's 7,179 posts

Nick: It's worth remember that your dish will be aligned with the 23.5 degrees east orbital position. If you want to use other satellites, your dish won't be pointing in the right direction.

Briantist's 38,899 posts
Monday, 7 January 2013

I think you will find, that is the Astra 2F UK Spotbeam, not Astra 1N.

Regards
Expat

Expat's 1 post
Monday, 21 January 2013

Skys monopoly on exclusive righs to the Bundesliga top division football appear to have ended.State channel Das Erste showed a live game last Friday nightSchalke 04 v Hannover.I have watched German match of the day on this channel for several years band have yet to see a 70 year old child having tantrums on the line because some prima donna did not get a penalty.Families stand on terraces in 80,000 capacity stadia and witness respect from players and managers towards officials.

Richard's 98 posts
Thursday, 24 January 2013

Nick: Briantist, freesat and sky are on the same dish alignment. I just wondered which of the two was picked up in Cyprus.
I realise I need to repoint the dish for other sats, and thank jb for pointing me in the right direction.
Incidentally, if I put up other dishes, I have found that whilst my Pace box for sky will let me manually tune to various channels not on sky, it will only remember them for a week or so and then I have to start over again.

Nick's 386 posts
Tuesday, 26 February 2013

I replaced dish rescued from a skip with another in perfect condition for reception of Astra 19.2 digital satellite signals.There was a huge difference in quality,higher signal strength and more regional channels.This dish was got from a neighbour who was about to dump it.No dents in this dish.I also noticed that perfect alignment of dish for Astra 28.2 is achieved by tuning in Gospel Channel.I dont have a signal metre so this is the best way.

Richard's 98 posts
Friday, 1 March 2013
J
James Robinson
8:41 PM
Newtownards

What is the proper settings for the Satalite dish for freesat viewing, in the post code BT23 6BE, Thank you.
James R.

James Robinson's 1 post
James's:
map
J's Freeview map
terrain
J's terrain plot
waves
J's frequency data
J's Freeview Detailed Coverage
Sunday, 5 May 2013

At my holiday home 50km south of Bordeaux France I have recently noticed a 'dropping out' of BBC on Channel 101 at irregular intervals and intermittent loss of sound on all other channels when this occurs. It seems only to have happened since Sept 2012, but mo so April 2013. I use a 75cm dish; Bush SD Freesat boxc and get a signal strength of between 60% and 90%.Has something changed to the satellites coverage?
M wife thinks I am sabotaging her viewing so if you can't help do you know a decent divorce lawyer!!??

Richard Matthews's 1 post
Saturday, 22 June 2013

Hi everyone,
I am moving to Bielefeld, Germany and would like to know whether I will be able to watch uk freesat channels if I buy the correct box and dish?

Stu's 1 post
Select more comments
Your comment please