405-line VHF bands I and III historic interactive map

Brian Butterworth published on UK Free TV
405-line TV was broadcast in two bands, each using 5MHz for each TV channel (except for C1 which was 6.75MHz).

The first band with C1 to C5 was "below" FM radio was from 41.5MHz to 66.75MHz. The second band C6 to C13 was "above" FM radio at 176.25MHz to 214.25MHz.


C1: 41.5MHz sound 45MHz video
C2: 48.25MHz sound 51.75MHz video
C3: 53.25MHz sound 56.75MHz video
C4: 58.25MHz sound 61.75MHz video
C5: 63.25MHz sound 66.75MHz video
C6: 176.25MHz sound 179.25MHz video
C7: 181.25MHz sound 184.25MHz video
C8: 186.25MHz sound 189.25MHz video
C9: 191.25MHz sound 194.25MHz video
C10: 196.25MHz sound 199.25MHz video
C11: 201.25MHz sound 204.25MHz video
C12: 206.25MHz sound 209.25MHz video
C13: 211.25MHz sound 214.25MHz video

Please click this map to see more: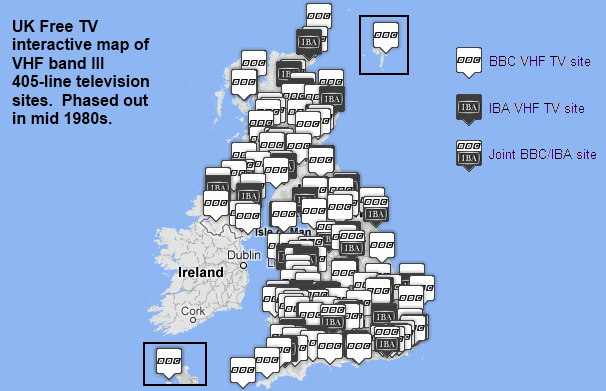 You can hover over each location to see the BBC or IBA
region
, the channel used and the
power
level.
Comments
Monday, 14 January 2013

Re: Briantist
The page looks good, thank you.

My Granddad made the first colour TV.
He had a black and green cathode-ray tube from an old radar display at the end of the war and used it to make a black and green 405 VHF TV.
They used to show fish in a fish bowl between programs, so the fish looked better in black and green than black and white.


Mark Agius's 374 posts

Mark Agius: No problem.

I used to have an amber-screen monitor that connected to a VHS machine (for the tuner) via a long length of cable as to a monitor in the kitchen. The picture quality (as it was unmodulated) was excellent as I recall.

Briantist's 38,902 posts
Saturday, 19 January 2013

The other quite interesting thing about 405 line TV was that the line frequency was 10.125 Khz, so even older people with slightly reduced high frequency hearing could hear the line scan whistle very clearly. I well remember tv control galleries from the mid 1960 with about 20 or so 405 line monitors all screaming out the line scan at 10.125 Khz. Deafening!!

When 625 line came in the line scan frequency rose to 15.625 Khz and most people couldn't hear it.

Tony's 4 posts
Wednesday, 19 June 2013

I notice that in BBC Handbook 1974 that Crystal Palace VHF Band 1,Channel 1 was running at 200Kw.But by the time VHF/TV
Transmitters were being switched off in
1982 erp at C P had been reduced to 100Kw.
I would be interested to know why,when and how this was achieved?
Similarly,the IBA Black Hill,VHF Band 3
Transmitter at various times was running
at 300Kw,475Kw and 400Kw.

Aerialman's 7 posts
Select more comments
Your comment please