Which "at800" mobile masts might stop my Freeview working?

Brian Butterworth published on UK Free TV
There are two new features on UK Free TV from today which integrate information from the Ofcom 'Sitefinder' Mobile Phone Base Station Database.

The first is a map of all the locations in the UK which are within 1.5km of a mobile phone mast, and are the areas where "at800" interference may occur. If you're not marked in red on this map, you are more-or-less guaranteed to be free from problems with Freeview and 4G broadband.

The Freeview interference from 800Mhz 4G 2013 map also shows the Freeview transmitters that are going to retune in the coming months (to clear C61 and C62 for 4G).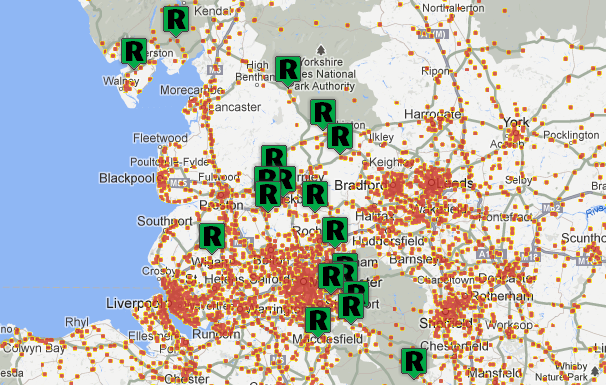 The next feature, which has been integrated into the existing UK Free TV prediction and mapping system – see My Freeview - shows the nearest ten mobile phone masts in addition to the existing Freeview (and Saorview) transmitters and their coverage areas.

Here is an example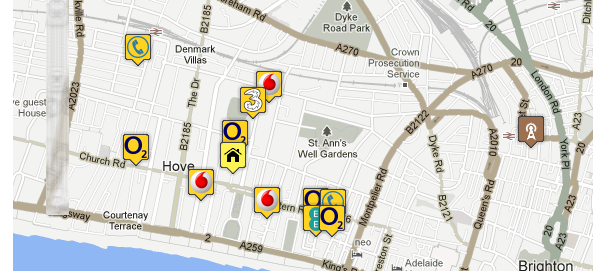 The new yellow icons, which you will need to zoom into the map (using the mouse wheel or the zoom control on the map) to see, show the logos for EE ("Everything, Everywhere"), 3, Vodafone and O2.

Where a site has equipment from more than one operator, a phone icon is shown. There is also an icon for "NetworkRail" who own the masts on their land.

The masts chosen are limited to existing "900MHz" sites for Vodafone and O2, plus all sites for 3, and the "1800MHz" sites for EE.

At the moment, this is the "best guess" of locations for 4G "at800" base-stations.

There is no way of knowing at this time when the different network operators are planning to introduce 4G "at800" services, and they are only committed to providing eight weeks notice of the start date.
Comments
Monday, 1 April 2013

Hi Brian

Very handy feature.

On the email you sent me at 17:04 the link from the New Stroies" lsting did not work; but the one at top of list on right did.

Cheers

Stve

Steve P's 1,173 posts
Steve's:
map
S's Freeview map
terrain
S's terrain plot
waves
S's frequency data
S's Freeview Detailed Coverage

I've found an error already :)

On the mast closest to me, it shows as O2, EE and 3, in fact O2 is not sharing that mast, it's on it's own (on a farm building) about 250m away. Is there a way of submitting error reports?

Ian's 17 posts
Ian's:
map
I's Freeview map
terrain
I's terrain plot
waves
I's frequency data
I's Freeview Detailed Coverage

It's a shame the Ofcome sitefinder data is almost a year out of date though :(

Ofcom | Sitefinder dataset

"The last update in May 2012 (as reflected in this spreadsheet) is based on the following datasets received by Ofcom: O2 (May 2012), Network Rail (April 2012), Hutchison (February 2012), Vodafone (October 2011), Airwave (February 2010), Orange (February 2010) and T-Mobile (August 2005). "

Michael's 358 posts
Tuesday, 2 April 2013

Michael: As I am only providing the information for the purpose of working out 4G-800 interference, I'm not too worried about the data being a bit old.

I wouldn't want to work out mobile phone coverage with it.

It seems that T-Mobile and Orange didn't provide 900MHz data...

Briantist's 38,907 posts

Ian: The data is provided by the operators, and isn't updated.

It could be my code that is merging the masts, I will check it out.

Briantist's 38,907 posts

I'm not too sure if the GSM-R (Network Rail) locations need to be included as they are only used for train control. ATOC | GSMR Online

Briantist's 38,907 posts
Saturday, 6 April 2013

Useful. I've discovered I'm surrounded by 4G sites all within 0.98km!

John B's 7 posts
John's:
map
J's Freeview map
terrain
J's terrain plot
waves
J's frequency data
J's Freeview Detailed Coverage
Wednesday, 17 April 2013
R
ROBERT PLANT
8:52 AM
Stoke-on-trent

Hi Brian,
I live within 1.5km of two EE 4g transmitters ST7 1JP and suspect my signal is being atffected, more so after a recent retune. who do i contact re filters if needed. Thanks in advance.
Robert.

ROBERT PLANT's 1 post
ROBERT's:
map
R's Freeview map
terrain
R's terrain plot
waves
R's frequency data
R's Freeview Detailed Coverage

ROBERT PLANT: EE 4G is not currently using frequencies which interfere with TV signals, so you should not need to contact anyone until 4G in the 800MHz band goes live.

Michael's 358 posts
R
Ropbert McClymont
7:37 PM

FAO ROBERT PLANT

Read my BLEEDING into message, see my posts>.

Ropbert McClymont's 3 posts
Select more comments
Your comment please