How many Freeview, Freesat, Sky and cable homes are there in the UK?

Brian Butterworth published on UK Free TV
Ofcom have published today the latest Ofcom - Digital Television Update - 2012 Q4 that we have been following for the last decade here on UK Free TV.

As this is the first quarterly survey to be published after the Digital Switchover programme is completed, it is worth looking at the current scorecard.

I have reproduced the most interesting numbers in this Venn diagram.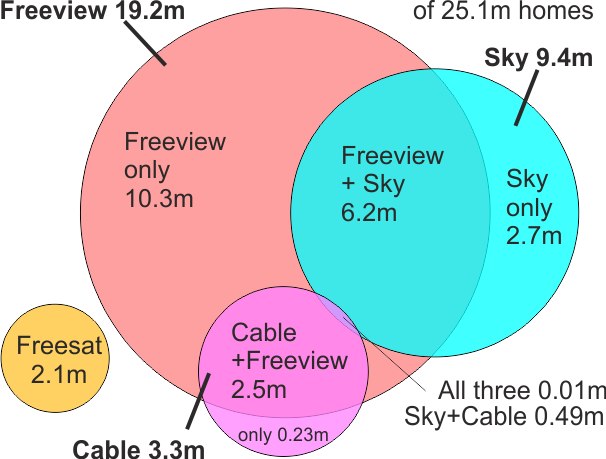 We can see that there are 19.2 million homes with Freeview, 6.2m of which also have Sky and 2.5m of which have cable.

The number of homes with just pay services is small - only 230,000 homes have just cable, and 2.7 million homes have just Sky. Having just Freeview, however is 45 times more than just cable, and four times more popular than having just Sky alone.

And finally - there are only half a million more Sky-only homes than Freesat ones.
Comments
Thursday, 18 April 2013

I have freeview and sky free programmes. Which group am I on.

Pete Green's 54 posts

I appreciate that a number of viewers who cannot receive terrestrial digital broadcasts have either Freesat or free sky boxes.But actually a good number of my customers have both freeview(multi-points) and freesat on their main outlet,domestically,as well.

Aerialman's 140 posts
C
Charles Stuart
6:36 PM
Bristol

Aerialman makes the point about which I was going to ask. The previous owners of the house I live in had satellite. If I were to have the opportunity to buy a very cheap Freesat box, I might, but I'm happy with Freeview only, though I've also got a YouView box. How many people have Freeview + Freesat? How many people have Sky + Freesat (presumably on a second TV)? How many people have cable + Freesat?

Charles Stuart's 159 posts
Charles's:
map
C's Freeview map
terrain
C's terrain plot
waves
C's frequency data
C's Freeview Detailed Coverage

Challenged on the numbers front. Is this rude?
No just amusing.

Thanks; it is really interesting.

The whole thing is also a reminder -if necessary these days of highly unchallengeable "numbers" dispensed from on high - of the difficulty of giving a good & honest picture of things, even when you really want to!

peter's 16 posts
M
MikeB
10:33 PM
Peterborough

Charles - I'm not sure how many there are who have multiple systems, but feedback from customers makes me think that there are a fair number, although whether they actually use them all much is another matter.

If you have an old Sky dish on the side of your house, as you do, than Freesat is very easy to set up, and since high/mid level Samsungs and Panasonics have Freesat tuners built in (as well as some other brands in the past or at present), a fair number of people can/do use both systems.

Remember that before digital switchover, in many parts of the country, Freeview was simply not viable, and so the choice was Sky or Freesat (in rural areas Virgin is not an option, and these were often the places with poor Freeview coverage). For many people, the only way of getting HD signals was again Sky or Freesat, so people may have bought a dish for that reason(Sony even gave one away with a W5810 set). Since the switchover, the power of Freeview signals has gone up tenfold, and of course now includes HD, so there is much less need for Freesat, or even Sky for some customers. Yet the dish might still remain.
However, since these are often single LNB dishes, and Freesat recorders are a lot rarer than Freeview HD ones, Freeview HD possibly is used more (particularly to record), and the dish just used to watch.

Freesat's signal seems to be slightly better and slightly more reliable, but Freeview HD is pretty much built into every new TV, and of course you just need an aerial.

A YouView box and Freesat built into the TV or via a seperate box seems perfectly fine, although the need for Sky/Freesat seems slightly redundent, and possibly problematic.

I have had customers who have both Sky (the chap liked it because it was the only way he could get Fox News!) and Virgin (for broadband). I suggested some haggling with both companies would allow him to save money.
I also had a customer not long ago who had three Humax boxes (Freesat and Freeview), and was looking for a Panasonic Freesat box as well - obviously he liked to record a lot!

I suspect that most people use one system to a large extent - Sky customers will tend to use Sky to watch everything, even the Freeview channels they can get on their TV's tuner - its simply easier. For people who have a number of systems (often legacy systems), its largely what works for them, and the cost/hassle of using more than one system.

MikeB's 2,579 posts
MikeB's:
map
M's Freeview map
terrain
M's terrain plot
waves
M's frequency data
M's Freeview Detailed Coverage
Friday, 19 April 2013

Pete Green: On the Ofcom figures, you're in the yellow blob.

Briantist's 38,900 posts

Aerialman: The Ofcom document doesn't list the Freeview+Freesat figures specifically.

Briantist's 38,900 posts

peter: "The GfK consumer research used in this report is based on a panel of 12,000 households surveyed quarterly via the internet and by telephone. The ratio of online to telephone interviews is designed to specifically meet demographic representative quotas. The error margin for the research results is estimated to be within 1-2pp (up to +/-500,000 households)."

GfK - We see the big picture .

Briantist's 38,900 posts

why cant we have our own tv channel in skeggness i have a freesat box but dont see any more channels went on website got told how to do it but it wont work can any body give me any more information ty

leslie rainer's 43 posts
Saturday, 20 April 2013

Sky total given is 9.4m households but their figures for subscribers (on similar site this week) states 10.3m - all relating at end of 2012. Where I wonder are the missing 0.9m?

tony's 3 posts
tony's:
map
T's Freeview map
terrain
T's terrain plot
waves
T's frequency data
T's Freeview Detailed Coverage
Select more comments
Your comment please