Brighton to be the fourth at800 test area from mid-May 2013

Brian Butterworth published on UK Free TV
From at800:

at800 is holding an extended trial to help understand the extent to which 4G at 800 MHz could disrupt Freeview. The trial begins in Brighton from mid-May. at800 is the organisation tasked with ensuring viewers continue to receive Freeview when 4G mobile services at 800 MHz are launched later this year.

Brighton has been selected for the trial as Freeview in the city is transmitted on frequencies that are particularly close to the 800 MHz frequencies used for new 4G services. The trial will also be the first time at800 provides specific support to the elderly or those with a disability. Depending on the trial outcome, a decision will be made on whether the 4G masts will remain active indefinitely.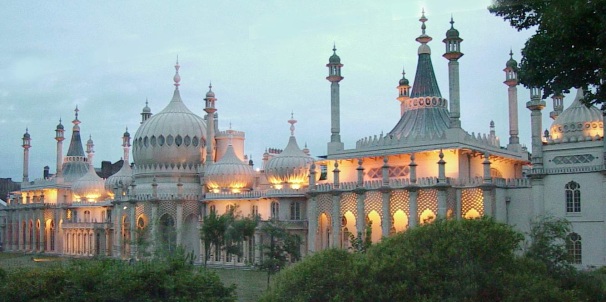 Simon Beresford-Wylie, chief executive of at800, said, "The hilly terrain in Brighton – which can affect TV signals – coupled with Freeview being transmitted on frequencies very close to 4G at 800 MHz will make this a very useful trial. We urge viewers in Brighton to call us should they see any new problems with their Freeview reception."

Approximately 80,000 addresses in Brighton are being sent a postcard explaining that 4G will be activated in their area. Of these, 2,424 households will also be sent an at800 filter before the trial begins. This connects between the existing TV aerial cable and the television or Freeview box and is designed to block 4G at 800 MHz. If viewers have an amplifier or signal booster, the filter needs to be connected between the antenna and the amplifier. at800 believes most people will be able to fit the filter themselves; however, additional support is available to the elderly or people with a disability via a home visit service.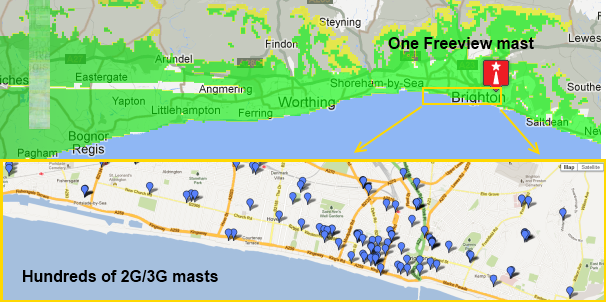 For residents in buildings with a communal aerial system – where the antenna or aerial is not their responsibility – at800 will provide the landlord or property manager with a free communal filter on request.
Comments
Tuesday, 4 June 2013

Martin Cooper: Whilst we can't be sure which sites are currently used for the test 4G 800MHz signals, there are base stations for several of the networks on the top of Enterprise Point.

Dave Lindsay's 5,724 posts

Martin Cooper: On reading all you have said regarding your problem I would like if you could clarify on a point, and being when you say - after having viewed the BBC via the Hitachi you switched back to the TV - are you meaning by pressing the TV/AV button on the TV's remote control, or letting it switch back automatically by placing the Hitachi into standby? because should it be the latter and your Hitachi PVR is one of the later types (within 2 years, e.g: HDR325) have you disabled the lower power "on" facility?

If though the latter does not apply then try a signal test "on the Hitachi" just to get an idea of your reception, the reason I ask is that the signal from Whitehawk Hill is indicated as being blocked from about 0.6 mls out from you, this applying to a lesser degree from Brighton Central but from only 0.2 mls, the signal check on the Hitachi being achieved by pressing: menu - set up - installation - manual tune and entering 60 into the box, but do NOT press search as you are only interested in the level seen stated, that is either : moderate / good / very good etc and so maybe you could give an update on that seen as I feel that your problem is simply being caused by the signal received sitting at a critical level.

By the way, when you go into the manual tune screen the number seen in the box is the mux transmitter channel number of the programme being viewed when you pressed menu, and so when you checked Ch60 change that to Ch57 (ITV3) and note what's stated on it, finally the same again but Ch48 (Film 4), as these type of tests builds up a picture of your overall reception.

jb38's 7,179 posts
Wednesday, 5 June 2013
M
Martin Cooper
2:11 PM
Brighton

Hi jb38

I switch between the Hitachi set-top box and TV via the "source" button on the TV's remote control, leaving the set-top box running in the background, so to speak.

Last night I changed the Scart and Manual-tuned the Hitachi to ch60, which it states is at a level of "very good".

I have to state that this was never a problem until mid April, which seems to mysteriously co-incide with the 4G transmitter on Enterprise Point a few hundred yards from my house.

Martin Cooper's 4 posts
Martin's:
map
M's Freeview map
terrain
M's terrain plot
waves
M's frequency data
M's Freeview Detailed Coverage

Martin Cooper: 4G tests in Brighton started in mid-May...

Michael's 358 posts
M
Martin Cooper
3:45 PM
Brighton

The helpline last night told me mid-April, I think, though to be honest I've been so hectic I can't really remember when the channels cut out. It could only be a fortnight, just seems a lot longer. The main annoyance is that I'm a huge BBC fan and those are the main channels I watch. Can't be doing with all those adverts elsewhere.

Martin Cooper's 4 posts
Martin's:
map
M's Freeview map
terrain
M's terrain plot
waves
M's frequency data
M's Freeview Detailed Coverage
Thursday, 6 June 2013

Martin Cooper : What you have said could indicate that the problem is possibly being caused by the Hitachi's loop though circuitry, that is "if" when its found that the BBC has vanished it can be restored again by simply transferring the aerial from the Hitachi straight into the TV's aerial socket, or alternatively by just pulling the input and output connectors from the Hitachi and linking them together.

The signal level check you made on the Hitachi interprets into the box receiving a very high level of signal as otherwise I would have said that your problem could be caused by the opposite being applicable, because should the "very good" level of signal (Hitachi's description) be taking up just over 80% on the indicator bar then that can correspond to excess of 100% on many other devices (an area of instability) and "if" by any chance 4G is also playing a role (doubtful but cannot be excluded) then the combined effect "might" be overloading the loop though circuitry, therefore a slight reduction on the signal being fed into the Hitachi could possibly effect a cure.

My reason for saying this being, that although these two sockets are generally classed as being loop through, speaking in the strictly technical sense its not quite as simple as that as there is a buffer transistor between them, this being why when any of these type of devices are disconnected from the power supply the loop though signal vanishes.

But though the reason I requested that you carry out the signal check on the Hitachi is because that the input circuitry on Vestel chassis devices as are used by Hitachi and numerous other brands is highly sensitive to variations in signal levels, as indeed is the buffer transistor stage that separates the input and output, and if you are viewing the BBC via the Hitachi's internal tuner its input is being feed from before the buffer transistor, whereas when you press the TV's source button the signal received by the TV is via the transistor stage, and so should any problems exist in this area that will affect TV reception.

Judging by the relatively close proximity of housing in your surrounding area its doubtful if you would receive anything, but it would be interesting to know if anything was received by using a set top aerial or even just a length of wire (about 5 feet or so) connected into the Hitachi, although a proper attenuator (about 3-6db) is better by far.

All said on the assumption that the jumper leads between the devices are in good condition and that you are not using any form of booster? because if you are then try by-passing it.

jb38's 7,179 posts

Martin Cooper: On having re-read my reply to you I think I omitted to ask the obvious question, that being to carry out a BBC signal test "on the TV" with the aerial being connected directly into the TV and making a note of the levels being indicated, then carry out another test as before but when the aerial is being looped through the non activated (in standby) Hitachi, once again noting the levels seen, finally activate the Hitachi by taking it out of standby then follow this by pressing the source button on the TV's remote control which as you have reported results in a blank screen, then "whilst on the blank screen" carry out another signal test and see what is being indicated, because something should be irrespective of whether or not the screen is blank.

Giving an up date on the result.

jb38's 7,179 posts
Select more comments
Your comment please