Expecting 4G interference? Tests now show that you have a one in 300 chance

Brian Butterworth published on UK Free TV
Looking back the the original posting, Ofcom moves to protect Freeview interference from 4G mobile, we can see the Ofcom suggested that:

Of the 16.3 million UK homes with a standard (unamplified, unshared) Freeview reception, 110,000 (0.67%) would be effected.

Of the 5.2 million homes using communal aerials systems, 550,000 (10.6%) will have problems.

Of the 5.6 million homes using amplified Freeview reception, 100,000 (1.8%) will experience problems.

Today, at800 have published the results of the tests in London, Brighton and Hove and York - at800 updates estimate of likely impact of 4G at 800 MHz on Freeview:

"Following tests conducted across the country, at800, the organisation responsible for protecting Freeview when 4G at 800 MHz is rolled out across the UK, has provided a new estimate of the likely scale of the impact. If national rollout reflects the results seen during its tests, at800 expects no more than 90,000 households, with Freeview as their primary TV service, to experience disruption caused by 4G at 800 MHz. Whatever the level of disruption, at800 is ready to restore Freeview to viewers.





at800 has now sent postcards to households in London and the surrounding areas in preparation for the activation of 4G at 800 MHz masts over the coming weeks and months. at800 is also sending postcards to other areas of the UK ahead of masts switching on. at800's mailing does not mean that 4G services will be available to consumers. For information about the availability of 4G services, people should contact their mobile operators.

In London, in particular, Freeview received from the Crystal Palace transmitter is unlikely to be affected by mast activation because of the strong terrestrial television signal and its relatively large frequency separation from 4G at 800 MHz. However, at800 is sending postcards and running a publicity campaign to ensure anyone who does experience new disruption to their Freeview service knows how to get in touch."

So with 26.50 million TV households in the UK (see Monthly universe summary - BARB) 90,000 represents 0.340% of them - that's a ONE IN THREE HUNDRED chance.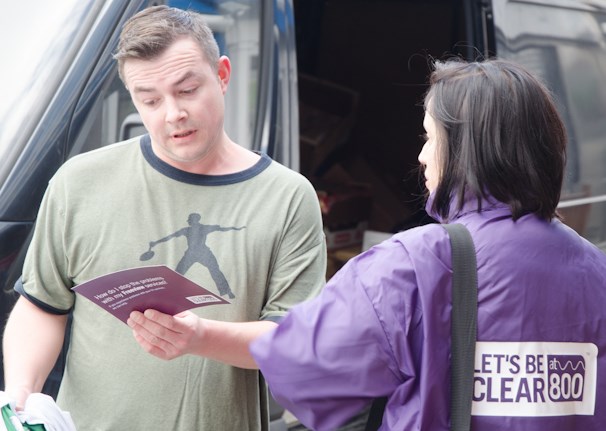 It seems that you are most likely to need a filter if:

a) you are a long way from a high power Freeview transmitter; and

b) you are very close to a 4G mobile phone mast; and

c) you are using a booster.

That's good news for Freeview viewers.



If you have had a postcode from at800 - see Received a postcard from at800?
Comments
Monday, 18 November 2013

sarah lee: Have you lost reception on all channels? Are there any in the 800s of the channel list that still work? If there are, it would suggest that your tuner could have stored the wrong set of frequencies at some point, and due to seasonal changes to reception conditions the signal level has now fallen below the threshold for reliable reception. If you could borrow a Freeview box that you know to be working you could get some idea whether the problem is with your aerial/the incoming signal or an issue with your tuner.

KMJ,Derby's 1,811 posts

KMJ,Derby: i am having the same trouble my bush freesat has been down since friday it wont even acknowledge my postcode . so seems im not only one having trouble ... i need HELP !

kz's 6 posts

forgot to say there is nothing wrong with tv or other satellite appliances as im on a communal aerial (have been for years) and no one else is having trouble with there stations

kz's 6 posts
Wednesday, 20 November 2013
I
Ian from notts
9:44 AM
Nottingham

KZ- I've noticed a few people having trouble with the cheaper Freesat boxes recently,
A full factory reset and 1st time installation has (so far) resolved this

Ian from notts's 253 posts
Ian's:
map
I's Freeview map
terrain
I's terrain plot
waves
I's frequency data
I's Freeview Detailed Coverage

thank you email not sure how you do factory reset as for first time installation i have tried this with no joy . it wont reconize my postcode

k's 6 posts

k: The postcode is only required in order to give you the regional programming for your location. Try entering another postcode.

Dave Lindsay's 5,724 posts

tried that already , ohh come on come up with something better then that david . there is no factory settings to turn to either . guess it must be the box useless

k's 1 post

k: That was my best shot.

Dave Lindsay's 5,724 posts
Friday, 22 November 2013
I
Ian from notts
9:15 AM
Nottingham

K; It could be under "Default" or "Shipping Condition" ?
There should be one, cannot think of a TV, DVD recrder, Hardrive or any Box that doesn't have a reset built in?
Does it have a make n model number?

Ian from notts's 253 posts
Ian's:
map
I's Freeview map
terrain
I's terrain plot
waves
I's frequency data
I's Freeview Detailed Coverage

make and model . bush bfsat02sd . i cant find any default or reset button at all , just install from new at which i have tried with no signal what so ever . but like i said the tv works per normal .

k's 6 posts
Select more comments
Your comment please