Expecting 4G interference? Tests now show that you have a one in 300 chance

Brian Butterworth published on UK Free TV
Looking back the the original posting, Ofcom moves to protect Freeview interference from 4G mobile, we can see the Ofcom suggested that:

Of the 16.3 million UK homes with a standard (unamplified, unshared) Freeview reception, 110,000 (0.67%) would be effected.

Of the 5.2 million homes using communal aerials systems, 550,000 (10.6%) will have problems.

Of the 5.6 million homes using amplified Freeview reception, 100,000 (1.8%) will experience problems.

Today, at800 have published the results of the tests in London, Brighton and Hove and York - at800 updates estimate of likely impact of 4G at 800 MHz on Freeview:

"Following tests conducted across the country, at800, the organisation responsible for protecting Freeview when 4G at 800 MHz is rolled out across the UK, has provided a new estimate of the likely scale of the impact. If national rollout reflects the results seen during its tests, at800 expects no more than 90,000 households, with Freeview as their primary TV service, to experience disruption caused by 4G at 800 MHz. Whatever the level of disruption, at800 is ready to restore Freeview to viewers.





at800 has now sent postcards to households in London and the surrounding areas in preparation for the activation of 4G at 800 MHz masts over the coming weeks and months. at800 is also sending postcards to other areas of the UK ahead of masts switching on. at800's mailing does not mean that 4G services will be available to consumers. For information about the availability of 4G services, people should contact their mobile operators.

In London, in particular, Freeview received from the Crystal Palace transmitter is unlikely to be affected by mast activation because of the strong terrestrial television signal and its relatively large frequency separation from 4G at 800 MHz. However, at800 is sending postcards and running a publicity campaign to ensure anyone who does experience new disruption to their Freeview service knows how to get in touch."

So with 26.50 million TV households in the UK (see Monthly universe summary - BARB) 90,000 represents 0.340% of them - that's a ONE IN THREE HUNDRED chance.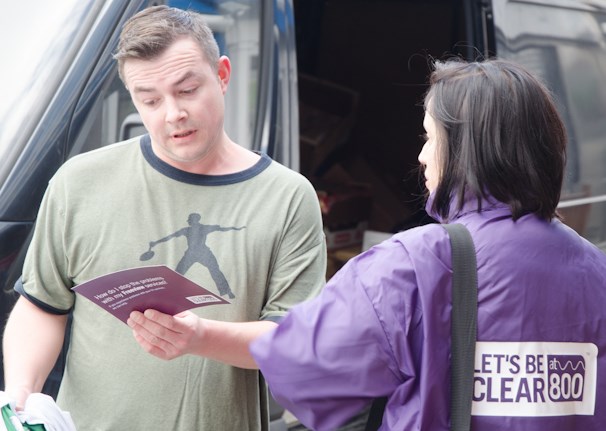 It seems that you are most likely to need a filter if:

a) you are a long way from a high power Freeview transmitter; and

b) you are very close to a 4G mobile phone mast; and

c) you are using a booster.

That's good news for Freeview viewers.



If you have had a postcode from at800 - see Received a postcard from at800?
Comments
Sunday, 15 December 2013

Not a TV related issue but a 4G one.
I read of a case of a broadband router possibly being swamped by a new 4G mast transmission on 800Mhz.
The mast is 50mts from the router and it is possible that strong signal harmonics are affecting the router's 2.4Ghz use.
3 x 800Mhz = 2.4Ghz.
Has anyone suffered similar problems after a 4G mast was switched on and at that short distance from a house?

Ben Hardaker's 3 posts

I have almost no reception only on bbc channels on freeview. Previously was ok. It's a communal aerial and most neighbours have sky rather than freeview and obviously have no problems.
Glasgow G116AD

A McWilliam's 1 post

A McWilliam: As it's a communal aerial system that's being used, the question is: is the problem with the aerial system or is it with your equipment, including wiring?

If it's the aerial system then the fault should be reported to the party responsible.

To prove, as much as possible, that it isn't a fault with your equipment, try a different lead from the wall socket to the receiver. If you have a TV and a Freeview box (recorder) or two TVs, connect one to the aerial socket without the other. Then swap and see if the problem is still there.

Dave Lindsay's 5,724 posts
Saturday, 28 December 2013

What form is this interference expected to take?

We experience occasional dropouts, pixellation and spitting noises. Due to the intermittent nature of these occurrences, it's difficult to isolate a cause.

Is this likely to be caused by interference from a mobile mast?

I've upgraded the aerial fly lead to a high quality fully-screened one. The aerial feeds a distribution amplifier which feeds multiple rooms in the house.

TTD's 5 posts

Ttd: eh21 6sx

TTD's 5 posts
TTD's: ...
Sunday, 29 December 2013
N
Neil stewart
10:55 AM
Helensburgh

No HD channels being picked up from the Roseneath transmitter. G84 9AF. Any one else in my neighbourhood affected?

Neil stewart's 1 post
Neil's:
map
N's Freeview map
terrain
N's terrain plot
waves
N's frequency data
N's Freeview Detailed Coverage
Wednesday, 1 January 2014

Pendle forest transmitter seems to have had problems for a few days affecting many properties locally. Transmitter, or 4G problem?

Peter's 1 post
Peter's:
map
P's Freeview map
terrain
P's terrain plot
waves
P's frequency data
P's Freeview Detailed Coverage

I am having interference with all my BBC channels, and cannot tune in any BBC channels on my new Wi Fi smart tv, I live in LL65

Marion's 1 post
Marion's:
map
M's Freeview map
terrain
M's terrain plot
waves
M's frequency data
M's Freeview Detailed Coverage

Marion: Where is your aerial point?

If it is directed to the main transmitter at Llandona then be aware that the Caergybi (Holyhead) transmitter is but a stonesthrow away at the fire station.

Particularly as Caergybi uses lower frequencies than Llandona then your receiver could have chosen to use it. Most receivers give information on the signal strength screen as to which signal it is tuned to. Use this to identify whether it is tuned correctly or not.

"If" your aerial points to Llandona then check that BBC One is tuned to UHF channel 57 (762MHz). Caergybi broadcasts BBC on UHF channel 21 (474MHz).

If it's tuned incorrectly to Caergybi then just have the aerial lead out for the first 30% of the scan so it isn't in during scanning of its frequencies.

Dave Lindsay's 5,724 posts

Hi, my brother has lost his signal completely ever since Christmas eve. He knows its not his aerial as he has checked it for lose wires etc, its definitely the signal. He lives in Marlow, bucks, the signal is supposed to come from Chrystal palace. Can you tell me please whether there is a problem there?

melanie loveridge's 3 posts
Select more comments
Your comment please