The end of the HTV legacy? ITV licence to move HTV West to West Country East

Brian Butterworth published on UK Free TV
Not that it will make much difference for viewers, but from 2015 the historic join between Wales and the Bristol area (served historically by HTV West) will be fixed.

Although ITV has for some years joined the service from Bristol with the service for the South West of England under the "West Country" banner, this has been out of step with the licences.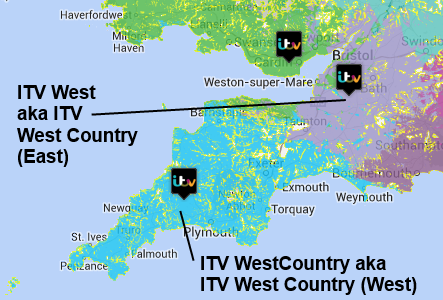 Of course, the plan was to have to seperate licences - one was originally designed to serve IBA transmissions around the Bristol Channel: Bristol and Bath on the English side and another for the West and North of Wales.

However, Teledu Cymru was famously the only IBA company to fail during the "licence to print money" period (see Wales West and North Television) and it was taken over by TWW (Television Wales ad West in 1964) not even 18 months after going on air.

The joined area was then won by HTV, after TWW pulled itself off air in March 1968. See Independent Television Service for Wales and the West - Wikipedia, the free encyclopedia for more.
Comments
Tuesday, 23 July 2013

For the South West region instead of the West Country East/West naming farce if they want to have ab unified South West named identity then the naming convention ITV South West (West) and ITV South West (East) would be better!

Else bring back the ITV West name!

Jamie's 11 posts

Until BBC Spotlight (BBC South West) named "BBC South West x" x=Today/Tonight/Weekend

ITV could call its pan South West PSB commitment "ITV South West Today/Tonight"

Jamie's 11 posts
Wednesday, 24 July 2013

Jamie: The company that last won the franchise for the South West was called "WestCountry TV", the winner for the West bit was "HTV West".

ITV keep using the historic brand names it already owns in most regions, thus the North West is still "Granada" (possibly because it includes the Isle of Mann), the South East is still "Meridian" (because it also covers the South Coast and Thames Valley), also "TyneTees" covers North Yorkshire, and so on.

Briantist's 38,908 posts

Jamie: The BBC news programmes have mainly kept the names they always have: "Look North" (Leeds, Newcastle, Hull), "Newsline" (NI), "Points West" (Bristol), "Look East" (Norwich, Cambridge), "Spotlight" (Plymouth), "Reporting Scotland" and so on.


Here they are from 1969-1983





Only "Scene around Six" changed to "Newsline", plus South East eventually was broken into London News/South East Today/South Today (Oxford); also "Look North West" (Manchester) broke from the tradition of "Look North".

Briantist's 38,908 posts
Tuesday, 30 July 2013

'superserved ridge hill ' is in the primary area of herefordshire,parts of south shropshire,west worcestershire and west gloucestershire and served by bbc midlands , itv central and a high power itv 1 westcountry [east] but NO bbc west. Tho' perhaps 'lucky' is not how hfds and west glos feel being mostly lumped in 'midlands'which is not their natural area of interest.the situation is further confused by 'digital uk' coverage predictions pretending that ridge hill westcountry [east] does not serve hfds whereas its transmitter coverage is identical to that of the midlands psb2 multiplex ! there is enough spare channel capacity to have a bbc west/southwest but as the bbc is not interested in that,the aforementioned areas are forced to watch bbc west midlands news .until the bbc have a change of heart ridge hill westcountry [east] will have to do !

bernard hunt's 1 post
bernard's:
map
B's Freeview map
terrain
B's terrain plot
waves
B's frequency data
B's Freeview Detailed Coverage
Friday, 2 August 2013

Briantist: If ITV still uses historic regional names, how about this to resolve the West Country (West/East) debate. As long as I remember the West of England (Mendip) area based in Bristol was HTV West. So how about calling it ITV West. As for the South West England area (Redruth, Caradon Hill, Huntshaw Cross, Beacon Hill, Stockland Hill) based in Plymouth was Westward TV until 1981, and TSW (Television South West) from 1982 to 1992. So why not call the area ITV South West (a flashback to TSW) or ITV Westward?

Nicholas Willmott's 80 posts

This is completely pointless debate since regional identities on Channel 3 in England, Wales, and Southern Scotland disappeared in 2002, and legally with the transfer of licences to ITV Broadcasting Limited in 2009.

ITV plc wishes to drop the regional news as well and just have a national infotaintment type program (as exemplified by much of the content on London Tonight) instead as this appeals more to the demographic sought by advertisers.

As part of the policy to completely eliminate regional content, the next step is to reduce the on air time of regional news.

ITV is implementing this reducing the minutes of region specific news and have out of region commmon interest stories and OfCon have acceeded to this except for the ITV-1 Granada and ITV-1 London licence areas.

The mindless drones who watch ITV-1 could care less about region names and their only concern is that Emmerdale appears at 19:00h and Consternation Street at 19:30h.

Providing an audience of the right demographics for the advertisers is the only thing that matters to ITV plc and regional identities or content can do nothing to boost theose numbers.

Corin's 91 posts
Saturday, 31 May 2014

IMO ITV no longer serves the westcountry for local news. Why the hell in Cornwall do we want to know about stuff in Bristol over 200 miles away? how is that local?

tim's 7 posts

tim: ITV Westcountry now has two separate bulletins (one for each part of the dual region), so people in Cornwall only see news from the South West region (formerly Westward/TSW/Westcountry).

Mark's 181 posts

Mark: no offense but wow. a whole 4 minute bulletin before we rejoin bristol. If we Cornish want PROPER local news, we go to the BBC. there is no localness for the Cornish anymore.

(and don't get me started on Local TV...).

tim's 7 posts
Select more comments
Your comment please