BBC three to be taken online and replaced on Freeview and satellite with BBC 1+1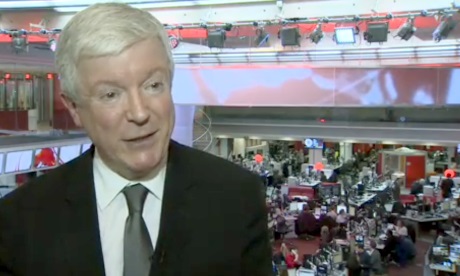 Brian Butterworth
published on
UK Free TV
Here's Tony Hall's speech:

"Since I came back to the BBC I hope I've made two things clear.

"First that the BBC is living with a licence fee that for five years will have been flat - it will not have gone up at all. And, at the same time, we are absorbing extra costs that we were asked to take on - for the World Service, S4C and the roll-out of broadband. That's why the organisation has had to look for savings - so that we, like everyone else in these difficult economic times, can live within our means. My concern - along with that of everybody I meet inside and outside the BBC - is to ensure that the quality of what we do is not compromised along the way. We are here to produce exceptional and distinctive programmes and services for Britain and the world. But I do believe, as I said only last week, that the BBC has taken incremental change as far as it can. Something has to give. And that means hard choices. But there is one choice I will never make - and that's to sacrifice quality. And I believe that's what the British public thinks too.

"The second point I've made is that the BBC is, by its nature and history, an organisation that constantly reinvents itself, an organisation that takes the idea of public service broadcasting - to inform, educate and entertain - and makes it relevant for each generation in our nearly one hundred year history. I remember myself the launch of BBC News Online when I was running BBC News. There was a great deal of scepticism to put it mildly. But we were doing what the BBC and its staff have always done - using our innate creativity to lead the way. That's why now - for this generation - I believe the iPlayer is a key part of the future for public service broadcasting. It's the gateway for people who increasingly want to watch and listen to what they want, when they want it - on tablets, on mobiles as well as other screens. I am sure that this is going to be increasingly important for our younger audiences. And reaching those audiences is vital for the BBC.

"Reconciling these two aims - financial and strategic - has led us to this difficult conclusion. We should close BBC Three as a broadcast or linear channel and ask Danny and his team to reinvent it as a channel online and on the iPlayer. We propose making this change in the autumn of next year. I believe it's the right thing to do: young audiences – the BBC Three audience – are the most mobile and ready to move to an online world. 25% of viewing by 16-24 year olds is to catch-up or other screens and over the next few years we expect that to reach 40%. We recognise that, for now, most of this audience still do their viewing on television, and that is why we plan to show BBC Three's long-form content on either BBC One or BBC Two.

"I'm convinced that the BBC as a creative organisation will be able to reinvent a space for young people on the iPlayer that will be bold, innovative and distinctive. It will not just be a TV channel distributed online - it will be an opportunity to look at new forms, formats, different durations, and more individualised and interactive content. It will play to BBC Three's strengths, offer something distinctive and new, and enhance the BBC's reputation with young audiences. And I will challenge everyone in the BBC to spend much more time focusing on programming for young audiences. We will lead the way.

"Let me just say to Zai and the BBC Three team: you produce, and will continue to produce, amazing programmes – bringing new ideas, new stories and new talent to our screens. BBC Three has an extraordinary track record – it's been home to Gavin & Stacey, Little Britain, Bad Education and, right now, Bluestone 42. I've also been seriously impressed by the current affairs I've seen – from Blood, Sweat and T-Shirts and Our War, to Reggie Yates's outstanding reports from South Africa, ending just this week. You can be rightly proud of what you have achieved so far. I want you to carry on making programmes for young audiences that continue to break new ground.

"This is the first time in the BBC's history that we are proposing to close a television channel. I can't rule out it being the last change to our programmes or services. It will save the BBC over £50 million a year. £30 million of that will go into drama on BBC One. And it also means we will extend Children's programmes by an hour a night and provide a BBC One +1 channel. I must stress - all of this is what we are proposing to the BBC Trust. They will have the final say.

"I am certain that this decision is strategically right - but it's also financially necessary too. Delivering the savings programme following the last licence fee negotiation means these changes are happening earlier than they might in a better financial environment. And I don't simply want to keep salami slicing the budgets in a way that means our frontline staff are always asked to keep doing more with less. I am sure that we will have to face up to further difficult challenges as we build the BBC for the future. But in making those changes, I am determined to ensure we embrace the new opportunities technology gives us - and match that with programming of the highest quality that is simply the best in the world."

Danny Cohen, Director of BBC Television, said:

"This is the biggest strategic decision the BBC has made in over a decade. While it has been an extremely difficult decision borne out of financial necessity, I believe it is also a creatively energising and innovative move. In autumn 2015 we plan to close BBC Three as a linear TV Channel and in its place we will develop a bold, ambitious, future-facing new version of BBC Three online. I think this can be transformational for both the BBC's relationship with young audiences and the BBC's approach to the digital age overall. When we take BBC Three online we need to see it as a brand new Service launch. It is an opportunity for both radical thinking and unprecedented collaboration both inside the BBC and with our audiences and creative partners outside the corporation.

"The new version of BBC Three online will continue to have the things we all cherish most about the Service – innovative comedy, unrivalled Current Affairs for young people, incisive and entertaining factual, and original entertainment. I want and expect us to keep making shows for young audiences of the quality of 'Our War' and the public service value of BBC Three's recent season on young people and mental health. BBC Three will continue to build on the comic brilliance of 'Little Britain', 'Gavin and Stacey' and 'Bad Education', of the entertainment value of 'Russell Howard's Good News' and 'Backchat'. And BBC Three will continue to commission Current Affairs of the pedigree of recent documentaries on Afghanistan, the Congo, India, South Africa and of course the tough challenges faced by young people here in the UK. What is changing is the way we deliver these programmes to our audiences.

"BBC Three will continue to do all the things we love but it will also have the freedom to break traditional shackles and allow the BBC to be a leader in digital change. It will not just be a TV Channel distributed online. There is a wonderful creative opportunity here to develop new formats with new programme lengths – and to reach young audiences in an ever growing number of ways. Will we still want to make all of our Current Affairs' documentaries at 60 minutes in the age of Vice and youtube? Will we find that contemporary documentary and formats work much better at 40 or 45 minutes than 58? What will we learn about the length we want to make each episode of our dramas or comedies, perhaps learning from new market players like Netflix and Amazon? Although I'm sure that video – televisual – content will be at the core of the new BBC Three, we'll need to challenge ourselves to think and create differently. In this sense, BBC Three will be the spearhead for a new age of digital change for the BBC. It will be the pathfinder as we learn how audience behaviour is changing in the coming years – and it will allow the BBC to be ready for the next waves of disruptive digital disruption.

"We will also make sure that every piece of long-form BBC Three content finds a home on one of our linear television channels. We do not want our content for young audiences to be available only to those with a broadband connection – and we don't want anyone to miss out on the great new programmes we will be producing. So every long-form programme will be transmitted on either BBC One or BBC2, with most playing at 10.35pm or a little later. Playing them on BBC One will massively increase the reach of these programmes for young audiences and guarantee that we do not risk creating a 'haves and have nots', a digital divide when it comes to enjoying what we are making for the public. It will also make BBC Three an even more exciting place to be for on-screen talent. Their shows will be shown on BBC Three's new home on iplayer but they will also know that their work will get a showing on either the Nation's biggest television channel, BBC One or the hugely popular BBC2.


Comments
Friday, 7 March 2014

I don't watch a lot of BBC3, but the idea we might also lose BBC4 annoys me. The one channel designed for viewers with more than 3 brain cells, and they want to cut that too - maybe! Not everyone wants a diet of Eastenders, Strictly and The Voice. You can tell by this I don't watch any of the above. Does anyone know how much SC4 and Alba cost? These channels are for a minority of Welsh and Gaelic speakers . Maybe the Welsh and Scottish licence fee payers show pay a bonus. Also what will happen to Alba if the Scots vote for independance? Until today I didn't even know the BBC paid for SC4, as I thought it was a Ch4 programme.

With a new Smart TV I have started to watch Netflix and now Amazon streaming programmes, so not adverse to getting my programmes on-line. But to use these services and enjoy them in HD you need at least Infinity to not get drop out, pauses etc.

Final point, just as the BBC gives us BBC3 & 4 in HD they look like they want to cut the channels.


Bill Kocher's 47 posts
Bill's:
map
B's Freeview map
terrain
B's terrain plot
waves
B's frequency data
B's Freeview Detailed Coverage

Also read that BBC had to absorb £253M for World Service. So Licence Fee payer pays for something they can't even watch or listen to! This should be paid by the government if they feel the world should hear our views. Yes I will be paying through taxes for WS, but not the licence fee which is for my direct TV viewing.

Bill Kocher's 47 posts
Bill's:
map
B's Freeview map
terrain
B's terrain plot
waves
B's frequency data
B's Freeview Detailed Coverage
Mark Agius
8:58 AM
Haywards Heath

"This is the first time in the BBC's history that we are closing a TV channel"
Is the BBC HD channel still transmitting then?

Mark Agius's 373 posts
Mark's:
map
M's Freeview map
terrain
M's terrain plot
waves
M's frequency data
M's Freeview Detailed Coverage

Briantist : Re the articles featured in the heading of this page, I was just wondering if you were aware that both Tony Hall and Danny Cohans speeches would appear to have been duplicated.

jb38's 7,179 posts

Mark Agius: yes. It became BBC 2 HD overnight. The schedule has changed months before.

Briantist's 38,899 posts
B
Betamax_man
9:51 AM
Stoke-on-trent

MikeB: Just have a think at what you stated. Of course one less station would mean the others on that MUX would not have to be compressed as much. I prefer quality over quantity any day. The quality of some of the channels is a lot worse than a good analogue PAL signal used to be.

Betamax_man's 43 posts
Betamax_man's:
map
B's Freeview map
terrain
B's terrain plot
waves
B's frequency data
B's Freeview Detailed Coverage
T
Tony Hill
11:09 AM
Dorchester

The BBC announcements mention that "long-form" BBC3 content will be shown on BBC1/BBC2 after 22:35. What does "long-form"mean?

Tony Hill's 65 posts
Tony's:
map
T's Freeview map
terrain
T's terrain plot
waves
T's frequency data
T's Freeview Detailed Coverage
T
Tony Hill
11:15 AM
Dorchester

The problems with Online viewing are that:

1) High-speed broadband is needed (fibre, preferably) and many people (us included) in rural areas get 3Mbps at best. Usually OK for some sort of SD but not reliable as speeds drop in the evening (from contention issues)

2) "Extras" are not included: specifically, sub-titles are not available. As someone who uses subtitles a lot, virtually always for any drama, this is a big problem.

So, for me, Online and Broadcast are not interchangeable.

Tony Hill's 65 posts
Tony's:
map
T's Freeview map
terrain
T's terrain plot
waves
T's frequency data
T's Freeview Detailed Coverage

This is the metropolitan elite making changes that will affect those, unlike them, with slow broadband speeds and lack of money to buy fibre connections.

Due to a monumental cock-up by BT, it took them 9 weeks to move my broadband to a new house, so they gave me Infinity 2 for price of basic Infinity for a year. Downloads of 80Mbs in the day with 17Mbs uploads is very nice, but I expect to go down to Infinity 1 when contract runs out in 8 months time when they will want £35 a month for what I have now. Even with these speeds, Netfix can still crash in the evening when speeds drop. Infinity is no guarantee of fast links. I wonder if you have fibre into your house, if it never drops out.


Bill Kocher's 47 posts
Bill's:
map
B's Freeview map
terrain
B's terrain plot
waves
B's frequency data
B's Freeview Detailed Coverage

jb38: Looks like I pressed "ctrl V" twice. Thanks for point out the error!

Briantist's 38,899 posts
Select more comments
Your comment please