Better tweeting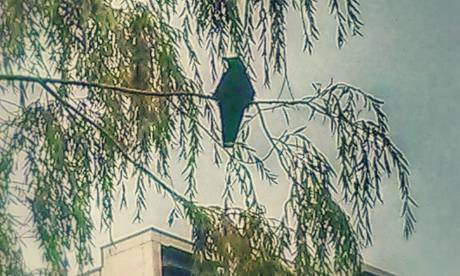 I have changed the way that Twitter works with UK Free TV. This is to make it easier to understand what is happening.

For the last week or so:


I have also reduced the number of times I repost the "
Trends
" and "new stories".
I have done this because there are a number of Twitter users who try to use Twitter like an email system and expect a low number of messages (because they think "I must read them all"), whilst the majority use it as intended ("Dip in and read when you have a moment").
Comments
Saturday, 9 March 2013

Michael : Have a look at the EPG listings and if (27)ITV2+1, (30)5*, (38)Quest are also missing then Walthams mux Ch29 has not been picked up during the rescan, and so you can either go into your TV's or boxes "manual tune" facility and carry out a scan on that channel, storing anything found which will automatically be added to the EPG listing.

Alternatively you can carry out an auto-tune "with the aerial removed" to blank out anything already stored, then once completed reconnect the aerial and carry out a further normal auto-tune, hopefully this resulting in ITV3 etc returning to the EPG listings.

By the way, when this sort of thing happens
its an indication that the mux channel is only being received at a low signal level, and so this should be kept in mind if ITV3 etc is inclined to suffer from glitches once that it is picked up indicating that your aerial system possibly requires improvement.

jb38's 7,179 posts
Saturday, 1 June 2013
R
Richard Cullen
9:43 PM
Oxford

Hello. I live in OX2 6RB. I get good reception on BBC A and D3+4, with unpredictable reception on SDN - today it is just about OK, with slight, occasional picture break-up. BBC B, ARQA and ARQB have disappeared completely in the last three weeks or so.

The missing programmes used to be fine, with good coverage on all for the three TVs in the house. I have been re-tuning from time to time. Two of the three TVs are digital e.g. Panasonic TX L24E3B; the other has a digibox/ recorder.

What can have changed?

The signal from a "30 element high gain wide band digital aerial" installed in July 2009 (firmly anchored inside the roof space and aimed at the Oxford transmitter) is split into 3 separate cables - one for each TV - with a Labgear UH141 UHF antenna distribution amplifier. I have a separate 12V DC masthead power supply near the aerial, powered by a nearby mains socket. This appears to be working.

ITV4 and History Channel have just reappeared, with frequent picture break-up. The Panasonic TV is telling me that the signal strength is strong but the quality is very low.

Either something has changed, or some component isn't working.

Have you any ideas please?


Richard Cullen's 7 posts

Richard Cullen: Sorry for not replying to your earlier message.

My comments are as a technical bod and not a professional aerial installer.

With digital reception there is quality (effectively digits intact) and strength. A receiver requires the strength to be above a certain level (the lower threshold) for it to work (providing it has a good quality signal).

I referred you to the page on the too much signal because at your close proximity to the transmitter with a high gain aerial and an amplifier you could perhaps be feeding too high a signal level into your TVs. The effect is like turning up the volume on a hifi to maximum; the sound distorts and the quality goes.

The other point to note is that the gain (sensitivity) of an aerial in one direction is at the expense of loss in others. The higher the gain the more the sensitivity is focused on a narrower beam. Thus, the higher the gain the narrower the acceptance angle:

Aerials, TV Aerial and Digital Aerial

Where there is a good path to the transmitter you can focus on the beam.

Whilst you are only 4.4 miles from the transmitter, your signal path is low to the ground for around a mile:


Terrain between ( m a.g.l.) and (antenna m a.g.l.) - Optimising UK DTT Freeview and Radio aerial location

This means that there may be lots of clutter in the form of buildings and trees, all of which may act to degrade the quality of the signal.

By using a high-gain aerial you have reduced your acceptance angle. So if the (average) quality over the angle which your aerial works is lower than had you used one with a wider acceptance angle then you will have a lower quality signal. It is a possibility that some object(s) have changed, such as vegetation in the signal path growing.

I think that you should try feeding the output of the aerial directly to one of the TV feeds (sockets), bypassing the amplifier and see if it improves.

There is no such thing as a "digital" aerial as aerials are designed to pick up particular frequencies and aren't bothered whether signals are analogue or digital.

All of Oxford's channels are Group C/D, so if you have an aerial that was installed during the days of four-channel analogue then it might be worth trying it.

Prior to switchover a couple of the multiplexes were down in Group A, so a C/D wouldn't have functioned as well:

Aerials, TV Aerial and Digital Aerial

That said, I wouldn't have thought that a high gain aerial was required before switchover at your location, based on the transmission powers and close proximity.

Dave Lindsay's 5,724 posts
Sunday, 2 June 2013

Richard Cullen: Purely on the subject of your distribution amplifier and power supply for same as everything you have mentioned would suggest that the problem is centred around this area, leave the Panasonic sitting on its signal check screen and make a note of the "exact" position that both levels are sitting at (albeit quality is low) then follow this by going into the loft and switching the amplifiers power supply off and check if this has changed anything, because if not then that's inclined to point to the power supply having failed, that is unless the actual amp itself has failed which with indoor amps is practically unheard of.

Of course should you have a back to back coupler then you could just try as Dave Lindsay as suggested and link the feed from the aerial directly into one of the TV's feeds, preferably the Panasonic.

jb38's 7,179 posts

Big thanks to you both. I'll let you know how I get on!
Best

Richard Cullen's 7 posts
Select more comments
Your comment please