What size dish is required to recieve broadcasts from the Astra 2 satellites?

Brian Butterworth published on UK Free TV
Astra 2A and 2B - North beam
Astra 2A and 2B - North beam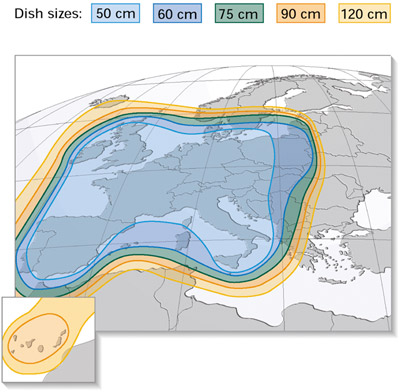 Astra 2D - UK beam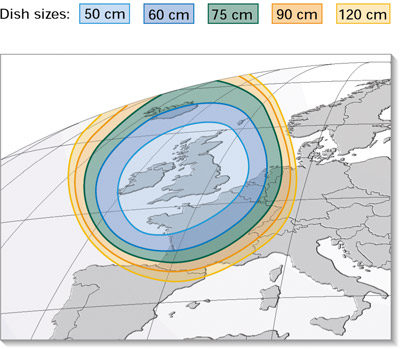 Comments
Tuesday, 9 July 2013

Kevin:
The Astra satellites at 19.2 E are actually 6 separate birds in co-location orbits, meaning the appear to be in about the same place in the orbit but they are actually a few hundred metres apart. This is usually done to provide more multiplexes so more services can be broadcast. Plus each satellite has a limited power availability so there is a limit on how many transponders any single satellite can provide.
So with Sky needing more spectrum for extra services they have to use more satellites, but there is a limit to how many can be co-located so they use two close locations that can be seen with a single dish, albeit a wider one to cover a slightly wider orbital arc.
The curvature of any dish is designed so that as much of the signal falling on the dish surface is focused into the feedhorn of the LNB.

MikeP's 3,056 posts

Kevin: In addition to MikeP points, it is worth noting that the satellites ("birds") do not belong to Sky.

The Astra Astra 1N, Astra 2A and Astra 2F "birds" belong to SES Astra, a Luxembourg company.
Satellite Services - Satellite Capacity, TV & Communications - SES.com


The Eutelsat 28A satellite belongs to the Eutelsat consortium, Eutelsat, leading satellite operator for broadcast, broadband, and data services .

Sky (and the BBC, ITV, Channel 4, Channel 5 and so forth) rent capacity on these "birds" on long-term contracts.

Having competition for the satellites lowers the price to consumers, and provides market flexibility. Satellites have been launched - and eventually junked - over time, which is why there are several birds.

Briantist's 38,900 posts

... there are one or two bits of "old satellite " around ... http://blogs.voanews.com/….jpg .

Briantist's 38,900 posts
Saturday, 15 February 2014

Hi im in slagelse denmark 4200.. is there any info on what i can do to get freesat back on as it all disappeared from last weeks change over.. should I invest in bigger dish..also regarding hooking humax foxsat pct to internet to get iPlayer, currently ITV player works but need cbeebies for the kids..any advice greatly appreciated.. on a budget so to source a secondhand 1.5/1.8 dish would be ideal for me.., heard Copenhagen still gets signal with big dish..let me know ideas ect..many thanks
Barry..

barry walsh's 2 posts
Thursday, 9 October 2014

hello and good afternoon sir.
i live in south cyprus in a city called limassol..
i have a hd free to air tv channels receiver,, and
i have a dish with the size of 1.40 cm wide,
and the question is,
can i get a free to air, a hd uk channels ,,??
or to get the signal on my dish positioning the dish to 28.2 astra ??
or where and what position can i get the hduk channels for free ??

mario's 2 posts

Mario

In Limasol, it is unlikely that you will receive any usable signals from the Astra satellites at orbital position 28.2 East. Looking at the maps at the top of this page, none of the beams get anywehre near Cyprus, not even the 1.2 metre plot. You may manage some signals with a 2.5 metre dish ground mounted but that will be quite expensive and may not get much if anything.
To find whgere your dish should point, see Gone Digital | How to set up a satellite dish for a clear description. I have calculated that in Limasol to receive from Astra at 28.2 East, you dish must be aimed at an angle of 188.4 degrees relative to true North (or at 184.18 degrees relative to magnetic North), with an elevation (upward tilt) of 49.35 degrees (but allow for any offset) with the LNB at a skew angle of 7 degrees. Note that your dish must point slightly WEST of south and not 28 degrees east of south. (BA147HQ)

MikeP's 3,056 posts
Monday, 20 October 2014

thank you sir ..have a good day

mario's 2 posts
Monday, 16 February 2015

Hi all need some help regarding sky subscription channels in Costa del Sol. According to most footprint maps for Astra2e pan European a 90cm dish should pick up signal, is this correct?

Nor's 2 posts

Nor:

Sky will not authorise any equipment outside the UK. If however you have a UK address they may authorise and issue a card for that location. It may not work in Spain though.

Reception of Sky and Freesat signals on the Costa del Sol can be problematic and a 90cm dish may not be sufficient (the amount of signal received is a function of the dish size as well as the footprint of the satellite transponders required). You need to look at the transponder maps for those used by Sky, the Astra 2e maps will not be sufficient on their own. Check which transponders are being used for Sky services and look at the maps for those. You may find that some services cannot be received at all and others may well need a bigger dish. But are there any rules/laws regarding permitted dish size and location where you live? Some local authorities may have their own rules. In the UK you are rarely allowed a 90cm dish and it may require planning permission plus there are rules about where they can be mounted.

Just because there is a pan-european beam on the Astra 2e satellite does not necessarily mean that Sky use it nor that you can legally receive the Sky services in Spain.

MikeP's 3,056 posts
Tuesday, 17 February 2015

MikeP:
Thanks for info, I will look at transponder maps.

nor's 2 posts
Select more comments
Your comment please