Best ever emails and improved menus on UK FREE TV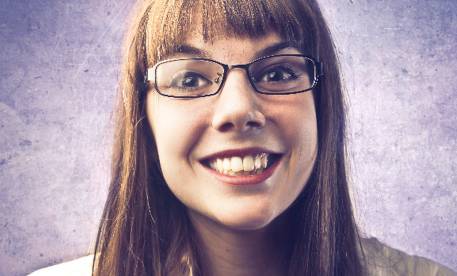 Brian Butterworth
published on
UK Free TV
I have been working on making a considerable number of changes to the "back end" of UK FREE TV over the last weeks. This makes the site faster and more reliable, but new menus and responsive mobile layout changes aside - there wasn't really that much for you to look at.
Today I am very happy to tell you that I have made a considerable improvement to the email notification system. Whilst I know many thousands of you read the existing email, it left a lot to be desired in terms of content and layout.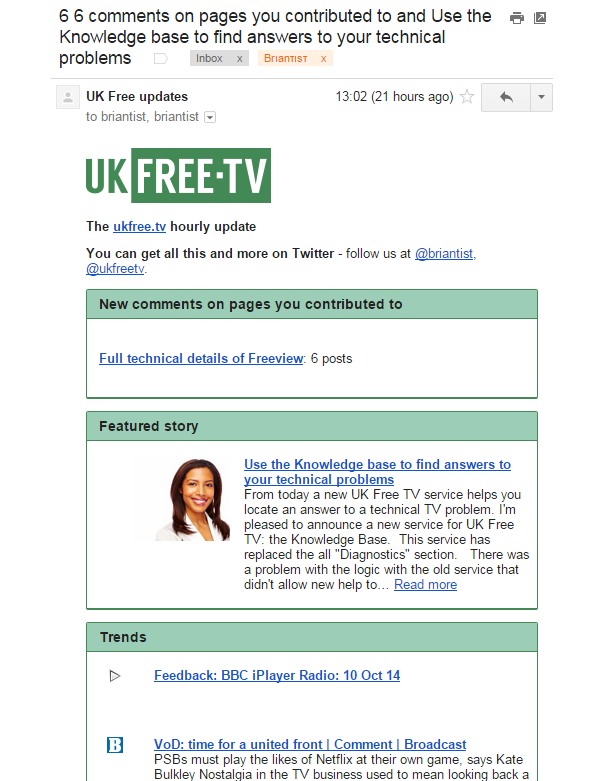 As you can see from the above example, the new layout is much more attractive. It is easy to read on mobile phones and tablets, and the selective use of images makes it easy to understand.
The person message you get will show you:
New comments on pages you have contributed to (if there are any);
A featured story from UK Free TV
A selection of "Trends". These are news articles from around the web that inform you about what is going on in the word of free television. This is a carefully curated daily list. I hand-pick these stories for you each day.
You will see a list of new articles that have been added to UK Free TV since the last email – if there are any.
And then a list of the four most popular pages on UK FREE TV this week.
If you want this service and you don't already have it, use the "SUBSCRIBE NOW" box in the right hand column of each page.
Better menu pages layout

The menu pages have an improved layout. Featured stories have larger photos, and there is a more nuanced use of comments. Every story has a picture and they are all the same proportions (even when old items have the square images).
Did you know?
I've also added a little information box, thus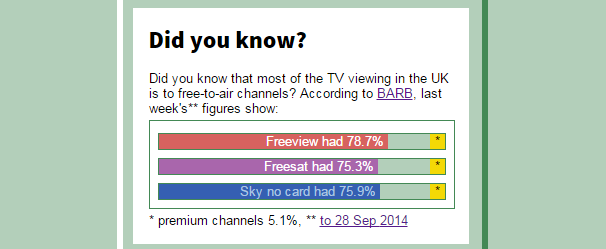 This I have created by going to the BARB site and adding up the viewing figures for all of the free channels on each platform. I've even added up the premium channels (sport and movies) too.
Comments
Monday, 13 October 2014

The site has been extensivly tested in Chrome, IE, Opera and Firefox.

The only issue that the site requires Javascript to be on. This is 2014, after all.


How to enable JavaScript in a web browser?


Enable JavaScript in your browser to see ads on your site - AdSense Help

Please enable JavaScript in Firefox | WebEx


How to enable JavaScript in Opera

Thanks .


Briantist's 38,899 posts

Here's the list of things I've been sorting out...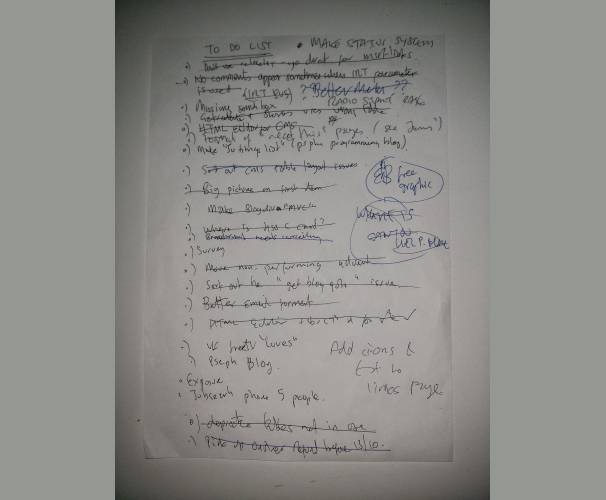 Briantist's 38,899 posts

Briantist

I know just how much work has been involved with all you have done recently - and am aware of some of the problems that needed to be sorted out.

As for the emails, I personally preferred the 'old' layout as I got quick access to discussions I have contributed to and to other realted that might have been of interest. Now I find I have to go searching for anything bar the very latest of my entries, though I would often like to consider offering help to others problems if only I can find them! Not a criticism but meant as a helpful comment.

MikeP's 3,056 posts
MikeP's:
map
M's Freeview map
terrain
M's terrain plot
waves
M's frequency data
M's Freeview Detailed Coverage

Briantist: Sorry, but the link to HD TV from the TV menu doesn't work - its a syntax error.

I agree with MikeP, the old layout for emails was possibly a little easier to use, but perhaps I need to just get used to it..

MikeB's 2,579 posts

MikeP: Thanks.

I'm not really sure what you mean. The email still contain the exact same list of "discussions that you contributed towards" that they did before.

Can you tell me what you mean by "other related that might have been of interest"?

Briantist's 38,899 posts
Tuesday, 14 October 2014

--- The search box is back! ---

Briantist's 38,899 posts
M
Mike Davison
3:39 PM
Wetherby

Briantist: I wondered where it had gone.

Mike Davison's 127 posts
Mike's:
map
M's Freeview map
terrain
M's terrain plot
waves
M's frequency data
M's Freeview Detailed Coverage

Mike Davison: I thought that it needed to be clearer what the purpose of the search was.

When I researched, it seems that people thought it was a "normal Google search" box.

It now says "Search ukfree.tv".

Actually it searches a list of other useful sites too:

News headlines | ukfree.tv - 12 years of independent, free digital TV advice
LyngSat
Home | Get Me Digital
at800 | 4G & Freeview | 4G Interference | 4G Filters | at 800 MHz
http://www.dxinfocentre.com
TVCatchup - Never Miss A Show Again
The British media contacts and information website - media.info

Briantist's 38,899 posts

I too liked the old email style, but expect the smaller logo image and only one column of text
looks better with small telephone displays.
Also having just two colours looks better with monochrome telephone displays.

Due to modern technology we are now switching from colour to black and white and using lower definition displays!



Mark A's 373 posts
Mark's:
map
M's Freeview map
terrain
M's terrain plot
waves
M's frequency data
M's Freeview Detailed Coverage

Design a UKFree.tv logo competition.
Send in your designs to this web site.
The winner will have his design displayed on all pages.

This competition is open to all (Even Briantist)

Mark A's 373 posts
Mark's:
map
M's Freeview map
terrain
M's terrain plot
waves
M's frequency data
M's Freeview Detailed Coverage
Select more comments
Your comment please