Connected Freeview comes a step closer today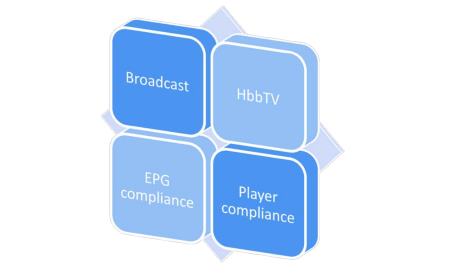 Brian Butterworth
published on
UK Free TV
Isn't this YouView?
It is somewhat sad that YouView has ended up the way it is. The main two ISP (BT and TalkTalk) have seen the system as a way to front-end their internet TV services. The first hardware was too slow to deliver a desirable service (turn it on and use it) and the interface seemed to have all that was to be expected of an Amstrad product.
Freeview reboot?
The "Freeview's connected TV service" (a working title only) starts out with five main aims:
Easy access to both broadcast and on-demand content
Freeview is the unifying banner to drive take up
Free and unbundled service
Open and collaborative
Adopting international standards
TV in 2014
Here (thanks to Digital UK) is a diagram showing the current state of TV system in the UK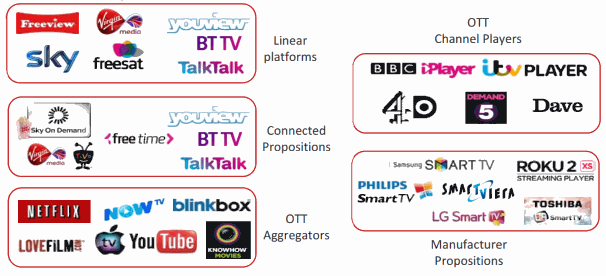 Linear platforms are systems that provide traditional TV broadcasts as most people seem to understand them.
Connected Propositions are the services that provide access to free and pay TV services adding online viewing to a linear platform. These systems own everything and provide from the broadcasting system to the set-top box.
OTT Aggregators – "Over The Top" in this sense means providing on-demand video services over the internet (and not broadcast channels). OTT means provision of the content, but not the user's hardware.
OTT Channel Players are both the user interface software interface and marketing of content by a broadcasting business.
Manufacturer Propositions is the software and interface that is provided as part of a "Smart TV" or by a small computer that attaches to a TV via HDMI and the internet.
Connected Freeview
Connected Freeview will start out by using existing technical standards, merging current Freeview box standards (D Book Part A, DV- T2) with international standard HbbTV 2.0. This will keep costs down, as with Freeview and DVB-T.
The service will set the rules for the boxes interface design and provide the "metadata" to allow for a backwards EPG as well as access to VoD services such as iPlayer, ITV Player and 4OD.
The specification will also provide clear testing to ensure that boxes sold to customers will be worthy of the multi-million pound marketing campaign to promote them.
Does anyone want this?
According to Digital UK research:
Homes with connected TV prefer their set-top box because they are "quick and seamless"
Freeview is a trusted brand, a connected service would keep consumers choosing Freeview
Free catch-up makes consumers questions pay TV.
Want to know more?
The technical specification is available at digitaluk.co.uk/connectedtv
Comments
Thursday, 27 November 2014
G
GrahameP
12:47 PM
Aylesbury

What about existing smart TVs? Will this require an extra external box, or will the firmware be updated to support it as an integrated solution. Having recently replaced my TV I am hoping it will last me years and not require another box with associated mains plug and network cable to access these new services.

GrahameP's 12 posts
GrahameP's:
map
G's Freeview map
terrain
G's terrain plot
waves
G's frequency data
G's Freeview Detailed Coverage

Way too late, even low end connected Smart TVs already let people access most of these services as do cheap plug-ins like Chromecast, Amazon Fire TV or Rokus. The only thing this proposal has going for it, is the Freeview brand and the likelihood some technology laggards will just get it when they buy a new STB or PVR.

What the market needs is not yet another platform trying to skim off a bit of the "content" revenue for online services but some agreement of standards so that all devices can access all services.

Currently we are in what is effectively a "format wars" stage where all the players want their platform to win so they get the revenue on paid for content.

Martin Baines's 14 posts
Friday, 28 November 2014

I hope the freeview connect service be able to provide subtitles. as i have youview BBC I player and Netflix do provide subtitles for the deaf... shame that itv, 4OD, Dave on demand also Now TV. Sky store don't provide subtitles at all.. it took me a while to find what is and not carry subtitles.....I hope this be useful to everyone who is deaf / hard of hearing

rob's 171 posts

I wonder how many others, like us, find that they haven't got the bandwidth to really make use of the online services. Our broadband is about 2Mbs and (at least without throttling it - must look into that one day) find that if someone is using Youtube, even that slows the Internet access for the other two family members.

I think were are reasonably well set up for tv broadcasts. The TV does DBV T2 and S2. MythTV is set up to record from 2 x DVB T and 2 x DVB S2 with 1 x DVB S2 reserved for live tv on the PCs. Also there are DVB-T tuners in the 2 desktop PCs.

To keep the Internet free for others, the main rule for tv viewing in this household is: when possible, use the live/recorded tv options. It can seem a bit of a contrast these days as online services seem to become more popular but at least in this household, online services are to be considered the last resort.

Jon's 15 posts

Jon: most on demand tv players use up to 2mb at least. it won't work with less

rob's 171 posts

Wont always work with more! We had around 8mb and buffering was still a problem at times, even if there was nothing else using the internet. People in rural areas have no hope.

Ian's 497 posts
Ian's:
map
I's Freeview map
terrain
I's terrain plot
waves
I's frequency data
I's Freeview Detailed Coverage
Saturday, 29 November 2014

Ian:
One problem often seen at present is that the server used by the provider of either your broadband connection or that of the programme provider may not be able to cope with the volume of traffic demand by all users exceeding its capability - hence the buffering even on a reasonably fast internet connection. I've recently moved and had FTTC installed, giving around 39 Mbps, but some services still suffer buffering! Where I used to live we had a 1.9 Mbps service at best and it was impossible to view any 'live downloads' of TV programmes. With the new service still suffering from buffering, but less so, it still makes viewing 'live on line' rather disturbing.
That is an issue that providers of broadband services and TV programmes on-line need to address and is being ignored by Ofcom in their future planning.
The only solution you can impliment is to use off-air services either using Freeview (terrestrial), Freesat or Sky (via satellite) or have a cable TV provision (like Virgin Media for example, there are others) if that is available in your locality.

MikeP's 3,056 posts

We moved to fibre about 6 months ago and since then we have never had a buffering problem.

Ian's 497 posts
Ian's:
map
I's Freeview map
terrain
I's terrain plot
waves
I's frequency data
I's Freeview Detailed Coverage
Monday, 1 December 2014

I believe this is good for Freeview.

Adopting the European HbbTV standard may result in more manufactures entering the UK marketplace - particularly in set-top boxes. At long last, we will not be restricted to solely buying Humax.

Chris Guest's 2 posts

But it is not so good for those in areas where the internet provision is only 2 Mbps at best or even non-existent. A number of the more rural areas are not being covered by the Government promoted provision of fibre-based services and the minimum service expectation, it is not a requirement, is just too slow for streaming live TV - especially if the house occupants try to do something else on the internet at the same time.
At least UHF terrestrial signals reach the vast majority of the population, even though some don't get the COM services coverage due to the restricted numbers of people to see the advertising which pays for the services. I know a few areas have topographical problems (such as hills and mountains or big buildings in the way) preventing UHF reception but many of those, not all though, can get a satellite based TV service such as Freesat.
The issue is about the lack of 'universal' coverage at a data rate good enough for TV streaming as well as other normal usage at the same time (Mum and Dad watching TV while children play on-line games, etc).
People have come to expect a universal TV service covering virtually the whole UK land mass, the internet does not do that (my friend in Sutherland is too far away from a town to get internet but does get TV) so the service could not be 'universal'.
Add to that the fact that there are people who do not want and will not have anything to do with internet services, partly because of the extra costs involved and they see no usage for it in their household. 'Techies' will wonder if such people exist - I can assure them they do and in larger numbers than some care to admit.
Internet is not, in my considered view, the future for TV services.

MikeP's 3,056 posts
Select more comments
Your comment please