Licence fee replacements: All-homes broadcast contribution?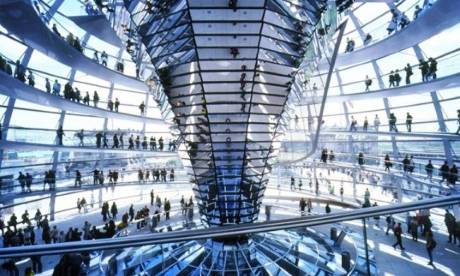 Brian Butterworth
published on
UK Free TV
(Some of this comes directly from a transalation of http://www.rundfunkbeitrag.de)
Citizens
You get an email.
The email says that that it is from the multimedia media contribution service.
It says that, following the 2016 Communications Act, the TV Licence has been abolished, and replaced with a mandatory payment called the multimedia media contribution (MMC).
Following the link, you see
MMC: EASY FOR ALL.
Who has to pay the broadcasting fee?
Citizens, companies and institutions as well as institutions of public welfare pay to broadcast contribution and thus share the funding of public service broadcasting.
Is the broadcast contribution to a tax?
The broadcasting fee is not a tax but a contribution to the levy legal sense.
For citizens the simple rule applies: One household - one contribution - no matter how many people live there, and how many TVs are available. In other words, families, shared apartments, and unmarried couples pay a contribution.
This charge, the site says, is now levied on an annual basis on all households in the UK. Unlike the old scheme, it says, the MMC does not have to prove anything beyond the existence of the household.
The government is still paying for any home where one or more members is aged 74 or older. This can be claimed, as before, by providing a national insurance number. The old TV Licence system has passed all known qualifying households over the MMCS.
The fee is set at £150 per household.
The first year
If the property had a TV Licence covering the last year of operation, the MMC in the first year starts from the date the TVL expired.
If you have any of the following, you can apply for an exemption / reduction
Retired and getting financial support;
Job seekers;
Full time students not living with their parents.
Asylum Seekers;
Receiving benefits for full time care;
Receiving state nursing care or war benefits;
In an inpatient facility;
Deafblind, blind or more than 60% visually impaired;
Disabled persons (pay only one-third contribution)
MMC for Companies and Institutions
Companies and institutions participate in the funding of public service broadcasting.
For hotel and guest rooms and apartments of the new monthly broadcast fee is also £4.
MMC Institutions of public welfare
Institutions of public interest such as schools and non-profit associations and foundations, as well as firefighters, police, army, civil defence and disaster protection pay a maximum of a broadcast monthly contribution of £13 per month per establishment.
Would this work in the UK?
Making the payment come from all 26.4m households – rather than those with a TV – will reduce the collection costs.
However it does little to make the tax more progressive.
Comments
Monday, 18 May 2015

I think that the basic idea is sound but that it should be a per person charge with exemptions only for the under twos, those pensioners currently exempt and those who are deaf, blind or both. I think that it's unfair that a single person or even a couple should pay the same as a family and that they should pay the same as an extended family. The only concession I'd make to those who fear a poll tax type charge would be an assumption that no household has more than four children or four adults.

Charles Stuart's 159 posts

Sound better, 1 charge per household, all paying the same unless there are extenuating circumstances, But not everyone has email so will still need a paper system.

Ian's 497 posts

Charles Stuart: The current system is a per-household charge and that seems to have worked OK for the last several decades.I'm not sure what your "no household has more than four children or four adults" means.

Briantist's 38,906 posts

Ian: The costs of administration online as much lower. Perhaps there could be an extra charge if you want to use paper, say £10?

Briantist's 38,906 posts

Whatever the wording, this is a "tax" on a household. To word it so that it appears not to be a tax, will just invite lawyers to increase their incomes from bickering over the small print. The vague term "household" is another opportunity for lawyers. Is the "household" levy of £150 for a whole year or per month (as described in the latter part of the posting)? If you are going for the "household" option, this is going to be more expensive and bureaucratic than the French version which is collected by local authorities. It does not seem to have any advantages over the French system and is not in any way progressive.

John Hunter's 8 posts

I have a relative, in Portugal, and asked her, during our weekly telephone conversation, how was the Portuguese state radio and television broadcaster (RTP---Radio Television Portugal) funded.

Although I have not verified her response, she said that an additional charge, for this, is added to Electricity bills., on the basis that the majority of homes etc. have radio and television sets.

I have seen RTP television broadcasts, when in Portugal and noticed some of the RTP channels also show adverts.

PETER HUGHES's 13 posts

John Hunter: May I draw your attention to the words "Some of this comes directly from a transalation of http://www.rundfunkbeitra…ot;?

Briantist's 38,906 posts

PETER HUGHES: I covered the whole gamut of options before: BBC 2017: Tell me about the 16 options to collect the BBC 4 billion quid a year? includes that.However, I think we need to close in on the three that have political support.

Briantist's 38,906 posts

How about keeping the paper system but offering a reduction if you pay on line?

Ian's 497 posts
Tuesday, 19 May 2015

No, not at all supportive of such a backwards move. There would in effect be no opt out so it is actually another compulsory tax in exactly the same way council tax is a compulsory tax..and no doubt similar or worse Draconian penalties for non payment! I went without a TV for 6 years and whilst it took some convincing TVL that I didn't have one in the end I eventually managed to opt out and stopped paying the licence. I really didn't miss TV at all and we only have one now because my partner enjoys a few programmes each week. £150 per year for a few programmes each week isn't my idea of a fair contribution. Seems to me that there is complete resistance to radical change and these backward ideas are emerging because it's safer than alternatives. But if you're going to levy a TV tax you may as well just collect it through general taxation and stop poncing about and pretending like it's fair an there's any choice involved.

Simon's 2 posts
Select more comments
Your comment please