Chancellor George 18% BBC fee cut to lowest level of BBC TV since B&W 1978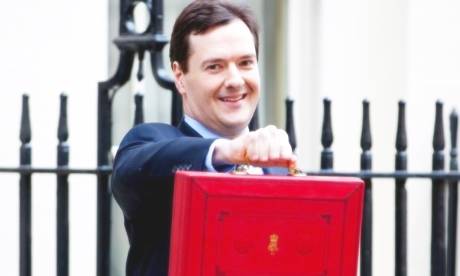 Brian Butterworth
published on
UK Free TV
7th of the 7th at 7am
I'm going to be in hospital on this budget day, having the tendons in my leg have the fragments of bone taken from them and somehow joined back together. So I am going to miss the fun of the emergency budget, so let me get some data in now.
Updated - we have the details
We know now that the BBC will get £250m less in 2018/19, £450m in 2019/2020 and £750m in 2020/21 onwards. The change to allow iPlayer to count as needing Licence fee will come in a few years' time. From 2016 the fee will be index linked. So, here's a graph showing - adjusted for inflation - the total Licence Fee income (drops 18%) and the per paying home average licence fee, even though fixed at RPI otherwise.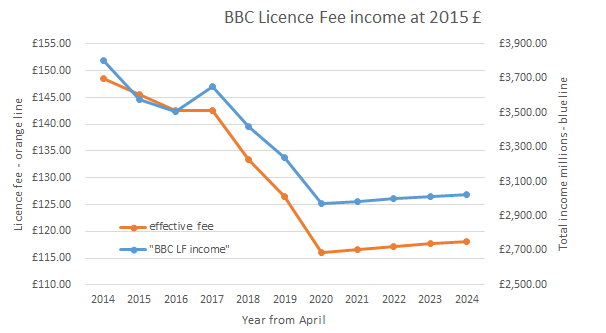 Drop from 2007 (£173.82 adjusted) to £118 in 2020 represents total cuts of 32% in real terms.
The long-term view
Here's my ever-popular TV Licence 1946-2017 graph, with a new line.
We need to factor in a new value: that is the provision of the discount for homes with someone over 75. The 2014 Licence Fee income [1] is £3,726m from the 25.6m homes with a TV[3] and that pay £145.50.
According to the House of Commons Library [1]
"The estimated cost of providing free television licences to all households including a pensioner would be nearly £700 million a year, while the cost of free television licences for all pensioner-only households would be approximately £490 million a year."
The change to making the other licence fee payers support this means cutting the BBC UK Licence Fee income from £3,726m a year to £3,026m year, and 18% cut.
This mean, in terms of income that the average home licence fee is now £118, not £145.50. I've draw the £118 line on the graph: not that you will be paying £118 – homes will either pay nothing of £145.50.
This level of income - £118 at today's prices - was last seen back in 1978 when 60.63% of homes paid £25 (£134.32 today prices) for a colour licence and the rest £10 (£53.73) for a black and white one. Just before the Winter Of Discontent, in fact.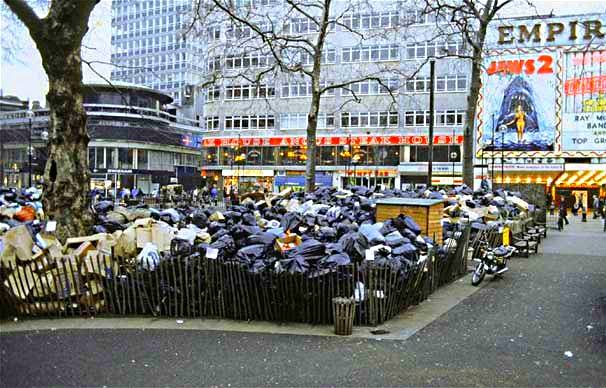 So why not do this with free bus passes too?
According the government figures, the on concessionary travel costs about £1,400m a year, about twice the value of the free TV Licences for homes with someone 75 or over.
Does this mean that we should also see bus fares rise by 34p to pay for the free travel by those with concessionary passes? Would that be fair?
The 34p add on would be splitting[5] the 4.2 billion non- concessionary bus journeys by the £1.4bn cost.
And, the government keeps its manifesto pledge.
Or how about doing the same with the Winter Fuel payment?
If the BBC viewers are to pay for the free licences, then electricy and gas company's customers should fork out for the Winter Fuel allowance too. That is about £2,100m a year.
The official figures say we in total spend £14,659m on gas and £15,295m on electricity, totalling about £30bn.
So, just adding a 7% levy to the gas and electrify bills will cover the 2.1bn needed. That's much more equitable that just taxpayers forking out, isn't it?
And, the government keeps its manifesto pledge.
[1] BBC Full Financial Statements 2013/14
[2] House of Commons Library, Concessionary television licences: pensioners Standard Note: SN/HA/ 4955 Last updated: 25 June 2010
[3] Television ownership in private domestic households 1956-2014 (millions) - BARB
[4] Official TV Licensing website - How much does a TV Licence cost?
[5] Concessionary travel (BUS08) - Statistical data sets - GOV.UK
[6] How much do pensioners' benefits cost? - Full Fact
[7] gov.uk/government/uploads Table 2.6.1 Total household expenditure on energy
Comments
Tuesday, 3 November 2015
M
MikeP
12:35 PM
Trowbridge

RichardW et al:

There are reports from much of southern England of such reception problems and it likely to be due to the weather conditions. There is nothing anyone can do to change the situation, a change in weather will do that anyway. Do NOT retune your TV set under these circumstances.

MikeP's 215 posts
MikeP's:
map
M's Freeview map
terrain
M's terrain plot
waves
M's frequency data
M's Freeview Detailed Coverage

MikeP: It maybe that you are referring to a currant temporary issue, I'm referring to an ongoing situation over many years, I've lived in these parts for almost 40 years and the service has always been below average. I'd guess that it's due to the fact that Wiltshire has a comparatively low density population and the cost of providing full coverage is comparatively expensive.

RichardW's 8 posts
Wednesday, 4 November 2015

RichardW:

You don't indicate which part of Wiltshire you live in. That is essential information to work out which transmitter would be the best to use and whether there are any significant interuption to the straight line signal path from that transmitter to your home. In any broadcast system using RF signals, there are inevitably some unfortunate areas that are either poorly served or not covered at all. Local terrain, for example, can have a serious effect on signal availability, as can local buildings, etc.
Without further detail of location it is impossible to suggest any potential solutions.

MikeP's 215 posts
MikeP's:
map
M's Freeview map
terrain
M's terrain plot
waves
M's frequency data
M's Freeview Detailed Coverage
R
RichardW
4:30 PM
Marlborough

MikeP: I live in a village called Brunton, SN8 3SE, at the very northern edge of the region that should be served by Rowridge. As you'll see from the maps, huge areas are indicated as without signals. I would be seriously impressed if you have a solution. Very little reaches here.

RichardW's 8 posts
RichardW's:
map
R's Freeview map
terrain
R's terrain plot
waves
R's frequency data
R's Freeview Detailed Coverage
Thursday, 5 November 2015

RichardW: Both sets of reception predictors indicate your area as not being particularly good for reception, the reason for, basically being down to the signal path from the Rowridge transmitter being subject to an almost continuous line-of-site blockage starting from around 5 miles prior to your location.

As there is no way around this problem, I was just wondering if you had ever considered changing over to Freesat?, as although a Google earth sky view appears to indicate a row of trees in line with the direction a satellite dish would be facing, it has to be appreciated that the signal approaches the dish from an angle above this, likewise dishes can be used in locations closer to trees than might be expected, reception using this mode being far in a way more reliable than Freeview in areas such as yours.

The line-of-sight blockage referred to can be seen by opening the undermentioned link.


Terrain between ( m a.g.l.) and (antenna m a.g.l.) - Optimising UK DTT Freeview and Radio aerial location




jb38's 7,179 posts
M
MikeP
12:58 PM
Trowbridge

RichardW:

Further to that said by jb38, I agree that you should investigate using a satellite service, reception is likely to be more certain than for Freeview. Freesat is similar to Freeview but there are some differences, see Freesat Channels - Free Satellite TV, HD and Radio Channels for listings of available programmes. All these are available without subscription.

You will, of course, need to have a dish installed and obtain a suitable receiver box (if your TV set does not have the Freesat facility built in).

The other alternative is Sky - for a monthly fee of course.

I suspect from your location near Collingbourne Ducis that the available Internet service is not terribly fast (please correct me if I'm wrong) so watching TV programmes via the internet may be problematic because of the slower than necessary connection (SD TV services generally need at least 4 Mbps connection assuming there are no other usages at the same time).

MikeP's 215 posts
MikeP's:
map
M's Freeview map
terrain
M's terrain plot
waves
M's frequency data
M's Freeview Detailed Coverage

jb38: and MikeP: Thank you both for your effort and suggestions. Freesat probably is an option for me but I'm not overly keen on the prospect forking out £200 odd for a dish and installation, on top of my Licence Fee.

MikeP: You are not far off the mark with your assumption that internet services are not great here. We were very late in the day getting broadband here. Surprisingly, this year we got high speed broadband too. My standard Broadband connection is a little under 6 Mbps so it is enough for streaming and I'm leaning towards cutting my cord all together. I get pretty much all the movies and series I can watch from NetFlix and that constitutes most of my day-to-day entertainment. I use iPlayer a bit too and from time to time I watch a bit of news and sport live so it's not a done deal yet.

RichardW's 8 posts
Tuesday, 11 June 2019
M
Minecraft Netherrack Series 3 Codes
5:01 PM

Begin Minecraft and decised on Multiplayer.

Minecraft Netherrack Series 3 Codes's 1 post
Select more comments
Your comment please