New and improved Freeview radiation patterns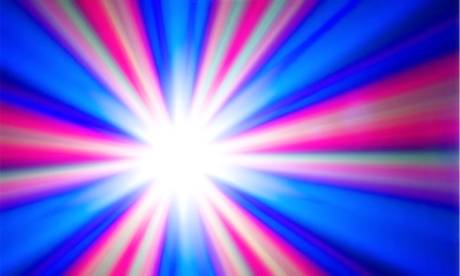 Brian Butterworth
published on
UK Free TV
What are radiation patterns?
All ground-based broadcast transmitter – be it for a Freeview, DAB, AM/FM radio or mobile phones – can and do broadcast their output at different levels in different directions.
The diagrams here on UK Free TV show all the known patterns. In theory each transmitter can have a different pattern for each transmission frequency.
This diagram shows how the Primrose Hill Freeview transmitter's coverage map and the radiation pattern for it.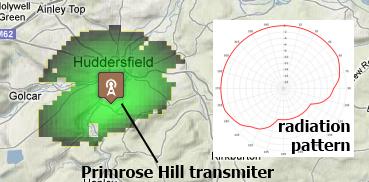 Why did you say "known patterns"?
Because, and I quote
disclosure of the antenna radiation patterns into the public domain could lead to these being available to foreign administrations, which would substantially weaken HM Government's negotiating position with respect to international frequency clearance;
a weaker negotiating position for HM Government may lead to additional cost for the broadcasters (where antenna systems have to be re-built as a result of international coordination) and lower coverage for viewers (where antenna systems have to be restricted in order to protect foreign transmissions); and
the BBC is required to provide coverage of its services on digital terrestrial television to a certain proportion of the population by the completion of switchover and a failure or suboptimal result from international co-ordination may harm the BBC's ability to meet this obligation.
The number of sites that we have data is limited to the data released by the BBC in 2009 – see Update on transmitter radiation patterns (BBC FOI request) – plus the new data from Ofcom.
What is the new data?
With help from Dave Lindsay, I contacted Ofcom to ask them to release the data related to the upcoming UK Digital Terrestrial Television: International Coordination Agreements
Do the new patterns match the output?
"While you are already aware of this, I would like to emphasise that the powers and antenna templates in these files represent the upper limit of the UK's internationally agreed rights for specific frequency assignments, and the actual antenna patterns and/or powers used by the broadcasters are often more restricted. Additionally, not all of the assignments which have been co-ordinated are currently in use." - Ofcom
New SVG format
UK Free TV was using "HTML5 canvas" to draw the radiation patterns. However the site now uses the SVG format for the graphics. This has the several advantages, in particular that it is now easy to embed more than one diagram in a page where necessary.
Some examples of the new data
Where the diagrams show (CCN) this is the new "Co-ordination combined nominal template derived from International co-ordination technical agreements" data. A pattern with a "F" prefix is for a frequency not currently used at that mast for a live TV service (F570 is 570MHz also known as UHF C33).
What next?
The site's coverage maps will be regenerated soon to include all this new data.
Comments
Tuesday, 21 February 2017

Joe Vitagliano : A quick look at the coverage map for Hannington would suggest that you're too far away, but if you provide a postcode we can get a more accurate prediction for available transmitters and signal strengths at your location.

StevensOnln1's 3,570 posts
Saturday, 26 August 2017

Cannott obtain the Com 7 channels from the Winter Hill transmitter despite following the advised unplugging/reinstall procedure. I live near Nelson in East Lancashire, could the radiation pattern above explain this or should I try something else?

Many thanks, Chris.

Chris's 1 post
Sunday, 27 August 2017

Chris:

Without a post code it is very difficult to answer your query. However, if you are living due west of the Winter Hill transmitter you might be able to receive it. If you live either north, south or east of the transmitter you are very unlikely to receive it. Further, you need a Freeview HD receiver, not just an 'HD Ready' one, to get any HD channels.



MikeP's 3,056 posts
Thursday, 5 October 2017

Hi, what chance is there of my receiving Moel y Parc transmitter in the CW2 area? Would I need a specific aerial for this?
Thanks,

Fred.

Fred Whiting's 20 posts

Fred Whiting: Please provide a full postcode (the first half isn't enough) and you'll be able to access a coverage prediction for your exact location, which will shows which transmitters are available and predicted signal strength.

StevensOnln1's 3,570 posts

Fred Whiting:
CW25PN

Thanks.

Fred Whiting's 20 posts

Fred Whiting: The coverage prediction for your postcode shows that Moel y Park is available at your postcode, however the signal is weak on some channels (BBC/ITV/C4/C5/S4C). You would be better off using Winter Hill, unless you particularly want the Welsh versions of BBC/ITV/S4C.

StevensOnln1's 3,570 posts
Friday, 6 October 2017

Fred Whiting: Hi again, Yes ,I DID particularly want the Welsh channels. Are other transmitters available to me from across the border, or do I just try it and keep my fingers crossed? If you think acceptable reception is unlikely, please say, and I'll accept it. Our present signal is provided to us and it is Winter Hill which I don't like.
Thanks.

Fred Whiting's 20 posts

Fred Whiting: You would get more reliable reception by using Freesat (enter a Welsh postcode during setup to get the Welsh channels). According to the Digital UK checker (http://www.digitaluk.co.uk/coveragechecker/main/trade/CW25PN/NA/0/) the reason why BBC/ITV etc look to be weak from Moel y Parc is that they use the same frequencies as the COM muxes from Sutton Coldfield, which is also available at your location.

StevensOnln1's 3,570 posts

StevensOnln1: Thanks for the info.
Fred

Fred Whiting's 20 posts
Select more comments
Your comment please