Will the World Radiocommunication Conference be the death of Freeview?

Brian Butterworth
published on
UK Free TV
Every four years or so, a World Radiocommunication Conference is held to consider revisions to the International Telecommunication Union radio regulations.
The next one runs 2nd-27th November 2015. It will discuss many topics, one of which will be agreeing the use of the UHF radio frequencies band in Europe and Africa from 2016 to 2030.
Meetings, meetings
Prior to the Geneva conference, The Wider Spectrum Group - representing viewers and listeners, employees and employers across Europe in the fields of audio-visual, radio, and programme making - met in Brussels and urged protection for Freeview and all European TV terrestrial services.
Decisions at this year's WRC could see remaining TV airwaves opened up to mobile networks. Whilst many countries in Europe have advanced terrestrial networks, others have limited use for them and many in Africa (the same "zone") have none.
However, the potential market for mobile broadband internet connections is vast. This diagram shows the old analogue TV channel numbers from 21 to 69.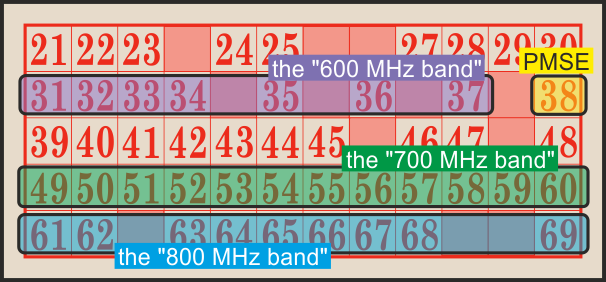 Already the 800MHz band is used for 4G, it is planned for the 700MHz band to be moved to 4G in around 2020. It is expected that the 600MHz band – currently used for the extra Freeview HD channels – will be used for Freeview when the transmitters are shuffled.
It is possible that the ITU will decide that 4G is more important than legacy TV. The broadband companies will point out that will High Efficiency Video Coding and ungrouped aerials, TV could use many fewer frequencies.
Elsewhere satellite operators are trying to protect their current C-band allocations from reused for non-fixed broadband. [2]
Who's the daddy?
It is certainly worth noting who the big beasts are today. It is popular to think that the BBC is "too big", but would take 23 years for it to get the annual income of Apple.
Digital UK's view
Jonathan Thompson, CEO of Digital UK, said: "Broadcasting remains a vital technology but is already using less and less spectrum to deliver more and more content for consumers - can the mobile sector say the same thing? There is also a big question as to which spectrum is best suited to new uses such as 5G, with all indications that the focus should be on higher frequencies. Pascal Lamy's report offers us a win-win scenario delivering both room for mobile broadband to grow and protection for DTT. It provides a sensible, pragmatic solution with the time for a further review of spectrum use is 10-years' time - let's stop having the same endless debate." [1]
DTG's Dynamic Spectrum Access forum WRC event
https://www.eventbrite.co.uk/e/dsa-wrc-event-tickets-19096461029
[1] http://www.digitaluk.co.uk/__data/assets/pdf_file/0005/88502/22-10-15_EU_urged_to_protect_free-to-air_TV.pdf
[2] http://spacenews.com/satellites-11th-hour-effort-to-stop-wireless-industrys-spectrum-grab/
Comments
Tuesday, 27 October 2015

Briantist:

This sounds sensible. The current system is a complete hotchpotch! My TV is new this year and my videorecorder is about 4 years old but both seem to make sense of it all (although they put all the HD channels at the end of the list & for some reason the local BBC news is not broadcast in HD, which is a nuisance).

I am continually amazed that the system works at all, though it must be frustrating for people who cannot afford to keep updating their equipment and are finding it more and more complicated.

Chrs Shaw's 16 posts
M
MikeP
11:34 AM
Trowbridge

It always amuses me, having worked in the domestic TV industry for most of my working life, that nowadays some people think that replacing perfectly good equipment as often as they think people do is entirely acceptable. 20 years ago, people thought of keeping TV sets for 10 years or more, despite the poorer reliability back then. Now it seems some want people to change TV sets every 4-5 years despite them being just as expensive as before (in real terms) and more reliable in general.
I can see the advantages and disadvantages of DTV and especially use of DVB-T2 systems. But do the 'general public' have a desire to keep changing things? One hears comments from viewers like "Why can't they leave things alone?" or from others "Why don't they just change things to the way I want?"
When I started work in 1960 a TV set left the factory gates costing just under £30 - probably the equivalent of around £600 at todays prices. On top of that was the wholesaler margin (30% was normal) plus the retailer margin (again 30% was normal). The relative design and manufacture costs have fallen dramatically in recent years, but the distribution, advertising and retail costs have hardly changed as a percentage (I know some will argue otherwise!) but the 'mark up' is not really any less than it was - shareholders demand a profit.
Over the years, the capabilities of equipment have increased considerably, compare the 405 line B&W 2-channel service with today's UHD services. The PAL colour system had some good points, but also some bad one (such as disturbing cross-colour visual effects). The DTV system also has good and bad points, there are some quite disturbing visual artifacts especially on fast moving objects. So nothing is perfect, but why assume people 'want' change as rapidly as some are asking? Most viewers want to watch a programme content and not be bothered with how they get to see it - and a large majority don't have the technical knowledge nor understanding to be at all interested as long as they get to watch their programmes without disturbance or interruption. Change is not always a 'good thing'.

MikeP's 215 posts
MikeP's:
map
M's Freeview map
terrain
M's terrain plot
waves
M's frequency data
M's Freeview Detailed Coverage
M
MikeB
2:11 PM
Macclesfield

MikeP: I'm not sure that people replace TV's or other equipment that often. 5-7 years is average, and of course this has as much to do with changes in peoples homes as anything else. If you've moved house, or knocked through two rooms, then that 21in CRT is going to look very small in a 20ft living room. Likewise, a fair number of people are downsizing, and that 50in TV from 8 years ago looks a bit of a monster in a small Victorian front room. Of course these TV's are often passed on, so they are not automatically landfilled.

Once a TV goes, the cost of repairing one is often not worth it, and so a new set is on the cards. TV's nowadays are much cheaper in real terms than ever before, and the days of a 30% wholesale and retailer margin are long gone. Barely above double figures is now average for a TV (a laptop or tablet perhaps half that), and of course that margin might also include free delivery, a free extended warrenty, etc. There is a reason why the likes of Tesco's got in and then out of the serious TV market quite quickly - its not actually that profitable, and the competition is intense.

Many of my customers don't particularly want to change much, but if they are, are looking for good value and a degree of future proofing. A decent picture, a good quality build, with the features that allow the set to last, and easy to use are the features I would look for. If you bought something decent 4 years ago, then you have nothing to worry about, and plenty of much older sets are perfectly usable, with very little extra outlay. I suspect a lot of people feel overwhelmed, and assume that if they are not buying something new, then nothing will work. The opposite is of course true. There are times where a wholesale change is warrented, but that will tend to come in the natural order of things.

I totally agree with you about people not being aware of the technology, and whether thay have to upgrade or not. During digital switchover, DigitalUK was very careful to inform people that all they essentially needed was a set-top box, nothing more, unless they wanted to. Yet so many people panicked that they had to replace their TV's, or else. Now from the point of view of selling TV's, we were not complaining, but we like to give people good customer service, and I would explain to them what was required if needed. I remember one chap who was very stressed at having to buy all new TV's, but because of the cost, he felt he had to buy a new 32in for his front room, whereas a 40in was much more suitable. My advice was to wait, and buy an HD PVR, since that was much more cost effective for his situation. Yet he carried on obsessing about a new TV. Fortunately I explained the situation to his very sensible wife, who talked him down!

The people who replaced their TV's might have felt like an upgrade was warrented anyway, and thats fine. Frankly, its the customers money, and they can do what they like with it. However, my worry was always the people who felt they had to, largely because of nonsense coming from the media. Unfortunately, I suspect much the same thing might happen again, with the media whipping up fears that are unwarrented, and counterproductive.

The move to T2 tuners is long overdue, and there is no reason why it cannot be done in the next 4-5 years, since the bulk of people will have one anyway, or can get one if needed. It would simplify things, have lower running costs, and make better use of the spectrum.




MikeB's 2,579 posts
MikeB's:
map
M's Freeview map
terrain
M's terrain plot
waves
M's frequency data
M's Freeview Detailed Coverage

But why should I have to buy a T2 set top box for my perfectly good TV, and suffer another remote control and the extra running cost just so the mobile companies can have more? Its not just 1 TV though, there are 4 in our house and 1 in the caravan. Many people will be in the same situation and a good many will just dump what they have now, when I see the amount of electrical goods that are in the local tip it makes me sick, we have learnt nothing.

Ian's 497 posts
Ian's:
map
I's Freeview map
terrain
I's terrain plot
waves
I's frequency data
I's Freeview Detailed Coverage
M
MikeB
7:19 PM
Macclesfield

Ian: On the other hand, you can't watch HD with a Freeview tuner, and apart from switching the TV on and off/selecting another imput, the HD /Sky/Virgin box pretty much does everything. In fact pretty much exactly the same situation when we all went digital.

And when your TV goes kaput, your buying one with a T2 tuner in anyway.


MikeB's 2,579 posts
MikeB's:
map
M's Freeview map
terrain
M's terrain plot
waves
M's frequency data
M's Freeview Detailed Coverage

Fine for the main tv, what about the other 3?

Ian's 497 posts
Ian's:
map
I's Freeview map
terrain
I's terrain plot
waves
I's frequency data
I's Freeview Detailed Coverage
Thursday, 29 October 2015

Terrestrial digital broadcasting is not about to disappear, but government will have to decide whether to trigger another Digital SwitchOver - requiring replacement of non-recent Freeview boxes if viewers want to continue receiving what they get today on Freeview (plus more).

Governments of course are heavily motivated by what they might realise in spectrum auctions. They have a worry about political backlash from a DSO-2.

The TV manufacturers do indeed want us to replace out TV sets every few years - which is ludicrous for most consumers. The surge in platforms offering all sorts of TV options, plus IP-delivered pay and free channels, adds further confusion to consumer choice. And of course the mobile Telcos want to take over all communications.

Much is currently uncertain, but I reckon the one thing that IS certain is that Freeview will NOT die. Terrestrial and/or Satellite Broadcasting is the rational way of delivering a decent number of channels to large numbers of viewers. Neither broadband nor mobile is anywhere near capable of delivering what we currently enjoy, despite the claims and hype around "the death of TV".

Fred Perkins's 13 posts
M
MikeP
10:57 AM
Trowbridge

Fred Perkins:

I totally agree. Having lived in a rural location for many years and been happy with terrestrial analogue reception, when the switch to digital occured we had few problems. But that location has particularly poor broadband, the best achievable being 2 Mbps using current technologies installed at the exchange (ADSLMax only). Until that upper limit is improved people living in such areas could not possibly rely on IP delivery of TV services. Further, not everyone can receive satellite signals due to sheilding by nearby buildings, Canary Wharf being a good example in London. Trees can look very noce but can also block satellite signals (as a friend in the New Forest can attest!).

I suspect that those in positions of making decisions are urban based and have not widened their thinking enough to consider ther effects of local causes of reception problems. But all is not good in urban areas either because of the buildings mentioned above. There are also difficulties in reception from mobile phone masts, where I live we are about 2 km from the nearest mast of our operator yet we get no signal downstairs and 1 or 2 bars upstairs at the front or none at the back! And that is in a suburban location in the County Town!

What is good for the 'Home Counties' (where I was born and brought up) is not necessarily good for anywhere else.

MikeP's 215 posts
MikeP's:
map
M's Freeview map
terrain
M's terrain plot
waves
M's frequency data
M's Freeview Detailed Coverage
Thursday, 4 February 2016

does anyone know anything about this W channel?

Steve B's 1 post
Sunday, 7 February 2016

I get really hot under the collar when I hear of suggestions like this; trying to get rid of terrestrial TV just to placade the greedy Telcoms and let them have more of our precious frequencies.

There's nothing wrong with the Terrestrial system and a lot of people out in the stick, like a friend of mine, cannot even get 2Mb broadband some days, and the chances of him ever getting cable is too unlikely to mention, so what does he do? Buy a satellite system at his expense.

I'm lucky in that I have Freesat and Freeview, and via 40Mb Broadband can stream it though a Hudl2 in HD as well but a lot of people are not that fortunate; and I consider it unfair for them to be continually forced to buy new equipment which many cannot afford.

It's about time that the governments in power stopped bowing to these Telcoms and stopped selling off the UHF frequencies just to put a few billion into the coffers; once these frequencies are gone, they're gone for good!

MikeG's 31 posts
Select more comments
Your comment please