To join, leave or change ukfree.tv updates by email, enter your email address here:
Scottish Borders: changes to Freeview, retune on March 1st 2017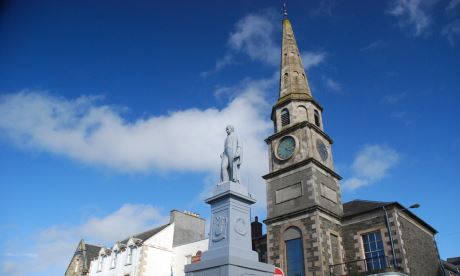 Brian Butterworth
published on
UK Free TV
Because of the need to make more effective use of the TV frequencies used for Freeview – so they can soon provide huge amount of mobile broadband from mid-2020 – a project starts today where each TV transmitter has changes to the broadcast frequencies.
The 24,000 homes in the Scottish Borders have been selected as Guinea pigs, several months ahead of the main changes. The area covered is this: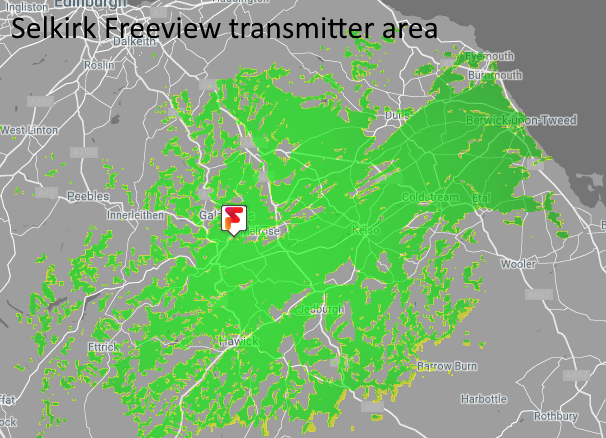 If you live in this area, all your Freeview channels may have disappeared, or you may be left with just the Freeview HD channels.
You should just need to retune your box. If you don't know how to do this, find your manual in this page: Freeview Retune list of manuals .

However, there is a small chance that your TV aerial will not work with the new frequencies. A rooftop aerial installed for the Selkirk transmitter may have been what is called a "group C/D" or "group E". If you can not get the channels to come back today just by retuing that probably means that you may have had these types of aerials fitted.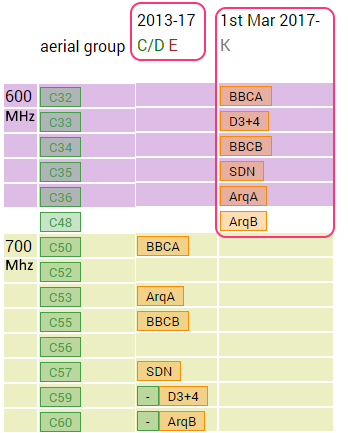 If this is the case, you can get a new "wideband" aerial supplied and fitted for NO CHARGE – just call freephone 0808 100 0288.
Please let us know how you get on today!
See https://ukfree.tv/article/1107052530 for more details of the project.
Comments
Saturday, 4 March 2017

I have totally lost BBC channels just had my freeview reconnected last month-TD15 area

A Berwick's 1 post

A Berwick: Check channel 750 and up to see if the BBC channels appear there. If they are present, do a full retune and see if they reappear on their usual numbers. If they don't reappear after a full retune and you can only get the versions on 750 and up, you should call the number in the article above to have your aerial replaced for free.

StevensOnln1's 644 posts
Gold
Sunday, 12 March 2017

Slightly misleading only BBC sd Channel 50 has been moved to channel 32

Brian Stanley's 5 posts
Your comment please