Five tips for when you are buying a new TV to watch Freeview or Freesat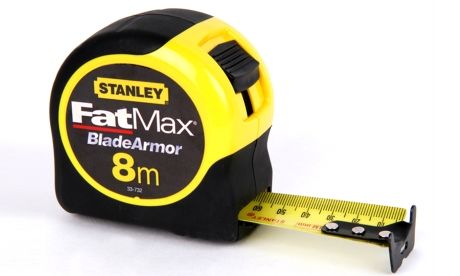 Brian Butterworth
published on
UK Free TV

Why do TV stores have a layout that makes it hard to view televisions from a "sofa" distance?
Tip 1: Measure the distance from your sofa to the set at home and then replicate it in the store
Retail stores show the TVs on sale in a way that is somewhat different to how they are seen from a living room sofa.
Remember that you should view a TV with your eyes in the centre. If you're looking down, or looking up, then you won't be able to see what the set looks like in normal use.
The following table shows four optimal distances** in meters to be from a widescreen TV set. The first "typical" value (shown in green) is the distance away you need to see all of the screen without having to move your head.
"HD" is the viewing distance to see the benefit of Full HD ("1080p"). Cinema is the distance you should be for optimal viewing of movies. The "UHD" distance is how close you need to be to distinguish ("4k") UHD from Full HD.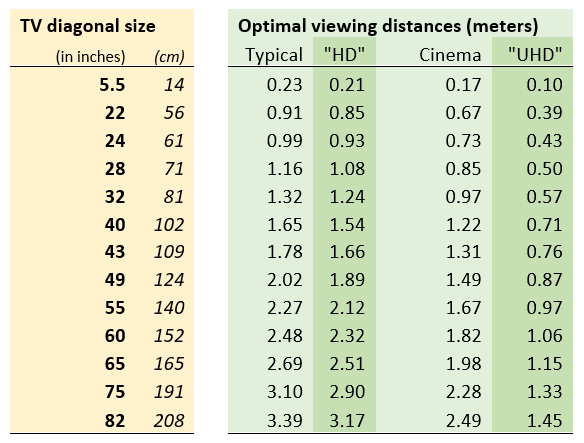 If your set is 3.5 meters away from the sofa, it won't look any better to you HD than standard defintion, even it is an "82 inch" model.
Tip 2: Considering your lighting conditions?
You never see TV sets for sale close to exterior windows. They are almost always at the back of the store where the lighting is constant … and low.
You might have a room like this at home, but if you don't you might want to consider that the TV could also be in a well sunlit room when it's being used, or is used to watch summer sport such as Wimbledon.
The less dark the viewing room, the less benefit you are going to be able to get from new technologies such as HDR (where you can see extra detail when pausing some movies). If it's a general use set in a well lit family area, paying extra for HDR or UHD may never be beneficial.
Tip 3: Can you see the TV you want to buy with live Freeview or Freesat channels?
When you visit, I bet that all the sets are showing wonderful looking mountains, or time-delay aerial city shots or clips from animated movies.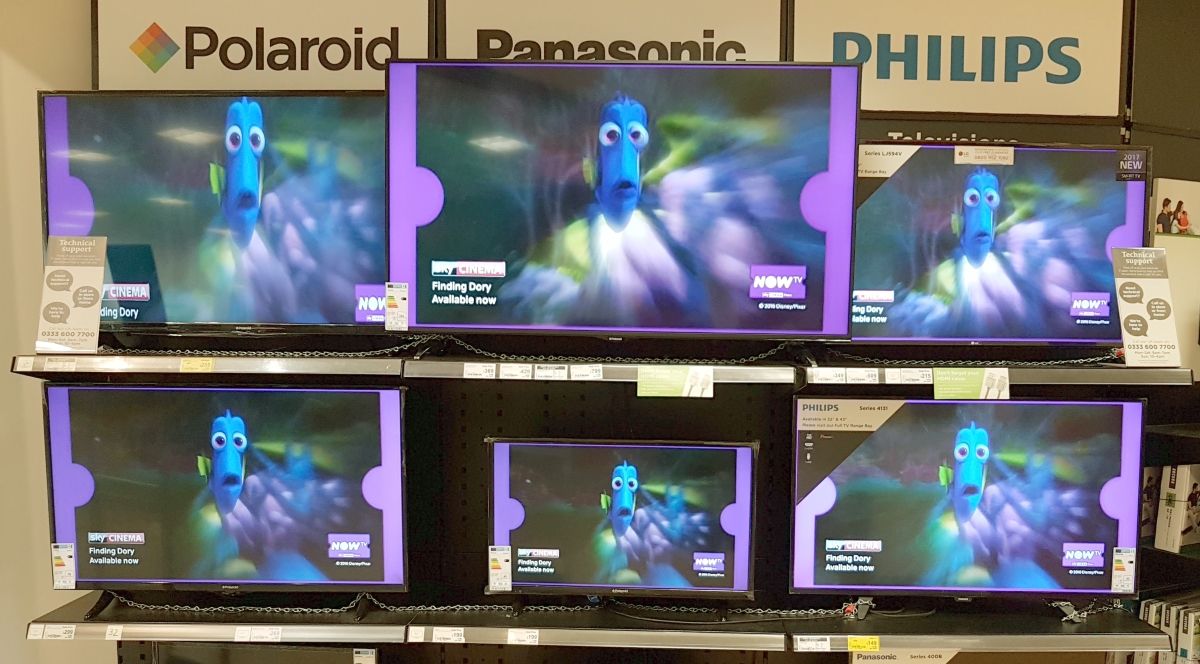 If you want a TV at home to watch Homes Under the Hammer or Dave Gorman: Modern Life is Goodish or Judge Judy – ask the store to show you BBC One, Dave or CBS Reality live from Freeview or Freesat.
Tip 4: Does your TV need to be "Smart"?
The problem with buying a "smart" TV is the screen will last much longer than the "smart" bits - the built-in apps it will age badly because you can't replace the built-in computer they run on.
The software apps on mobile phones are updated daily whilst the software on a "smart" TV gathers virtual dust. Touchscreen mobile phones have brilliant interfaces, smart TVs with their clunky, fiddly remote controls have the worst interfaces ever invented.
You might like to consider not worrying about a "smart" TV and use a £30-ish streaming-device such as Chromecast or Amazon Fire stick, Apple TV or Roku. You can then use the much more conveniennt (Android or Apple) tablet or phone to select things you want to watch. If and when the streaming box goes out of date it's another £30-ish: you won't need to throw away a whole TV set to get "smart" software upgrades.
Tip 5: Use external speakers
Physics says that it is impossible to make a TV flat and get good sound from it.
So, don't worry too much about the sound the TV makes in the store, as you won't be using it: either use an existing stereo or a sound-bar. A good one should last for many years.
What do you think? Do you have better tips? Tell me in the comments below.
** Note: use this equation to calculate viewing distance, d, from diagonal screen size w, using g=30 (mixed usage), 32 (Full HD), 40 (cinema) or 64 (Ultra HD).
Comments
Monday, 2 July 2018

I am having problems with a no signal weak signal on my Sony Bravia TV in the Alton area.It was 1st July .....anybody else affected ?
I also fitted a signal booster some weeks ago to the aerial leading to this TV.Would the hot weather affect the signal ?
I have checked all connections.
I am in rented accommodation with 3 outlets in different rooms.
I have 3 TVs .........2 seem fine but the Bravia is giving me trouble.It has been fine since moving in April.
My new27 Samsung TV in the kitchen gives a good picture .Even running the arial from this Samsung outlet doesn't quite solve the problem on the Sony Bravia.
Any ideas.



Brian's 1 post

Brian:

Please provide a full post code so that we can examine the predicted reception conditions at your location.

Have you tried it without the amplifier? Too much signal strength can cause the symptoms described. If you are using an active (amplified) splitter, does it have a variabkle gain control? If so, try turning the gain down. I hope all the TVs are fed from a proper splitter?



MikeP's 3,056 posts
Thursday, 29 November 2018

Your comment about poor sound on a flat screen tv is inevitable ...I would argue that the soind on many tablets is much better....why not use a similar system or is it just down to cost and hoping to sell soundbars....synical or not?

Rod's 5 posts
Saturday, 1 December 2018

Rod: Tablets and phones often have small speakers at the front or side of the tablet, and are obviously pretty close to the user. TV speakers are actually a lot more powerful (2 x 10W on a 40in plus), but are generally tucked underneath, for design purposes.

We want slim flat TV's these days, and that means somethings got to give - and thats the sound. To be fair, even the average CRT was not designed to have great sound, it was an afterthought even then, but the weight and bulk of such a set gave a better resonance and simply more space. TV manufacturers are not trying to make TV's sound bad to sell extra soundbars - its just the nature of the beast.

Spend about 185 or more on a decent mid range soundbar and you will be fine - 300w or more, digital optical and HDMI input (better sound and the ability to control the volume with the TV remote) wireles sub (much easier to hide away). You can spend a lot more (Sonos is very popular), but even a 80 soundbar from a decent make will greatly improve the sound, if only because it might be 4 times the output of the TV itself.


MikeB's 2,579 posts
Saturday, 15 December 2018

No BBC HD News 107, is work still ongoing at Sandy Heath 15th December 2018 11.00 am

Mervyn Lammiman's 1 post

Mervyn Lammiman:

No work is being reported at present and no one else is commenting about loss of BBC News HD. Please check all your aerial cables and connections, unplugging all coaxial plugs/socketys and then refitting. That will clear any possible corrosion/oxidation from the contacts, which is a common cause of loss of one or more siignals. DO NOT RETUNE.



MikeP's 3,056 posts
Tuesday, 5 March 2019

I found it very hard to get a clear statement from Currys as to which TVs actually support Freesat built in, most importantly the Freesat EPG. Even where the product description included the term there was not any reference to the service in the menus.

On the LG site at no point does it have any reference to the Freesat service nor do any of the menus in the handbook. Information on satellite reception is limited.

After some investigation not helped by Currys not having any TV satellite connections in store it would appear that LG, Samsung and Sony have "free-to-air" reception as opposed to Freesat, only Panasonic. This was supported by the Hughes electrical representative so I eventually bought a 49FX750B from there.

If retailers are going to get customers they need to train staff and let that staff actually learn about the products they sell including fully setting them up to see how they operate.

HairyFool's 1 post

HairyFool:

When I was looking for a replacement TV set, I wanted one that had satellite reception built-in. Unfortunately, most of the big name manufacturers don't say much, if anything, about reception of Freesat. LG specifically stated that the TV i was looking at did not have the ability to receive Freesat. That turned out to be factually inaccurate as it has a built-in satellite receoiver that can receive the signals from the Astra satellites used by Sky, Freesat and others. They claim it is because they have not included a system to display the programmes in the numerical order chosen by Freesat, so they claim it cannot receive Freesat - which is misleading. I bought an LG set and it does receive Freesat signal with no problem at all. It just doesn't list them in the order chosen by Freesat. So the marketing people have chosen to mislead and misinform potential customers.



MikeP's 3,056 posts

MikeP: If the manufacturer has not licensed the Freesat EPG software for that particular model then they cannot claim that it includes Freesat. The TV you have bought includes a FTA satellite receiver but not Freesat.

StevensOnln1's 3,568 posts

StevensOnln1:

But it receives the Freesat signals and displays them perfectly. All it doesn't do is list the programmes in the order Freesat want. So it is misleading to say it doesn't receive Freesat.



MikeP's 3,056 posts
Select more comments
Your comment please