Read this: Is A Point of View the place for Brexit? And behind the scenes of Research and Development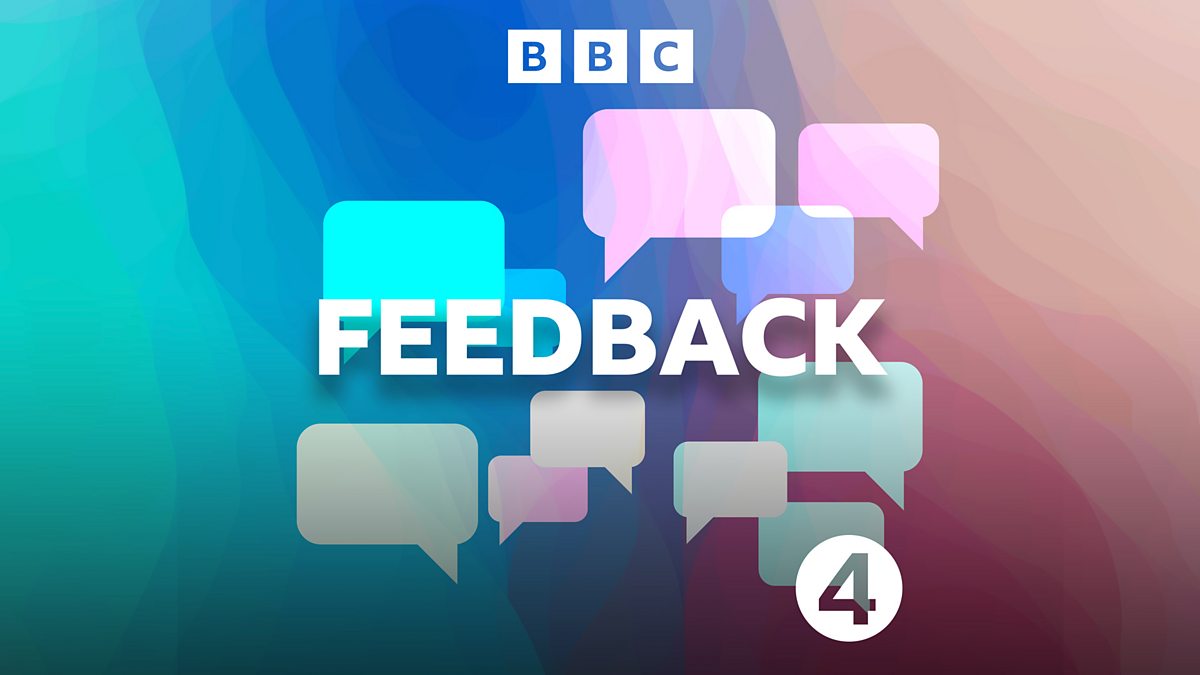 Summary: Podcast
Download MP3
www.bbc.co.uk
Is A Point of View the place for Brexit?…


this is the BBC

It's hello from me and it's goodbye from him.

Bring me sunshine in your smile many listeners told us how much they enjoyed it including grey grouting.

I think it's a country and western firebreak advice now the Daily Mirror slipped quietly out of the p.m.

Studio 48 hours early.

We have listeners reaction to the first person to audition for his job.

Only one person and that's Eddie Mair however.

I thought Chris Mason a prime standing we go behind the scenes at BBC research and development as they work on reinventing radio for a younger audience that used to be that research to place in our country house and then people disappear there for 10 years and come out geeks bearing gifts for us.

It's a much more two-way.

Process is really important that we talk to people who are going to be listening and

From Beyond the Grave one listener still appearing her dead husband on radio for his granddaughter was able to say yes, you did first Moore allegations of brexit bias of the BBC divisions fuel by claim and counterclaim with experts and politicians on all sides cooking the figures endersleigh contorting the truth relentlessly inventing new statistics of them lies of course I clip there from an edition of radio for Sunday morning opinion show a point of view it was presented by author Michael Morpurgo and was entitled simply think again.

It was an impassioned plea for the people of the UK to reconsider their decision to leave the EU and while he's Frank fuse what he sees as the followers of brexit struck a chord with some of you as I saw the program.

As a flagrant piece of propaganda as we increasingly realise the impossible position we find ourselves in it is surely time to accept that we have made a mistake in Gloucestershire this is a straightforward one-sided pro EU rats which were presumably expected to respect the children.

There are no certainties as we have been assured brexit did not mean brexit.

Give such a clear and sensible view on the brexit situation.

He presented his case extremely calmly and persuasively.

We look forward to more sensible contributions from him.

This was democracy corrupted by Andrew hi my name from Herefordshire

Grateful to Michael Morpurgo who is reasoned and human and compassionate and he gave us a historical perspective on Amazon Mario chartered engineer living in Canterbury I was outraged at the dogmatic approach and the endorsement that the BBC have granted this individual to speak in this manner effectively he was so biased and gave no option whatsoever and took a complete negative approach Michael Morpurgo point of view came hot on the heels of another hotly debated edition of the program in which the philosopher John Gray is criticism of the remain camp had similarly divided the audience one of the illusions of the brexit debate is the idea that staying in the European Union is a way of protecting liberal values.

Text of brexit the BBC with its entrenched remainers standpoint rarely allows such fused to be aired on this occasion.

Well done BBC Radio 4 remainers bladder on about the dark forces a British nationalism should look across the channel to Europe complain most vociferous lady increasingly blatant BBC bias.

These days points of View with astoundingly pro brexit and take or remain voters blubbers without challenge with disgraceful some forthright points of View about Radio 4 a point of view that the programs editor is Richard Vardon I asked him as it's covered almost daily in the News programmes.

Why do brexit at all in his series because we take the title of the programme seriously we let our writers write their points of View we don't want them writing about brexit every week, but

Seems bizarre not to deal with the subject like brexit over the course of a year or so so, how does this come about due to have a staple of writers who suggest ideas and then you pick the ones you want we have a stable of writers.

Did it first pieces that Michael Morpurgo Zara's written for us.

We he was suggested to us by Sir Roger scruton conservative philosopher last year took about a year 43 times with him and then he suggested a few topics some of them would have gone AWOL stuff.

We were expecting and one of them was about brexit supposed he and John Grey wanted to talk like brexit, but doubtless would offer due other subject matter as well.

It was your decision to choose brexit.

It would have been my decision to veto Michael Morpurgo and

I felt the if you wanted to write about brexit and he had an original take on it which I think it does it was ok and I felt it also needed to be ballin.

So we scheduled Yung gravy programme quite close to there is a problem here.

Is that the people will listen to for example the John Grey peas and think this is terribly biased against the remain case are they were little way down the line Michael Morpurgo would be coming along with a piece which is pro-remain is not a real difficulty.

I think you need to difficulty but it's a difficult it comes from the nature of the program.

The program is someone writing their point of view if they write their point of view the can't include someone else's point of view without a beginning becoming a slightly ridiculous piece where they say but on the other hand this and you know that's not the piece.

You know we try and balance across the series with lots of different views and unfortunately sometimes people are not going to hear that balance because only here a few of the programs.

Sieve Alison is and they are remainers did not like some of the language used by John Grey which they thought was rather below the sort of language to come to expect from point of view at Lindale for example said that you call remain voters blabber is disgraceful and the same point was made by dealers Hartland wi the Turner blabber now.

I think that what actually johnbray.

Did say was he said remainers were blathering on WhatsApp the proper use of language.

Well.

I felt it was I was brought up in a household with a Northern Grandma and and all of the mother and those words didn't seem that that's wrong to me.

I felt that within the piece it didn't come across as offensive or I can do the apology where I put apologise if people were offended but I would make that decision again.

I think that.

I'm trying to let some of the best writers in these Isles write their point of view and I'd try and be very careful before I take out work either but if you want people to listen to their arguments should sometimes better to advise them to express these arguments in where the windowsill offend people so they do listen to an argument that challenges their opinions are we do you do that and we work with them not to change their opinions but to help them get their opinions across to the audience sometimes.

They might pull one line in it that I know will annoy people and it's not needed in the piece, but I wouldn't stop them out your whole of can an argument about it.

If you didn't everyone line in it.

Just take it out.

Reflector and some people often putting the police if I've heard various politicians say you've got to put in a piece of provocation in order to get the attention of the audience is that the attitude you have two pieces on point of view really I want the pieces to make people think.

I want them to be engaged them.

I don't think you could work in a world where you know that they're not going to be angry about them.

We knew when we put this piece out that some people would write and complain about it.

Did the reason we put out the week we put it out was I was around I was going to be away the original we going to didn't think it was fair to the woman who's taking over me to come and beyond feedback next week explaining why am I made this decision and finally it does this mean that the next few months anyway point of view will be a brexit free very likely we do have problems.

Where's issues become so topical like Donald Trump and fake news the all alright as want to write about them and we then say look we had enough of this.

There's too much of this around if there was an original taken it may be but certainly we're not looking to find weed and we never looked to get them in the first place.

That's not how works Richard Vardon editor point of you.

Thank you very much.

Thank you and now for a piece of broadcasting history Greg advised we listen to the verse.

The song recorded by Willie Nelson alright then those were the last words spoken by Eddie Mair on Radio 4 p.m.

As he chose to leave the programme not with a fanfare, but two days early with Willie Nelson's version of Bring Me Sunshine to Serenade him on his way to LBC it's fair to say his rather abrupt departure has left a member of you feeling quite bereft.

Well.

I didn't expect him to leave with either a whimper orabang but a song ingenious.

I will never be able to hear give me sunshine again without thinking of Eddie mair's last pm broadcast and it was a lovely way for him to leave I looked forward.

PIA Michi evening and it would not be the same without him.

Thank you for always being so entertaining Eddie those people from Bedford I think it's such a shame Eddie Mair leaving p.m.

Continents the word ideas for his broadcasting and he always seemed to speak directly to his audience so big well enormous shoes to fill the BBC isn't bleeping into making a decision, but he's trying out a number of possible replacements including Paddy O'Connell Carolyn Quinn and Johnny diamond this week.

It's been The Turn Of Westminster correspondent Chris Mason how did he do? This is p.m.

It's 5:05.

Good evening to you.

There's only one person 40m and that's Eddie Mair however.

I thought Chris Mason a prime standing seaside towns home to wonderful childhood memories the old.

Decrepit looking donkey and failed attempts to put some cream on uncooperative toddlers and I think a lot of the presenters on Radio 4 can be quite aggressive where Chris Mason came in and he was his natural self he was just natural I'm Steven I'm 31 and I've been listening to p.m.

On Radio 4 for around 4 years now.

I really don't listen to Chris Mason this week covering the desk 1600 Chris has always had the levity that I think p.m.

Needs to be an enjoyable listen.

I think he's got the perfect character and especially brexit knowledge to take on the task as p.m.

Host.

Let me what your appetite with the prospect of discussing the world trade organisation tomorrow or maybe we'll keep you waiting until Wednesday

Do please get in touch this may be the last in the current series of feedback that were always listening to the output and to you you can send an email to feedback bbc.co.uk or write a letter the address is feedback PO Box 67234 London se1p 4ax.

You can follow our activity on Twitter by using at BBC R4 feedback or you can call us and leave a phone message on 0333 444 4544 standard landline charges apply, but it could cost more on some mobile networks all those details are on our website and debate continues to Rage online and in the feedback inbox over this program.

Hello and welcome to the show which gives women the chance to choose the stories they want to talk about and express their views without the irritation of the Host constantly holding the microphone hang on panel.

I haven't actually finished my introduction yet.

Where's the F in news Radio 4 or female comedy panel show has just come to the end of it's run in the prime Friday 6:30 p.m.

Slot normally occupied by the networks comedic big hitters like the News Quiz dead ringers and the Now Show we had wanted to discuss the program whether it will be recommissioned and indeed the whole idea of all women panels with Radio 4 commissioning editors Sinead William but she was unavailable maybe next series in the meantime here are some of your views airspeed sorting like pairing up socks out the washing machine or I love it but only for Lincoln and loving the fact that it is so relaxed format and it's giving us a chance to actually hate women considering and stopping ideas and chatting and having a relaxed opportunity to be always.

Sea and intelligence and insights lady with very used to hearing men having those kind of opportunities and I think he is maybe a bit of a surprise for some people doesn't didn't hear women behaving in that way, but I love it apparently humans share 50% of our DNA with bananas.

My name is Maggie I'm from London excited when I heard it was going to come on and I was very very disappointed with the additions that I've listen to I didn't think it was funny and it's supposed to be in the comedy slot and it sounded very amateurish and I didn't think it was going to do any good for promoting women having a point of view on contemporary events.

I just feel weird in general about a man and a woman what he feels comfortable I wear inside of constituents of quite like it if he had his face covered in a litre.

Comedy this show doesn't work not because he tall woman but because it's not really a game more like a scripted comedy discussion programme loredana.

I would like to express how much I am enjoying where's the F in news.

It is great to hear intelligent funny women discuss the news the value of having funny knowledgeable and interesting women perform a show without Men is in measurable.

Thanks radio for a hope this show will continue for many more series in device listed as much as radio comedy radio for many of us lies in the serendipity of stumbling across an unexpected moment which stops us in our tracks for me this week.

It was the 20 year old production of JB Priestley lost Empires on BBC Four extra with the Fabulous Tom Baker for listening Jackie spriggs, who is listening to Radio 4 last week, it was something very.

Good morning.

This is really 049 is Paddy O'Connell hello and welcome to a life's work where we bring together guests today are going to be talking about matters of life and death but really more about death and was my late husband has been dead for 19 years old sex with emotional eating but I did I hear it or didn't I.

And then in the evening when the program went out again? I found out definitely it was him and shortly afterwards one of his granddaughter's from his first marriage around me to say I think I heard on the radio that was able to say yes, you did.

in modern days

You talk about sex we don't mention this this is almost every that's the change in attitude, and he was a Church of England vicar who died in 1999 his voice again after such a long time was really quite extraordinary.

It was very strange.

It was very comforting and yes it just brought back so much having concerned that it was indeed the voice of her dead husband Harold Jackie was curious about where the short snippet of come from so she emailed us and we put her in touch with the production team behind a life's work remand halsbury's 94.

And it was about people in their 90s who were still totally mentally with it, but they knew that their the end of their life was coming they had all been in the funeral business.

I've been conducting fuses 1931.

And I said recycled as my son and two granddaughter's and that yes that they were all very very pleased to hear it again.

Reserve his body to the ground.

Earth to earth ashes to ashes dust to dust grandchildren who who would never heard this program before they were in a very interested to hear about it director of course.

What is a ruler in front of a horse's hoof with lead the procession of Horses hospital polished brass and black plumes on the heads Radio 4 now as we mentioned a number of times on feedback the BBC as recently promise to reinvent radio for a new generation this seems to mean a commitment to more digital offerings and podcasts in an effort to attract a younger audience, but there's one place in the BBC that seems to have taken that mantra rather more literally the BBC's research and development unit St

The Challenger reinventing the radio set itself using a mix of cutting-edge technology and cardboard feedback report a Rob cross and went to West London to find out more the radio is one of the outstanding development of the 20th century tomorrow going to be like find BBC television studios in a suitably lab like building with a mess of exposed pipes and wirefield rooms of unfathomable purpose the BBC R&D unit explores everything from VR football to personalised playlists and it's a time when the BBC is focusing on younger audiences talking one recent project called better radio experiences the team there in listed the help of schoolchildren from Salford and set about trying to visualise the radios of the future.

Naturally, I wanted to see them and I brought two of the teenagers who helped on the project 15 year olds Luke and Kayden to help me pass judgement.

What was got in front of us on this table are a few things that look like they might have come from in 1980s episode of Blue Peter loves these are apparently the future of Radio in the very very very earliest prototypes was the producer leading the project that's a Raspberry Pi it's raining some software that will hear so basically the modern the more noise that we may have always enjoyed them into little concertina always which is Finding itself into a larger and look like a peacock as the volume in 1Xtra

Marisa is competing with his basically Luke cage and I want his noisy front room speaker.

It's gone so loud.

I think we just broke one extra incredibly sorry all this work is based around research that we did with other young people first and what they said was it's really important for us to hear the elements of the sound and especially the lyrics so this is a first interpretation of them is George Wright I run the section in R&D that this work came out of ahead of Internet research and future services section so one of the reasons that we build things with cardboard is because it encourages people to come and tell us what they actually think they clearly not finished the clearly not big official BBC products and part of the Challenge for us is getting people to breakthrough and tell us what they actually think of.

Things and sometimes on a previous project when someone wants to make changes to it.

We getting the scissors gave him the cardboard gave the panel said you do it so it's really important that people feel that these are things that a work-in-progress because that where they tell us.

What they really think that's what we really want to hear a Libby I really like you.

Tell me about this one.

This is the one that immediately caught my eye because it essentially looks like a collection of things you'd find in a Christmas stocking there's a what looks like a mouth organ a roll of Sellotape and a baseball cap that will probably fit a small cat on a rectangular piece of card bourd the best I can do this is all random thing.

I've ever had to describe.

How can you enlighten me a little further because we talking to 18 to 21 year olds the memories associated with music and really important to them and this one it is a is by a guy call Chris and it's part of his life of these three objects are things that are really important.

To him that have already attached.

So this is a holiday he went on to where they made pipes and then it plays the music that they then played holding the baby name even music has emerged from the Aether that's incredible.

Yeah.

I really like this one because it's important that you remember things.

That's a look one of the 15 year-old from Salford who was consulted by the BBC for this project and if you have that audio to kind of help you cope actor when it actually happened.

It's very important to most people.

Could you ever imagined it having something like this could look at the moment.

It looks quite bulky, but could you imagine having something like this in your passcode in your bedroom if it was like on a Shelf that would be really nice to have to go like looking through songs to find them any of the just play it if I can help I used to be the research took place in a lot country house and then people disappear there for 10 years and come out.

Sparring gets her assets and much more two-way process is really important that we talk to people who are going to be listening and also talk to people who are some some years younger than some of us, shall we say because it made us States the same then ossifies and the pace of technological changes such that it's really important that with that the media not just on the internet, but physical Media devices like radios.

Keep up so that they not just a dusty of thing in a corner.

What are your initial thoughts on looking at these prototypes really interesting yeah, I feel like a man when you are listening someone speaks German you can't really hear over them.

It's a bit annoying so something that would raise up the volume would be really handy.

What are the nice things about the way we work is the lot of the stuff heroes and released as open Source software and it can't just be we do it and it's done because then there's not sorting it and is also there's not the thinking about how this will change the future of Media

People in sheds in Sevenoaks to have a go themselves with it doesn't sound like you need much initial financial outlay to get creative stuff that used to be prohibitively expensive and I mean seriously expensive is now available for pretty low cost.

You know you can absolutely get involved in if anyone wants to take a look at a blog for more inspiration or email me would love to hear your idea development unit ending that report from Rob crossan, and if you've got any ideas about how to improve the functionality of your radio to get in touch contact details coming up and that's just about it for this series of feedback.

We return to the airwaves in October now.

I'm no clairvoyant but I think I can say with some degree of confidence that these issues will be on the agenda.

It's 6 on Thursday the 16th of August good morning.

This is today with Michelle Hussain and Justin Webb the headlines this morning A level results are out today students in England is Simon Mayo

Brexit brexit brexit brexit brexit, please do enjoy what remains of the summer I'm off to swim English Channel 12 submerge my shoulders for half a second so I can look my grandson in the face mind you he does have a wetsuit Wimp goodbye.
Transcriptions done by
Google Cloud Platform
.
Lots more recommendations to read at
Trends - ukfree.tv
.
Summaries are done by
Clipped-Your articles and documents summarized
.
Comments
Your comment please