Read this: Reaction to Fleur East joining Hits Radio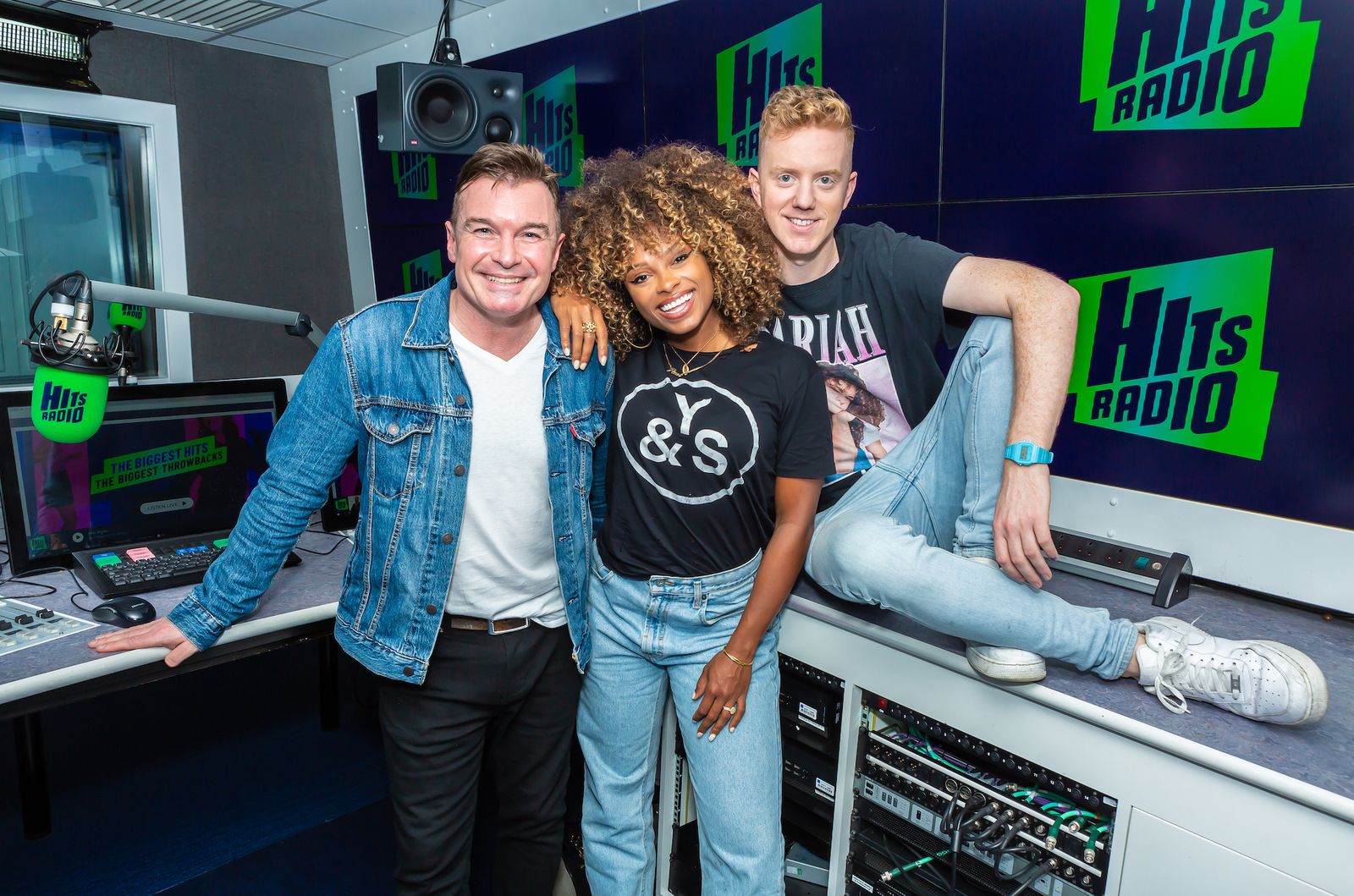 Download MP3
audioboom.com
Reaction to Fleur East joining Hits Radi…


Thanks for choosing the weekly podcast from Radio today.

Don't forget to rate and subscribe on your favourite podcast app sounds professional the radiator day programme was broadcast bionics discover the world leading brands at bionic.

Radio 4.

It's a short one this week.

Who are Mrs at we got the usual stuff with James cridland here later to look at the radio station in Poland making money out of podcast more grateful your memories with David Lloyd in Redhill moments as well before that there were Martins here ready Estate founder and editor to look at the biggest stories of the week calorie bonjour.

I've got the windows open so if you can hear birds tweeting it's my fault.

If not some random thing on the line.

It's a bit warmer this week isn't it's a really hot and sticky beef salad grated the sunshine great mate.

So fairly quiet week big news really standing out Hits radio finally.

Announcing his breakfast ever been lots of room as the last few weeks maybe months even and Fleur East was a guest with temporary breakfast housewares Dave and Cherie on Tuesday morning his what happened.

I can now and now that I'm going to join Hits Radio 2 presenter brand new Hits Radio breakfast show this evening if the reason we got carried out the cat out of the bag.

Yeah.

I've only known about this is last Friday and it's been ringing me so there.

We are yes, you are joining hit for your breakfast in Manchester right across the UK and I've got to bring the guys are because then literally like jumping up and down up.

Clarice is Greg Burns and James Barnett now.

I know you look like the team already.

I mean it's just if I test a great news.

I'm so excited James Rowley view James and it's pretty what time is it open in the morning at a very site about taking over Hits Radio breakfast also we will kind of evergreen life for the buses to up the ante in something a little bit as well because as you know for the last couple of weeks or months of being do I change amount of money on the 1 million pound cash register however, I think you'll find those amounts are going to be going up rapidly and dramatically from the earth Radio breakfast.

We're going to be going big time close account and where he's having an amazing at that.

I know it already excited about we going to get a listers up close and personal with one of the biggest bands on the planet Earth secrets in her hair on his that it's a Friday so I'm thinking I hereby declare the 12th of July you love this as fleur-de-lis, Craig and Dave

Mother died, so it's fleur East Greg and James or is it Greg James and Fleur no Greg James on the other one? So what do we think about this then? I will go cover the radio people at Norman radio person who's obviously got a personality been on some reality TV shows and had a bit of a music career.

That is a very good question and we don't want to fall into the trap of slagging off a breakfast show before it starts the texts not mentioning Amanda Holden and Jamie Theakston cos that is pretty good, but ask me the question what I think.

I don't know I'm gonna wait til.

I hear it but on the surface.

It looks like a bit of a mixed bag as they saying radio weather forecast as now and it's a bit noisy on Tuesday morning when they're announcing it all done it.

Yeah, and I hope it works because it needs to work they've had their a year of the previous breakfast show which was starting to bed in and mancunians would probably just getting you.

Twit and now they got worse than the other guys and now there's going to be somebody else from July so continuity is not the strong point on that radio station, so let's hope they can launch this Breakfast Show and it's sticks around for a while and who knows what happens to maybe have a national inverted commas.

Maybe we'll go to the other stations or maybe it'll just be get changed to get into months who knows that we still don't know that mean they've made some other tweaks to the Hits Radio network say Debbie has left at Sarah Jane Crawford moves to afternoons Jordan Lee he's been covering on evenings as they put evening small time but like you say we still don't know what's happening with all the old big City won stations.

They can't make a decision on the new one snowball yet, because they're waiting for the CMA to tell them what they can or can't do which might happen in a few weeks.

It might happen in a few months, but it's kind of a bit rudderless.

Is it at that whole network at the moment rudderless absolutely it's just a bit up in the air and there are radio people presenters at these radio stations on on the beach.

Stations across the North in particularly, not knowing if they're going to have a job in six months at least global said you know Before Christmas yes, we're going to make a big change and will tell you what it is in a few weeks, but I was just letting people guess and that's a bad thing about do that a lot and I think you asked for somebody to come on the show today.

Don't you we did yes, we quite often do but nobody from Barra or the person.

They wanted to put on for the interview at is away this week, so couldn't do it such a shame.

It is such a hot Topic you would be great to two to get people on an and talk about it all the time because next week.

They'll be something else and then we'll be talking about that, so we'll see what happens in the future.

Hopefully we'll get somebody else from Barra to tell us exactly what the hell is going on are we got a bid in for Greg James and Fleur at sorry for grabbing bidding for the can we get to Debbie Nick and

I'm sure as well.

Hopefully might speak to them just before the show launches or just after the show launches next month, but we'll see how this life on the Friday Friday the 12th of July at is a bit strange David granny breakfast show on a Friday then they disappear for the weekend and then they come back was going on there by irradiating a wall planet right.

I've got the dentist, but there's nothing else taking place on the 12th of July which signify think why is most on Thursday and then Friday will be a bit weird it seems trail mean try something new by now, but most new show Spencer's launch on a Monday or Tuesday after bank holiday or something but having one day of it and then it going away rather than listens getting used to that new Show 2011 co stretch said this many time.

I'm sure they know what they're doing it.

So wish you lived until it right so I've been listening to this week to quite a bit of

Toby dance this on hard arm and everybody around it says I'm just tempted to say dance because that's what we say you are so so, it's um yeah and all the emergencies dance.

So is that is that putting you off in Yorkshire no no not be limited and you know that I'm still coming Toby downstairs.

Not Toby downstairs.

So you didn't do it didn't know my head and effusive as well Chris Mason was tweeting about it saying Toby downstairs, please going to stick so I was going to grab it on and it says I can get the latest I know but everytime I get my accounts to cut down son and there's always a great tune on and the thing I like the global have done with it and they do things properly as we know and we've talked about on This podcast before.

It's not just a jukebox playing dance music the other got some content in there.

They got presenters who I live they talk about sense of Day stuff.

They got news and travel in that kind of stuff for breakfast which yeah, I might want to listen to dance music.

I still want those things and I don't just want to listen to the music that's interesting yeah.

It's it's good and it's that there's a war going on a done if you've noticed and I'm going to blog about this next week.

There's a war been going on between global and power in the background that not many people have picked up on and this is just the latest Battle of that big why so obviously hard dance is a reaction to Kisstory Kisstory done, so well, and this is the version of history and other things that have happened.

You know when country Hits radio launched smooth country was with launch the same few days in advance as an online stream, and there's rumours that's going to go national so whatever whatever Bower does.

Double canisters hold my beer I'm going to do a better and vice versa as well, so it's quite exciting and I'm going to get all the details fat for a Blog next week and there's a few other things are going on this week as well some really shiny new Studios original 106.

Have you seen the video on the tweet and students going live have a look at that if you've not seen it because not only got new Studios and having a royal visit and going on DAB in Aberdeen this week as well, but the new Studios look pretty pretty special down there you got quite excited by the idea of the waveform going red in you when they put the microphone.

Yeah, so they got away from Pat and round the the front edge of the furniture in the studio if you like and dirty all lights up red when that the Mics on.

It's nice that I like that looks really good on it later if you haven't already seen it excellent Danny Baker is coming back as predicted where he got fired.

Sorry can't talk about that is not radio radio used to move on but he's a big radio personality.

Space get it by schedule podcast bits GO due to a week and not start until January 2020.

I really miss that's what he said he said the next year.

I'm going to start a podcast and I'm going to do twice a week.

I was one of the headline.

I'm so that's up there with I'm not going in the jungle this also has already been save the last 6 years exactly how to say what will be saying this podcast is gonna be like the radio show you call is on and stuff, so that might be a bit of a different format to Jamaica Radio Sheffield on Gunton and do it live on a Wednesday and Friday or something like that and then packaged up for a podcast possibly will see there's a few of their present amusing things around some changes at Q radio in Northern Ireland Stephen Clements leaving his been there a little while he's off to the BBC is that not hard yet.

Not yet still cold down radio today.

Can you tell him?

Wikipedia today as an idea for a website and Helia so we talked about the podcast last week the launching Durham and alpha.

Is it Durham fmo, Durham radio or radio Durham Tees complicated because if you look at their new logo.

It says it's got radio above the word of the name of the station's you got radio alpha where the radio but it's the other way round and if you look at their Twitter It's Gonna one after it or it says FM on it so there's a bit of confusion over the branding at the moment, but let's hope ill sort that out when it all their own launches.

They've got a new website coming on July 1st and all the radio station Lane how old is 5 of them they've all got the same new logo coming soon as well, so yeah another changes the sun presenter changes isn't yeah actually just in this morning Wednesday as we're recording this adichie David Ditchfield x of key 103 and century in the northwest and pull some rock FM 2 stations over last 25.

Ears are so he's going to join to do breakfast on imagine in Stockport I make sense because he's from Stockport that's quite a good signing actually yeah, and he's got your well-known Manchester as well.

So might need some listeners with a local breakfast show me to Paul Willett who's been doing breakfast in magic last 6 years or so is moving to mince instead and I think they've made a couple of tweaks at high Peak and Ashbourne which we mention of the podcast the last week that im just bought so Trevor Thomas is the do breakfast on that is being replaced Damien Cena moves from mid morning to take over breakfast and Nick Morrell is moving from cellar door in the east to join Durham and alpha radio with new breakfast show that so is that going to be a joint Breakfast Show and he isn't it going to go up to the northeast to do that with the voice track it will be separate output.

We don't know da wae.

Awkward questions the press releases sister stations Durham an alpha, radio will launch with a new breakfast show hosted by Nick Morrell so that's that suggested that Cheryl Bradshaw Facebook page thordis fridriksson.

He's been breakfast.

Obviously moving out of the way for Kev Lawrence arriving from heart and so she's going to do an hour in the afternoons.

I had a runny barber.

That's the uniqueness of the BBC they can have one hour program here there and everywhere with somebody but I'm sure she'll probably on a full-time contract and do something in the office for the other 7 hours of the day one would think that there was getting a lot of slagging off her bloody BBC you know having something for an hour a day what a waste of money, but yeah, it was quickly pointed out.

Well.

You maybe she'll be doing something not just that our

Is quite a specialist talk show as well for the middle of the afternoon is not like she just turning up plane 10 songs and going home again.

Is it exactly so nice guy me up from home and all the winners from the New York festivals Radio Awards are on radio today.co.uk people use up with lots of people going to New York this week's pick reservation that we did was like 10 years ago now.

Yeah if you're paying but I don't think they paid but we should go out one year and tied in with something else and they just have a weekend in New Yorker something in and watch this award because it is massive and loads of people enter so Congratulations to everybody including your bowels got sermon loads of the BBC

Tons of Indies alien discovery on this one so well done to everybody let's do it will sitting on the z100 morning crew as well.

Well.

Well there.

Can you wait a minute Mr Postman original music for This podcast was composed by MiKasa loads of things that happening over the coming weeks we can be in London in flats of the digital radio summer reception which is happening on the 18th of July in London if you go in there will see you there at Albee Rachel before we know it as well.

I'm not looking forward to this Rachel it's not because I'm cos you're gonna be on the road chip Annie and I'm in charge.

It's not because I am I've got a radio station figure coming out or anything but it's because I'm not at home and you know when you doing radio you need 10 screens in front of you at this time.

I'll be on a laptop in the hotel room so happy I will see what happens with that if you fancy a trip to Kuala Lumpur in August radiodays Asia is taking place on the

728 it's all about Amsterdam for IBC 12th 16th of September tuning in heads to Manchester on the 25th of September and then it's gonna be imaging days in Amsterdam in October and drive to digitals a bit later than usual this year.

It is a kind of digital conference all about the move to digital radio love car manufacturers that can stop there as well as happening on the 30th of October this year and will be at that as well and they November in the date announced has been announced.

It's the 25th of November just in case you want to stick it in your diary.

I just noticed on the radio days agencies.

It's taking place between 1 a.m.

And 10 a.m.

But of course that simulator assistant during the day they're so if you want to follow that online are you might want to get up early? I'm not going to bed right well.

That's the spirit from this week's podcast but hopefully we'll have a guess next week.

If something is to come on.

Yeah.

I got a couple of people on the weight.

List or we're waiting for list as hopefully at the Willows world at Rock up in the next week or so and as we said at the start don't forget to subscribe if you listen every week, but you just cannot click on the link on Twitter or something then make sure you subscribe and your podcast app and you get it direct to your device every single Wednesday and that you can braces and leave a review of as well apparently.

That's good for the ratings and it can it moves you up then the iTunes chart a bit but not all about the listen about the feedback click the link below.

Have a good week in radio mystery speed you next time the radiated a program with broadcast bionics creators of The Bionic studio listening watching reacting to and learning from every spoken word Kolo sweet and SMS for a mix and lock and understand your content the bionic studio transformed everything about radio accept the way you make it.

Hi James cridland, the radio futurologist, how do you polish Mothers Day but as I said not to repeat a dosage but of course that's an app for radio ToK FM it's one of the most listened to radio stations in Warsaw in Poland earned by the agora radiogroup.

It's amusing Toolstation with over 40 journalists and the station as you just heard he's doing something unusual because that is you noticed was an ad for radio ToK FM premium and they're charging for podcasts jaroslaw, Kaczynski the company's chief digital officer scissors 6 years ago decision was made to focus on on-demand content now listeners paying monthly fee to gain access to over 65000 pieces of on-demand audio from the station including catch up shows an exclusive digital only content pricing is said about £3 a month for access via the web.

Dial half of their subscribers paid £4 which gives access on mobile apps to and £4 works the same as Spotify charges in Poland incidentally were all in the wrong country the company has already more than £17,000 subscribers and it's a bigger.

That's grown 60% year-on-year everyday.

We produce about 19 hours of new content for radio broadcast of tells me and additionally about 2 hours a day is produced exclusively for online use like bespoke podcasting or extended versions of Life programs and some of those original podcast to broadcast on the radio as well.

They work hard on the service is metadata with all content described and tagged about 40% of the content is automatically transcribed as well.

Thanks to a Google dni.

Grant the act contains personalisation as well as playlists you can follow specific subjects presenters and programs.

Are the station is on Apple podcasts and other similar platforms to use those asthma.

Fitting material containing clips of the full content that only available through the paid for service podcasting on-demand content is clearly growing and a growth in radio ToK FM is paying users since 2013 has been steady digital income is becoming a more significant component of ToK FM prophet Joseph Set Radio future certainly looks like a mix of live and on-demand content about radio ToK FM is showing us the way you get my weekly newsletter at James.

Cradle and as Daily Podcast news of pod news.net until next time keep listening James and just before ready on moments a quick word about cleanfeed which in these summer months is a great way to get your show on the road and do it from somewhere Outdoors because it's a way of connecting in decent quality via a browser back to your radio station.

It might be away for you to connect your podcast guests together to get them recorded or two maybe.

Do something from completely different place to where you normally do it from like it's pretending here in the studio great quality and all really easy to use over the web cleanfeed won't question to get started been designed for radio and for podcasters and it only takes 30 seconds to sign up you was in your first live interview or recording within minutes find out more at cleanfeed dotnet.

That's cleanfeed.

Don't let know his David Lloyd burning something tins together station in the Press at the present of fall out with the radio station doubly so it's 15 years this week since Tony Blackburn announced.

He'd play Cliff whatever his Bosses at gold said stupid being on a 67 station in Cliff Richards has over 100 hit records not to be playing Cliff Richard I just wanted reasons for why couldn't play nobody can give them to me suppliers.

Is right behind Tony Blackburn in his choice of using the half a bottle of champagne 2004 he was then on gold and it was this week 9 years ago that the brands dropped its local programming after the Ofcom licence changes.

Just as bad as I am stationed in Scotland did this week 6 years ago, Edinburgh fasting 43 minutes after Radio breakfast show from me at 10 this morning and I'm playing some of my favorites and hopefully some of your favourite say I'm not going to disappear into that you've been doing.

Anyway, I might be popping up here there and everywhere and there but I got to take a rest for a few months, so if you want to watch Robin Galloway that you got a tune in a Monday Robin Galloway's going to look at the end of local programs on Bowers am stations in Scotland this week in 2013.

There's no doubt that format regulation of commercial radio has lessened over the years not least as more stations have come on there and hold competitive market has changed when the Devil's start well it's 35 years this week since commercial radio station leaders met at what was to become known as the Heathrow conference demanding the regulator lessen.

Its hold on the young industry outspoken they felt that not sufficient time has been given to attending to the real requirement for funding for for radio and that the

Iberian particular was exercising I'm due power to take an envelope from Radio 2 television and left angle than the frustrated don't rub very considerate external John Whitney who used to be with the IBA the regulator over the years the regulators of taken away very few commercial radio licenses, but one of the first examples was this week 33 years ago when the IBA didn't renew the Portsmouth licence and award of the new larger licence to Ocean sound instead, so it was a sad farewell for radio victory 1/2 years.

She just want to say thanks for all the pleasure.

You've given it listens for 10 and a half years day and night.

I don't know when she slept I visited a lot of radio stations around the country on another business over the last couple of years and I've never seen a happier station than this and it's very very.

Very sad to see it again garage tune fully as our records of gone round over last 10 1/2 years, but we thought we do it for you.

Anyway is Auld Lang Syne the way it was crazy for the people who owned radio the tree at the time to feel they're going to persuade a licensing Bodiam to give them a licence for Southampton and Portsmouth and raceways and countryside in between but insisted on basing himself in North End Portsmouth clearly that the company that one decided based on cells in Fatima network very well.

That's the reason.

I didn't get the licence in the middle of the process the IBA move the Goalposts they announce that what they're actually going to do was advertised not a licence for Portsmouth and at some stage later licence for Southampton there within a merge the two and that's for a station called victory so tide, Portsmouth

Kind of Wrong footed is serving southern, Hampshire West Sussex and the Isle of Wight for 10 years 257 days this has been radio victory Bruce Carnegie hammerfall that Paul Brown reflecting on the end of radio victory this week in 1986 18 years ago this week now and who's not been turning up for work on radio and listen to a statement from station executives there about the future of confirm on behalf of Virgin Radio Chris Evans is no longer presenter at the station.

He has been into his contract and we were left with no option but to terminate it.

It is not just the offence of the last week although his high-profile absence from work as obviously brought it to a head of course everyone at the station is sad I didn't send it this way, but Chris is clearly not been fed to 100% on the show makes the headlines again the end of the original spell.

Radio for Chris Evans in 2001 at the same week two years later the High Court threw out his claim against the station Henry Blofeld lasted a little longer in his posted almost 50 years in the BBC test match special commentary box at than 2 years ago this announcement may go over things well.

I'm afraid all good things come to an end.

I decided the time was right now to hang up my microphone.

It's been that the greatest possible fun and I know I live test match special in the safest possible and under the guidance of aga's how does one day perhaps the best of the lot and all everyone else it's going to be tremendous listening for years and years ahead my favourite memory well.

I think Headingley 1981 that amazing test against Australia always good to beat Australia isn't it? And thank you all of you very much for listening for all this time the wonderful Henry Blofeld so with the birth of radio Tees now TFM this week 44.

And this is Leslie Ross welcome you to the start of a very first day of transmission turn on radio Tees to 57 m music while you work beginning on the BBC forces programme 79 years ago former music while you were prepared by toys and his ventilator Radio Leeds on here 51 years ago well at hospital.

This is ready to sit down the singer.

That's here in the Odeon theatre in The Headrow Leeds births over YouTube Charlie Chester 22 years ago with a box radio soapbox anjali your host of global radio hazard acquired chrysalis radio 12 years ago this week's radio moments radio Today programme with broadcast bionics.
Transcriptions done by
Google Cloud Platform
.
Lots more recommendations to read at
Trends - ukfree.tv
.
Summaries are done by
Clipped-Your articles and documents summarized
.