Read this: The Barclay Brothers, bugs, and The Telegraph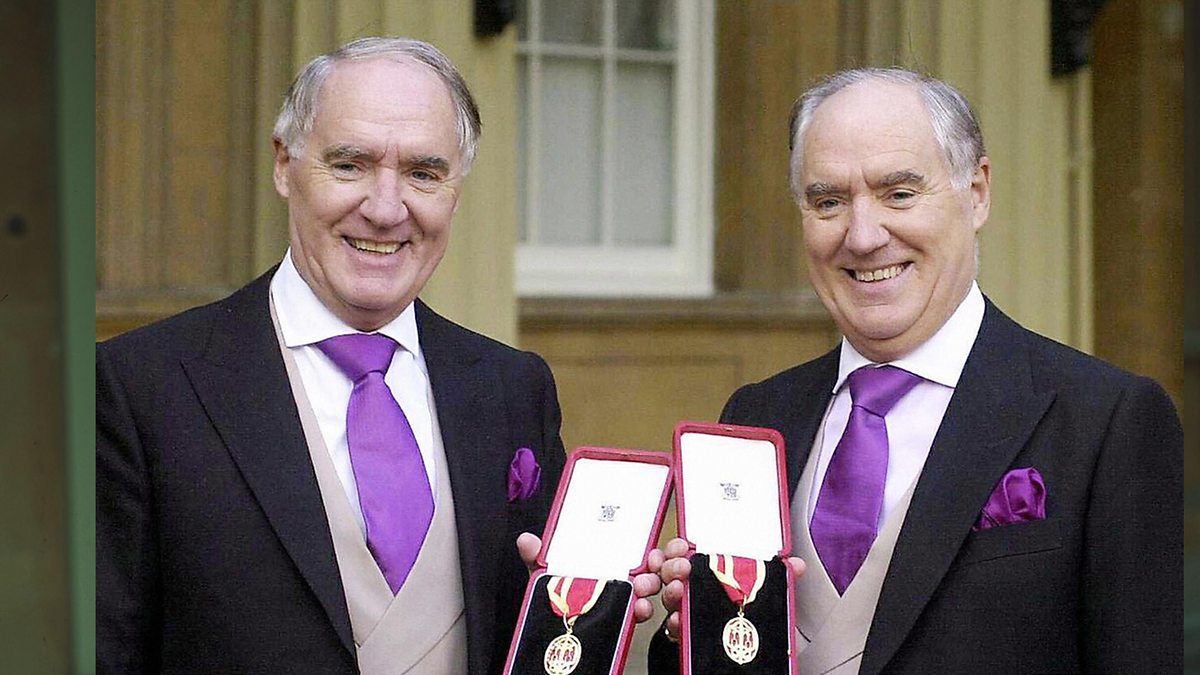 Summary: Podcast
Download MP3
www.bbc.co.uk
The Barclay Brothers, bugs, and The Tele…


BBC sounds music Radio podcasts from BBC Radio 4 Secret Millionaire allegations of listening devices at The Ritz and a Daily Telegraph about the extraordinary family feud playing out in the High Court between relatives of David and Frederick Barclay it's a British version of my favourite TV show HBO succession you won't read much about it in The Telegraph and last but we've got two people with us today.

If you do know all about it and what it means for the future of the prime minister recent employer Boris Johnson was of course until recently a columnist for the Daily Telegraph the other issue on our minds and our agenda today.

Is is the news industry now basically dependent on subs to survive Google Facebook already pouring millions into newsrooms around the UK now the BBC local news partnership is expanded into b a m e that's black Asian and minority ethnic titles.

Did you know that the licence fee licence fee its funding stories that appear in newspapers like Easter night and The Voice is that good user licence fee or a stretch too far.

Let me introduce you to our guests the data is associated of Eastern Eye and we must start with the sad news about your found around at the solanke 10:50.

Thank you.

He spends Winters over there.

He had a haemorrhage last week.

She was in hospital and sadly passed away on Sunday so sorry to hear he was MG which is Britain's largest Asian fashion house and as with her mobile is huge figure in British Asian Media organised Ennis Awards very well connected in an influential man.

Get more about his Legacy is nice to see you, but we'll go from the nctj at is infinitely more than that of course will be spent many years at the Preston

Mission 10 as managing editor of The Independent and evening Standard where am I got to know you what you up to these days at the National Council for the training of journalists, what does that mean say the nctj has been an almost 70 years we develop and publications to train journalists and we accredit the courses that teach them and we do a whole lot more besides looking after the community news project which is a Facebook BACS scheme pudding reporters and Telugu news papers and many other things and you got a huge reward of cash which I'm intrigued by wing mirror silver from the reuters Institute adheera.

You're just back from New York and it says hey what you up to, which means I hope you're up to something interesting.

I was meeting with the committee to protect journalists and writers Foundation to have a roundtable discussion about whether there's something to be done to provide general legal protection, but yes, they do extraordinary work and threats to.

Increasing the not been killed, but they are being put in prison in her number so we wanted to look at it as something that can be done about this group will be talking about that and everything shortly, but let's start with the Barclay brothers own and I think it's just west of sock on the Channel Islands that's why the latest feud over inheritance within the empire has with a noted that TV show I mentioned sock session session session also Dave McClure on Twitter take the credit for that one.

Let's get some detail on what's going on here on the line is Alex Parker is the global Media editor at a time and with me in the studio is how old friend Jane martinson.

Who is professor of financial journalism City University and has just produced for tortoise Media a long read on the Barclays business Empire which includes the Ritz hotel at the online retailer very Jane Alex I want to.

Talk to this methodically please so first up Jane who are the Barclay brothers.

So they say David and sir Frederick were born within 10 minutes of each other eight years ago.

They were born into in straitened circumstances a children's father died and 12 and they sort of Rise to the and apparently as a Sunday times at last year the richest puts them at the 17th most wealthy people in the UK are the folkloric starting accounts department they bought into boarding houses and then hotels and they bought into the brewing and shipping everything property largely bed in 2002-3 telegraph telegraph Media Group for an astonishing and even at the time 665 million and you would think that would have made them even to the better-known with all that became better.

Still very little has ever been written about their relationship with the European Union what's a feud over the business is run, but I think most importantly the inheritance who inherit one of them to David has four sons and the other one has one daughter and that share Amanda Barclay project daughter has just 25% and just sort of time to work out what happens and believably complex business and it is not just texting lots of journalists, but also family members before I bring it back.

This is got to the High Court now with no it's usually because there isn't it matters because of the Barclay brothers and bad influence in the land and last week and I caught it we had the extraordinary allegations of a listening.

Installed at the Ritz that's right.

Yeah.

We actually as you said before you know them the legal actions one of the reasons down this haven't written about them to any great degree won the whole way through a sort of writing media media owners but also incredibly action against against lots of newspapers, but on Monday they actually this they took the action intercourse against each other or it became public so one of the youngest son.

He's much younger than his older brothers was then they've admitted that actually surveillance in a source of part of the Ritz a conservatory.

Where sir Frederick is uncle and his cousin would sit and chat and while he had cigar and they were talking about the future of the business of the Barclay brothers Friday people to respond to this Alex Parker of the financial and ethical questions you before we dive into the the the week of the business.

Scammers asking a question for complete privacy which Jane mention compatible with being moody owners and having that the influence of they have well.

You might question sadly suing people who are trying to write about you is not the usual course you take if you have a great relief and free journalism same time not being a publisher gives you a power and and having this kind of wealth gives you the ability to protect your privacy and before we dive into the conditions specifically the Empire which I know you've written about quite a bit in the ft recently.

What's health? Is that brought a vampire in along with this kind of succession inheritance issue precious building on their business Empire over the last few years, so where is it a good time to see money flowing up towards these holding groups and trust.

Show the last couple of years of business is like yodel very good yodel delivery business very group The retailer have been soaking up capital from the centre and no one telling someone you can't have a full picture but a telling sign is that they're putting up some of the most valuable assets for sale ok, so the 25th just work through this October 25th Richard Fletcher the times had the school but there has to be a review the Barclays business Empire the Telegraph would be put up for sale as part of that we did invite them any the telegraphs top team to join us today to discuss this that's the thing I thought it was curious about that story not necessarily wrong.

Just curious is why would the Barclay brothers want to sell the Telegraph now the two elements to the things that made me question it is it's headline profit is tumbling fast and be I'm told that the Telegraph expenses profits to rise as they build their digital.

Driver base now with over 400000 so what's your basic take on whether the Telegraph is actually for sale.

I think it depends on who you ask within the family and certainly people have been expressing interest have had quite different responses from family members some wedded to keeping this.

It's important for them others have said that they should shed now.

Why now you got a generational change Frederick is going through a divorce there are financial the business that might explain it but certainly the signals have been far from clear.

There's no Banco been appointed yet to handle the sale, so it's definitely not process the received any offers.

I don't know about offers but you know if you talk to the bank as these days about newspapers Their Eyes kind of glaze with a look.

And you told me about the kind of late friend and you know you are always for sale to the extent that if someone comes in at with the ridiculously high on that's always going to be taken seriously and it's not really the kind of fundamentals of the business that I cannot make or break a deal on.

Do you know if they've had offers enquiries and the other question just go back to Alex was saying is is the Barclays did need and some quick cash selling the Ritz would be a faster route.

What's the latest on that well, I mean actually said that is fascinating story going to run and run a mile because their days to Frederick professor statement saying that he had two offers in excess of a billion pounds which is an astonishing price for the Ritz although it is a trophy at it as the Telegraph is and if they sell it for less.

He would launch legal action more legal action against his own family members.

I think it's really interesting.

I don't really think they are desperate to sell it and I think.

First started looking this was months ago tortoise gave me 3 months to do this and it was the finances Alex said which you could see that this this sort of set of businesses, where money is always an offshore like more than 400 million coming on Shore to pay off debt which is really unusual and it showed that there were signs that bankers and people that lend money we getting slightly nervous particular the Telegraph which actually happens when a slightly nervous of the outlet so itself and there's no way they can to get 665 million many times talked about the state of the media industry.

However, he came out in the idea that they were having this big review of all their assets and loads of people are really interested in a way if you look at the commerce of the Telegraph specifically rather than the Barclay brothers stories in some ways.

It was Nick you the CEO is doing there a trial shift the focus from print to digital subscriber base calculations were saying is down by about 150000 copies.

17 to 317000 copies now, but it also trying to grow reader revenue so that more the money comes not from advertising which is only supposed to be funded mostly 20 or 30 years ago, but no reply from readers including did sleep and is part of that trying to grow the amount of money.

They get directly from readers.

You're paying customers have been swapping growth in the hike in the price from £2 to £2 and it seems that you also think about the last few months.

They had all sorts of the streets with no WHSmith Match Attax about the of tea and then also coming out for the ABC this I'm not going to care about and circulation figures all signs as you said the company that sort of trying to maximize its profits the Audit Bureau of circulations in the background and those two things why they pulled out of the would it be worth circulation and this dispute they had with WHSmith the currency for advertisers really is all the

Coming together sitting the rules by consensus and having a standard that everyone can trust in across-the-board in terms of what circulation numbers are the Telegraph decided to put on the basis that you didn't reflect their priorities the move to digital model the subscriber model that they see is their future and clearly it was also really telling the story of the client because you look so pretty circulation have been relentlessly falling, but they are out of that then using their own auditor.

They won't have I don't use papers checking what rules are using so there is some Concern in the Advertiser community about that and the WHSmith dispute was about the cover price and how much goes to a retailer again.

You know the pyres drinking so it's been pretty difficult for a long time between us.

The retailers that sell them the Telegraph put up its cover price, but didn't share the same proportion with WHSmith and they decided to first of all put the Telegraph magazine rack and then they banish them from some of their travel stores, it's now been resolved at WHSmith important retailer, so I'm not sure but I think the balance of power is there ok? There's a lot going on with the Daily Telegraph Alex thank you very much indeed for now on that subject and I should say spirit thoughtfully at hard-working staff and Telegraph Towers many of whom are producing world-class journalism and wondering what on earth is going on at the BBC local news partnerships team has expanded into black and ethnic minority titles one of them is Eastern Eye and the doctor is the papers associate editor before we get onto how the licence fees now helping you I want to get the sense please of your pay.

Who's the audience and where are they is the British nation Communities so we'll be looking at Indians Pakistanis Bangladesh and Sri lankans and wear a national weekly so without on Friday in order to title.

No, not yet.

Not yet.

Ok but we reach about 22 people and gives us an insight into how to use from the local government helps our readers, so while we focus on on the national stories and how they impact our community is also important that the ground level I think to understand what's happening down your street in your local government and that the report is often the local democracy reporters that seems to be.

What sort of stories are you looking for that these reporters can provide which you can provide anyway looking at stories such as the basis of the community whether there in a substantial proportion of numbers in council's developments that might come is that a lot of Asian Asian investors are involved and so it works both ways to the box from the voices for the study investigating the big issues at the news industry that faces a little bit will be surprised to learn that the licensee is now paying for reporting that helps fill the pages of an actual newspaper.

What do you make that route for the life? Well that didn't actually newspaper still exists the incredible thing in this story.

I think I think it's a very very valid point is this the use of a license not so much but does IT support journalism but does IT support?

Support private company should IT support publicly listed companies that are answerable to shareholders and there are questions about that at the same time? There are there is also definitely a case to be made that local is not really financially viable and yet we do accept that play for tremendously important role in promoting good Citizenship and local levels if this is one attempt to square that circle critics the licence fee would say yet another example of the BBC's imperial ambitions and spending money on something it shouldn't try to fill this gap which you know the Democratic deficits as part of the last settlement this money came out the licence fee because basically the local press is dying mean.

It's one of those attempts to actually get local councils into local governments so actually a really good thing and I mean the thing about the am is is to be welcome because there's a real sort of underserved Communities that the BBC if it wants to retain its.

Licence and funding needs to be able to reach tax on TV funding a newspaper for B2B AME community is a crisis with imaginative leap does 50 million or maybe a bit more now.

I mean it's not you know out of the 4 billion pound think about that sort of course.

It would be so much better if there were always found to try to fill this gap and are you going to talk later around the whole set of Google and Facebook and giving drop some pennies to local schemes may be your local paper like our tent and you have you get money from Google and then you have to report about that.

Let's move on to the charity for the news industry.

How are you finding?

3rd training CV examples for students accreditation fees for universities in Seoul partly through contributions from other suppliers both inside the news media sector and outside and also we run a training on a commercial basis as well, so so we got varied revenue stream of cash to improve diversity and James and the word is when we hear a lot on this show and try to interrogate how much are you plugging in to what end well? It was seeking to raise the public having so far.

It would be nice if it was already in the bag so the nctj 15 years ago.

Set up something for the genus and diversity fund which recognised the lack of diversity within you can use rooms which is still at regrettably apparent never scheme support individuals with bursaries to pay for their training on.

DJ courses over 15 years we support about 350 people to do their training from all those backgrounds who have office financial need now.

We're at the point where to find for bursaries is probably about that supply so we need to up the annual revenues to that fund and we are aiming to gain revenues of half many pounds per that's literally nothing to some companies in the world in Southern California comes.

We talked about on this show.

Would you take money from Google and Facebook for that OK Google are currently sponsor of the jdf most responses are publishers are broadcaster to the BBC is a sponsor of the fund.

I think the truth is that it is a it's a tried and trusted trusted scheme.

It is independently managed Everton V the nctj of course with with input from the responses in terms of evolving at the program, but yeah, I think.

provided that all of the sponsors recognise the nctj which is running this program and then we're always willing to listen to anything about the effects of taking me from Facebook you use project which is funded by the CMP is a partnership between fb9 regional publishers and the nctj and the idea was to put 80 reporters into existing local news rooms and and to focus on community reporting of underserved Communities and communities where reporting had declined the BBC's initiative were any there are some similarities playing the difference is that the community reporters are rainbows focus on community events and what is going on in the local Town village or a particular demographic was caused the LDR scheme is very much focused on public institutions Council

It's not easy time you had to choose between taking money from the BBC taking money from Californian tech Barons Barons technology companies who would you rather take the money from Facebook walked into the room and said he is £100,000 or you can get £100,000 for the BBC through the local democracy reporters initiative which one's more attracted to you as we probably gonna try the service and see which one works for the idea of taking money from Facebook at first probably not we consider it.

Ok if this local democracy scheme is about 2 different models local is in Crisis we often talk about that in this show if there is a fundamental problem with scale.

It's quite hard to ask you to pay digitally what they seem to be two answers in the air.

When is the BBC One is technology companies who use technology companies to be funding news in this country is something bizarre about news.

Wrexham to Rochester being funded on the whim of a Californian entrepreneur well, I suppose one argument is part of the reason the news industry in Crisis is that the companies have come on and become formidable the advertising market they just much better at targeting was advertised as once and they take a lot of the advert from the media and the other side of it is they are company operating information space and it's in their interest to have good reliable information being created that they can then use a different way of I was just trying to buy the German stuff.

There is an argument also that they are trying to understand of political attack where you're smoking at this point.

I think that I mean.

I don't think any of the reporters on this project with regard themselves as in any way in Hoxton to Facebook and I think you know Facebook likewise would be surprised that the suggestions.

The fact that use your look at this transfer money to improve the diversity of Genesis is that a indication that the oldest of the old routes into journeys and friends through local papers in through tabloids last mission of crisis mode is it to change so that route to local newspapers is not as prevalent as it once was but the truth is that there are actually a great many different ways in pyjamas, and now I think the key thing from the point of the nctj is to ensure that the people coming into the sector actually have the appropriate training once they get in.

They know what they're doing and I think there is obviously still a disproportionate number of people from in a particular class backgrounds from pie me about sex and actually did the jdf provide one rule for them to provide another it because the focus on diversity and likewise training to all of those reporting training.

See your contract if there's this problem in local news which is that it doesn't have a scaled nursery charge people online these publications at yours on your website is afternoon noticed.

You didn't have a paywall as far as I would you charge people for your knee specialist content and we would like people to subscribe to it.

So that they can get the quality journalism that is tonight and got it so learning experience.

So we'll see where cats are so you know not the expert and have you got a solution to this I mean if we basically at the place where if the BBC is 1 for a cash on Facebook is now the problem is the only two options for local especially I would really hope not and in answer to the question of unit should you take money from BBC on Facebook ideally ideally both together diversity of thunder so you're not beholden to one more than the other and also you get more carefully.

Important to recognise that decent important parts of money and there should be an opportunity to really look at what you have improved journalism, but something's gone wrong with our relationship with the with the output in many ways.

It's not just an issue of people won't pay for it anymore.

Why won't they pay for us anymore? Is it because they don't trust what we do if it because actually people would rather see something onto TiK ToK video then on article and how do you get to younger people? Have you get to Communities and have been excluded and this money will be wasted on letters used to have a fundamentally address that issue a lesson for why would people need it and argue that case as well.

Could make a case for good public interest ok, so here's some great if you like it come over and pay for it.

Is that this isn't the cleanest relationship so if you like us to give us a bit of money.

Then we can keep doing it and that is certainly one way and that is what a lot of newspapers and media outlets to do they need your licence.

When they do good investigative journalism, but for many others they say something more is less transactional than that if about values and whether the audiences will pay if they can I buy into the values of building Dad up and support your world will very briefly if you just said 20 years ago in your first flirting with them that the future sometimes with pain in the womb of California entrepreneur.

You just said that's supposed to be in I think we've been a bit surprised that suggestion but you know we are where we are and we have to face the challenges and we can come up with Solutions on the best weekend, but we can't pass my thanks all I guess we have to go to the doctor from the Easter night tonight as they know that may result from the reuters Institute for the study will go from the National Council for the training of trainers professor Jane and early Alex Barker of the Financial Times thanks so much for the same time.
Transcriptions done by
Google Cloud Platform
.
Lots more recommendations to read at
Trends - ukfree.tv
.
Summaries are done by
Clipped-Your articles and documents summarized
.
Comments
Your comment please