Read this: Dan McQuillin from Broadcast Bionics on radio tech in the pandemic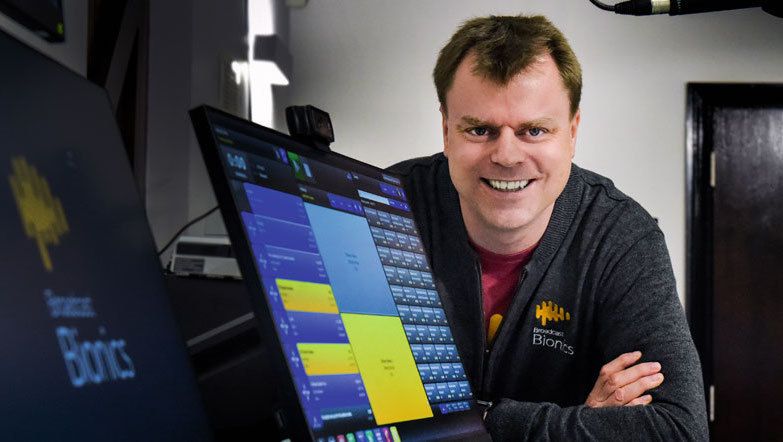 Download MP3
audioboom.com
Dan McQuillin from Broadcast Bionics on …


The radiated a program with broadcast bionics creators of The Bionic studio the smarter way to make radio hello, I'm Stuart Clarkson coming up this week.

We'll talk radio tech with demaquillant from broadcast bionics.

How has radio adapted and use technology to their advantage during the last few strange and what's the future of the radio Studio Plus in David Lloyd's radio moments a local commercial radio Legend debuts on the are ILR comes together for a pivotal moment in its lifetime memories of music while you work and you'll also hear a great archive clip of the Fabulous raemoir first yesterday's Roy Martin is here things are starting to all get back to northern city in the next couple of weeks.

We might be able to go to the pub.

Why this is true girl Boris

It's quite a good new Norm because one thing I hate doing going out sorry.

Hi, Stu how you better this week.

Thank you.

Having a better week.

Thank you for everybody Paddington in answer to your question at the one thing I hated about pugs was standing at the bar for half an hour getting ignored and people can you print and it looks like that is going to be a thing of the past which that alone is something to celebrate right absolutely I'm looking forward to just going in sitting at a table and ordering a drink from my app on my phone and it just turning up.

It's like everybody going to turn into Wetherspoons in a good what is Wetherspoons and McDonald's and somebody treated the other day.

It was a radio person saying Wetherspoons app is going to be ready before the test of staff is going to be ready looks like it is what a world.

Yeah.

Yeah.

Yeah gone are the days of selling at a bar with you.

Xx

Waving it trying to get someone's attention.

He just turned up get a seat and services is alive and well.

Let's hope so anyway.

I'm looking forward to may be seeing you at some point before the end of the year for a drink in a pub.

Do you think we can make that happen? I think we have one I think we all deserve everyone who got in after last week's podcast got a few people sent as a message by the jointly or separately to just catch up and check in we really appreciate that is good to know mainly that your list and you actually here in this rubbish that we're recording in her own homes during the lock to have and it's good to know you thinking of us as well.

So thanks for those who did offer some wise words or some advice on get away from everything or whatever we really do appreciate it and we just sit here like you said talking rubbish once I listen to the podcast by skip this because this is rubbish, I go straight to your interview.

Thank you for listening to this but we do appreciate it makes it all worthwhile, even though it is 3 in the morning right now and we should be in bed should do this during the day.

You know that the children screaming and throwing things at each other stuff then KISS Breakfast changes a little bit of diversity coming to the mornings in kiss my lips reading series coming at Tom Green and Daisy Maskell are leaving after just 18 months.

I thought they were settling in nicely, but you never know reasons do people have their own reasons so new breakfast house will be Jordan and Perri from Diversity like you say and yeah looking forward to that should be should be a bit of a change the reactions been good at it as well simulator some of the social media post the case of put out there and the Jordan Parry have put out there so it seems they will do well with listeners popular names that people know they've got a

Experience now presenting as they've been on kiss for a little while on the weekend schedule as well Manchester obviously had a few weeks ago to go to you, but it seems like in hiring a new breakfast presenter that a plan to turn into capital xtras completely gone out the window now.

It's not going to happen.

Yeah, they did say that the day.

They got refusal from the not turn it into capital Xtra is it ok fair enough? Will they will invest in the station and keep hold of it and the latest radio of course was really good for them and Alex James heading down as a it's always been a hit music presenter.

So going over to a rock format a nice change for Mum so looking forward to that as well should look Alex well done.

Yeah.

Good luck to Alex James some news from nation Radio this week nation broadcasting about small scale DAB Multiplex is now we know after I'm going to start advertising these.

September which will come round soon then you think and nation says any applies for a wins or that it's involved with it's going to give away some free space to Community Radio seems like a good thing to put on the applications to convince Ofcom that they are worthy runner of multiplexers think I mean where I live is a major city.

Which is one of the places losing its local radio station to Greatest Hits radio and there's going to be a Multiplex in that area and I know probably two or three totally on connecting people or organisations that are going to be applying for that so all these small-scale multiplexers.

Are they going to be in demand? They can be good and to get on your application saying we will give a free slot to any community Radio station that wants it well.

You know if you are off from the trouble is that they could set the standard and you.

Tell me are you end up owning a Multiplex people will expect a free slot Fortunes radio so will that be the way the industry goes or is this just nation trying to get one up on on every interesting Times yeah, and you've got to think about the viability of some of them as well, because particularly in some of the smaller areas some of the most places are going to cover quite small and in some cases less populated area.

Is it viable to be giving away a load of free space if you haven't got enough commercial operators to pay for the other space and make the whole thing viable.

So is a business opportunity you think some of those operators might go when we can afford to give away free space.

You've got them to put another station on is cost them by not getting revenue but if they got £5 customers and there's 15 free slot it doesn't actually cost them any money to put an answer maybe that's where they're going with that and 1.

I asked them and they don't have the answer to this stage is if I apply to of confer cdsp licence which is the new community radio licence from multiplexers instead of FM would I still get a free slot because if the answer is yes, I could pay my 250 quid to confer cdl licence and say thank you very much was my free slots and there's radio station 250 quid yeah, but not for profit.

Have you rather commercial station Wikipedia starting up a digital-only station you could run it as a commercial station.

This is there so yeah good blog from David Lloyd this week about local radio and the future of local radio lot of mentions of a BBC local radio in that and how it could adapt and change after the pandemic one thing.

No, is that it seems these temporary schedules that they have in place for a good few months now are here to stay at least four.

Well till the end of the year and apparently well known within the BBC local radio that it's going to be around April next year where they're going to stay in place to handle ever admit this but I'm pretty sure that they are using coronavirus as an excuse a piggyback to actually make the changes.

They probably already wanted to make it away now cutting costs lengthening programs less people and not as many short programs not as many double headers all that kind of thing to try and slim down the network you know they're doing it now.

So who says they won't continue and that means there are freelancers who thought they might be returning to a show soon that might now not be returning for a long time forever and I think there are even some stuff presenters.

Who are not on there at the

At home during the week or perhaps just doing a weekend slot for a couple of shows rather than doing 5 days a week.

So you know how it affects those people financially is obviously quite as well.

It's not good and commercial radio.

This is going to be cut for the BBC we know that they announced anybody wants to take redundancy can take it so it's just this virus is affecting us all in every possible way and we just need to come out alive on the other side.

That's the main thing yesterday about this make a campaign which is the BBC local radio kind of coronavirus contact that is having an help is provided.

He was born in touch with other listeners and organisations and stuff like that and they say they've had contacts through make a difference, but there's a bit of an issue with the figures because we don't know whether this is actually just people ringing up saying I can help somebody on a volunteer to help work and somebody.

But actually tall contact the BBC local radio is had so it could be something ringing to tell them about the traffic problem or something to complain about something even yeah, and I think in the conversations.

I've had their acknowledging that the million contacts is basically every contact with the radio station, but there are assuming that anybody is contacting a BBC local radio station during the lockdown is looking for help I guess so yeah, but not of course unless they making a complaint like you say that a million contacts over 13 weeks split between 39 stations ÷ 24.

I think it works out about 12 contacts per station per hour, so it doesn't seem like a lot of split right down million is a good big fig and females text carrier pigeons telegram all of that people don't contact them overnight.

So you've got a look.

Leeway there, but yeah, so what you saying something is happening in the next week before we will talk again is the launch of x radio at which launches on Monday the 29th of June just as we've been talking have been downloading the new X radio app which is here already.

It's got the schedule.

This is on there to the first program at 6 a.m.

On Monday to give me house number and Stig Abell and special guest.

It appears is John witherow the editor of the times that I have managed to get him and then it looks like we will be on at 10 to former Chancellor George Osborne and Alistair Darling rest the first day mariella Frostrup at 1 at John Pienaar at 4 Phil Williams at 7 and Carole Walker around the day off at 10.

So I got an app that has a play button on it which I think he's doing a test stream at the moment if I put on they go.

Navigate x radio launching before we speak again next week and hopefully have some guest talked about the launch and how it went on next week's podcast just listening to the loop as go round the moment.

I mean as an audio producer that sounds really good the imaging sounds good Sounds Familiar I don't know who he is, but I think it sounds really good very appropriate for for the Brand and the music is good and obviously they spent a lot of money on the road from station as in the presenters of they all sound you know experienced mature presenters, so it's out the test sound good at looking forward to checking it out.

When it launches and something else which is coming soon.

Haven't got an exact date yet, but we think it might be either Monday the 31st of August the bank holiday Monday or Tuesday the 1st of September and you month and all that.

Greatest Hits radio x give me taking over lots of heritage local brands and some less heritage brands around the country some stations have now started taking show hosted by Greatest Hits Radio presenters some stations have noticed this week as well as started dropping current tracks from their outputs are not playing a lift to be this stuff.

They just kind of go with the oldest already or dropping it down to one current song per hour to ease the listeners towards That Greatest Hits format interesting yet and there are so many campaigns doing the rounds of thousands and thousands of people have signed online petitions to save save the clock tower to save the local radio stations and it's all well and good and it shows action is there for local radio and somebody stations that going have 50% reach but it means diddly-squat to anybody unfortunately and that was going to play on with the

Atlanta rollout Greatest Hits so it is a shame but it is the future, but it does mean though once these local radio stations with all the local content disappears.

It opens the Floodgates for somebody to come along and setup a local radio station like in Salisbury example in in numeral is probably going to be a local station pop up there went so lots of opportunities at on the DAB out, so yeah small scale DAB but online as well.

I think I heard you if you haven't read it to David Lloyd's blog at the he's done this week about a local radio and the future of local radio.

I just cannot pull a couple of bits out of that highlights some of the things that he says I says if there's virtue in a local service you must set out your stall to stay local and deliver on it with.

In the book by giving it's an expensive business the job can be done in part perfectly and more economically with voice tracking these days local does not have to be live radio used to be routinely live because there was no other way, so a lot of these new stations that are going to appear on DAB or is online stations.

They don't need buildings.

They don't need big mixing desks.

They don't need live presenters a lot of things can be done remotely these days and I think you know the future of local radio is content Gathering put together and turned into a radio station, but not a traditional radio station as we know it in the past and he says it for setting up the network of BBC Locker any of these days.

He would it would have less staff he would probably put out five live during the day with local opt outs and all that's interesting piece and worth the 9 minutes real-time that it suggests that the top definitely worth a read write.

We will talk to you next week and

About x radio as well next week right have a good week in radio or out of radio or in kindergarten or whatever you're doing in your life at the moment.

I'll tell you what things are looking up not only the pubs and McDonald's is already open but my youngest goes to at nursery next week, but you know a few hours a day doing a bit of work, so I just want to end this section of the podcast with something you might have seen some post about on social media over the weekend and this is about sex abuse in the radio industry got a lot of reaction on Twitter in particular some quite horrific stories shared about experiences that people have had we know this goes on in all Industries not just ours that's been some people have been taken advantage of for being keen to get into radio off wanting to advance their career and right.

I just wanted to say that it's not ok.

It never has been ok, so if you're listening to this and you're one of those people who in the pastors behaved inappropriately towards somebody else in our industry crap.

She still do that.

Please just now but it's absolutely not ok, and it's not just women experiencing this treatment either mentally singing grooming younger men in radio.

I've heard stories for example in the past of program is asking young male presenters with pictures as part of a process to get a job on the air on the radio again.

It's not ok and as 13 that you might have seen put it boxes that pile of CVs on your desk isn't eating purposes LinkedIn is not in today programme with broadcast bionics creators of The Bionic studio listening watching connecting to and learning from every spoken word Kolo sweet and SMS to a mix unlock and understand your content the bionic studio transforms everything about radio except away.

This week on the radio Today programme between yet another focus on radio tech and how technology has been helping during the last few months in coronavirus, lockdown demaquillant as well as managing director of broadcast bionics.

Hi Dan how are you? I'm pretty good.

So yes, you know like everybody else sheltering safely at home and getting used to the we were very fortunate actually as a tech company with software we're able to quite safely and easily transition to it's staff working in a safely and comfortably actually pretty effective from home.

So this has been a relatively comfortable transition what's finishing? I guess he's helping our broadcast friends who had the much heavier lift and I get a very busy because you say a lot of Demand on technology at the moment some people have been wanting some support or pointers to can I do this with it.

Can I do that with the etc? Yes and we've been at the forefront over the last 2 years of trying to evangelize.

Ideas of virtualisation of moving from hardware to software of the kind of flexibility of IP infrastructure, it was a different year for us as a manufacturer.

We didn't we didn't have you know the sort of typical Las Vegas show where everyone goes and talks about changing stuff in the future instead.

We all stayed at home and just changed stuff and then in 5 weeks.

I think we changed more than 5 years of going to anybody or IBC and I think a lot of the stuff that was previously seen perhaps as curiosity or novelty or was you for the sake of it has proved pretty critical to providing that flexibility or agility for for broadcasters for you to be able to rapidly change their workloads and the way that the content from Studio 2A or even bypass the studio and get content from from no Talent working from home and we are not the heroes in this piece.

We just tool makers you had stuff.

So we Jefferson the whole plan of in a be very quickly and all of our road maps and take and March was just very very busy giving out licences changing the way that product architect to allow people to quickly no stretch and use things in in New and different ways so much is pretty crazy mostly for our customers and a little bit for us a call was quite busy and then may was slightly quieter and then suddenly back end of May into June stations of popped up doing stuff again.

You know a little bit more confidence returning we come out of the kind of hunker down again, but we can't just do nothing now.

We got back on here things are working pretty well.

What we're going to do next year as a match was crazy crazy.

Maybe a little bit quieter, but you're back in now of May into June and it's you know people are thinking of new ways of moving forward with more confidence and clarity I think most people.

This podcast will know all about my next is you very kindly RR podcast sponsors and we have adverts promoting all your stuff, but you do hardware and software lots of products covering phone systems and play hours to visualisation guest contributions and get a lot of that already had the functionality to work remotely and were quite smartly for people anyway.

Yeah, probably intent wasn't that we would work at this level and I don't think any of us for saw the idea that we would have to change this radically and this quickly but the agility that's there with using web RTC as we are today and we have a product anywhere that lets you bring audio as you've lights from anywhere quickly and easily but our stick is doing that with information and control of understanding that radio typically now.

You're is more than just giving a voice to a information about social media call as the songs that you're playing chatting production information that needs to move around so trying to make sure that we could remote that the full studio.

Variance of a talent for creative experience and control for their program making and delivered if the fully engaging and Rich experience turtle listeners and viewers at the other end so yeah, we wanted to make sure that we could use tools that we might have used to extend around buildings or two obe's and and make all of that available so that people could screen at the produce of the screen from his spare bedroom the talent consider information in their Home Studio and every every piece of metadata information control gets to where it needs to be isn't just about the information and the content getting to the listener.

It's coming the other way as well because we're in the past stations might have had multiple different systems and different logins if they your product scanner pulls everything together.

So they get the incoming as well as the outgoing all-in-one in one box if you like yeah and the problem with box is they've started and ended up stranded in the wrong bill.

So by moving to to virtual boxes radio long time ago move from analogue box is the digital boxes and then we've moved from digital boxes two computers but still computers that are stuck in the building with the wrong login in the wrong security, so you're moving to virtualisation has allowed customers to spin up and you can acidity to B97 wmic in New York have the right version of our system.

They couldn't get into various bits of they're building all the limited on staff.

So they would remotely just been up a new virtual machine has been up a server installer being a sandbox-virtual new system and and get moving on there, so it's been the reapplication of technology which I hope will not forever see us all broadcasting from my home.

So I have had broadcast to say to me.

That's it we're closing up studios.

We're going to be like this forever.

I think that's a bit of an overreaction ICan Studios provide a lot and certainly that the of having a Home Studio is a great comfort during times like this and

You know I think some of the stuff we did the hats temporarily we will learn that creatively there are options that will be there as options rather than enforced in the future to give us creative freedom, but I think we will have Studios and and main facilities but the way that they position the equipment in in servers and virtual rather than physical devices in physical studio spaces will have accelerated and inevitable change by the experience.

We've had of saying I get with forced to try this and some of it didn't suck a lot of it was a lot of it isn't I'm sure the way that many of the engineers would choose d'architecte if we had a bit more notice and so our whole road map of how we deliver some of the stuff that we planning has changed to prioritise the things that people will now be demanding that we moved to to fully hosted and virtual and online and remote capable does a few products.

We had you know things that are coming in the next 3-months that would have been great if we said here it is in March but those things have been accelerated and the way we communicate them.

Maybe a little bit different I guess with a lot of tech and I'm probably guilty of this as well in radio stations where I've worked you kind of use of product whether it's software hardware or whatever and then suddenly somebody says I did you know you could do that with it as well.

So there in a lot of radio stations that was already there that people when utilising so you've enabled them and show them that I actually hate you faster daft if it can do this.

It's been able to do that for years and it's how you doing.

Yes, I have stretched some of that functionality to a point of skullduggery.

I think you'll never definitely features which have been been abused I bet you know just as the creative freedoms will have informed and inspired new ways of engaging different Alan who may not want to or be accessible into a traditional stew locations.

I do believe that we have through the painful process of Change

And stretched things and realise that certain things are possible and perhaps even desirable.

I've been saying On podcast and things in the US that I am arguing against the notion to use the mother of invention, because I'd what necessity is the midwife of Invention all the things we just did were actually previously already available and what he did was it facilitated the process of painful change in a it was the midwife of saying all of this stuff was possible.

You could have work from home.

You might not have chosen to the quality was there by being forced to do various things that process of change has taken technology which is already available accelerated the development of it the rest of the integration of the acceptability cultural in otherwise of using glass consoles instead of physical consoles using home setups rather than really big main studio setups using

TC rather than expensive fixed IP links has all just giving us you change new challenge new confidence and clarity about how we might market Studios and and arrange our creative process as we move back to the New Normal and there will be a new normal.

It will not be the same as February or March it will not be as different as I think many many other apps implying but I hope we would have learnt a lot and I hope we don't just fall back into old habits because then we would have missed the opportunity of all this I wish we got to Vegas instead of doing this you know we have changed less of you know socialised more but we had to do this and so let's see the opportunity from from the info that change it let's Learn and grow from that.

So that we don't just find ourselves next year back in Vegas talking about all that and actually find the still do.

Next off work for different markets the UK is just one of them although obviously a UK company at how do you think different parts of the world have done things differently during the everybody kind of gone let's all get on with the broadcast from home and get on and do this or have different countries dealt with the the challenges in different ways, so I am blessed unfortunately because we're based in the UK I think is why I get the ability and the privilege of working in 100 different countries not cos I'm great but because having worked in the UK industry, which has this phenomenal reputation for being at the forefront of technical change you know I'm going to give a big hat tip to the UK radio District I think we came through this you know that the UK is responsible in general.

I shall not make little point on your on your podcast but I will say that the one place that people cannot criticize the UK response would be around radio and I'll Media response which I think it's been really exemplary and we all stayed on the

There are other countries which know to be done well, Australia and other stations in countries who have a very similar probably thought you forward thinking agile technology and perhaps looked on by for example our American cousins with some Curiosity and some suspicion.

He don't perhaps have that same mindset and how many larger broadcasters in the USA done extremely well many of the smaller ones have struggled because they haven't had that agility baked into the platforms.

They were using so I think we will see how many countries which were slower in in really.

I just adopted as most of a doctor but embracing the flexibility of of IP and virtual and web RTC and all of the bits various bits and pieces.

Yeah, so let's give you know let's raise a glass to do not ask as we get to sit at home and just write code but tipper to those who work long hours under the most remarkable and unforeseen.

Circumstances to keep UK radio spinning and to do it to a really really high standard and you mentioned earlier the importance of the studio and that there will be some people who go there we don't need you anymore, but if I was starting a new radio stations give me lots of small scale DAB multiplexes popping up around the UK for example of small local radio stations that might want to appear on those replace some of the stations that are turning into bigger brands do people need to be building a radio station Studio with a mixer and all that kind of stuff or is cloud-based for a low-cost small station the way forward would like to give you one answer and I'll tell you one product but the answer is that there will be marquee what I call monolithic Studios for sure and we're with the BBC on what their internet fit radio Studios might look like they were they will be the flagship marquee Studios for for your premium kind of breakfast content for.

Network stations and those will be exceptional Amanda visualisation 11 advanced systems.

I'll be really engaging and end and not traditional but that will be flagship Studios I think there's an interesting underneath and Barbara leading the way in terms of a glass studios and pop-up Studios you know which are much more flexible.

So there will be big flagship Marquis studio is there will be down Studios we're also working with the people what they called digital tables that we combine 8 tables which are in a what is a studio look like that isn't a studio that is 4 on Demand is for podcast and then so creating digital tablespaces or bionic table spaces within facilities that I substitute but might be one of your meeting rooms might be buying it tables the corner of each office might have on a table uniform microphones for headphones bring your own device connect up to that and get studio like facilities plumbed into the rest of the Indestructible studio complex but he didn't studio and I think we'll see a huge grow.

Windows additional flexible spaces within what will be are studio complexes and then absolutely at home we will see people connecting remotely into tables and Studios and eating from home and we'll see people increasingly producing on-demand content of particular podcasts etc using stuff.

Would you see the in-home or fully hosted one of our big projects? That's been delayed a little bit byte KB teesri architecting are hold back into increasingly allow all of our platform to be fully hosted I imagine that will be hosted within the facility private cloud perhaps that you know within two years for sure you'll be just rent all of our services from the cloud and not just for home studio, but I imagine a time of the BBC and they don't want service already running out of space evening there beautiful flagship building so they would much rather that will be managed in a the power of the air conditioning the ability to scale up and scale down for an election of the Olympics

Please, can we much much better as we do that there are challenges around latency.

There are challenges around up time and there are challenges.

Historically around cultural acceptability and I think the main thing that covid-19.

Products a camera one and cooler one with democratise that down to the study of student community in and in the hospital broadcasting kind of world as well as just a smaller facilities.

He want to do camera switching all I want to do show products and then there's the buying a table idea which is Which is a concept at the moment.

They're working with the BBC in the UK and Southern Cross austereo in Australia on bringing to the table as prototypes be noted as we get towards the end of summer and I think that would be a full product by the end of the year and that will be how do we deliver all of the capabilities of one of these flagship Mark II model traditional Studios but into the not my mother podcasting or you and I Stewart doing this podcast but newspapers magazines TV stations radio stations that need to radically increase the variety and the scope of their of their output so yeah leveraging a lot of the skills and infrastructure which typically has involved hundreds of

Tens of thousands of pounds into Studios that cost a fraction of that and you can pop up flexibly anywhere for microphones for headphones bring your own laptop and deliver everything play a talk show systems remote contribution accessing IP audio feeds multitrack recording that do it all from a table for microphone for headphones and a lot of details about everything we've been talking about as well and all your products at bionic stop.co.uk thank you for coming down.

It's really good to catch up with you then.

Thanks for having me stay safe everybody and I'll look forward to seeing you.

Yeah when we escape from all this at some point from broadcast bionics talking to the radio Today programme and he mentioned web RTC a couple of times at that's the backbone of cleanfeed which is worth trying out if you never have done as of yet at great to get a studio quality connection just using a browser for outside broadcast interviews with guests.

Shows from remote locations even presenting your own show from home or making a podcast with the guests whatever it's really simple as connecting live quality audio.

Just using your web browser and can even record in the browser as well clean food is free to get going there is a completely free version and sign up for extra features and you'll pay for those but it only takes 30 seconds to get going and get started with your first broadcast from a remote location find out more about it at cleanthi.

Much is said about the Talents of Birmingham's Les Ross and his 26 years on breakfast, but let's remember that brnb turn him down at first so his debut came at the venue radioties this week 45 years ago and a very good morning to you.

It's midsummer Day Tuesday the 24th of June 1975.

Welcome you to the start of the very first day of transmissions here on radio Tees 257.

Thanks for making the effort glad I did start our very first breakfast show banana jokes, but have presenters who in fact how much broader than that of the music but they're also going to be able to reflect the community in which they are living in interviews on quite heavily involved with politics and social issues and presenters who can cope with that is beginning this in 1975 now known as TFM early this year of course the BBC local station there became BBC Radio Tees and I think much like BBC radio, Wiltshire

I had a different name of the Beginning because the commercial operator and got to the names first.

It's early days with real intervention on decisions and type codes for content and technical and as for trying to make some money, but this week in 1984 the stations have had enough and convenient what became known as the Heathrow conference and they felt that time had been given to attending to the real requirements of funding for for radio and that the IBA and particular with extra hour and then stated very considerate the regulation of radio in it early 15-years Let's Stay up.

1890 was done according to the spirit of the times and with great success in terms of the output so I'm an ashamed about it, but I will hold my hands up to the classic nonsense maybe more than the odd day to be located opposite the station operator regulator tried by the executive and before Tony you heard from John Whitley capital MD and then regulator at work listening is fairly important to Radiohead accounts for about a quarter of all listening and the value of our medium in that workplace context has been recognised for a very long time music while you work with the program which Began on the BBC forces programme this week in 1940 described officially as music made especially for factory workers to listen to as they work I have the music policy here if you like it here we go predominantly familiar faces.

That's good nothing lethargic consistent volume.

Avoidance of overloud drumming open brackets which could sound like gunfire brackets this was wartime and generally programs to which workers could whistle or sing takeaway the gunfire.

Have you got the music policy of the most radio stations died during the program was live at first with orchestras and dance band military bands and all the tracks segway together music played by toys and his band The Calling All workers.

It was called by Eric Coates music while you work at wartime workers Slater factory is a motorist as well first aid on the forces and home service later on on the light programme it began 80 years ago this week and continued for 27 years with a couple of comebacks.

Tony Blackburn has often been one to speak his mind that the pills for the music.

I would never for one moment so that it shouldn't be played on Radio I don't think there's a place called on Radio 1 think it should be on Radio 3 stereo and in VHF and UHF because I think people who want that sort of music would rather have it in the quality of sound I personally don't find anything in it myself.

I think people tune into Radio 1 for non-stop hit records in 1971 but in 2004 this week.

He was taking issue, so we were told with the classic Gold playlist.

He was told he couldn't play songs by Cliff on a 67 station in Cliff Richard had over 100 hit records not to be playing Cliff Richard

In 2004 and Commonplace on radio that the person here at 10 in the morning on a Monday generally the same person here on the Tuesday at 10 wasn't always the case often on BBC Radio presenters used to be on the rotors write more hosted early breakfast on Radio 2 for 3 months until this week 38 years ago when the program began his I just thinking of the Wild Bill Withers singing them this time for a New Year's Eve Hogmanay remember back in Liverpool now dad around his hand coat on and even the stitching glue with the back entry around about this time of the loaf of bread for Fistful of nutty slack a brand new Joey which was part of his.

Traditional first footing as a couple of hours later swing front door and so having been fortified along the way of course with generous helpings of whiskey and the Devil's bruise and Away in the dark and Tim distance you could just hear boodles baby crying what words incredible so with rebrands for to champion Coast Essex Invicta Mater ocean and southern 11 years ago was 52 years ago.

You're listening to the sound of your own LEGO station BBC Radio Leeds 92.4 VHF is exactly 2:45 in time for Sandi Toksvig concluding her nine years spent on the news quiz on Radio 4 5 years ago.

When will be announcement 13 years ago that hard LBC and Galaxy the Christmas radio brands? Would it be sold for 170 million pounds to form the Foundation of a new company called Global Radio now reaching 23 million people those are this week's radio moments.

Thank you David and Roy and I get down this week from broadcast bionics next time radio Today programme a focus on x radio the big launch for 2020 by the time.

You're here as chatting.

It will be on the air and we'll find out how that launch went next week on the radio Today programme the radio Today programme broadcast bionics.
Transcriptions done by
Google Cloud Platform
.
Lots more recommendations to read at
Trends - ukfree.tv
.
Summaries are done by
Clipped-Your articles and documents summarized
.