Read this: Media Business Podcast #2: Broadcast Gamechangers - Baz and Lambert in conversation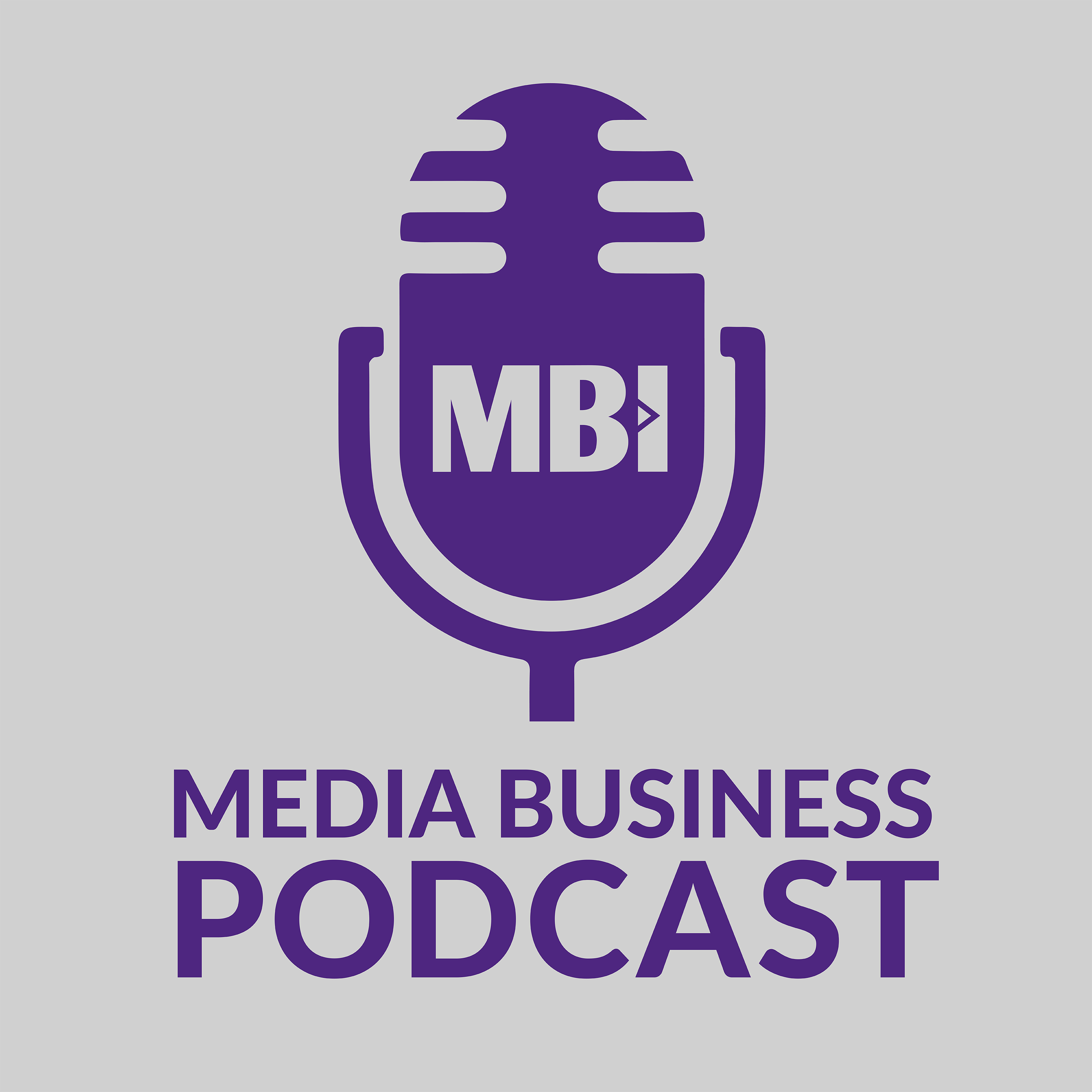 Summary: Podcast
Download MP3
play.acast.com
Media Business Podcast #2: Broadcast Gam…


Love This podcast support this show through the a car support a feature.

It's up to you.

How much you give and there's no regular commitment just hit the link in the show description to support now.

Hello and welcome to the media business podcast by Media business insight the publisher of international and I'm Chris Curtis the editor of broadcast and this month would take you over the phone with the first part of our 60th anniversary celebrations supported by packed in screen skills to hear from Two TV Titans studio, London which is just celebrated 10 years at the top while so Peter bazalgette.

Kick started a revolution in lifestyle programming in the mid-90s before introducing Big Brother to the UK as a senior figure at end.

And subsequently going on become chairman of ITV people why has a 90 each other in the early 1980s we were both working for the BBC documentary features department.

I want to be making serious documentaries in Wallsend but already seen the future.

He was editing a BBC2 series called food and drink and he knew that it was the returning popular factual programme but was where the future lay the six months I was assigned as a somewhat reluctant director on an expression on your face.

He was very good you felt rather humiliated.

Didn't you buy the attachment? It was a good learning experience.

They go to Somerset and makeup.

About cookies and how to make clear entertaining short films for food and drink for which I'm very grateful.

We were very grateful to anyway decades later later.

We were both in the India sector vases at Endemol I was at idf and then in 2008 studies to gelandet left television effectively when she became servers and the grace of a member of the great and the good running the Arts Council man in the English national and now of course chairman of ITV ask me a question, but let's talk about that.

Let's start with your company that your current company because you moved into drama, how many dramas have you actually got permission at the moment three do you still put?

Effort into developing non-scripted formats that you're putting into developing scripted definitely projects definitely are mean.

We have a Development Team and we have a strong separate Unscripted Development Team and then we've also got people in Los Angeles developing specifically for American market and in Unscripted and what a moving into drama in the way you have into scripted.

Have you done that unit? Did you buy did you bring put some Writers on retainer to yourself? Did you buy the rights to hug who had previously run download ITV she's been in front of the BBC for several years and has been responsible for a house Slater of Productions there and she brought with her as an early stage 3 goals which was a huge Triumph in terms of those ratings and and and critical reception.

The first and but the idea was to do commercial drama and just completing production of a big drama series that's printed be funded by Amazon but also are you let's go inside our brains.

I thought that was down the fierce we live in the near future whether the feed is is is everywhere an on and everybody's doing it, but the family that run it and had invented it.

Please start to have a because the food starts to go wrong.

That's that's a fantastic premise actually no, I'm serious.

I really like to see that's a brilliant idea.

So who's the writer woman who was the main actors on the Walking Dead for the last few years and she came up with the scenario and American writers is

Start somehow because of the way in which they get picked up and dropped in the sense that they tried so many things at once it's easier to get in some ways if you got my project is easier to get American writers in some cases all over expensive than the British playlist writers illustrators are just so booked up so hard to get them so with non-scripted your whole business model is to come up with ideas that can return returnable Siri that's your great phrase, but the three girls isn't a return visit no no, so that was I mean you needed to break your duck in drama.

Exactly broadly speaking you'd like to come up with returning drama series 2 intended to be 10 episode initially and then if everybody what is it about what you said about drama this fantastic amazing demand for drum.

High class drama by Netflix and Amazon Prime as well as all our domestic broadcasters continue to invest in it and indeed even cable channels in America invade didn't before and so on so how are you feeling? That's an opportunity for you, but how you dealing with that that competition for Talent well, it's really hard.

That's the biggest problem for the so many dramas producers and they're all chasing the same Talent and I think that however much to buy as talk about one thing to back new writers.

It's very hard to get new writers commissioned and compared to the ease the relative ease with which one can get a shower away if you managed to get one of that handful of ironing 1020s writers people will definitely buy from and we all struggle with that will lucky that prints and Sue has this great relationship.

Call Taylor who wrote three girls and who now is doing a BBC series truss.

That's a proper fictional fictional three girls is opposite proper drama, but it was based on truth and tell the truth I'm in the character as well.

We're not fictional characters.

We know and she's now doing her first fictional series 6 party and because of that relationship.

That's who has with Nicole able to get her into the fold the best writers either have very deep long relationships with a hand for the Producers or increasingly.

They're setting up produces like do mothers and so it's it is it is a challenge and there is so many drama starts and they can't possibly or survive I mean.

I just don't know they going to be able to find the writer's that people will feel confident about going with unless of course so much drama get sordid that people start taking risks on.

Less experienced riders at the end of the day everybody has to get their break somewhere you know the 28th going to die one day and there will be other people replaced by then.

Yeah, specifically how about ITV do you think ITV is a place for new writers? I'd like to think so let's remember though.

It's there a it's the owner of probably the last simultaneous mass audience in the country and so Kevin lygo and his colleagues have to commission show that they're very comforting to get a mass audience, but I think of the possibilities are if you take a serious like time wasters on ITV2 which I'm picking fond of and if you think of some of the possibilities there you think about some of the contemporary drama.

Even a mass audience can deliver I'm not saying this number and a completely new writer, but I particularly enjoyed cleaning up recently and I thought it was a very contemporary feeling series which it was great to see on the network, so there are opportunities, but I think one particular opportunity for all broadcasters going forward.

This is right across Europe includes Germany Italy France is that as broadcasters moving to more Online distribution, but I've got an S4 there's going to be more of the commissioning of the sort that Netflix makes and some of that commissioning is of series whose primary function is to drive subscriber growth rather than viewing numbers although obviously it would do both.

I'm thinking of serious like Netflix at the moment sex education which I'm particularly fond of I think it's a brilliant series apparently they say it's had 40 million downloads in its first two.

Weeks to download on Netflix stream about 40 million.

They say nowt you know that statistics are not in not in really understands quite had it what what what base is there quoting it was clearly very popular for them, but that's a series with a young Sensibility that I think we'll see more of actually when there's more Online distribution from broadcast this right across Europe and I look forward to that.

Do you think something like sexy would sit happily in particular, but also Amazon is to what extent are they creating programming commissioning programming that is particular to the territory in which they want to have a strong presence.

American services and they put an enormous amount of energy and money into moving into a global player where the creating programming for particular territories, what's interesting about sex education to me is that that's a show which is British cost set in the British school, but doesn't look like a British School it's a British School where they have lockers and they play in American football and the dressing uniforms and that's fascinating because of its subversive humour is still at quite I think British take on the High School movie but I agree with you.

It is curious actually isn't it? It's curiously stateless which I think works for them and that probably understands dictate so explains why they had such success with it, because they just giving it that tweak that makes it so there's more International

It's and worked so it's a dangerous right to go down in One Sense which is that you know you know that in the food while in the gastronomie that dreaded phrase the national cuisine which means food from Nowhere pleasing no one and you want you don't want to get into the Euro pudding world but actually which is what where we know we send 20-years ago with drama that was compromised but actually I'm not actually I'd listen.

I've been watching couple of the dramas.

There's four seas be making was very dark one called hidden that people hidden.

Yes and the other one more recently about the sister goes and disappears.

What was that one called you know the one I mean anyway and that's interesting because it's no it's not of one culture in that.

It's partially in Welsh but it's not interested cheaply made but not not obviously had a low budget.

Exactly that wonderful actress who also turned up in cold feet the other night.

I noticed the girlfriend reef girlfriend, but we have a wide audience but keeping faith was a huge hit on iPlayer I believe it and what you can do and how we make good drama, which involves more than one and possibly two or three cultures.

I want to know with all this emphasis on drama.

You say you're spending as much time to Philippine script Unscripted formats if you ever were is the demand from a strong as ever or the eroding as there is as we feed a feast on drama in all the schedules that Unscripted formats.

Incredibly travelling TuneIn on all I said Jules I mean ITV I'm a celebrity dancing on ice X Factor BBC The Apprentice strictly Channel 4 Bake Off Gogglebox I mean and a Netflix I mean there is any just got going in Unscripted but already they've got a great success with the extent that one believes what the great success is our because they keep everything secret but nails which are very fine from Netflix handstand.

Are you almost exceeding and so I think we're making many versions of the circle for Netflix and that's a big.

Using move from their point of view because it's it's it's it's them moving into a competition reality show was quite unlike what they've been doing it now if you think all the shows you've done faking it Wife Swap Gogglebox and son Undercover Boss basket hair transplant, what happens in the Stephen Lambert development rum when people start to develop an idea and think of an idea on what's sensibilities on their mind and on and I'm going to exemplify the question and you have to stay or brushes here because I said this to you before Gogglebox which is a shower.

I absolutely love and another customer is brilliant.

There was a particular Edition and I said this to you before of Gogglebox at the time of the 2007.

2015 General Election so that week everybody thought it's going to be a hung parliament and Ed Miliband might even be Prime Minister and there was a question time please.

Where is they brought them of people on one by one and Nigel Farage swore at the audience and said there or left his put there by the BBC BBC Cameron the oldest trick in this respect Kevin Hart fell off the stage which wasn't actually is fault, but he suffered from it in terms of image and all that went on in that in that program that was on a Wednesday or Thursday that was one of the clips.

You say to your Gogglebox and you've got like what how many couples ten couples probably taking part in that One edition of Gogglebox the follow the out of the General Election was in that program that program went out on a Friday in the general elections the following Thursday and they all reacted to the Show by not exactly same I like Cameron but you know looks like a leader.

Not liking Farage attacking the audience for asking questions that and thinking MG hope this falling off the stage though, just being honest.

That's how we felt the whole result the fact that conservatives going to win that program.

You have touched a profound chord of what people were thinking and got a snapshot of it.

How does that happen from the beginning of the process? What are people sitting around the room saying hello guys.

Well, I mean come from different sources and coming up with a good idea of a good idea sometimes comes with me more often than not these days it comes from Tim Harcourt our creative director and then we we kicked them around you I mean initially when Tim suggested the initial idea of Gogglebox I was a bit sceptical because when the BBC channel 4 started Jane route and Michael

Did the show called on the box and they have the idea of putting a camera inside televisions and it was an interesting sociological experiment that shows most of the time people and actually watching television television arguing they were watching television has been sort of down and it's not that interested and then it was a realisation sweet talk more about it, but it was actually an opportunity to just find an amazing cast of characters in the television was just going to be a weekly prompt for them to react to and and you're asking was there a kind of theme for the set of ideas that we have developed a lot in the past.

I think there's a coffee miss.

Is is a clash of values.

We are often looking for ways of bringing together people who?

Different values and and ideas about how the world is I mean whether it's the wife Swap two families are there in separate Civilizations and the idea of living in this other civilisation is a huge dramatic and involving process, but you do look at some Secret Millionaire Undercover Boss or even faking it.

It's fish out of water people putting people in situations where there are exposed to people who got completely different values to book to themselves and they go on a journey realising about the Difference and one of the realisation realising that you could do it shows that was about people with different sets of valuers and but didn't have to meet they just had to have a shared common experience and I can't share common experience was was was was watching that week television with the royal family actually.

Caroline Craig have a great one isn't about a clash of values hit one family very funny very situation, but with the Gogglebox we get we get at least 10 or a dozen different kinds families reflecting a variety of values and the internet about Gogglebox me or one of them is the way in which people from different backgrounds sometimes reaction of very similar to what they're saying all the times and acting of a different way in and that variation is interesting so just before you ask me or next hearing and abrasive question because such a searching for the truth Steven I've noted from the royal family which was brilliant.

I think it was a genius.

I think it was written by Caroline Aherne what in one particular program the grandmother was still alive and the the youngest son brought a girlfriend home for the first time.

She was a vegetarian vegetarian.

How do you make they're all disgusting? How they going to deal with this thing this vegetarians coming our finding the grandmother came up with a solution to said let's feed her thinly sliced hand a car is got the festival recipe for success with the neighbours with more of what you love this Christmas including the Eminem

the Range delivery charges apply minimum spend £40 for teas and C's that ocado.com

to this new world of work and personal lives businesses pay rises may help, but as many employees and learning is not just about the money build confidence to lead read more at ft.com I'm gonna ask you about Big Brother that that inspiring man who was your boss told you I haven't just new show on Dutch television.

I would like you to take it to Britain what was

When I read a book about Big Brother my extremely disobliging assistant dog out of memo I'd sent to John de Mol in 1999 and see you before it went onto UKTV I said I don't think we can sell this in UK but if we can only go out on Sky television which was pretty ironic.

Cos when I did come to sell the show it was already a hit in Germany and Holland when I offered it to Liz Murdoch at Sky she never replied but it was the programme that is so run-of-the-mill now and it's such a basic technique of making TV just having a fixed camera rig and asking people essentially to sort of Excel themselves, but by themselves, but it seems ridiculous now to get picked up all the time.

It was a very shocking idea that you know.

Caused a fatwire in Bahrain the showing Bahrain got closed down by a mob of Mullen the CIA came into the naval base CIA with surveillance on it and they came in rescue the production team before the before the priests arrived to try and close the house done pause to constitutional crisis in Malawi in Mexico that 200 Catholic families owner will big companies and therefore do all the television advertising and they had a pact between them to withdraw the advertising try and kill in Germany the regulator tried to stop the show on the grounds that it infringed the right the post-war Constitution of Germany is every citizen's right to privacy reasons.

We will understand and the 72 year-old regulator in rhine-westphalia said the People's privacy and then.

Is a compromise in Germany and there was a room that didn't have cameras on it for one hour a day consequently the sofa missing people that controversial a different to the British version did you look at it and say I'm going to make a better version wasn't that different the main difference was the commissioning editor at Channel 4 with Tim garden, and it was Tim who actually said they're only thing evictions every two weeks and that's not Brooklyn in an action going on.

Let's do it eviction every week, so that was the main difference actually that was who was the person who then on a 2 series later had to judge.

there was an incident and he had to judge whether the Edit of it this AMR sensor Bishops Close area was it was appropriate to go out on television at 10 whatever time you stupid guy from Channel 4 and so we had to send over to him the Edit of it and it got sent over on to Channel 4 how technically this happened, but it went anyway out onto the main Channel 4 ring made across the whole building and through reception so is this event this all working Channel 4 stopped for half an hour everybody down tools and watch this extraordinary sequence and I remember him saying only want one is it you have to edit out one expression that you said I've looked at his face you have to edit out the rictus of pleasure is very genuine Cambridge educated you very

And later became a principal of a college at Oxford when is over now released on Channel 5 stopped.

It's probably going on all over the world still listen if I don't know I will tell us a look at the show is now 20 years old it started in 1999 in Holland the natural life of a format is as you know better than anybody the hit format will peak probably between the years about 5 and 8.

They will start to decline decline rapidly, but if it declines gently it's still quite a property and I think it's still quite an honour for for it off in the UK but I think it runs in other places.

Yes, I mean.

I I think one of these things is the way in which

The Unscripted shows particularly the sun American broadcast television that started in the early 2000s the ones that are still going I mean it's so hard to launch new in zooming forever and ever people's inertia is extraordinary and you'll see that the viewing figures for all networks the broadcast networks in America have just completely collapsed only things that they are still watching but still it much much more the numbers then before I Tend To Be The Old War horses.

Well or indeed popular fresh formats is another phrase that springs to mind but it's true and there's another one you're talking about quite a lot of programs series formats.

Axed as the whole broadcast schedule cake the total broadcast cakes, Graham anyways, because of Online distribution, but they schedule cake is getting slightly smaller every year more in American here, and so they were shows that were cancelled for getting 6 or 8 million viewers for the now coming back and doing very well and dancing on ice has been on ITV Who Wants To Be A Millionaire has been arrived on ITV Love Island is actually revival from 2004 and say that and the advantage of those shows is that they have recognisable brands in an era where you know we have more choice and we're more distracting than ever before so yes, so does that make it more difficult then to get more hits away.

Yes, it's the second series.

I mean if you're lucky and you pushing you got an idea you believe in.

It's you know not always but sometimes you get the shows on at the second series.

Hard I'm in the number of shows that I thought that going to work and we're going to get a second series and it doesn't happen is more than later think about what you just have to buy broadcast what about ITV there and what about risk-taking generally do you think that made you feel comfortable about how much risk ITV is willing to take or do you think it's quite forces network I said earlier.

It's network is very creating network but I think it is serving a simultaneous mass audience which means it's taking decisions that would obviate some sort of things that we can get a mass audience look I think the overall point to make here is that we are very blessed in the UK and arguably in the US I have more broadcasters than any other country in the world who are saying please bring us any ideas.

You think it may be slightly less now before or not.

I don't know you can comment on that but that's why.

Find out 4 years ago that most countries we used to sell formats to announce addendum all used to say bring us a tried-and-tested bring us a ring as if every country said bring us formats there already a hit there will be no new format so the fact that there are broadcasters and online distributors in this country saying bring us new ideas both fiction and non-fiction is a wonderful thing and it's the reason that we've got such a strong sector.

We've got brilliant independent producers John McVey their nose cos you've done the numbers to know the export content from this country have gone up out of all recognition in the last 15 years, but that wouldn't happen that she had lots of people saying bring new ideas.

Let's put money into new ideas, so let's hope that goes on and I think ITV's part of that so I don't think it's fair to say it doesn't take risks completely agree with you.

I think that's what's extraordinary about being a producer in Bristol UWE r.

Best place in the world for selling a paper idea and it's why you when is in a strong position going to America is producer because they're looking for something where they can see tape and if you've made it here even if you've just made the pilot or and the Show isn't isn't isn't being brought.

They want to see some table.

You can make a sizzle with with with your Bradshaw and show it and Americans and that's an enormous jump up compared to make something in American producer with a paper and it's how we got this position of having more than half the trading entertainment format because we had this test bed all this nursery in this country how confident are you in future of Public Service Broadcasting this is actually very important and rather serious subject.

I'm going to talk about the need for it before I tell you how confident I am in it because I think content with the public.

Most people in this room have produced and consumed and believed in is probably more important than internet error and it was before the internet here.

I think of the interior is the era of conjugate of rumour gossip and paranoia when I look at contact with the public purpose which is best exemplified by the public service broadcasters, but you're finding channels as well and you're fine sky princess doing some very interesting programming with a public purpose.

I think it has three key functions the first is probably the most important of the three democracy you cannot have a functioning democracy without informed citizens and you can't have informed citizens unless they can go to trust and reliable sources of new information and the only difference between now and 25 years ago is that the internet era unleash the demon door opened a Pandora's box and it's like sort of.

Fantasy only have the radio global City could not have done what he did in the 1930s Germany about the radio with the internet well.

It's happening and subject to fake stuff all the time most some of it with malign intent and that makes trust and reliable news and informations resourced someone more important than ever as particularly, please two nights ago on ITV News at the 10:00 news programme Alastair Stewart was hosting it two nights ago and they were reporting on Ian Collins report from the select committee which was essentially about brother existential issue every country is facing she's how do you regulate the internet we all know we have to regulate the internet but how do you do it and either Alistair or the new script writer written In A Line about the importance of trusted user information and I do think the BBC and ITV News should probably spend.

I'm online and on television reminding people what it is.

I don't know why my kids would necessarily know how BBC Newsnight even use what the tenets are how the genus of trading standards, are we need to promote news and news needs to explain itself and remind people of its values that the culture thing you know doesn't require much unpacking but the ITV example 20 examples on other channels that you know the Emmerdale in Coronation Street 6 times a week in each case if the country's thinking about an argument gay marriage or in you'll find those issues exercise those programs are part of a national conversation and where as I would applaud Netflix and Amazon Prime repeat what you said that sex education she's damn find series is somehow stateless and the most wonderful series teaches how to make drugs in the Arizona desert.

07 bodies on Scandinavian Bridges and diesel wonderful and they greatly enrich what consumers can watch in the entertainment we get but programmes about us made bias for something that is very important for any country with a positive national conversation and functioning culture and the third thing is economy and I went on packet now, but contact with the public purpose is part of the Investment in the creative economy, and the creative economy is one of the most important sectors in our economy in the future in the knowledge economy the creative economy so for all those reasons contact with the public purposes critical and it can be perfectly healthy if we find funding the BBC beyond its current 11-year charter whatever that way is and if we allow ITV channel 4 and Channel 5 to continue with their model thing advertised as supportive.

Not interfering too much in their model or bringing in overbearing rules about what can and can't be advertised unless the damn find evidence for reasons for banning advertising and it requires in the multiplicity of distribution mechanisms and platforms a country to say if we believe in contact with the public purpose and people need to be able to find it and that means certain rules about prominence not just on Virgin and sky but on internet connected TVs as well, so we work through that but that's important as well.

So I am confident if we crack the things.

I've just talked about that we can still have a future where we have a strong tradition of content with a public purpose.

No, I look at brexit and I think we haven't done a very good job.

You just unpack that for a moment.

So why what will your how do you do polls I read recently new 35% of people thinking that No Deal meant that we would stay in the EU and there will be no change you could ask those sorts of questions at any given time in our history who's Prime Minister normally only get off that when you're right concussed in A&E actually and actually nobody knows what is concussed at the moment.

Isn't it a single question Oliver's is complaining about the fact that you put on Nobel Prize economist talking about what a disaster.

This is going to be any you put on some complete lunatic.

Let's let's let's just on that from him.

So you're saying that you found the Princeton coverage of the referendum campaign unsatisfactory.

I didn't think it was quite profound.

Sorry.

I think that's quite profound things going on there and I'm not making a point here.

That's why the pro-remain Opera leave by the way because both votes are perfectly respectable reasons for voting either way.

There's no point in being metropolitan and Soho about this and so you know anyone answer only one answer when you ask a binary question be careful what you doing are parliamentary system has not been about binary questions except when you make a choice between parties a general election and I'll system is to elect mps2 as representatives to use their intelligence and wit to work together to come up with Solutions in the country and if you don't like had it before me off before 5-years will get rid of them.

It isn't our system to ask a binary question which can be decided on a simple majority the nature of which is divisive and you know the referendum devices in this country divided despite geography / age / worth.

It was profoundly unsettling experience for this country to go through that and continue with that uncertainty now and then only or to think about those things do you think about how was the media meant to respond to that and I would agree.

I think the media fell down and this is how I think they fell down.

I think they said well wearing partial so it's a binary question and it's yes or it snow and so we 6 minutes the man who says yes than 6 minutes the woman who says no, that's not the role of brilliant independent Media the role in 2 m.

Turn up late to enquire and investigate and whether you're talking about Project fear from the remain side which was ill thought-out certainly wasn't demonstrated immediately for the two years after and then we told we're going to fall off a cliff whether we will now is another matter who told immediately not true or whether you're talking about that 350 million brilliantly written about in James Graham play on Channel 4 which I thought was really good.

I really enjoyed it on the bus.

This was not properly interrogated so we did fall down on the but we fell down on the job because we were we were taken over by the the premise of this binary question and this this David this device and the whole thing was profoundly unsatisfactory.

Yes, I agree.

Opposite each other all the time.

I was watching ITV news last night by is this going on history? They don't you know Greg don't move the BBC news from 9 to 10.

I suppose you could argue that it's forcing people to watch One user of the other because they watch BBC and ITV about the schedule of BBC1 and ITV is to forget the Uno to put its broadest people watch and not just that not just that the public service broadcasters have got to co-operate much more than compete with each other in the future for the for the betterment of Public Service Broadcasting that's the point so it's sort of a fairly narrow subject about on program against another I get a bit bored with it and TV makes commercial sense to carry on having the obligations of being a PSP broadcaster, because what's the

What is that prominence is that it because you could decide to give back the licence and just be a digital broadcast but I'm either two things.

He knows the technical discussion about what is the value of the licence and I used to have a huge value when you had limited spectrum course and the internet and existence on and that values come down and down very strange songs done by Ofcom about what it is worth that sort of ones that you technical discussion is a different thing which is what's in your DNA as an organisation and the DNA of ITV and I'm not distinguishing here from Channel 4 on the BBC the DNA of ITV is to make not just mass entertainment but my Centertainment programs for the public purpose and that I said earlier what the soap operas do and that means that national and regional news is essential that you could do all that your DNA without having.

Play Connolly obligations, but there's only you can decide that's what we going to do and not be regulated in the same way if you didn't have the licence if that's what you're going to do.

What is the regulators ask you to do some of these regulations are a pain in the neck only actually no, I don't agree with that for instance the regulation that we should have 20% independent Producers at suits me pretty healthy the regulation that we should make half-hour programs outside outside.

That's a pretty healthy who got the major places in Manchester and Leeds and we've got 17 regional news rumours on those are pretty good pretty good things to do particularly when I talk about broadcasting or program to the public purpose you know we are here in a cinema in Soho and we will go home to our London Houses tonight, but you know and this was the case we know that the articles aswell, London sorry Britain has been far too.

London South East centric I personally welcome, what channel four's now doing I welcome the fact pack day.

I read the other day is going to open an office in Leeds as well.

Leave his one and actually the 8th created report on how we could go the creative Industries because it's industrial session with my main proposal was when you can fasting creative clusters one of those have been invested is Leeds and then channel Falls going there packs opening open this is all good stuff, but so you know we need to spread the economic and cultural investment and all rested across all Communities so now all of these things are good you'd want to do them anyway.

If you were a responsible public company you wouldn't make more money if you read yourself and I don't actually at the moment believe that it is an economic argument know there are circumstances as I said earlier where if regulation.

I'm too onerous you only have to open a newspaper any day of the week to find somebody wants to ban something right a lot of things they want to ban other things that are the life blood of our creative industry and pay for like certain advertisements.

So if we were put under onerous regulation of the sort the sun propose that might necessitate a change but at the moment.

No, I think a good system now really bad thing Netflix and Amazon how could you could you could you well? It's good and as much as if your producer from the point of view of the producer producer.

There are more buyers in the marketplace.

There's more opportunity to sell your wares.

Are they the best place to sell your wares? I'm in the deal isn't as good as selling to a British broadcaster where the UK rights and you have the ability to sell your taper your format around the world Netflix is trying hard there with the show that we're doing that the circle new scheme where they are paying a format fee effects of their premium for each version to encourage us to bring a format that otherwise we would sell around the world that we then the global rights and then each version they order they they pay a premium so they're trying to replicate the the advantages of what we normally used to but it's still the best possible hit you can have the best possible upside is a show where you are able to sell the format of the tape.

Will the world end 102 territories maybe even just one has paid for the original version of the show show me about the public or we talking about and we've touched on some of the public consequences of the emergence of of Netflix and earlier on I mean.

I do think some of the wanted to make was have crazy at attempts to regulate these things can sometimes can you were talking before the started about the weirdest ijan in retrospect of the fact that British broadcast as we're going to come together and offer something that would have been a real catheter to Netflix and Amazon with kangaroo and it was it was the regulator the Competition Commission and it looked back and extraordinary we can't let that happen it would be dead.

Mental to competition I remember somebody me a joke about when we talk about the regulating of the internet.

Let's look crazy decisions are made when you do start regulating the previous somebody wants told me on as a kid about a dumb dumb bird and the door number plates on its back only want to know where it's been it doesn't know it's going and the Competition Commission was filling historic role of the dum dum, because it was only regulating by what it you had happened in the past.

They had no idea what's going to happen in the future, but the future happens really quickly.

I think we can say Netflix and Amazon are great customers great boon for consumers plastic for creatives to have that I calling from is no they compete with ITV4 arrivals, but they're one of our biggest customers as well Netflix and it's a wonderful thing now.

I am in power of self congratulation to ask you a final question and it is what was your happiest moment in television?

I'd like going towards engine making my way back then but I also I mean there's nothing more happy so I do actually think that come with ideas that are returnable and popular is much harder than making documentaries and making documentaries about whoever British mercenaries in Croatia was fascinating and very intense experience but it's not anything like is intellectually demanding as trying to come up with something in a room with some people or not in a room wandering around trying to come up with something that is engaging repeat generates enough variation.

So that you want to keep watching it and is makeable within the constraints of the program budget.

So that is such as getting a big audience is much more difficult.

And I learnt that because I was a research on that's life and my happiest moment was that moment I used to have to write Cyril remembers cross-eyed Cyril in the chair.

Who is to read out the press cutting well, I T B to go to the letters and the least important job in the room and my mum happy snow determines when I received a letter with the photograph and it still refuse to do this by the way, but it was a photograph of to build which were contiguous and the one on the left zvd can be cured if treated early and won the right said I got it at the Co-op and Stephen lamp.

Thank you for listening remember you can catch up with all episodes of Media business podcast at broadcast now.co.uk that's all for now.

Don't forget to subscribe and listen out for

Later in the morning my love this Christmas love this Christmas including the M&S festive range.
Transcriptions done by
Google Cloud Platform
.
Lots more recommendations to read at
Trends - ukfree.tv
.
Summaries are done by
Clipped-Your articles and documents summarized
.
Comments
Your comment please