Read this: Paul Rowley on leaving the BBC after five decades in radio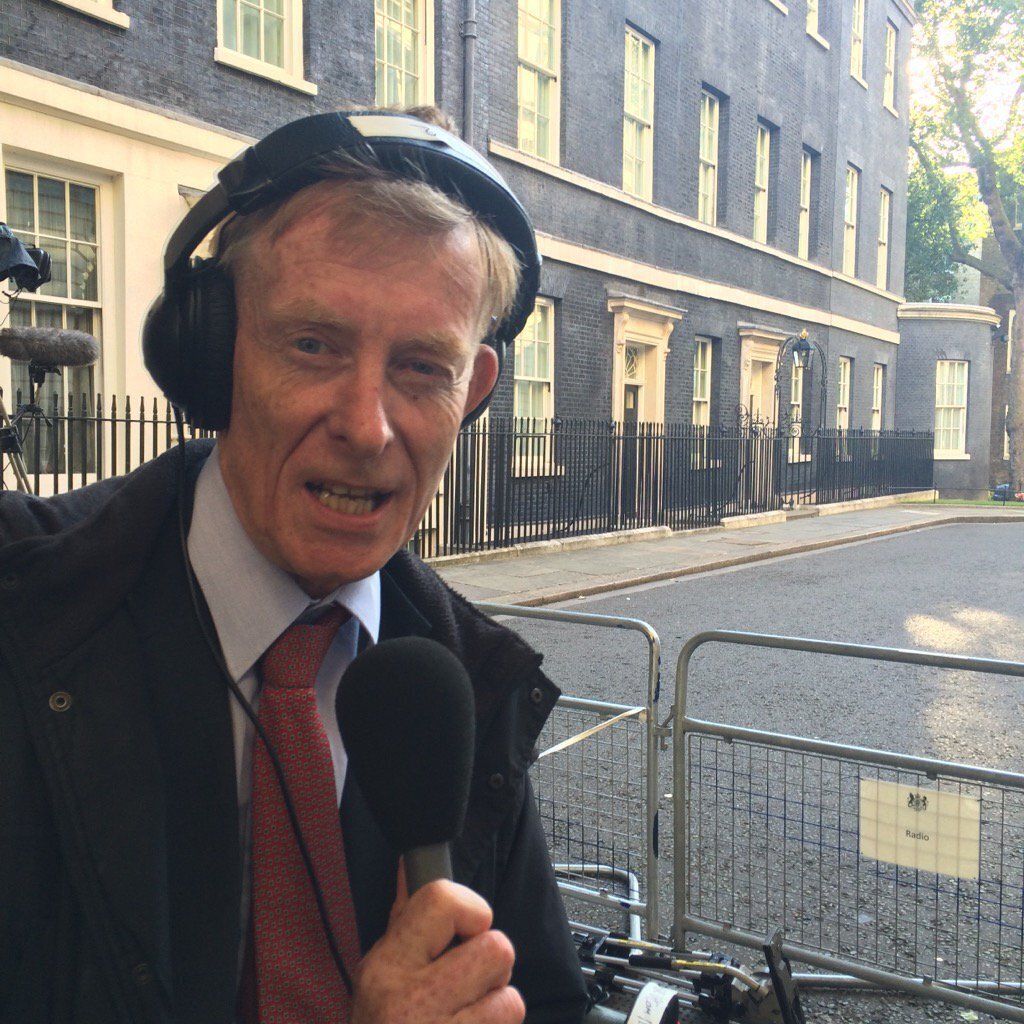 Download MP3
audioboom.com
Paul Rowley on leaving the BBC after fiv…


The radiator day program with broadcast bionics discover the world leading brands at radio this time are the radio Today programme we have a very special guest now.

If you've been on BBC local radio or listen to it for the last three decades you recognise this guy's name and his voice as well before joining the BBC is a Westminster correspondent.

He was doing the same thing for around it was LBC way back before that he was on out in the first week of Radio City in Liverpool 47 years ago, but he's just left his job at BBC local radio as they're mad at Westminster that is covered for the last 37 years.

It's an honour to welcome one of the best of our industry and I mean that at the king of the two ways.

It's Paul really hope hello I'm more important than that I'm a radio listeners Stuart from the age of 7 when I first heard Alan Freeman doing Pick of the Pops on the

Program, I knew I wanted to be in radio, but hey I came from a Lancashire market town called Ashton-in-Makerfield which is near Wigan halfway between Liverpool and Manchester and I've been sold every step of the way to be there at the right time.

I've never actually apply for a proper job to be honest with you and in those days word-of-mouth was quite important.

They weren't that many of us are just been lucky to be there for such a long period of time 47 years as a journalist since I was a teenage scribbler on the Southport visitor and then 20-years in Commercial Road that and 28th at the BBC is been extraordinary journey, and I've been the most luckiest person in the world to be honest with you.

Will have a little kind of look through your your CV shut up me, but it's couple of weeks now since you left the BBC obviously a long time to be there.

How are you feeling about that now? I'm overwhelm to be honest with you because

Expecting to go on last Friday and I was talking to all the radio stations that still tell him in advance.

I was leaving and it was busy week anyway with a budget.

Can I say? Why do we do something on Friday and let the listeners know I'm going on that day.

I didn't expect the response.

I got a lot of the great names in broadcasting Jeremy Vine Victoria Derbyshire and Simon Bates were among many people without me knowing went on Twitter to say how can this man go is an institution maybe I should have been in an institution will call me a legend.

I think more leg and to be honest with you and it's been overwhelming and the most important bit of all that as a radio listener is a response from listening to the radio Lancashire called Heather in Bamber Bridge while I was on talking to our grammar say Colin Graham liver on their breakfast show burst into tears saying you can't go you've helped me.

You've helped me through brexit and I didn't realise the impact they had in that respect because I'm on so many radio stations for tea at the BBC in my commercial radio days are independent music 181.

I left at the end of 1993 these days about 500 commercial stations book to get that at the go onto Radio Leeds after I've left the BBC Lofthouse on the mid-morning show read out about a dozen emails from people who clearly I've had this kind of emotional attachment with the listeners as well as the presenters and I was unaware of the extent of that I know what I want to do and I know what I want to say that they like what I do and I do admittedly do it slightly different from the norm, but it's not me out to be honest with you.

I am quite vital as you say that connection that the radio house with its list as carnation through in that but I suppose the reason for that is as you say you don't do necessarily whatever else does.

When it comes to do ne28 show you put a little bit more into and you target it to the station that you're on more so than other people do to be honest with you because I'm listening.

I know all the tricks after listening for so long before I eventually got into the industry and of course.

I don't just talk about politics.

My view is and Terry Wogan always said that people listen to the radio that kind of half listen and there are often moving around so when I go on to a radio station to talk about politics from Westminster they're listening to their local station and large that you would have thought they had the attachment with that station and they're presenters because they're from that area.

I'm an uninvited guest in many respects coming onto all these radio station.

So my view.

Is is that I want to sound as if I'm that radio stations person that is sent to Westminster to report for them and them alone and not the 20 other stations I appear on that particular.

Because I've got a love of football which I have also covered throughout my time in journalism.

I can always reference their football teams because I know about it anyway because of my age and I'm in my and 60s then I know the the music policy of our stations and the target audience they audience knows as records that I grew up with and the comedy we go out with as well add a little extra in many respects added value is what I was told I gave at the BBC I don't think they got what they expected to get because I was a foot in the door merchant as a journalist for my days in you bring a load of big stories in the 1980s in Liverpool where I want thanks a lot of awards for it at the same time.

I still think what drives me is she going to make people smile you going to make people laugh and as I found on Friday with Heather in Bamber Bridge has seemingly can make people cry as well as you mentioned somebody lovely words written about you my favourite treats.

I saw was actually from.

On Twitter on the day that we are leaving and you said you're really rules which ancillary that now because he's a brilliant right for the listener.

Not the institution type Cues maximum three lions present Savoy acronyms.

No verbiage limit names shortened job descriptions used punchy adjectives.

Enjoy doing it, but that's just the last 50-years summed up in you know how to do radio.

Is it is absolutely and always look at it from the point of view of the audience which of course I'm still the audience.

I still consuming awful lot of radio birth in the BBC and commercial radio because you've got a way of changing events as well even as I grow old and the oldest guy in town on the wireless in many respects apart from Tony Blackburn out of both, but yeah, I mean it.

It's just keeping it at the same time to have that polish.

Hopefully and to sound as if I'm your radio stations man at Westminster that can be slightly different to push it over the barrier.

Yes, I do get into trouble.

Yes, I've been down to sing on occasion and some of my jokes have fallen flat I apologise for that if you were offended but hopefully you listened and you remember that's the most important thing about broadcasting the other great thing.

I would think the broadcasters.

I love like Kenny Everett Rogers Tony Blackburn Keith skues the great communicators and they still have that and sadly Roger and Kenny of no left as but you know they still have that great Enthusiasm for wonderful industry that will never leave me that's a great thing about it.

It's such a personal thing but a personal thing hopefully that you've always millions of people with may have heard me over the years and you mentioned listen to fluff on on the light programme when the counter 7-years old in your bedroom so like a lot of people have ended up in radio.

It was always the dream for you and I think you will have just turned thirteen just beginning with teenagers the pirate radio stations were closing and Radio 1.

So somebody wanting to get into ready and being a Fusey astic about it.

That was a great time wasn't it was with Alan Freeman that was the only program on radio that played pop record as in when you get the ring on Saturday club and easy paid but the BBC really didn't say that music seriously and I was born 20 miles away from Liverpool were the greatest music in the world was coming from In 64:1 Radio Caroline North came on and I wanted to run away from home and become a pirate radio disc jockey, but I was only nine and I couldn't swim.

I still can't swim for that matter but that really change my life and over the years has done documentaries about August 14th 1967.

I was 12.

I was crying saying I want commercial radio now well.

We didn't get it until 1973 when LBC and Cavanagh came on the air and I joined LBC in 1987 and a year later it came to the North West

The radio when I was still a student journalist and then 3 months is a real journalist on the sample visitor newspaper Radio City came on the iPhone them up and they said they were covering non-league football covering only football on the newspaper and they asked me to come in and do a piece on their first program.

I recorded it a pre-recorded.

It didn't trust me that stage.

I was just out my teens the ask about for the subsequent week and it for the rest of the season within 2-weeks.

They asked me to co-presenter programme with the sports centre walrus card, and I did that for the next four years by which time at become the editor of The Times of the Bootle times at the age of 21 I join the station full-time in 1977 stage for a decade became its local government editor which sounds very boring title but far from boring story because I was covering for 4 years and national story every day when the militant tendency around Liverpool City Council does drama every day.

Amazon Independent Radio news all the time and at the end of it or when they kick 47 councillors out of office when Derek Hatton and a dozen militants will get out the Labour Party I done a lot of awards for that cover.

I went to Independent Radio news in 1987 the first local government editor of Radio City John Perkins was the was the editor of my rent had known him throughout that period of time he asked me to come down.

I stayed for 7 years and then cross the floor in 1994 to join the BBC and it was non-stop.

I've never really had a proper job interview.

I had a whale of a time and have been incredibly locket that was a quick truck through 30 years or so when you move to Westminster with Irn initially what was it like and we were in an area where we don't have 24-hour news.

How was covering politics Den different to how it's been in more recent times The Odyssey is having Kevin politics in Liverpool and coming to Westminster it's much quieter.

Westminster believe it or not because it was non-stop for a while, but what I was doing effectively everyday.

I was interviewing the big names in politics.

I got to know Tony Blair Gordon Brown David Blunkett robin from the government Michael Howard and Norman Tebbit you know and the big name of Douglas Hurd at the time and you got to know them on a personal level does you work on the interviews and I was so privileged to be doing that and also to appear on RN at the end of it was on the late shift.

I go home and listen to the 1 news on the radio which is going out on every commercial plane across the South of England and ofcourse across the whole of the country and virtually done everything that Wollaton they thought wow I can go to bed at peaceful man that I'm in every one of those bulletins the UK and I thought to be honest with you in the glory days of commercial radio in the 70s and 80s.

I'll be there for life is we'd have may never thing across the floor to join the BBC to be friendly.

Add other time in the kind of light 1890 was a strong link between around LBC so I'll be see you wasn't what it is today in terms of the station.

It is but you were on LBC back as well and work with the best in the business to be honest with you.

I learnt so much from at the likes of Douglas Cameron who to my mind was the best ever newsreader in this country does the link at at7.

Play these days, but still got the voice Brian Hayes of doing the phone in the best phone in presenter in the country in my view and then in 1990 Brian lost his job at LBC hang on.

I think I'm quite good and quite versatile.

We should migrate Trek because I could do football as well as news and other things and now the interesting music and watch myself well.

Maybe Brown of course went on to have a stellar career at the BBC at Radio 2 and then it five live and we work together as well in that time once I join the BBC is a great time at around with the light.

The newsreader was a great inspiration to be covering politics because he did it differently and like me with a great fan of Kenny Everett and that's always thought you've got me remember if you're on radio is pointless.

Just giving people facts and figures you addressed up a bit and make it interesting for the list who may not care about politics because it's quite abstracting say yes in recent years with coving and brexit it directly affects people but some of the stuff needs a bit of light as you know so that's what I tried to bring to it, but I am was a wonderful place to work early 1990s to the contract was taken over by ITN I was one of the lucky ones that we all were at Westminster we survived because lots of people lost their jobs and then in 1993 lbs.

Franchise that was devastating for the first commercial station the country to lose sad and by then had already agreed to join the BBC so it felt them when I cross the floor or it might get walked up the

Are the three of us at Westminster to join more than 100 people at the BBC was a massive organisation? I thought it was a right time to move then.

I was in my late 30s and the Corsa listen to BBC local like me what often changing from commercial radio to listen to the BBC so it felt the right move at the right time and that job you went to do is what you ended up doing right up until a couple weeks ago political correspondent for bb90.

You did go and do some other things in in Westminster as well, and you did some TV and things like that, but why was it always BBC local radio where you wanted to stay beginner started their indirect? It was back in 1972 when I was a schoolboy in the sixth form Believer not and this sounds rather grand.

I wrote a comedy series which is broadcast on BBC local radio stations Brian samad.

I thought was the best presenter on BBC local radio is only about 3 years older than me at Radio Merseyside and I used to write to all these stations.

I got a bit bored.

One on beating wave by the early 70s started to get interested in BBC local ready you can pick up where I lived Radio Merseyside Radio Manchester what was already a black button which became radio Lancashire and your Stoke I would write to these stations and amazingly and they're really broadcast on VHF as it were very high frequency FM these days not many people have those sets thankfully, my mum did and he would read my letters out on it so I will then start to write to the stations Brian play me jingle play music and light reading out my letters and then I wrote this comedy series which regimantas heard about it, so is broadcast on both stations on one occasion, and it was relayed last week on on the Late Show on Radio Merseyside and radio Lancashire and Radio Cumbria people in contact.

This is amazing and it was almost 50 years ago so I then thought well, maybe if I'm not going to be a disk jockey like Alan Freeman I can be a comedian.

I tell my parents I wanted to be a

And they laughed at me.

They're not laughing now, but I did think about being a comedy writer at that stage and then it's so weird that you know he is a disc jockey failed.

It would be comedian.

I started doing non-league football at Radio City and ended up as a political crisis one.

It was a very strange move that was planned in any way other than I wanted to be on the wireless someone Today programme with broadcast bionics creators of The Bionic studio listening and learning from every spoken word Kolo sweet and SMS to and mix and lock and understand your content the bionic studio transforms everything about radio BBC local radio the king of the two-way.

I know so many presenters who when they see your name on their running all they know.

Things going to be alright and this is mainly because you just do so many of them.

How many of you done over the years, do you think I reckon I do roughly about 3 to 4000 a year and whenever so my colleagues big names do even half a dozen.

They are cream crackers remember talking to David Cameron you tell me he was cream crackered and he did the word what it really means after 6 we love talking to me cos it's saving on all these radio stations, but I love it and people said he don't you get bored doing all these radio stations doing the same old picture every time will it's not the same old pitch because when I'm on Radio Leeds I might mentioned Billy Bremner and Norman Hunter and when I'm on Radio Merseyside I might mention Kenny Dalglish so if there is always that connection which is delivered on my Barclays also genuine and I'm not inventing it.

I really do care for these people in showbiz the new football and pop music.

My great love to be honest with you.

I just went off and did something else which is incredibly serious covering politics and off there.

I am very serious I do an awful.

Lot of prep before I go on there listen to everything I watch everything I read everything and then I decide what a 5% of what I know.

I'm going to put on there and not going to complicate it too much.

I'm not going to use Accra that you often hear in certain parts of broadcasting.

What is 2% of GDP after all of the SNP of the dv.

What is article 50 side trying to not comp hopefully connect with real people.

I was thinking my mum to be honest with you.

My mum.

Really was very pushy with me to get me through my education and was delighted when I appeared on the radio at such a young age and my mum has got no qualifications whatsoever, but she's the brightest person I ever knew and inspired me and it will think of her.

What would my mum say I was presented the program on 5 live.

The constitution and the big thing in the radio Times about this is 25 years ago 1996a mum said sounds a bit boring to me.

That's on that might give it a listen.

That's your mum talking.

You know I always like to slightly be different because it is me and you are an extension of yourself in many respects.

I would think when you go on there.

Maybe I'm a lot more than I am offer one of them quiet music because I've been talking on the radio all day and I think people will be listened to this last time that so we'll will understand that you firmly meet the criteria for radio anorak, but you've done further Maximator documentaries about radio including one on Kenny Everett couple on Kenny Everett underwater for those well.

That's the only thing about it in a way that was a real me.

This is what I wanted to be and play homage to disc jockey many people will dismiss, but they're my Heroes you know why they inspired me to get into broadcasting so I did fortunately when can hear it.

Play Radio 1 in 1970 ended up on BBC local radio and I recorded is programs on my reel-to-reel Philips tape recorder at home as a 16-year old so when I join the BBC I put for this idea to do a programme about the wilderness years of our greatest broadcaster.

They weren't very keen to be honest with you thinking well, you kind of sniping at the BBC here, but I did anyway gave it to BBC local radio every one of them used to it and it was also used 29 to Highams on Radio 4 Extra who loved it is repeated many occasions including on occasions when Adam Hills the comedian put it in the comedy controller section of his program is also used on the 5th anniversary of the station.

Cos the listeners and ask for it to be repeated.

So it's a delight to do I was shortlisted for a Sony Radio Awards which were the the Oscars of our industry and I didn't win Steve Lamacq of the Radio 1 one that's wine.

Pleased with that broke so much so I did a follow-up as well with school Happy Birthday Morris girl because morrisco was Kenny Everett's real name and that program on a Frank Gillard Award for original journalism.

No no less any bus original and it was 40 years old as well, so I'm very pleased with that every time there was an anniversary for pirate radio.

I'll put something together one of them that Radio Caroline North which I thought was overshadowed somewhat because everyone there mention Radio Caroline we'll talk about their first broadcaster Simon Dee it became a chat show host on the BBC and then ITV and then lost his attorney Blackburn who was one of the first broadcasted or Johnnie Walker who was there when they sell in to Ely Galaxy but there was a radio station broadcasting of the Isle of Man Radio Caroline North so I did the programme about that which also won a Frank Gillard Awards I did a session at the Dutch radio festival about it, which you can watch on YouTube which is really been put into I think I definition and noticed the other week.

So that was a great day for me as well.

And it's great to talk to all these people who inspired me to become a broadcaster.

They want to talk about me talking to politicians to be honest with you now interviewed Stuart 13 prime or note in general elections after with 10 prime ministers and I'm 42 years of Party Conference of the other trick is really care about politics having a site on your nice.

Just started covering them Council meetings when I was a teenager and came back with lots of stories the trick there of course is that you don't get all the best stories in the council meeting.

It's when they get the pub afterwards and I'm not really much of a drink about would follow them by May and after a few the tell me everything so that was another thing that got me into covering politics, but I'm also passionate about making politics accessible to people in understandable even if people aren't following aunties and Saturdays have it at Westminster but I've been at Westminster solo more than a third of a century so it's been an extraordinary time.

I've been so privileged to do what I do that are far better broadcasters.

The sadly I no longer broadcasting because they've lost her jobs or they retired a whatsoever Theory I have retired but I'm sure it won't be too long before I find myself back behind the microphone.

Lol just love talking to you today stupid about the things.

I love and the thing that I love it's called radio and so many hours and hours on the radio if you had to pick out a single moment from all that time over the last five decades that was your best moment.

What would it be? Do you think it had to be my final to hate because you know I was knocked out by the sponsor.

You know I know people in the industry a lot of them like what I do that a lot of people don't like what I do when I came.

I thought I've got to be pretty traditional play dead right what I do as though I'm a commercial radio John who is always references to football and pop music in the light politics is a very serious stuff.

What he is.

But you know you still have to connect with people to explain it but to hear Heather in Bamber Bridge

Flying with me on the radio and then you know playing thank you for being a friend by Andrew Gold really to get out of me and the other great moment on radio list to be privileged enough to give him my beloved football team Wigan Athletic first on Radio City in an FA Cup tie in 1974 when they played Mansfield Town and because there was no phone box at Springfield Park there ground had to run out of the pub at a father reports.

Thankfully, nobody scored in between me running between the ground and the pub I thought it's going to be like that was the only time it ever happened and they tell you the journey.

Spent too much time in pubs and then in 2013 to be part of the commentary team on BBC Radio Manchester how to cover Wigan Athletic winning the FA Cup against the odds when they beat Manchester City and getting paid for the privilege.

I've had a wonderful life.

Hope it's not the end of it by any means but I've been through.

Call by the response from the people who really matter and they are radio people people who listen to the wireless like I've done for so long.

I will continue to do so even though technically I've retired I've been sat here with a smile on my face the whole time.

I'm sure I listened as well.

I'm so it was your decision to leave the be but what are you planning to do now a bit of taking it easy and not getting up at 6 in the morning to do two ways.

I've never really taking it easy that's going to be the cultural shop for me and to be honest with you.

It's not been a job.

It's been a joy my dad worked in an asbestos factory for 26 years my grandfather's were both Irish immigrants who were mine 7 of my uncle's were miners.

That's a job.

That's a proper job that really matters some people might see what I do is a bit of a flipper in certain respect so I've been incredibly Lucky from background to do what I've been doing for so long and people let me get away with it the truth of the matter is I suspect that I management of BBC don't really know what I do and I kind of get away with it on local stations if the manager.

The presenters in the Producers like well, I do so that's it.

It's been extraordinary time.

Hope it's not the end of it and I still listen to the radio because looking at the radiator recent Rachel really lots of people are listening to both commercial radio record listeners of 36.8 million fantastic and for BBC local radio which should have their best audience for a long time so radio literally is booming at the moment and booming have to dare admit is my favourite radio station boom radio catered for audiences of my age the boomer generation who lived through the Pirates earlier Radio 1 commercial radio in the 70s and some of the presenters, so I've worked with Graham Dean and build Bingham wrong Radio City when I'm young kids coming out the weekend.

They was a star presentist.

Haven't read Roger De many time for many of my documentary programmes has spoken to David Lloyd on on radio Nottingham it's and Les Ross

BBC WM and there are giants in broadcasting and it's just a pleasure to listen to them let alone know some of the greatest broadcasters in the country, but I know that David and fell listen to their so you're listening guys.

Come on.

Let's make this 9-year-old boys dreams come true.

That's getting a job on the radio the DJ have you know when I listen to Alan Freeman on Pick of the Pops things you say I love school programs.

I love a drama on the old home service and may have thought it was stage being an actor some people might think I'm a bit of an accurate time you have to have that element as boom radio brilliant, but so is a whole concept of radio need no changes even though some of the presenters move on even though the format changed.

It's still the greatest at the work of Radio today and your website and everything's do it is excellent and long may continue.

I will take the credit for that.

It's so good to talk to you Paul after all this time as well.

We should have.

Play the podcast years ago, but there we go such as life.

We send you lots of good wishes for what might be a mini retirement but we have to hear on the radio again at sometime in the future.

Isn't my final words to you?
Transcriptions done by
Google Cloud Platform
.
Lots more recommendations to read at
Trends - ukfree.tv
.
Summaries are done by
Clipped-Your articles and documents summarized
.