Freeview reception - all about aerials

Brian Butterworth published on UK Free TV
Updated 8th January 2014.


Your ability of receive all the Freeview transmissions depends on the suitability of aerial
the design style,
the "group", and
its physical location.
Standard type - Yagi aerial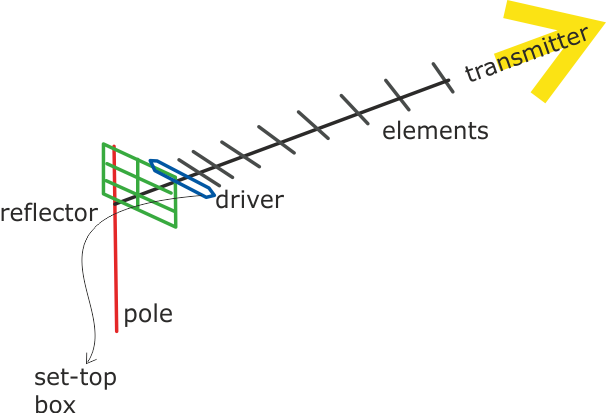 The
standard
type of TV aerial is known as the Yagi aerial. It is mounted on a pole, and consists of a rod with a reflector (shown green) at the back and many spiky elements (in grey) at the front. The connecting
cable
connects to the element nearest the reflector, known as the driver (shown in blue).
These Yagi aerials are directional and so pick up signals best from a
transmitter
that the rod points towards. The more elements the aerial has, the better it picks up a
signal
and becomes more directional.
A standard-type aerial is all that is required for
digital
TV
reception
in most places. These antennae have between 10 and 18 elements and a single reflector. These are recommended for new installations for good digital television reception, but will more often than not function perfectly in good reception areas.
Typically these aerials are designed to receive only some transmission frequencies - see "groups" below.
High Gain aerials

These aerials are designed for poor digital reception areas, and have two reflectors. For maximum signal strength, some digital high
gain
aerials have up to 100 elements. Since the
switchover
to digital-only transmissions back in October 2012, most UK households now have good
quality
digital TV signals.
A more expensive aerial is only required where the signal strength is low, but can often provide the whole Freeview reception where it might otherwise be impossible.
The CAI (that represents aerial installers) has four standards for digital TV aerials. The highest standard "1" is for homes on the fringes of coverage areas, intermediate standard "2" is suitable for use within the coverage area; minimum standard "3" is for good coverage conditions.
These aerials can be either
wideband
, or receive only selected frequencies - see "groups" below.
Grid

You may haved used a 'Grid aerial' for
analogue
reception, but as they are generally unsuitable for Freeview reception, they have now generally been replaced by the Yagi type. However in some places a Grid aerial installation may work for Freeview: otherwise replace with a standard Yagi aerial.
Indoor
Indoor aerials
are generally not suitable for Freeview reception. In areas of good signal strength it is often possible to receive some transmissions. Even where an aerial works, people often find that may get interruptions to their viewing (or recording).
Loft mounted
Loft
mounted arrivals are not generally recommended for Freeview reception, as the
roof
tiles and plumbing will degrade the signal. Some compensation for this loss of signal can be made by using
satellite
-grade cable to connect the set top box to the aerial.
Positioning
The best position for a TV aerial is mounted outdoors, as high from the ground as possible, pointing directly at the transmitter. The signal can be blocked by hills and tall buildings. It should be positioned away from any other aerials.
Horizontal or vertical?
The transmitter will either use vertical
mode
which requires the elements of your aerial to be up-down, or horizontal mode which requires them to be level with the ground.
Groups
Both analogue and digital television is transmitted the same group of transmission frequencies (known as
channel
21 through to 60). A coloured marking on the aerial shows the group.

To create the best possible analogue
picture
, TV transmissions from adjacent transmitters have been designated to several different groups of frequencies. By using an aerial that receives only the
channels
in the correct group, the analogue picture can be kept free from
interference
.
To receive Freeview transmissions from the same transmitter it has been sometimes necessary to use frequencies that are not part of the transmitter's normal group. When this has occurred, the aerial will need to be replaced with a "wideband" aerial (also known as group W) - one that covers every group.
As
Ofcom
is planning to move the TV frequencies again - perhaps as soon as 2018 - it may be wise to use a wideband aerial if you can to ensure you can keep viewing Freeview for many years to come.
Comments
Tuesday, 9 August 2016

StevenOnln1:

It all depends on exactly where Toby lives as the horizontally polarised signals don't cover the whole of the intended service area, the vertically polarised signals 'fill in' those unserved areas.

Hence the suggestion that he may need two aerials diplexed together.



MikeP's 3,056 posts
Thursday, 11 August 2016

Toby: Hi, Toby. If you are thinking of replacing your old aerials with a new one, you need what we call a 'grouped' aerial. Your recommended transmitter is the Full Freeview main transmitter at Rowridge Farm on the Isle of Wight, for which you require a group 'A' aerial. Now, some of the CHANNEL groups, known as multiplexes are transmitted with vertical polarisation, so you may wish to experiment with your new aerial elements (the little rods that go across the arm of the aerial) arranged vertically instead of horizontally. The main channels, watched by most viewers are transmitted with equal powers at horizontal and vertical polarisation. It's up to you to try and find out which is best, depending upon the channels you wish to watch. It would be a good idea to replace the old aerial cable with new as well. You should choose the type of cable that has a silver foil wrap around a copper braid around a polythene insulator around a strand of thicker copper 'inner' conductor. Replace the coax aerial plugs and sockets with new ones too. It might be worth your considering mounting your new aerial on the roof or chimney instead of putting it in the loft, but you could try the loft first and see how you get on. Post again if you run into any problems. Richard, Norwich.

Richard Cooper's 466 posts

Toby: rather than worry about the aerials, which at least get you something, think about the wiring from them. It could be that the aerials are the opposite of what is required, but as Richard advised, think about the wiring. Everything degrades, and wiring, connections, etc fray, get corroded, etc. A dodgy wire can let through one mux (say BBC), but not any others.

If everything is inside, try replacing the wiring - screwfix or toolstation - something like this :http://www.screwfix.com/p/labgear-rg6-satellite-coaxial-cable-50m-black/72537 (I know its Labgear, but still...) would do, and all you need to do is attach the connections to each end (which they also sell).
ATV Sheffield Satellite, Television, FM, DAB, Aerial, Coaxial Cable, Plugs, Sockets, Connectors & Leads will also sell you stuff (and yes, its probably better than the Labgear stuff), and will show you how to attach the end bits (always fiddly). Or get a pro to refit the whole lot.

MikeB's 2,579 posts
Monday, 15 August 2016

I'm surprised there is no mention of the log periodic aerial. Becoming more common these days certainly more so than the grid type.

Michael Glaves's 6 posts
Tuesday, 16 August 2016

Michael Glaves:

Many of us who contribute to this website do mention log-periodic aerials when it is appropriate. They provide a degree of 'future proofing' as well as excellent performance. I use a log36 myself and have been extremely pleased with its performance, hence I recommend then where appropriate.



MikeP's 3,056 posts
Saturday, 3 September 2016

I cant afford for an installer to put a new outdoor aerial on my roof and a new cable,so there is no signal on my t.vs.
Is there any other way i could get a signal and watch t.v with out an outdoor aerial.
My post code is TW19,not sure of the signalling strength in surrey area,close to heathrow.

Susan Dobbs's 1 post

Susan Dobbs: Have you tried an indoor aerial? Ideally get one that looks like a smaller version of a rooftop aerial and point it in the same direction as the non-functioning aerial on your roof. If the signal is strong enough you may well be able to receive most of the channels you would get on an outdoor aerial.

StevensOnln1's 3,567 posts
Thursday, 6 October 2016
J
John Bayliss
10:19 AM
Worthing

I live in BN13 1DG, and had a new aerial fitted 3 months ago. I did not use the freeview service much then, but now my sky box has stopped working, I need freeview, but I cannot get any channels from the Rowridge transmitter on com 7 and com 8, i.e. BBC4 HD, BBC news HD and all the others on channels 31 and 37. I suspect the aerial is the wrong type: the receiving arms are vertical, and I note that everything on freeview is polarised in both the vertical and horizontal except the 2, com7 and com8, which appear to be horizontal only, so is the aerial the problem?
Thanks for any help.

John Bayliss's 6 posts
John's:
map
J's Freeview map
terrain
J's terrain plot
waves
J's frequency data
J's Freeview Detailed Coverage
Friday, 7 October 2016

John Bayliss:

Please see my response to your other similar post elsewhere on this website.



MikeP's 3,056 posts
Saturday, 5 November 2016
R.ENTICKNAP
1:24 PM
Redcar

HELLO ,,, DO YOU COVER TS11 8AG ?? WE HAVE A FAIRLY MODERN L.G T.V
OUR AERIAL IS 30 YRS PLUS I REGULARLY HAVE TO RETUNE ,,, LOSE OF CHANNELS
WE ARE CONNECTED TO FREEVIEW ,, OFF BILSDALE T/MITTER .
IF WE HAVENT LOST VARIOUS CHANNELS , THEN ON SOME ,, THE PICTURE
BREAKS UP ,, UNTILL LOST ALL TOGETHER

WOULD YOU SUGGEST A PARTICULAR ARIAL (( / WIDEBAND , ?? HIGH GAIN ?
OR YAG )

APPRECIATE YOUR HELP ,,, THANK-YOU roger@upleatham.com

do you do this area ??

R.ENTICKNAP's 1 post
R.ENTICKNAP's:
map
R's Freeview map
terrain
R's terrain plot
waves
R's frequency data
R's Freeview Detailed Coverage
Select more comments
Your comment please