Freeview reception - all about aerials

Brian Butterworth published on UK Free TV
Updated 8th January 2014.


Your ability of receive all the Freeview transmissions depends on the suitability of aerial
the design style,
the "group", and
its physical location.
Standard type - Yagi aerial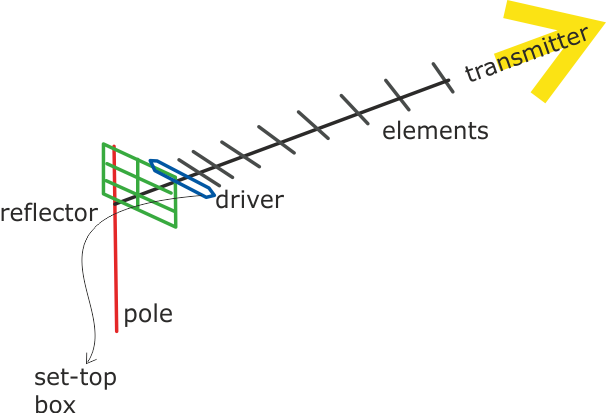 The
standard
type of TV aerial is known as the Yagi aerial. It is mounted on a pole, and consists of a rod with a reflector (shown green) at the back and many spiky elements (in grey) at the front. The connecting
cable
connects to the element nearest the reflector, known as the driver (shown in blue).
These Yagi aerials are directional and so pick up signals best from a
transmitter
that the rod points towards. The more elements the aerial has, the better it picks up a
signal
and becomes more directional.
A standard-type aerial is all that is required for
digital
TV
reception
in most places. These antennae have between 10 and 18 elements and a single reflector. These are recommended for new installations for good digital television reception, but will more often than not function perfectly in good reception areas.
Typically these aerials are designed to receive only some transmission frequencies - see "groups" below.
High Gain aerials

These aerials are designed for poor digital reception areas, and have two reflectors. For maximum signal strength, some digital high
gain
aerials have up to 100 elements. Since the
switchover
to digital-only transmissions back in October 2012, most UK households now have good
quality
digital TV signals.
A more expensive aerial is only required where the signal strength is low, but can often provide the whole Freeview reception where it might otherwise be impossible.
The CAI (that represents aerial installers) has four standards for digital TV aerials. The highest standard "1" is for homes on the fringes of coverage areas, intermediate standard "2" is suitable for use within the coverage area; minimum standard "3" is for good coverage conditions.
These aerials can be either
wideband
, or receive only selected frequencies - see "groups" below.
Grid

You may haved used a 'Grid aerial' for
analogue
reception, but as they are generally unsuitable for Freeview reception, they have now generally been replaced by the Yagi type. However in some places a Grid aerial installation may work for Freeview: otherwise replace with a standard Yagi aerial.
Indoor
Indoor aerials
are generally not suitable for Freeview reception. In areas of good signal strength it is often possible to receive some transmissions. Even where an aerial works, people often find that may get interruptions to their viewing (or recording).
Loft mounted
Loft
mounted arrivals are not generally recommended for Freeview reception, as the
roof
tiles and plumbing will degrade the signal. Some compensation for this loss of signal can be made by using
satellite
-grade cable to connect the set top box to the aerial.
Positioning
The best position for a TV aerial is mounted outdoors, as high from the ground as possible, pointing directly at the transmitter. The signal can be blocked by hills and tall buildings. It should be positioned away from any other aerials.
Horizontal or vertical?
The transmitter will either use vertical
mode
which requires the elements of your aerial to be up-down, or horizontal mode which requires them to be level with the ground.
Groups
Both analogue and digital television is transmitted the same group of transmission frequencies (known as
channel
21 through to 60). A coloured marking on the aerial shows the group.

To create the best possible analogue
picture
, TV transmissions from adjacent transmitters have been designated to several different groups of frequencies. By using an aerial that receives only the
channels
in the correct group, the analogue picture can be kept free from
interference
.
To receive Freeview transmissions from the same transmitter it has been sometimes necessary to use frequencies that are not part of the transmitter's normal group. When this has occurred, the aerial will need to be replaced with a "wideband" aerial (also known as group W) - one that covers every group.
As
Ofcom
is planning to move the TV frequencies again - perhaps as soon as 2018 - it may be wise to use a wideband aerial if you can to ensure you can keep viewing Freeview for many years to come.
Comments
Sunday, 2 January 2011

hi, we have bought a freeview television for our bedroom, at first we had no signal for the freeview and very fuzzy other channels then after a few weeeks it was perfect evey channel had a clear picture and dtv was great, then all of a sudden we lost all signal to the dtv and only have 3 very fuzzy other channels, also downstairs we have sky hd which is fine but there is no signal on the freeview downstairs either, is this something to do with the switch over ????

rachel's 1 post
rachel's:
map
R's Freeview map
terrain
R's terrain plot
waves
R's frequency data
R's Freeview Detailed Coverage

Hi I live on a narrowboat and wanted to know what would be the best set up with a LED tv?
High gain, aerial freesat, boosters etc? I didn`t mind a bit of interference with my old analogue tv but pixels breaking up, No! No!

David Sims's 2 posts

On any installation where the aerial is liable to have very slight drift analogue is undeniably always the best, however freeview would be the second choice with freesat the last as dishes are the most critical of all to any movement no matter how slight.

Advice cannot really be given as a very important aspect has not been mentioned, that being your location in relation to the nearest multiplex transmitters, as depending on where located an easy to mount simple log aerial may well be suffice, these type of aerials being ideal for narrow boat / caravan etc use, and indeed even home use as I use two of them (built in amplifier types) for long distance reception where direct line of site isnt possible.

jb38's 81 posts
jb38's:
map
J's Freeview map
terrain
J's terrain plot
waves
J's frequency data
J's Freeview Detailed Coverage

I have Sky + in my house on one TV. I have 4 other TV's with built in FreeView however i cannot benefit from these freeview channels because of signal/reception.

I am contemplating buying 4 sky eyes so that i can have sky to each TV. I also want the option of freeview on all TVs as well. What i am thinking of doing is buying a high gain aerial to mount outside, then i will run an aerial cable from the aerial to the skybox, and then, from the skybox to a 6 way high gain amplifier (which i will also buy), and then run cables fom the amplifier to each individual TV.

Will this give me the option of perfect SKY TV and perfect Digital Freeview on every TV?

I look forward to your response.

Regards

Angelo

Angelo's 2 posts

hi i just purchased a bush tv with built in freeview my outside arial is not long enouth to reach the tv so i purchased aarial extension kit and fitted it but i can not get signal any suggestions.

simon's 1 post

Simon - I suggest you check connections as a first step. Try to connect your TV temporarily to the aerial feed as it was without the extension.

Les Nicol's 991 posts

I cannot receive ITV3 on my Tv in the bedroom although I can on the main TV in the lounge, even though both TV'S are served by the same wideband aerial. My post code is CA14 and other than this there are no problems. Should I think of purchasing a Freesat aerial and would this help?

Ged Fallows's 1 post

over xmas i purchased and new panasonic freeview tv for my daughters new build property. I have also bought a brand new aerial (Labgear TV Aerial High-Gain Digital ) . After connecting i found that whatever i do i can only get bbc1,2,3 ,cbbc & bbc news . The picture is perfect but unable to get any other channels . The postcode is dn7 . Is there anything i am doing wrong . I have connected many tv's in the past and never encountered this problem

rusty's 1 post
Monday, 3 January 2011

Hi i have just purchased a hd ready tv with freeview but the picture keeps distorting and sound goes i live in ng237pb postcode area up until last week i had a freeview box with no problems do you think i need an aerial upgrade and to which one

Richard Smart's 1 post

Rusty - The reason for your restriced number of channels is because you are only picking up one multiplex with the others most likely being underneath the receivability threshold
level, this usually being referred to as the digital cliff.

Assumming your aerial is pointing to the West for Emley Moor(approx 27miles) you should carry out a manual tune on 40-43-46 and 50 as you will already be receiving 52, and of course on each channel entered (whether or not anything recived) select a "signal condition" (Panasonics description) check on strength / quality, the latter being the most important.

It should be said though that you "might" not get reception on all channels mentioned until after high power switchover, but the signal strength / quality scale would allow you to trim the aerial alignment should this prove to be necessary.

(PS: Belmont (39mls to West) is also a possible for DN7)

jb38's 81 posts
jb38's:
map
J's Freeview map
terrain
J's terrain plot
waves
J's frequency data
J's Freeview Detailed Coverage
Select more comments
Your comment please