Freeview reception - all about aerials

Brian Butterworth published on UK Free TV
Updated 8th January 2014.


Your ability of receive all the Freeview transmissions depends on the suitability of aerial
the design style,
the "group", and
its physical location.
Standard type - Yagi aerial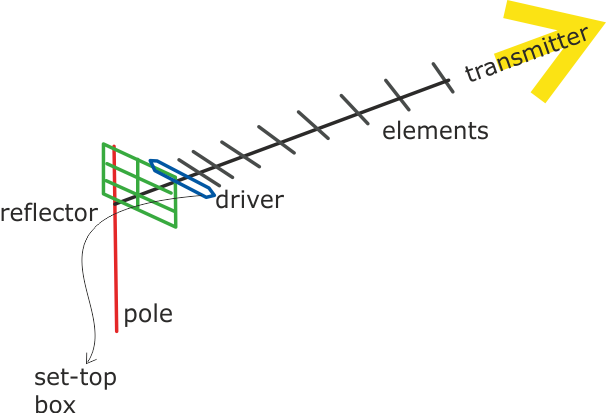 The
standard
type of TV aerial is known as the Yagi aerial. It is mounted on a pole, and consists of a rod with a reflector (shown green) at the back and many spiky elements (in grey) at the front. The connecting
cable
connects to the element nearest the reflector, known as the driver (shown in blue).
These Yagi aerials are directional and so
pick
up signals best from a
transmitter
that the rod points towards. The more elements the aerial has, the better it picks up a
signal
and becomes more directional.
A standard-type aerial is all that is required for
digital
TV
reception
in most places. These antennae have between 10 and 18 elements and a single reflector. These are recommended for new installations for good digital television reception, but will more often than not function perfectly in good reception areas.
Typically these aerials are designed to receive only some transmission frequencies - see "groups" below.
High Gain aerials

These aerials are designed for poor digital reception areas, and have two reflectors. For maximum signal strength, some digital high
gain
aerials have up to 100 elements. Since the
switchover
to digital-only transmissions back in October 2012, most UK households now have good
quality
digital TV signals.
A more expensive aerial is only required where the signal strength is low, but can often provide the whole Freeview reception where it might otherwise be impossible.
The CAI (that represents aerial installers) has four standards for digital TV aerials. The highest standard "1" is for homes on the fringes of coverage areas, intermediate standard "2" is suitable for use within the coverage area; minimum standard "3" is for good coverage conditions.
These aerials can be either
wideband
, or receive only selected frequencies - see "groups" below.
Grid

You may haved used a 'Grid aerial' for
analogue
reception, but as they are generally unsuitable for Freeview reception, they have now generally been replaced by the Yagi type. However in some places a Grid aerial installation may work for Freeview: otherwise replace with a standard Yagi aerial.
Indoor
Indoor aerials
are generally not suitable for Freeview reception. In areas of good signal strength it is often possible to receive some transmissions. Even where an aerial works, people often find that may get interruptions to their viewing (or recording).
Loft mounted
Loft
mounted arrivals are not generally recommended for Freeview reception, as the
roof
tiles and plumbing will degrade the signal. Some compensation for this loss of signal can be made by using
satellite
-grade cable to connect the set top box to the aerial.
Positioning
The best position for a TV aerial is mounted outdoors, as high from the ground as possible, pointing directly at the transmitter. The signal can be blocked by hills and tall buildings. It should be positioned away from any other aerials.
Horizontal or vertical?
The transmitter will either use vertical
mode
which requires the elements of your aerial to be up-down, or horizontal mode which requires them to be level with the ground.
Groups
Both analogue and digital television is transmitted the same group of transmission frequencies (known as
channel
21 through to 60). A coloured marking on the aerial shows the group.

To create the best possible analogue
picture
, TV transmissions from adjacent transmitters have been designated to several different groups of frequencies. By using an aerial that receives only the
channels
in the correct group, the analogue picture can be kept free from
interference
.
To receive Freeview transmissions from the same transmitter it has been sometimes necessary to use frequencies that are not part of the transmitter's normal group. When this has occurred, the aerial will need to be replaced with a "wideband" aerial (also known as group W) - one that covers every group.
As
Ofcom
is planning to move the TV frequencies again - perhaps as soon as 2018 - it may be wise to use a wideband aerial if you can to ensure you can keep viewing Freeview for many years to come.
Comments
Monday, 3 January 2011

Rusty - The reason for your restriced number of channels is because you are only picking up one multiplex with the others most likely being underneath the receivability threshold
level, this usually being referred to as the digital cliff.

Assumming your aerial is pointing to the West for Emley Moor(approx 27miles) you should carry out a manual tune on 40-43-46 and 50 as you will already be receiving 52, and of course on each channel entered (whether or not anything recived) select a "signal condition" (Panasonics description) check on strength / quality, the latter being the most important.

It should be said though that you "might" not get reception on all channels mentioned until after high power switchover, but the signal strength / quality scale would allow you to trim the aerial alignment should this prove to be necessary.

(PS: Belmont (39mls to West) is also a possible for DN7)

jb38's 81 posts
jb38's:
map
J's Freeview map
terrain
J's terrain plot
waves
J's frequency data
J's Freeview Detailed Coverage

Richard (Smart) - You dont mention what station you are receiving as both Belmont and Waltham are possible, Belmont being (or should anyway!) be by far the most powerful as in your area Waltham can be a bit iffy in many places and so really requires a roof mounted outdoor aerial for satisfactory reception, whereas with Belmont a reasonable loft aerial or one mounted at gutter level on a single storey property should suffice.

Of course aerials and predictions are not exact sciences and so satisfactory results very much depends on local surroundings, like for example being screened by trees etc, something which can be a real killer to a less than perfect signal if wet.

jb38's 81 posts
jb38's:
map
J's Freeview map
terrain
J's terrain plot
waves
J's frequency data
J's Freeview Detailed Coverage
I
ian barker
4:55 PM
Stockton-on-tees

Can anyone tell me why i cannot get itv, channel 4 and 5 (+ some others)on my freeview set top box. I am able to receive these channels on my tv's with freeview built in. Postcode ts18 4qj, aeriel in loft.
regards
Ian

ian barker's 1 post
ian's: ...

Can anyone suggest a cure for out of sync speech / to mouth movement. This is worse on HD (BBC & ITV.
Thanks

Paul C's 1 post

Hi there,

Can you explain to me why I can get some Freeview channels using a separate digi box but we have bought a tele with freeview in it we cannot get any channels at all. So frustrating.

Thanks

Angela

Angela Rennie's 1 post

Ok Thanks for your reply jb! My aerial would be fixed off the boat. Where the nearest transmitters are especially in Rickmansworth Herts which is in a valley

David Sims's 2 posts
Tuesday, 4 January 2011
M
Mr Dawud
1:02 PM
Coventry

could someone plz give me advice on details choosing a digital aerial to pickup freeview channels in my tv,im in coventry post code . at the moment i can only get aprox 4 channels on tv with very poor quality, previously i had virgin media but cancelled them. ive had a couple of quotes from people both using different types of aerials so i was wondering was there anything to look out for in the aerial itself. many thanks in advance Mr Dawud.

Mr Dawud's 1 post
Mr's:
map
M's Freeview map
terrain
M's terrain plot
waves
M's frequency data
M's Freeview Detailed Coverage
G
glenda worthy
4:38 PM
Hoddesdon

I recently bought a Samsung LED HD tv with built in freeview - connected to my roof aerial. I can receive the freeview channels with no problem but not the HD channels.I cannot understand why. Do I need a new aerial?
Also have Virgin box and can get HD through that but am not keen on continuing hence the HD tv purchase. Please help
Glen EN11 0RX


glenda worthy's 3 posts
glenda's:
map
G's Freeview map
terrain
G's terrain plot
waves
G's frequency data
G's Freeview Detailed Coverage

just bought a lg50pk590 tv with built in freeview hd tuner.auto tuned got all freeview channels good quality picture on all channels, but none of the hd channels. postcode pr5 about 9 miles from transmiter, any ideas? thanks

Andy's 1 post
Andy's:
map
A's Freeview map
terrain
A's terrain plot
waves
A's frequency data
A's Freeview Detailed Coverage

I have just fitted a new samsung tv with free view.The arial is via the sky HD box with a majic eye. When i tuned the tv in everything worked well untill i turned off the tv and put it on again. It now says no signal and a bit error level of 2000. Any idea's??

Kevin Horne's 1 post
Select more comments
Your comment please